Posts Tagged 'Tommy Robinson'
Trump, "I think they like me a lot in the UK" – pro-Trump London Demo.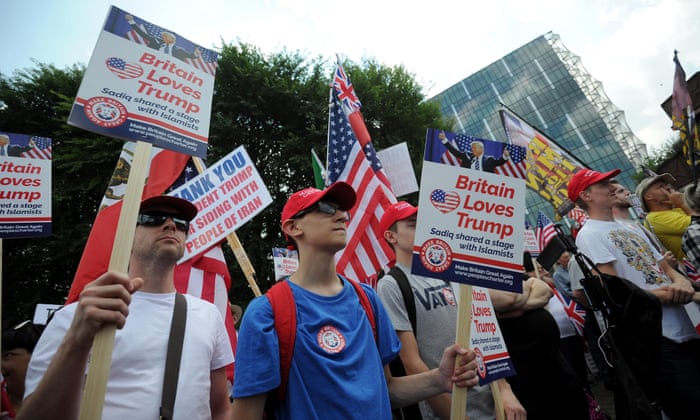 Today London played host to a raft of far and radical right leaders from around the world as pro-Trump and free Tommy Robinson demonstrations merge in Whitehall.
Hope Not Hate.
The day kicked off with a 'Welcome Trump to London Demonstration' near the US embassy in Vauxhall. Despite being organised by the oddball Make Britain Great Again group, led by the equally bizarre Luke Nash-Jones, the event attracted a number of UKIP speakers including Elizabeth Jones from UKIP NEC and UKIP London chairman Freddy Vachha.

The most high profile speaker was the Australian anti-Muslim activist Debbie Robinson from the anti-Muslim party, the Australian Liberty Alliance. Robinson, who was accompanied by Avi Yemini, is also President of the key Australian 'counter-jihad' organisation, the Q Society of Australia. 

Martin Costello of Make Britain Great Again addressed the crowd screaming "round up all illegal immigrants and get them out of here" and "we shall never surrender" into the microphone.
FREE TOMMY ROBINSON DEMONSTRATION
The main event happened in central London and kicked off just after 3pm in the wake of the shocking revelation that Sam Brownback, the US ambassador for international religious freedom, lobbied the UK on behalf of Tommy Robinson (AKA Stephen Yaxley-Lennon).

As the stage and screen were erected just in front of the Monument to the Women of World War II on Whitehall, notable figures from across the international far right and the right-wing alternative media began to gather. Members of Lennon's team such as George Llewelyn-John and co-founder of the English Defence League (EDL) Kevin Carroll helped set things up alongside Siegfried Daebritz from the German anti-Muslim street movement PEGIDA. Also milling around the stage area was American "alt-light" figure Jack Posobiec.
The Guardian Reports,
A union leader has said he was the victim of an "unprovoked" attack by a mob after he addressed a counter-protest to a rally in support of Donald Trump and the jailed far-right leader Tommy Robinson.

Steve Hedley, senior assistant general secretary of the RMT, was among a number of officials assaulted by Robinson supporters, according to the union.

Witnesses said a mob ambushed a group at the Westminster Arms pub in central London on Saturday afternoon in a targeted attack.

In a video on social media, Hedley said: "We got attacked by a load of thugs, completely unprovoked.

"We defended ourselves obviously and there were a lot of casualties on both sides. But it was a completely unprovoked attack – we were just sitting there having a drink.

"If you oppose Tommy you get attacked by a glass and a chair – we have to stop this."

He described the attackers as being from the far-right English Defence League, which Robinson used to lead.

One witness, who asked not to be named, said: "They [the attackers] knew what they were doing."
AMERICAN THINK TANK FUNDING TOMMY DEMOS
Hope Not Hate,
it has emerged that Lennon has also been receiving significant financial assistance from across the Atlantic, receiving money for legal help from the Philadelphia-based organisation the Middle East Forum (MEF), led by Daniel Pipes.

Worryingly, MEF also claims to have held an "organizing and funding" role in both today's protest and the previous protest in June, which was marred by violence and vandalism and saw nazis and other antisemites among the crowd.

…

MEF's blog claims that they "provided all the funding and helped organized the first "Free Tommy Robinson" event held June 9 in London." The event in question attracted around 10,000 people and saw police officers being chased and attacked near Trafalgar Square. Sections of Lennon's supporters also hurled metal barriers, bottles and street signs, injuring five people and resulting in the arrest of nine.

Despite this, the MEF also decided to once again contribute to the funding and organizing of today's Free Tommy demonstration in London, writing that it was arranging for US Congressman Gosar to speak at the rally. Gosar has previously courted controversy when, in an interview with VICE News, he suggested that the August 2017 alt-right Unite the Right rally in Charlottesville, which led to the murder of counter-protester Heather Heyer, may have been organised by an "Obama sympathiser" and raised the possibility that it may have been funded by Hungarian philanthropist George Soros. Gosar also accused Soros of having "turned in his own people to the Nazis".