Posts Tagged 'Tariq Ali'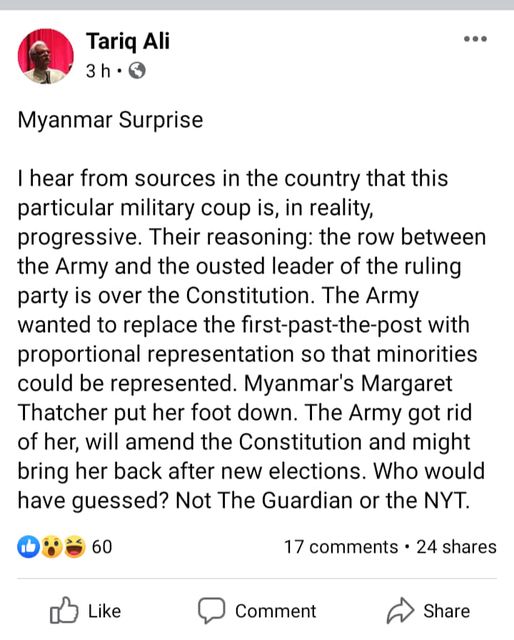 Tariq Ali has the Lowdown on Myanmar.
Exclusive.
Breaking News.
Tariq Ali sat in the attic of his Islington Town House. The veteran of many a revolution, he was honing his combat skills. Zionist Space Invaders flashed across the screen of a games console. He wove between the Jewish laser cannons and blasted a flying saucer to smithereens.
There was a sound from the Smartphone.
The urbane public intellectual and former guerrilla picked the device up,
"Take a chill pill old Red Mole, its all so bogus, like, I've gotten the real dope on Myanmar."
The Californian intonation could not disguise the voice of an old comrade, who had raised himself  to the level of comprehending the historical movement of imperialism as a whole.
"Halloa Perry! What ho? "
Mr Anderson continued, now speaking his mother tongue.
"Burma's Margaret Thatcher is gone gone gone! Por tanto, the  general mouvance, has, after una estación de tránsito, what is dominant' will never be exhaustive of the phase in question, Ha-at-tu-si ma-ak-ke-es-ta nu-wa-ra-ta-pa DINGIRMEŠ-is sal-la-i ha-as-sa-an-na-i da-a-er."
Tariq smiled as he recognised the familiar Hittite tag.
"Insider Source?"
"You bettcha!"
"Next issue of New Left Review or shall it be the London Review of Books?"
"Get the news out pronto!"
This was the Myanmar Moment, PR, steps forwards, who would have guessed?
The Street Fighting Man recalled the days in the Quartier latin leading the crowd to occupy the Sorbonne.
He called an old comrade.
"Bonjour Edwy Plenel! " Tariq continued in the language of Molière, "Je suis un Revolutionary, je habite  à the south of Islington."
As the story was unfolded the top French insider journalist exclaimed,  "Bougre de crème d'emplâtre à la graisse de hérisson!"
Tariq Ali, "a Sniff of Spring".
I met Tariq Ali on an underground Train,
Like a bloated Red Mole in considerable pain,
He said he'd been there since a quarter past nine,
Trying to Find the Majority Line.
Refrain.
IMG, IMG, the Fear and the Dread of the Whole Bourgeoisie,
IMG, IMG, Volumes and Volumes of Bankrupt Theory.
East End Music Hall Song, 1970s.
How we used to love that ditty, down on the Mile End Road!
Now Tariq Ali has popped up again, a master left strategist. New Left Review have launched a Blog, Sidecar, a rival to respected organs, such as TC and Shiraz. Who should be one of the first off the starting bloc but Tariq Ali, Starmer's War.
The young upstart begins by noting that, "the forces unleashed since 2008 are still in flux."
How true, how very true.
He turns to Labour,
Then came the 2017 election, which saw a Labour vote higher than the last two achieved by Blair, depriving May of her majority. Many party officials and MPs were hoping for a crushing Labour defeat. Their disappointment could be seen on their faces. The BBC and Guardian were equally distressed. How could this have happened? An informal agreement was reached. Everything possible must be done to make sure Corbyn was defeated. It was. He was.
Labour's 2019 defeat was not all down to this crew, he wisely adds.
The very active public campaigner for Brexit, who cast his ballot to Leave, notes that his wishes should have been followed by Labour but were not,
I've argued before that Labour should have stuck to the line that the referendum result had to be respected, adding that since it was not of their making,
Alas, it was the dammed McDonnell who fudged it,
The weakest link turned out to be Corbyn's supposedly loyal ally and Shadow Chancellor. But John McDonnell – hailed by the soft left as 'the most radical politician of his generation' (see Jeremy Gilbert in OpenDemocracy, Owen Jones in the Guardian, James Butler in the LRB) – had already shown his colours at the time of the Manchester bombing in the run-up to the 2017 election
The former Red Moler continues in this vein for some time, some very long time,.
McDonnell, " caving in to the well-funded Remainer lobby – led, of course, by Keir Starmer," Starmer, O Starmer! " "claque ""the rights protected were mainly those of police and spies" " KCB for his efforts",.
Once with Starmer's  hands on the levers of power, , "The Tory-voting Jewish Board of Deputies – if not the hyper-corrupt, hard-right Netanyahu himself – was given veto power over Labour foreign policy." 'If not', a sage addition to the thought… Now,  " the real feather in Starmer's cap would be expelling Corbyn from the party." " Starmer's purge is neither competent, professional, lawyerly or sober, but ill-considered, clumsily executed and open to legal challenge."
After this cascade of adjectives about a real problem, Labour suspensions and expulsions that many, rightly oppose, Ali comes to this damming finale.
Just like Blair and Brown, he offers no serious opposition to Conservative policies and sucks up to Washington. Then, it was Iraq and Afghanistan. Now, mutatis mutandis, it is China. In July Starmer met up with US Secretary of State Pompeo to reassure him that Labour was back on the rails. As proof, he told Pompeo that Britain needed to be harder on China, not just banning Huawei's 5G technology but imposing sanctions on Chinese officials suspected of human-rights abuses.
Such a bad idea…
What is the right response to the Starmerism?
 There are three years left before the next general elections. An Independent Labour Party with even half a dozen MPs and a membership base of perhaps 50,000 – that number have left already since Starmer took over – could mark a real advance.
Ali sees light at the end of the tunnel, Corbyn has moved:
His newly announced Peace and Justice Project is a positive move; amid the winter gloom of Starmer and Covid, a sniff of spring. It is a multi-issue initiative, open to those inside and outside the Labour Party, in the UK and abroad; over 20,000 people have signed up already. There will be teething troubles, no doubt, but the creation of a new political platform and online movement is a step forward.
Let us pass over the attack on John McDonnell, a serious internationalist politician genuinely liked by many on the left. What exactly are the forces Ali imagines in his Independent Labour Party? Tina Werkmann's new network?  Labour against the Witch-hunt led by Jackie Walker, the Weekly Worker and Tony Greenstein? Lord Voldemort, Chris Williamson, and his mates in TUSC?  The Staliniens of the CPB, and his mate Andrew Murray? Democratic Socialism Alliance (DSA) forum? The likes of Massoud Shadjareh, a stooge of the Iranian regime and one of the backers of Corbyn's New Project? Counterfire? They couldn't even run a coffee shop…..
And the fact that the likes of Ali 'welcome' such a move, Ali, International Marxist Group, Yeltsin supporter, Liberal Democrat, Green, and more recently Jeremy Corbyn's best friend.
Last night there was a curious meeting hosted by a group presently calling itself the Radical Alliance.
It was to defend Jeremy Corbyn.
'Shovel Hands' MP Lavery and even respected comrades like Julia Bard and John McDonnell took part.
The presence on the platform of some other speakers would have warned most people off.
Tariq Ali, former supporter of the Liberal Democrats, one time leftist, prominent Brexit campaigner, was there. Only a few weeks ago Tariq stood by and uttered not a word  when Norman Finkelstein spoke his admiration for Holocaust denier  David Irving at a meeting held by Labour Against the Witch-hunt.
The far left event that attacked CST and praised David Irving
Even Tony Greenstein uttered a protest.
Not a dicky bird from Ali. Wealthy Ali's manor, Verso, publishes Finkelstein's claims about the big influence of Jews in British life.
Lindsey German, leader of the revolutionary socialist groupuscule Counterfire, once George Galloway's best friend,  and a member of Respect, was also prominent.
Salma Yaqoob former leader of Respect (am I detecting a pattern here?) was there. Yaqoob fought one of the dirtiest elections in British history against comrade Naz Shah of the Labour Party in 2017. In the Bradford West contest she came third with 13.9% of the votes,
Bastani, whose family is said to produce excellent ice-cream, was promoting total luxury communism.
Piddock, well what can you say?
I could go on about this rogues' gallery.
Sharing platforms with these types?
The view on the left is that this a front by Red Labour and Counterfire  for promoting a breakaway from Labour.