Posts Tagged 'Steve Bannon'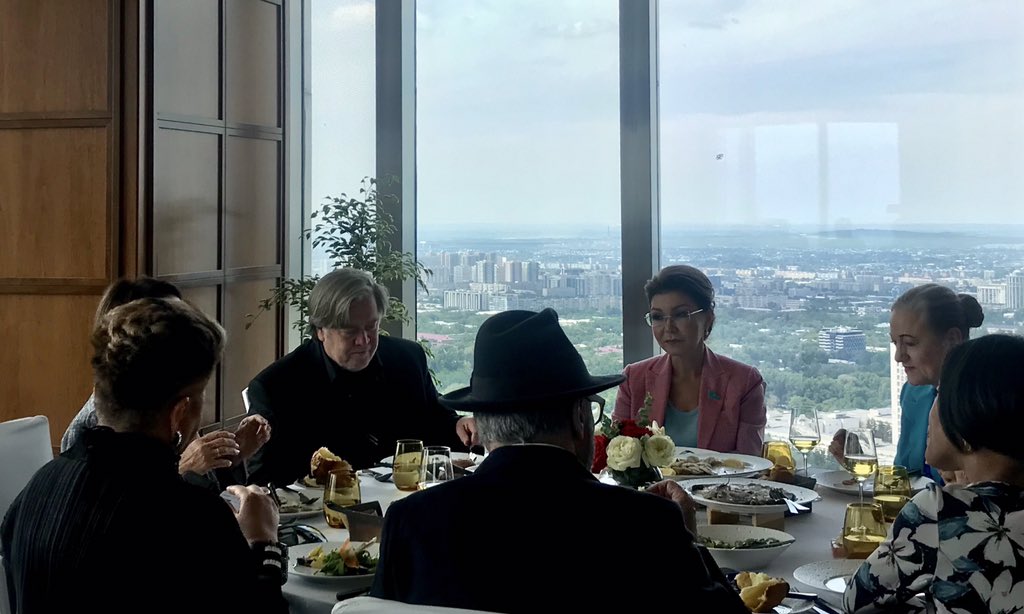 Bannon and Galloway Scheme Revolution over some Tasty Grub in Kazakhstan. 
This is on the agenda….
Or so the WRP says,
Workers shake Labour to its foundations with their vote for Brexit!
The News Line says,
This means that a Brexit on October 31 or before, carried out by the working class taking general strike action to bring in a workers government, will be welcomed by workers all over Europe and lead to the revolutionary replacement of the EU by a Socialist United States of Europe.

Only the WRP and the Young Socialists are fighting for this policy and perspective. We urge all workers and youth to join today and to fight for the victory of the British and world socialist revolutions!
The Communist Party of Britain (Marxist Leninist ) founded by Reg Birch and whose best known former member is Alexei Sayle – not to be confused with Communist Party of Great Britain (Marxist-Leninist) who 'best known' member is Harpal Brar – is also chorting.
Long believed to have disappeared into red bases in Thetford Forest the one-time supporters of Enver Hoxha  finds in the Brexit Party an instrument of the working class.
Its organ declares,
The working class has used the Brexit party to tell the pro-EU ruling class to carry out our 2016 instruction to leave and we have given that ruling class a bloody nose.

Three years after we voted to leave, it was a staggering failure that we were made to participate in the EU's elections. Even May herself admitted that taking part in these elections would amount to "failure".
Fresh from their triumphal implementation of the red-brown mass line the former Revolutionary Communist Party, now Spiked, finds time for a whinge by some useless idiot, Isaac Doel.
Recently Nigel Farage was pictured drenched in milkshake after a pro-Remain protester launched the drink at him. This fuelled debate about the ethics of 'milkshaking' as a form of protest. Many jumped to the protester's defence, claiming that throwing milkshake was an acceptable form of protest when dealing with 'fascists' like Farage.

High-profile Remainers frequently use the f-word to describe Nigel Farage. In a video recently posted on his Twitter account, the deputy leader of the Labour Party, Tom Watson, said Farage 'represents the creep of fascism across Europe'. 'Fascist' is a term used by those who oppose Farage's politics to attempt to damage his reputation and delegitimise his Brexit movement.
Quite right!
Le Monde merely calls them "extreme right wing": "le leader d'extrême droite, Nigel Farage".
We prefer national populist.
The theme that the voters of the Brexit Party were expressing 'working class anger' is dear to many on the Lexit left.
In more measured tones LIndsey German comments, from Counterfire, that Labour's poor showing was
..the result of trying to put a position which unites both sides of the referendum divide at a time when both sides are becoming more polarised. Jeremy Corbyn's original position of a People's Brexit had more chance of working. It was an approach that accepted the referendum result but committed Labour to a progressive Brexit.
In other words Labour should have adopted Counterfire's views.
She suggests, not unreasonably,
The impasse at the top of politics can only be resolved elsewhere. That requires a focus on wider politics as well as trying to address the EU question. The major class divisions which cut across leave/remain, the issues facing people over their jobs, housing, education, are the ones on which people can find some unity. The left also needs to ask itself some questions: can the Corbyn project succeed in winning an election and making the first steps towards changing British government policies? How can Labour's right be defeated? How can the left relate especially to working class people in the old industrial areas?
But this comes back to the "EU question", and internationalists are not going to "unite" with the Brexit camp, 'People's' or not.
Pompous Padre Giles Fraser says,
He found time yesterday to show some solidarity with the Red-Brown inner core:
Meanwhile more details emerge of the top Galloway Bannon summit.
Perhaps the WRP, the CPB (M-L) and the CPGB (M-L) should get an invite to the next jamboree.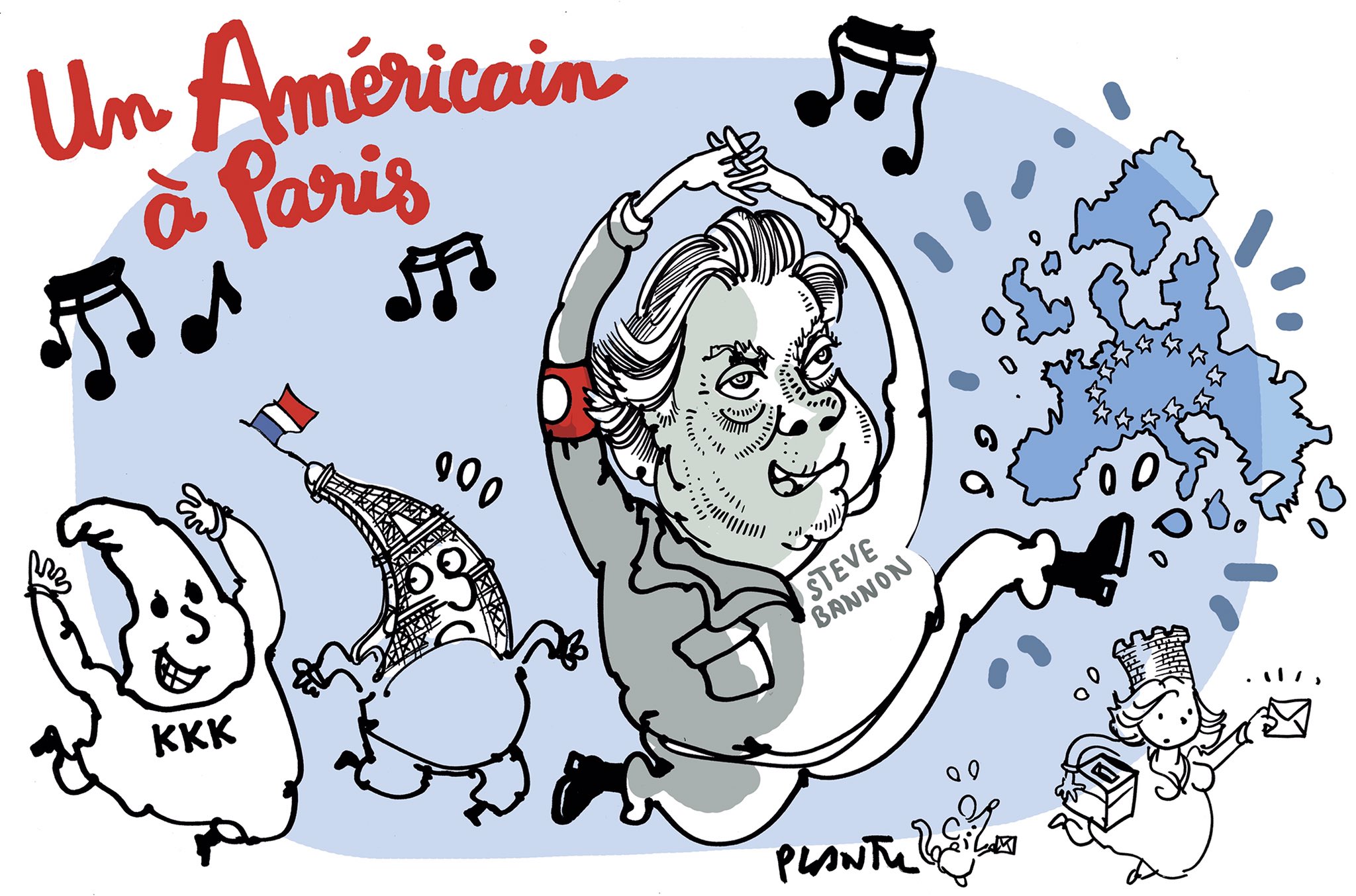 George Galloway's New Best Friend.
Most people, certainly anybody on the left, would shun Steve Bannon.
Not so 'red-brown' George Galloway
He chose to have a  little chat with his new mate in the dictatorship of Kazakhstan.
"Kazakhstan heavily restricts freedom of assembly, speech, and religion. In 2014, authorities closed newspapers, jailed or fined dozens of people after peaceful but unsanctioned protests, and fined or detained worshipers for practicing religion outside state controls. Government critics, including opposition leader Vladimir Kozlov, remained in detention after unfair trials. Torture remains common in places of detention."
Not that Galloway minds:
Here is his cosy little debate there with the would-be mastermind of a European National Populist movement Steve Bannon.
They appear to have some affinity:
This seems to show them really hitting it off:
Well well.
The  above appearance at the "Eurasian Media Forum (EAMF)" – hosted by a free-speech denying dictatorship, follows Steve Bannon's campaign to woo national populists, beginning with those standing in the European Elections.
L'ancien conseiller de Donald Trump est en France pour appuyer le Rassemblement national avant la tenue des élections européennes, le 26 mai.
Le Monde. 18th of May.
It includes this: Steve Bannon's alt-right academy — and one village's fight to stop it.
How an Italian monastery became part of a plan for a populist Europe.
Bannon was not however involved in this:
Most people are, as a result, sceptical about the potential fruits of his labours but he is trying.
Raheem Kassam, Bannon's Man in the UK.
The Daily Beast reports,
LONDON—Steve Bannon plans to go toe-to-toe with George Soros and spark a right-wing revolution in Europe.

Trump's former White House chief advisor told The Daily Beast that he is setting up a foundation in Europe called The Movement which he hopes will lead a right-wing populist revolt across the continent starting with the European Parliament elections next spring.

The non-profit will be a central source of polling, advice on messaging, data targeting, and think-tank research for a ragtag band of right-wingers who are surging all over Europe, in many cases without professional political structures or significant budgets.

Bannon's ambition is for his organization ultimately to rival the impact of Soros's Open Society, which has given away $32 billion to largely liberal causes since it was established in 1984.

Over the past year, Bannon has held talks with right-wing groups across the continent from Nigel Farage and members of Marine Le Pen's Front National (recently renamed Rassemblement National) in the West, to Hungary's Viktor Orban and the Polish populists in the East.

He envisions a right-wing "supergroup" within the European Parliament that could attract as many as a third of the lawmakers after next May's Europe-wide elections. A united populist bloc of that size would have the ability to seriously disrupt parliamentary proceedings, potentially granting Bannon huge power within the populist movement.

….

After being forced out of the White House following internal wranglings that would later surface in the book Fire and Fury, Bannon is now reveling in the opportunity to plot his new European empire. "I'd rather reign in hell, than serve in heaven," he said, paraphrasing John Milton's Satan in Paradise Lost.

The Movement's headquarters are expected to be located in Brussels, Belgium, where they will start hiring staff in coming months. It is expected that there will be fewer than 10 full-time staff ahead of the 2019 elections, with a polling expert, a communications person, an office manager and a researcher among the positions. The plan is to ramp that up to more like 25 people post-2019 if the project has been a success.

Bannon plans to spend 50 percent of his time in Europe—mostly in the field rather than the Brussels office—once the midterm elections in the U.S. are over in November.

The operation is also supposed to serve as a link between Europe's right-wing movements and the pro-Trump Freedom Caucus in the U.S. This week Paul Gosar (R-AZ) was its envoy to Bannon's operation in London.

Bannon and Raheem Kassam, a former Farage staffer and Breitbart editor, set up shop in a five-star Mayfair hotel for a week while Donald Trump was visiting Europe. Between TV appearances as Trump surrogates, they hosted a raft of Europe's leading right-wingers at the hotel.
This comes as the Sunday Times reports,
Theresa May is facing an unprecedented political crisis, according to a new poll that reveals voters are implacably opposed to her Brexit plan and are prepared to turn to Ukip or parties of the far right.

In a survey that will spark unease in Downing Street, the YouGov poll found that the public believes Boris Johnson, the former foreign secretary, is better placed to negotiate with Brussels and lead the Conservatives into the next election.

It highlights how voters are polarising, with growing numbers alienated from the two main parties. About 38% would vote for a new party on the right that was committed to Brexit, while 24% are prepared to support an explicitly far-right anti-immigrant, anti-Islam party.

One in three voters are prepared to back a new anti-Brexit centrist party.

Tory donors and allies of Nigel Farage, the former Ukip leader, are now plotting to raise £10m to set up a new hard-Brexit party — a move that could make it impossible for the Tories to win the next election.

A close ally of Steve Bannon, Donald Trump's former chief strategist, told The Sunday Times he aimed to raise £1m from British and US sources to create a right-wing "mass movement" to rival Momentum on the left.

It can also be revealed that Sir Vince Cable, the Liberal Democrat leader, was holding talks on the creation of a new centrist party when he failed to turn up for a crunch vote last week.

The poll will prompt Tory MPs to demand changes to May's Brexit proposal thrashed out at Chequers earlier this month. Just one in nine voters (11%) would support her plan in a new referendum and only 12% think it would be good for Britain, while 43% disagree.

By more than two to one, voters do not believe her plan keeps faith with the referendum result.

May's position will be further eroded by public support for Johnson, who resigned to oppose the Chequers deal, which would lead to the UK permanently accepting EU rules on the sale of goods. Just 16% of voters think the prime minister is handling Brexit well; more than twice as many (34%) think Johnson would do a better job (!!!!!!! – or sarcasm….)

With the Tories on 38%, a point behind Labour, a Conservative party led by Johnson would be neck and neck with Labour, while his main leadership rivals — Sajid Javid, Michael Gove and Jeremy Hunt — would all be trailing Jeremy Corbyn's party by between 10 and 12 percentage points.

Johnson's support is likely to grow if he is seen by MPs as someone who could prevent votes leaching to populist parties.

Bannon said yesterday he was setting up a foundation called the Movement, to lead a right-wing revolt at next spring's European elections. He held meetings in a Mayfair hotel last week with senior figures on the European hard right and far right, including Farage and the vice-president of the French National Rally, formerly the National Front.

Raheem Kassam, a former adviser to Farage and employee of Bannon's, said the post-Chequers chaos was "massively an opening for the right".

Hardline Eurosceptics warned Tory whips last week that they would vote to bring down the government in a confidence vote if May watered down Brexit.

The only good news for May in the poll is that, while voters as a whole would like to see her resign, Tory voters still think she should fight on by a margin of 58% to 32%.

The prime minister has ruled out a new EU referendum on the grounds that it would be undemocratic to revisit the 2016 vote. The poll shows that if voters were offered a new vote they would overturn the referendum result, with remaining in the EU beating leaving with no deal by 54% to 46%.
RT (Russia Today) is a willing megaphone for Bannon.
Its French language site states today,
Un Soros du populisme ? Steve Bannon, l'homme qui voulait mener la révolte de droite en Europe.
Banon, they state, has meet the following people already, "Depuis un an, Steve Bannon a rencontré de nombreuses personnalités de droite sur le Vieux continent, de Nigel Farage, l'ancien dirigeant de l'UKIP et fer de lance de la campagne pour le Brexit, au Premier ministre hongrois Viktor Orban dont les positions anti-immigration en font un opposant de premier ordre à George Soros, en passant par la présidente du Rassemblement national (RN) Marine Le Pen."
RT in Spanish repeats the same message but manages to call his movement's allies the "far right".
Un exestratega de Trump planea crear una fundación para impulsar la extrema derecha en Europa
Dutch media also reports on the move:
Steve Bannon wil met 'rechtspopulistische supergroep' derde van Europees parlement innemen
And German: (Deutschlandfunk).
Bannon will Einfluss auf Europawahl nehmen.
Der Spiegel:
'The Movement' Steve Bannon plant offenbar rechtspopulistische Revolte in Europa
And Italian:
Bannon lancia l'internazionale populista europea. Si chiamerà "The Movement"