Posts Tagged 'Spiked'
"'Identity politics allows the privileged to pretend to be oppressed'" Brendan O'Neill. (Spiked)
Identity politics have become the plaything of the right and an array of confusionnistes. Farewell Woke. Goodbye gender politics. Adieu, Intersexuality. The magnetism of the national neo-liberalism of the British Government, and ;the claims of National Sovereignty have worked their effects. The politics of the identity and, nation, and flag, right wing identity politics are everywhere. There's even a 'left' version, claiming to speak for the 'real' working class, not the shifting cosmopolitans of the left,, and a variety of nationalist (SNP) and regionalist forms (Northern Independence Party, NIP).
Post Brexit you would have thought that Sovereigntist politics, left' or right would have lost traction. But from the pages of Spiked to the launcher of GB News, it's the right wing, the nationalist populists, who are leaders of the pack.
"Andrew Neil launches 24-hour news channel to rival BBC and Sky."
Nowhere have the voices of the new identitairians been louder than in the London Mayoral Elections.
From the London mayor: The full list of candidates standing at the 2021 election
Piers Corbyn and the Let London Live movement demand an immediate end to all lockdowns and restrictions imposed on the people in the name of fighting a virus.

If elected as Mayor of London Piers Corbyn calls on the people to "refuse to abide by coronavirus restrictions on freedom, life and liberty. I will instruct the police to stop enforcement of coronavirus rules and regulations in London. We will stand up as a beacon of hope to the people of the world."

..the breakthrough for the pandemic industry had to wait for the next opportunity which came in 2020 with the SARS-COV-2 "pandemic" which they had been preparing by means of simulations and catastrophe planning exercises, like an army prepares for war. …..It is not a conspiracy theory to say that there is no pandemic.
Confusionist, Conspiracist, one-time International Marxist Group activist, and, for term, a Labour Councillor in the 1990s: He has actually got on the ballot.
Piers Corbyn, Let London Live
Peter Gammons United Kingdom Independence Party (UKIP). There is no need to comment further
Social Democratic Party (SDP), canal historique, now a hard-line pro-Brexit groupuscule:
David Kurten Heritage Party: "a socially conservative political party in the UK, standing for free speech, traditional family values, national sovereignty & financial responsibility."
This chap, already familiar to our readers:
And, naturally, old matey Fox:
To round it off there's this, (Spiked) Julie Burchill.
He showed the self-obsessed duo what a life of public service really looks like.
Just as I could never vote Tory until it became clear that this was the only way to get Brexit done, so I could never stand up for the queen's theme song until Harry and Meghan rocked up with their passion project – 'The Grabdication' as I coined it – to make it all about them.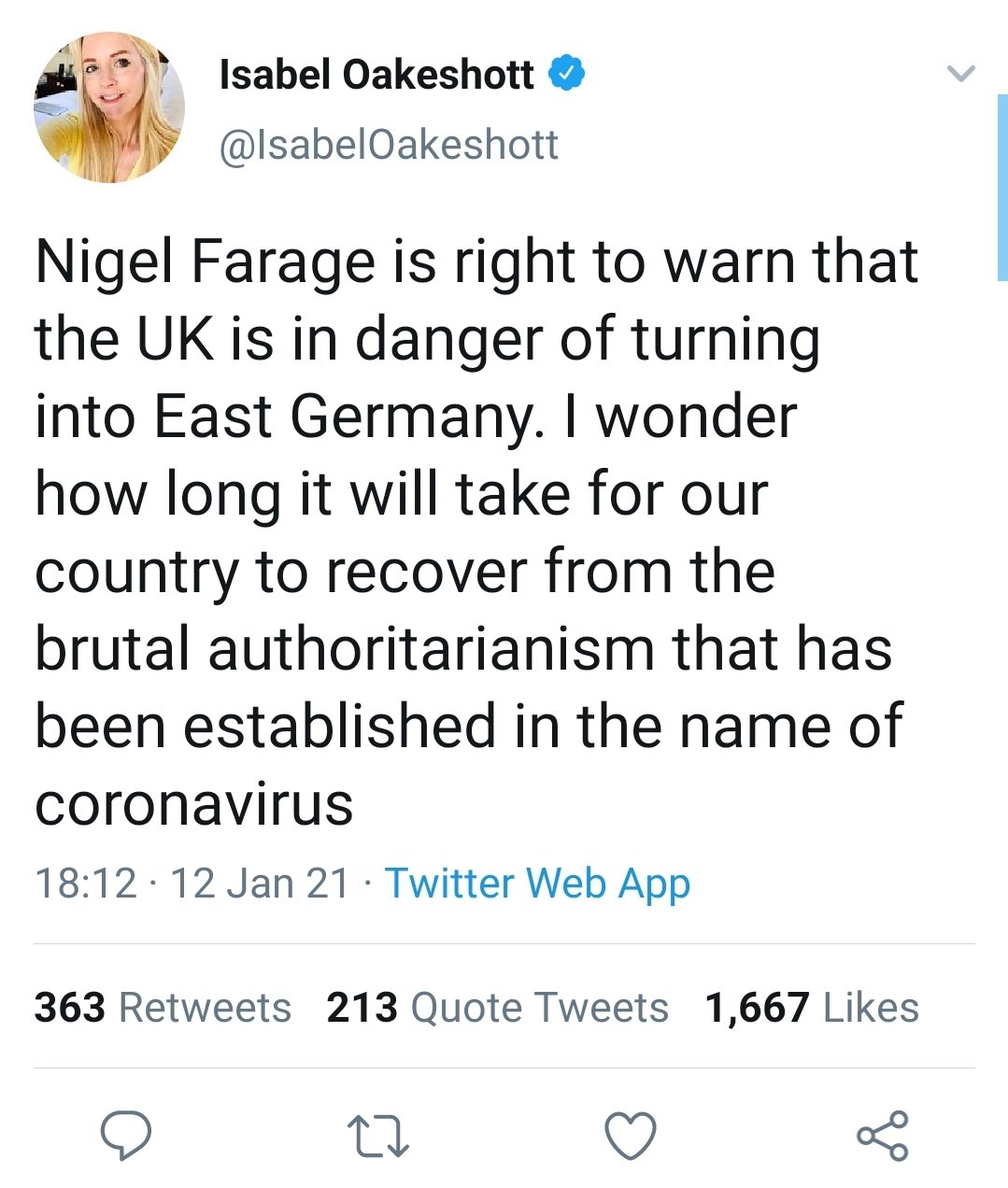 Self-identifying Heavyweight Journalist and Brexiteer Heeds Farage Call.
Nigel Farage has launched his new front, the Reform Party UK
Things are going swmmingly.
The New European reports,
Nigel Farage's new political outfit has received just 2% of support in the first poll carried out since it launched.

Reform UK – which has been shortened to REFUK by pollsters – attracted a small amount of support in new polling from Redfield & Wilton Strategies.

It is currently attracting smaller backing than the Brexit Party – which would still poll around 5% even after 'Brexit Day'.

By contrast the SNP and Green Party are on 5% of support, the Lib Dems on 8%, Labour on 37% and the Tories on 41%.
Farage has not forgotten one old friend,
Nigel Farage warns Democrats: If you 'martyr' Donald Trump what follows 'could be very sinister indeed'
But what of another, George Galloway, who is backing his own Alliance for Unity list for the next Scottish elections to Holyrood?
Looks like he has….
"Nigel Farage launches new party in Scotland to promote 'positive case for the Union'
Daily Record.
The defection means Farage has an elected politician at the Scottish Parliament

Ex Tory right-winger Michelle Ballantyne will lead Nigel Farage's new Reform UK party in a move which means he now has an MSP at Holyrood.

Ballantyne quit the Scottish Conservatives in December after clashes with the leadership on policy and direction.
Galloway, who has backed Farage's Brexit Party ( George Galloway reveals he will support Nigel Farage's Brexit Party in EU elections next month) has yet to comment.
Is there space for a new red-brown alliance, the Workers Party of Britain supplying the Red Guard for the Reform Party?
The views of other old chums, Spiked, the Living Marxism group which also supported the Brexit Party, have not been made public for the moment..
But only a couple of months ago one of their crew, Tim Black, deputy Editor Brendan O'Neil organ, gave Farage a wink and a nod,
It is apposite that it is Nigel Farage who has 

stepped forward

 as the party-political voice of lockdown scepticism, with prospective Brexit Party rebrand, Reform UK. After all, it was as the leader of UKIP that he started to give expression to a similar anti-technocratic sentiment a decade ago.
*********
New Oligarchies and their Woke Mobs threaten Brendan O'Neill. 
The National Populists were taken aback by the storming of the Capital.
Attempts to describe the events as the work of a tiny bunch of rambunctious chaps and chapettes pushing a little too far the idea of MAGA, started immediately.
A hefty dose of whataboutery from their side, evoking everything from the presence of People's Vote campaigners against Brexit on College Green, to this, from a renegade former Labour MP, and member of the democratically elected House of Lords followed.
Now they have a cause.
This is what the Trumpists British claque are screaming.
Foxy: from the Reclaim Party.
Now noted red-brown-nose Brendan  O'Neill writes.
Twitter's suspension of Donald Trump is a chilling sign of tyranny to come.
The new capitalists' cancellation of the democratically elected president of the United States is a very significant turning point in the politics and culture of the Western world.
O'Neill continues,
There is danger in the current moment. It comes not from horn-helmeted idiots and racist scumbags (surely slightly misguided populists? Editors' note)  who paraded through the Capitol Building for an hour, but from those who wish to turn that despicable incident into the founding myth of a new era of woke authoritarianism.

The business and political elites, determined to crush the populist experiment of recent years, will busily launch wars on 'domestic terrorism', clamp down on inflammatory speech, purge from the internet and from workplaces anyone with 'incorrect' thoughts, and blacklist those who believe populism is preferable to technocracy.

They're already doing it. The Biden administration isn't even in power yet and this is already happening. Imagine how emboldened the new oligarchies and their woke mobs will become once Biden and Co are ruling. Brace yourselves; the purge is only beginning.
Foxy can barely contain himself,
Farage, Foxy and Brendan O'Neill are in a very dark place.
We know where're they're coming from and feel their pain.
Update: Another blow to the Spikeys and their mates: