Posts Tagged 'SNP'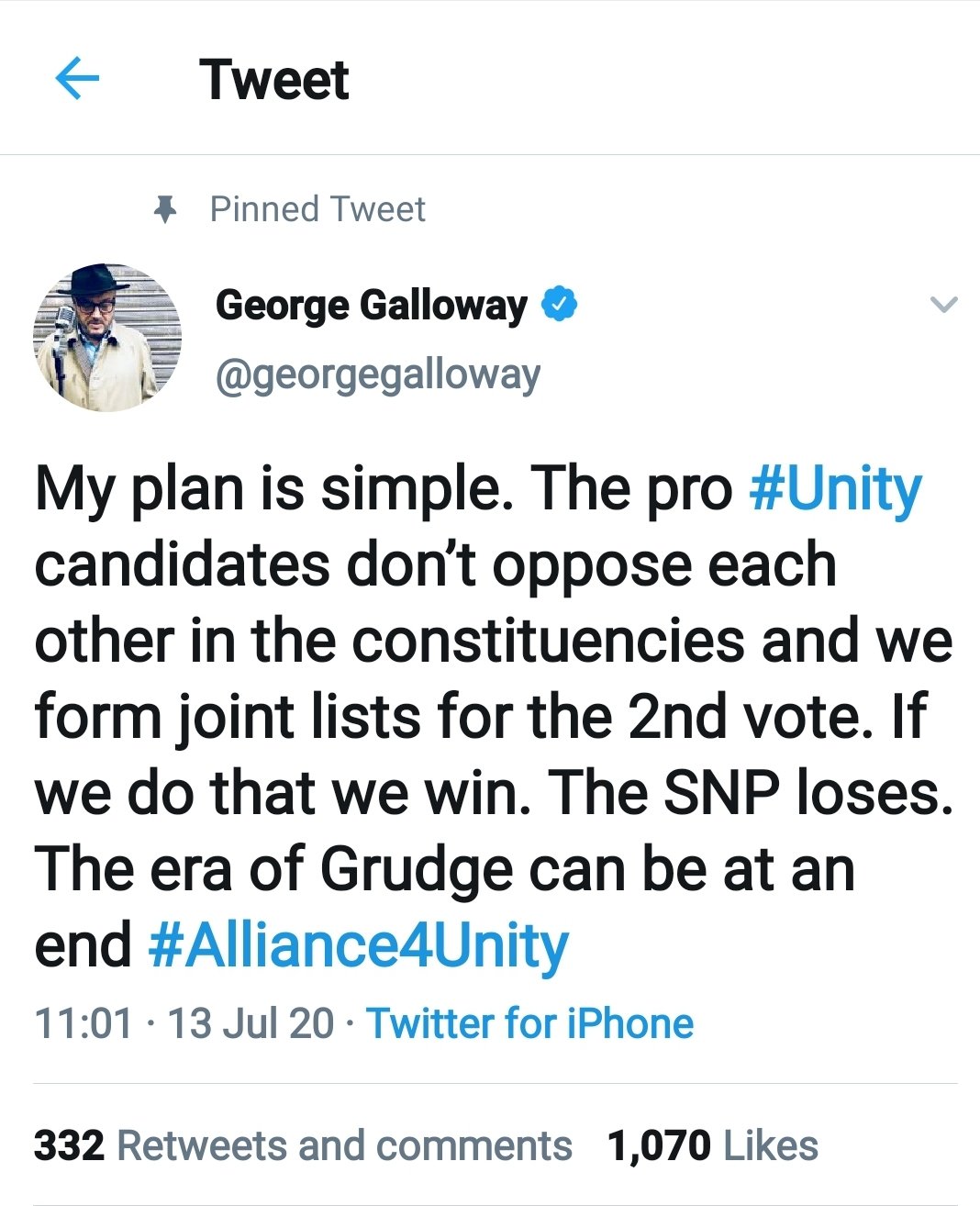 Galloway to Unite all Scottish Unionists.
Even experienced Galloway Watchers find it hard to keep up with the latest initiatives from the dapper gent.
We expected this:
George Galloway: UK ban on Huawei is national self-harm. China's riposte could devastate the ailing British economy
But this……
GEORGE Galloway has suggested that a Unionist alliance will defeat the SNP in the 2021 Holyrood elections.
The pro-Independence National reports,
The former Labour MP announced his plans to return to Scottish politics last week.
He tweeted: "My plan is simple. The pro #Unity candidates don't oppose each other in the constituencies and we form joint lists for the 2nd vote. If we do that we win. The SNP loses. The era of Grudge can be at an end #Alliance4Unity"
Support is growing for the wizard plan.
There is one problem there, a small one no doubt for the socialist stalwart.
The Tory Party in Scotland is often known under its full name of the  Conservative and Unionist Party, as a two second Web search confirms.
If there is one thing my Scottish Labour Party (activists and supporters) family hated more than the Scottish Nationalists (SNP), it's the Tory Unionists.
Not exactly an unusual take on the left.
But then neither is loathing Nigel Farage, who is also one of Galloway's best mates,* along with the curious gang who cadre his Workers Party of Britain, notably the Communist Party of Great Britain (Marxist-Leninist).
*George Galloway backs Nigel Farage's new Brexit party

Another Bout of Nationalist Claptrap Looms.
The Scottish National Party's Call for a new referendum is not just a diversion from the fight against the Tory Government, its austerity,  and its Brexit plans.
It is an  extension of the sovereigntist call to take back 'control' of 'our' country from the Brexit backers and their left hangers-on to Scottish politics.
Shiraz is right to observe that Labour leader Jeremy Corbyn's immediate response was wrong, Second Scottish referendum: why Corbyn was wrong.
…last weekend Jeremy Corbyn visited Glasgow and told the media: "If a referendum is held, then it is absolutely fine, it should be held. I don't think it's the job of Westminster or the Labour Party to prevent people holding referenda."

"A spokesman for Corbyn" and "a source close to Corbyn" tried to minimise the damage.

According to the spokesman: "Jeremy reaffirmed our position today that if the Scottish Parliament votes for a referendum, it would be wrong for Westminster to block it. Labour continues to oppose a further referendum in the Scottish Parliament".

But Labour has not taken a position that Westminster should agree to a referendum if Holyrood votes for it. And Corbyn's argument that the Labour Party should not "prevent people from holding referenda" does not fit in with Scottish Labour'.
Shiraz is also right to underline that the SNP has an infinite supply of  reasons for call for Scottish independence as the cornerstone of their politics. Their apparent 'left-of-centre' politics, that is policies to boost public services for their people, are not social democratic. They do not demand equality, an end to the exploitation of the market, social ownership of the means of production, distribution and exchange (Clause Four) but the Scottish ownership of the political system.
Like sovereigntists everywhere the call for our ain folk to take power out of the hands of 'Westminster' may seem at odds with  apparent support for  membership of the European Union.
Slovakia, Poland and Hungary, to cite but three examples, are run by various coalitions of nationalists, including, in Slovakia's case, a government agreement of  centre-right nationalists around , the 'centre left' PM Robert Fico.
In this context "the dissolution of a key imperialist state"  means a new set of mini-states as deeply implicated in the world political and economic system with nothing about the basic character of capitalism, market societies,  changed except a cultural gloss and a potential for nationalist political exploiters to ensconce themselves in privileged positions.
It is quite possible for a Europe of the Nations, a European Union that tilts to various kinds of nationalists, to emerge without doing anything more for the interests of the left than to divide it out between competing cultural and national interest group identities.
An indication of the poor economic logic behind this latest bid comes from the Financial Times (January 18th)
Scotland's economic growth a third of UK level

Scotland's economic growth was a third of the overall UK figure and unemployment is rising, according to figures published as the governing Scottish National party struggles to decide whether to demand another independence referendum.

The SNP made Scotland's relative economic strength a central part of its case for independence ahead of the 2014 referendum, but growth has fallen behind, partly because of sharp falls in the oil price. New figures show Scottish onshore GDP in the third quarter of last year grew 0.2 per cent while equivalent UK growth was 0.6 per cent. Compared with the same period of 2015, Scottish GDP was up only 0.7 per cent, against the UK-wide figure of 2.2 per cent. Mark Diffley, of polling company Ipsos Mori Scotland, said that while voters often struggled to assign blame for economic problems between the governments in Edinburgh and London, the poor performance made leaving the UK a tougher sell.  "It's probably more difficult to make an economic case for independence when things are looking so gloomy."
Just saying that the SNP is pro-EU does not mean that the kind of national egotism the party has represented for decades will evaporated.
Meanwhile how will the pro-Scottish independence left react?
They are unlikely to care about economics….
A clue is in SWP leader Charlie Kimber's article, printed last week, 7 Mar 2017.
We need to fight for new referendum on Scottish independence

There is no way back for Labour unless it breaks with its pro-Union stance.

It will take a mass movement, on the scale of the one in 2014 and beyond, to force the Tories to concede a referendum and then win it.

It won't be won by saying it is to secure access to the bosses' EU single market.

It has to be based on militant opposition to austerity and racism, and a fight for a society where people come before profit.

If that succeeds then just as David Cameron was brought down by the EU referendum, so May can be wrecked on the shores of Scotland.
More nationalist claptrap, more unionist claptrap…and, May will be gone…
The SWP no doubt wishes to repeat its success in backing Brexit.
Sorcerer's Apprentices barely covers this lot…
For a Progressive Alliance of Greens, Labour and…..Liberal Democrats.
Peter Hyman, former key Blair speech writer and strategist, has called for a new alliance of the centre of British politics.
In the Observer on Sunday this appeared,
In a devastating critique of the party's recent failures, from New Labour's second term onwards, Blair's former speechwriter and chief strategist Peter Hyman suggests its plight is now so desperate that it may even be necessary to form a new party with others, including the Lib Dems, to fill the "gaping hole in the centre and centre-left of British politics.
But Hyman is not alone is courting the Liberal Democrats.
Leading Greens are making eyes in that direction.
A progressive alliance of Labour, Lib Dems and Greens should be formed to take on the Tories in the 2020 General Election, Caroline Lucas has claimed.

Speaking to the Huffington Post UK, the Green MP called on anti-Conservative parties to band together to stop the "terrifying" prospect of a further decade of Tory rule.

Ms Lucas, who increased her Brighton Pavilion majority in May's General Election, said one of the key principles those in the alliance should agree upon is to introduce proportional representation in order to end the "logjam" of the current "archaic voting system."

The Green MP refused to say this year's election was a missed opportunity for her party, and instead blamed the campaign of fear run by the Tories for the party's failure to secure anymore MPs.
UK Greens back 'progressive alliance' with SNP at Westminster.

THE Green Party's only MP has backed Nicola Sturgeon's claim that a 'progressive alliance' could be formed between their parties at Westminster.

Caroline Lucas, who defeated Labour to win in the Brighton Pavilion constituency at 2010, told a conference of the Green Party for England and Wales that she wants to "forge a new grouping in Parliament" with the nationalists.

Like the SNP, the Greens have increased their membership substantially since the last General Election, with the party rivalling the Liberal Democrats in recent polls.

Ms Lucas said: "With the rise of the SNP, and with our own Green surge, we have the chance to forge a new grouping in Parliament. A progressive alliance.
This latter, a link-up with centrist pro-business Scottish nationalists, Plaid Cymru, and the Greens, found an admirer in the shape of Red Pepper's apparently left-wing Editor.
Hilary Wainwright on the 7th of May wrote in Red Pepper.
These smaller parties – the SNP (Scottish National Party) Plaid Cymru (Welsh Nationalists) and the Greens are already talking about forming a 'progressive anti-austerity alliance' with left wing Labour MPs – there are still some but not many – and using their bargaining power to push Labour to the left.

This kind of alliance combining parliamentary and extra-parliamentary sources of power, is my dream
The growing network of militant extra-parliamentary, direct action campaigns are also insisting that these MPs give support to their struggles and not confine themselves to the shenanigans of parliamentary politics. All three parties and many left Labour MP's have a strong record of engagement in campaigning politics outside of parliament. The new contingent of SNP MPs who will arrive at Westminster are mainly the product of the radical movement for Scottish independence which had real roots in working class communities and was hitherto largely autonomous from the SNP. And the one Green MP, Caroline Lucas, gains her inspiration more from outside parliament than inside. Many of the leadership of the Welsh Nationalists spent time in prison as a result of direct action in support of the Welsh language.
New alliances for the Greens have shifted since then, or have they not?
Who knows?
Caroline Lucas and Hilary Wainwright may consider the idea of a tie-up between Jeremy Corbyn, John McDonnell, Greens, the SNP and Plaid Cymru is still on the cards.
But the competition for the attention of the Liberal Democrats is already there.