Posts Tagged 'Slavoj Žižek'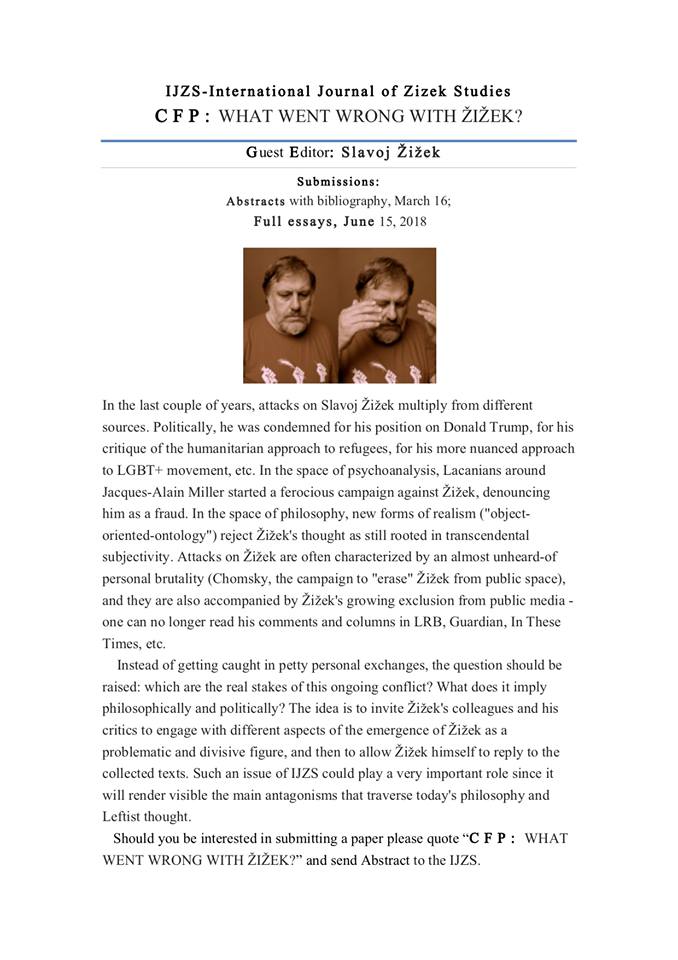 Stop, Stranger and Ponder the Real!
Against the "campaign to erase Žižek", his " growing exclusion from the public media", and the "almost unheard of personal brutality" of the attacks on him, in the interests of proletarian democracy and the completion of the sentence's signification with its last term we publish this heartfelt appeal." More on the International Journal of  Žižek studies here: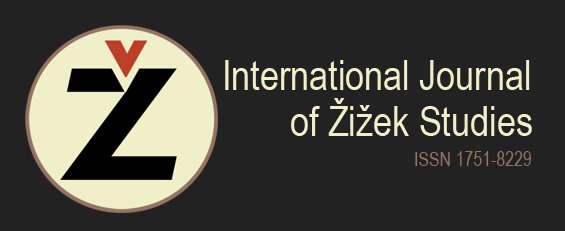 Discerning readers may note that Jacques-Alain Miller and his mates' "ferocious campaign "  denouncing Žižek'  as a "fraud"  have previous,
In 1981, Zizek spent a year in Paris, where he met some of the thinkers whose work he had been so avidly consuming. He would return often. In 1982, however, Lacan died and his mantle passed to his son-in-law, Jacques-Alain Miller – a man who would play an important role in Zizek's career. A former student of Althusser's, Miller had impressed Lacan with the coherence he brought to the master's sprawling theoretical system. While many Lacanians accuse Miller of simplifying Lacan (perish the thought!), others believe that Lacan's posthumous reputation would not have grown without Miller's ordering influence. A shrewd political operator, Miller was eager to expand the Lacanian empire farther than its progenitor had ever imagined. Miller taught two classes in Paris: one that was open to anyone, and an exclusive, thirty-student seminar at the École de la Cause Freudienne in which he examined the works of Lacan page by page. After a brief interview, Zizek and Dolar were invited to attend this latter class. "Miller took enormous interest in us because we came from Yugoslavia," Dolar remembers. "We had been publishing Lacan in Problemi and Analecta for years, and he was grateful for that. He thinks very strategically and didn't have anyone else established in Eastern Europe. To him, we were the last stronghold of Western culture on the eastern front."
But it all ended in tears,
As the head of the main Lacanian publishing house, Miller was in a position to turn Zizek's doctoral dissertation into a book. So, when not presenting his fabricated dreams and fantasies, Zizek would transform his sessions into de facto academic seminars to impress Miller with his keen intellect. Although Zizek successfully defended his dissertation in front of Miller, he learned after the defense that Miller did not intend to publish his thesis in book form. The following night he had his first panic attack, which had all the symptoms of a heart attack. Eventually, he placed the manuscript with the publishing house of a rival Lacanian faction.
Jacques-Alain Miller on Slavoj Žižek:
"So you remember that Freud asked himself the famous question, "What do women want?" As a man, he asked himself this question; and perhaps as a woman too. We do not have the answer, in spite of thirty years of Lacan's teaching. We tried. So it's not a discriminating question. I have another question, which has been troubling me for years, which is —What do Americans want?—I have the answer! A partial answer. They want Slavoj Zizek! They want the Lacan of Slavoj Zizek. They like it better than the Lacan of the Freudian Field, for the time being perhaps. The question is, do they want very definite concepts? Or do they want some room to wrangle? Some negotiating space? And that is the case with the concepts of psychoanalysis."

from Ordinary Psychosis lacanian ink 46
Remember,
"Nowadays, you can do anything that you want—anal, oral, fisting—but you need to be wearing gloves, condoms, protection."
― Slavoj Žižek.
And,
"In a traditional German toilet, the hole into which shit disappears after we flush is right at the front, so that shit is first laid out for us to sniff and inspect for traces of illness. In the typical French toilet, on the contrary, the hole is at the back, i.e. shit is supposed to disappear as quickly as possible. Finally, the American (Anglo-Saxon) toilet presents a synthesis, a mediation between these opposites: the toilet basin is full of water, so that the shit floats in it, visible, but not to be inspected. […] It is clear that none of these versions can be accounted for in purely utilitarian terms: each involves a certain ideological perception of how the subject should relate to excrement. Hegel was among the first to see in the geographical triad of Germany, France and England an expression of three different existential attitudes: reflective thoroughness (German), revolutionary hastiness (French), utilitarian pragmatism (English). In political terms, this triad can be read as German conservatism, French revolutionary radicalism and English liberalism. […] The point about toilets is that they enable us not only to discern this triad in the most intimate domain, but also to identify its underlying mechanism in the three different attitudes towards excremental excess: an ambiguous contemplative fascination; a wish to get rid of it as fast as possible; a pragmatic decision to treat it as ordinary and dispose of it in an appropriate way. It is easy for an academic at a round table to claim that we live in a post-ideological universe, but the moment he visits the lavatory after the heated discussion, he is again knee-deep in ideology."
― Slavoj Žižek, The Plague of Fantasies
In its most recent edition, this fine journal has published these indispensable works:
Toilet Humour and Ecology on the First Page of Finnegans Wake: Žižek's Call of Nature, Answered by Joyce
Abstract
This article draws out ecological aspects convergent on the first page of James Joyce's Finnegans Wake (1939) and explores them through Žižek's theoretical perspectives on humanity today and its relation to the waste and chaos that underpins the state of nature that it is reliant on; that is in relation to the Lacanian category of the Real. It does so in an attempt to bring together Joyce and Žižek (who has tended to reject the writer in his work) so as to demonstrate the theoretical possibilities that can arise out of their synthesis. The essay's methodology is tripartite, working through a theoretical part – utilising, as well as Žižek's ecology, Lacanian psychoanalysis and the ecosophical thought of Félix Guattari – a textual part, drawing on Joyce scholarship pertinent to the first section of the Wake, and towards a practical part, which aims to condense the work of the essay and outline a route to a possible praxis, which takes into account the real of nature.
What WALL-E Can Teach Us About Global Capitalism in the Age of the Anal Father
Abstract
This article employs the animated feature film WALL-E to examine a contemporary incarnation of paternal authority, the anal father of enjoyment.  Slavoj Zizek coined the expression "anal father of enjoyment" to identify a metaphorical father who operates counter to Sigmund Freud's oedipal (or primitive father).  Unlike the oedipal father, the anal father does not command the subject to sacrifice enjoyment as a price for entry into the social order.  Rather, the anal father directs the subject to enjoy excessively.  This article reasons that the anal father figuration is a result of global capitalism.  While a post-apocalyptic event, such as climate change, may destroy the planet, it does not end capitalism.  Yet, WALL-E suggests that with the demise of the anal father, capitalism can be replaced with an alternative economic system.
Alas, they have not published these indispensable oeuvres:
Slavoj Žižek: Trump Presidency could result in a "big awakening" and begin "new political processes."
Andrew Coates unravels Slavoj Žižek's 'communist hypothesis'
Slavoj Žižek: A Radical Critique. Andrew Coates.