Posts Tagged 'Skwawkbox'
Skwawky, Steve Walker, has been in the firing line again.
TEN SALFORD COUNCILLORS TO RETIRE AT MAY LOCAL ELECTION
The Labour Party nationally responded by accusing Skwawkbox of "gratuitous innuendos and assertions about various Party members, as well two Labour MPs"…without providing evidence to the contrary.
What is the future for this alt-news site?
It has become a sterile factional instrument for tool Walker and his little band.
Now we hear:
Breaking, Exclusive.
This now doing the rounds:
Skwawky has yet to respond.
This is the kind of support he's got these days,
Skwawkbox Publicises 'Strike' Against Labour Campaigning.
Breaking. Exclusive.
The Skwawkbox alt-news site is now running anti-Labour stories on a daily basis.
But Lo! A rapprochement with Britain's most famous Vegan (after Morrisey) is on the cards.
Walker has a new fan.
Tiring perhaps of his latest man-crush, Tony Greenstein, Williamson is head over heels in love with Skwawky.
Monday night saw a hard-hitting discussion between Ian Hodson of the Bakers' union (BFAWU) and the Fire Brigades Union's (FBU) Matt Wrack on Socialist Telly's 'Skwawk Talk' programme.

And in an explosive section of the programme, Bakers' president Hodson indicated that the union's affiliation with the Labour party may not last much longer, such is the dissatisfaction of union members with the Labour party's direction and policies under Keir Starmer.

BFAWU has been consulting with its members since January and Hodson said that the results so far show that only 9% of its members think that the Labour party is serving their interests or values:
The comments on Skwawkbox are from a world in itself.
What a disgrace the labour party has become these mp's don't represent the working class anymore maybe the Israelis can fund new labour or TB and chums but i doubt it , Fuck labour.
As a factional tool Steve Walker's site continues its fight for one side in UNITE>
Exclusive: PULS secretary backs Beckett – and accuses United Left of gerrymandering selection and misusing Scottish member data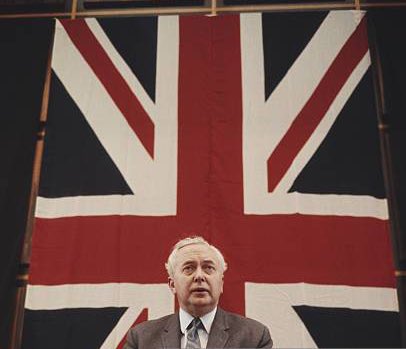 Harold Wilson. Labour P.M.
The professional anti-Starmer crowd have been out in force today.
Here is why:
You would have thought that those who backed Rebecca Long-Baily and her call for "progressive patriotism" would be well pleased. ("To win we must revive this progressive patriotism and solidarity in a form fit for modern Britain. "
Alas, no.
The anti-Labour site, baked by a well known Trade Union,  the Skwawkbox, yells,
Starmer's 'flag-shagging' can't even fool his own front bench, let alone working class communities
Move looks desperate and as false and stupid as it is – and will probably end Labour in Wales and Scotland.
This is the story itself (Guardian):
Leak reveals Labour plan to focus on flag and patriotism to win back voters
Labour must make "use of the [union] flag, veterans [and] dressing smartly" as part of a radical rebranding to help it win back the trust of disillusioned voters, according to a leaked internal strategy presentation.
Let us treat the  froth of the likes of Steve Walker, other 'alt-news' sites and professional anti-Starmer haters.  with the contempt they deserve. It comes from nothing and destined for the Wheelie Bin of History.
One could,  by contrast, write at length on this, about George Orwell's efforts to distinguish patriotism and nationalisa, about Imperialism,  the theory that the "national popular" can be captured by left populism.  about how Scottish nationalists get off the hook despite their country's own contribution to the British Empire, and about how in most countries, France and the USA, just about all politicians use the Flag. Not to mention the long list of Labour Party leaders and politicians have been pictured with the Union banner in one shape or another.
The Harold Wilson government of the 1960s supported this campaign in 1968:
Things have developed, obviously.There is also a history to be written of the nationalism behind Brexit (indulged by many anti-Starmer people who helped Leave win). In the last decades internationalists have opposed those brandishing Britain in at the end of a pole. UKIP, the Brexit Party, Johnson and his cronies have made the sight of the Union Flag distasteful at present. There are serious left wing reasons to be wary of it, and a discussion to be had.
That is, what kind of country does it stand for?
That critical case needs to be explored and expanded.
But this is not what this Blog is going to do today.
Real love of the country is love of people and things dear, it is demonstrated not by symbols, it is shown by acts.
What can that mean?
One of my favourite, fictional, stories explaining English patriotism comes from the satirical novel England, Their England (1933) by A. G. Macdonell.
It is 'travel memoir' by a youthful Scots, Donald Cameron, who has been invalided away from the Western Front  With "no qualifications for any profession except the ability to drive a moderately crooked furrow and to direct the fire of a six-gun battery of eighteen-pounder guns" "he resolved to try his fortune as a journalist." Donald writes for a series of London newspapers, before being commissioned by a Welshman to write a book about the English from the view of a foreigner.
To collect material for his book the young Sots enters the Dragon hostelry in Fleet Street at a Quarter to Twelve.  Engaging in conversation he encounters that he has met once of twice,  a man of about thirty-five from  circles he had begun to get to know. The  man exclaims, ""Have a drink. Flaming fish! but this is a stinking country."
"This is on me," he said. "It is the anniversary of Roland's death in the Valley of Roncesvalles. The world came to an end on that day. It has never really existed since. We must drink to my fellow-countryman who saved Europe in the Pyrenees a thousand years ago, just as that other fellow-countryman of mine saved Europe in the marshes of St. Gond on the River Marne in 1914."

"Do you mean Sir John French?" asked Donald.

The red-faced man became apoplectic. He swelled like a frog and his eyes appeared to become bloodshot. A queer, hoarse croaking issued from his lips. At last he managed to say, "I mean Ferdinand Foch, Marshal of France," and he stood to attention.

"I beg your pardon most profoundly," said Donald in great distress. "I had no idea—I mean your English is so perfect—is it really possible that you are a Frenchman?"

"My family name is Hougins," replied the man with superb dignity. "And there were Hougins in the Channel Islands a good long time before Duke Robert of Normandy cast his eyes upon the tanner's daughter."
After his departure a perplexed Donald was informed of the truth,
But he said his family name was Hougins."

"So it is, in a sense. It's Huggins. Tommy Huggins, and he comes from Bolton. His great-grandfather was Mayor of Bolton about a hundred years ago."

"But he sneered at the British Army," protested Donald.

Mr. Hodge laughed again.

"That's a favourite pose of his," he said. "He went to the War as an infantry Tommy and performed prodigies of valour."
True valour and irony, mocking patriotism, love for others, for countrywomen and men, courage, and humour, are not Jingo.
The below captures the right tone as well…
Susan Press says,