Posts Tagged 'Simone de Beauvoir'
Claude Lanzmann has died in Paris at the age of 92.
Esteemed French journalist, 'Shoah' director Claude Lanzmann dies aged 92.
Agence France Press.
laude Lanzmann, the esteemed French journalist and director of the acclaimed Holocaust documentary 'Shoah', died at his Paris home on Thursday at the age of 92.

"Claude Lanzmann died at his home. He had been very, very weak for several days," a spokeswoman for publishing house Gallimard told AFP.

Lanzmann was the chief editor of "Les Temps Modernes", the ground-breaking literary review founded by philosophers Jean-Paul Sartre and Simone de Beauvoir after World War II.

Lanzmann was a friend of the philosophers, and famously became involved with De Beauvoir while working as Sartre's secretary. He was 26 and De Beauvoir was 44.

The golden couple of French intellectual life had a famously open relationship, and enjoyed – and endured – a number of similar love triangles.

Lanzmann went on to make the acclaimed Holocaust documentary 'Shoah', the nine-and-a-half hour epic which is, for many, the most haunting film made about the murder of six million Jews during World War II.

The chronicle took Lanzmann 11 years to make and is his best-known work.

Lanzmann was born November 27, 1925 in the Bois-Colombes suburb north of Paris. His Jewish parents immigrated to France from Eastern Europe where they raised Claude, his sister Evelyne, and younger brother Jacques.

His first act of resistance as a Jewish schoolboy in wartime France was to refuse to write an essay in praise of its collaborationist leader Marshal Petain. He later took to the hills to join fighters in central France ambushing German patrols as part of the Mouvement Jeunes Communistes de France (MJCF), a political youth organization close to the French communist party.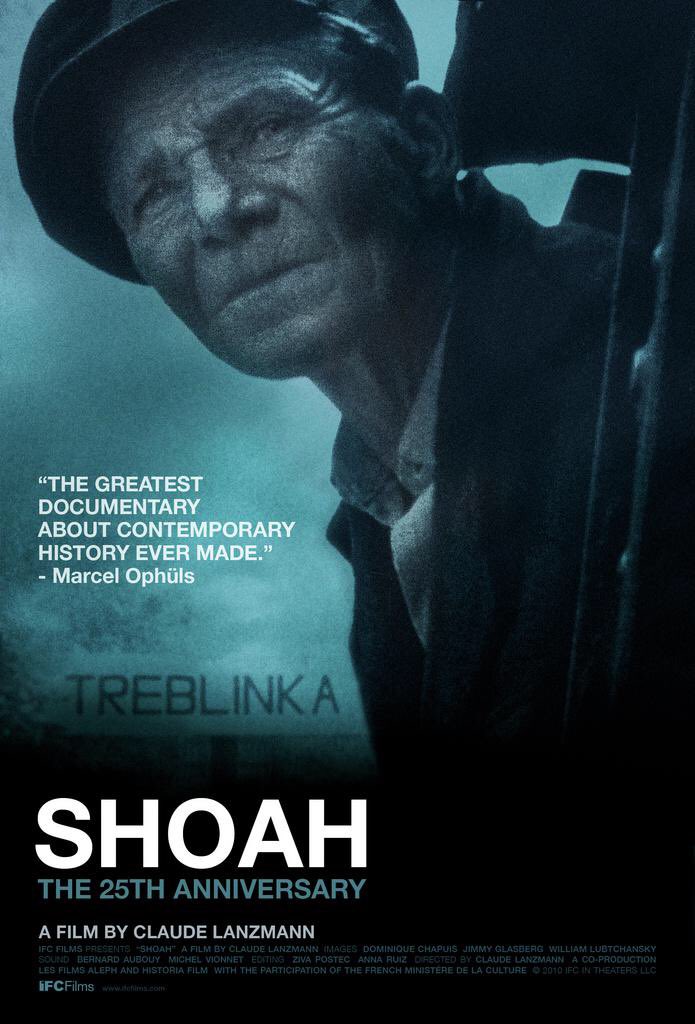 Review, 2011.
Le Lièvre de Patagonie. Claude Lanzmann. A Review, Sartre, de Beauvoir, Israel.
Andrew Coates.
Le Lièvre de Patagonie. Claude Lanzmann. Gallimard 2009 (Paperback 2010)
Claude Lanzmann (born 1925) is the director of Shoah (1985), the landmark film on the Holocaust. Against the documentary's theme of methodically organised death, his title, Le Lièvre de Patagonie, evokes the Hare, a symbol of fertility and renewed life (the original 'Easter Bunny'). Lanzmann's book, he states, was written with this animal constantly in mind.
In Shoah while Rudolf Vrba talks off-camera of his escape from the Birkenau extermination camp there is a shot of a hare sliding under the barbed wire. Lanzmann likes the creatures, he respects them as noble, and if there were transmigration of souls he would wish to be reincarnated as one. Glimpsing one of a legendary South American species in his car's headlights in Patagonia signalled the moment that he felt fully in the land, vrais ensemble (truly together). The hare is a sign of a vital leap to freedom that infuses his own "joie sauvage" (wild happiness). It is this incarnation that constantly springs to Lanzmann's mind as he unravels this account of his life.
Le Lièvre de Patagonie is a record of Lanzmann's out-of-the-ordinary intellectual, political and creative career, infused with joy, and sadness. It passes from the youthful résistant, to the culture and commitments that led him to Jean-Paul Sartre, and a "quasi-maritale' companionship with Simone de Beauvoir (from 1952 to 1959). A contributor from 1952 onwards to Les Temps Modernes (publisher's site here) he provides an important first-hand account of this review's active support for anti-colonialism during the Algerian war for independence.
The memories are much more than a record of events; they are an affirmation of his beliefs, and loyalties. Lanzmann's commitment to Israel, expressed in the partisan documentary Pourquoi Israel (1970) remains at the heart of his being. In Le Monde last year Lanzmann was cited saying that, "Je suis d'autant propalestinien que je suis pro-israélian, et récroproquement" (I am as pro-Palestinian as I am pro-Israeli and the other way around). But there is little doubt that his empathy for the Jewish state marks his recollections the more, making the author a rare living defender of the left's post-War support for Israel.
Lanzmann does not just feel an affinity, as somebody with a secular-Jewish cultural background, with Israeli people. He considers that he is, despite the intensity of his French culture (to the depths of his prose). He remains "Français de hazard, pas du tout 'de souche'" – French by chance, not of French stock. (Page 330) The Jews are "mon peuple".
Visiting the new state in 1948 Lanzmann found that compared to real Israelis, who had their country in their "os et le sang" (bone and blood) he was "un elfe" who weighed nothing. He has always, without Biblical faith, been astonished and full of "admiration" for the Jewish religion (Page 730). Such opinions (and his eulogy  of  Israel's army in the film Tsahal, 1994), are in Lanzmann's marrow. To this extent his praise of the Hebrew state's military is  impossible to forgive or forget.  
La Guillotine.
Lanzmann begins with the words, "La guillotine – plus généralement la peine capitale et les différents modes d'administration de la mort – aura été la grande affaire de ma vie" – the Guillotine – and more widely capital punishment and the different forms of meeting out death – will be the main concern of my life. An adolescent trip to the cinema in the late 'thirties to see L'affaire du courier de Lyon (under the post-Revolutionary 'Directory') was his introduction to the horror of watching an innocent executed. The view of the scaffolding around the  blade, and the fact that the sentence was carried out in public, preoccupied him for months.
Lanzmann is haunted by tortures, by Hitler and Stalin's mass murders, Goya's Fusilamentos del 3 de Mayo, and the hostages that Islamists put to death and record like "films pronographiques". His life was dedicated to standing for right against repression. The national liberation struggle in Algeria was met by French repression, which included the death penalty. Lanzmann and de Beauvoir worked with the lawyer Jacques Vergès to defend the condemned under this threat. He campaigned for the Catalan anarchist, Salvador Puig Antich, condemned by the Caudillo to die by the garrotte in 1974.
This was not just the indignation of the righteous. It was bound to Lanzmann's own past. Under the Occupation in 1943 while studying at the lycée Blaise-Pascal, at Clermont-Ferrand (in the Auverne) he decided to join the Resistance. He became involved with the Communist Party (PCF). The former school student was soon amongst maquisards in the Haute-Loire, and a member of the FTP (Communist, Francs-tireurs et partisans). For refusing to carry out a suicidal mission – transporting weapons through German controlled areas – the local PCF put him under sentence of death.
Escaping this fate Lanzmann resumed his education in post-war Paris, in the prestigious "hypokhâgne" at Louis-le-Grand (preparatory course for the elite French 'Grandes écoles'). The PCF were active in the college. Undaunted he approached the secretary of the school's Communist cell to ask that the "sentence de mort prononcée contre moi par le Parti" be carried out (Page 207) The official, later a well known left Socialist politician, Jean Poperen, did not, on this occasion, as the representative of the Party of the "75,000 shot", add another number to the total.
There is so much rich detail, often supplied at a tangent with the unities of space, time and action, in Le Lièvre de Patagonie that the linear narrative of Lanzmann's life is sometimes hard to keep steadily in mind.  There is his troubled family background. There is his period as a proto-academic, enraptured by Sartre's trilogy, Les Chemins de la liberté (1945), studying Hegel, and so poor he stole books from the shop of the Presses Universitaires de France, to resell – until memorably caught and disgraced.
There is Lanzmann, teaching in post-War Berlin at the Freie Universität, where he exposed much of the teaching staff's unrepentant National Socialism. There is the moving story of his actress sister, Évelyne, who was Gilles Deleuze's lover, and then, after acting in Sartre's plays, became his lover, only to later commit suicide in 1966. And there is the meeting with De Beauvoir, le Castor, holidays across Europe, and their political activism.
Little emerges  in Le Lièvre on Les Temps Modernes' relations with International Communism, or on Sartre's judgement that a friendly stand towards the PCF was a "means of access" to the French working class. By contrast there are interesting accounts of Lanzmann's role in the activities of the group around Sartre and de Beauvoir during the Algerian war, which came to dominate the country's political life during the 1950s. By the end of that decade their alliance with the Algerian fighters for independence, led to what became known as 'third worldism'. They stood up for anti-colonialism in the hardest conditions, risking their lives to defend Algerian prisoners, and the rights of North Africans. All who has signed the celebrated Manifeste de 121(1960) which called for those conscripted in the French army to refuse to serve in Algeria were under threat. Jobs were lost, and Sartre's flat was attacked with plastic explosives.
In 1958, with 4 more years of the Algerian war to go, Lanzmann was a journalist (writing for France Dimanche as well as Les Temps Modernes). As a man of the left he, like Sartre and de Beauvoir, made his own pilgrimage to 'socialist' lands. He visited North Korea and China as part of an organised delegation (with Western Communist participation). In the land of Juche and "pression stalinienne…effrayante" (fearful Stalinist pressure) Lanzmann had a fleeting contact with a Korean woman, more a Brief Encounter (which he evokes to describe the fleeting tryst) than an affair. China, though more relaxed, offered the less compelling charms of an interview with French-speaking Chen Yi, Foreign Affairs Minister, on the country's geopolitical strategy.
Third-Worldism.
The Sartre-Beauvoir circle embraced Third-Worldism (though the author of the Second Sex appears never to have been wholly convinced. This was most marked in their relations with the Algerian resistance. While Sartre and de Beauvoir replaced interest in the old Soviet bloc, for Cuba, and in 1960 they did some safe revolutionary tourism there, it was Lanzmann who got closest to its dangerous side.
A small number of people on the French left had worked closely enough with the Algerian revolutionaries, the Front de Libération Nationale (FLN) to become "porteurs de valises" (carrying arms for them). While far from engaged in the armed struggle Lanzmann met the FLN in person, in its Tunisian bases. It was there that he encountered Franz Fanon, the renowned theorist of anti-colonialism (and today largely, if remembered, largely appropriated by Anglophone 'post-colonial' studies).
Sartre would write the Preface, as Fanon requested, for The Wretched of the Earth (1964). He asserted that "The native cures himself of colonial neurosis by thrusting out the settler through force of arms" "For in the first days of the revolt you must kill; to shoot down a European is to kill two birds with one stone, to destroy an oppressor and the man he oppresses with one stone". That is, the, highly contestable, claim that the physical fight for freedom is the route to cathartic self-assertion.
Despite his unwavering anti-colonialism Fanon seemed equally aware of the FLN's internal disputes, the occasion for a different kind of catharsis, a purging of emotions onto any human object to hand. These were, he alluded to Lanzmann, were ferocious, though "secret". His interlocutor sensed that the Martinique himself "connaissait la peur" (knew fear) (Page 492). With good reason, Lanzmann observes. The FLN and its supporters, not to mention ordinary Algerians, were the victims of a terrifying level of repression, with 500,000 troops at under French command, and special units prepared to use torture, while the French Algerian ultras, in the Organisation Armée Secrète (OAS) rained down terror against all Maghrebin rebels (including those on the French left deemed supportive of them).
The Algerian National Liberation Front, (FLN) and its army's (ALN) cadres were responsible for extreme acts of violence against their nationalist opponents (the Mouvement pour le triomph des libertés démocratiques, MTLD) and civilian critics. They suffered from vicious quarrels inside the apparatus, and readily resorted to force to settle disputes. On top of this were rivalries between clans, and ethnic groups, Arabs and Kabyles. The reality showed that violence was not a vehicle for liberation and therapy.
For Lanzmann, however, the need to back the struggle meant a self-imposed silence (with an eye to possible FLN reaction). He therefore kept information about the use of terror inside the liberation movement to himself. He wrote nothing, and said nothing (Page 501). One must say however that Simone de Beauvoir in 1963 did not hesitate to cite Fanon's allusions to "les dissensions, les intrigues, les liquidations, les oppositions…" without seeming bound by a revolutionary omerta, even if she gave no details. (La force des choses. Vol ll.) An element of religious conservatism, including support for polygamy, was already manifesting itself.
After Independence in 1962 there were retributions against real and alleged collaborators with the French that exceeded France's 1945 épurations. The socialist aspects of the Algerian revolution did not last long. The FLN's military wing, under Boumediene, soon took charge of an independent nation and laid the foundations for an authoritarian state run for the benefit of its rulers and their clients.
Lanzmann barely touches on this: he is more concerned that early promises of friendship (by a certain Captain Bouteflika) with Israel were not kept. An Independent Algeria announced that it would send 100,000 men to liberate Palestine. As a sign of the times, Fanon's widow had re-married, to a militant anti-Israeli, whose views she adopted to the extent of wanting Sartre's famous Preface to The Wretched of the Earth suppressed, – after the philosopher had signed a 1967 petition, following the 6 Day War backing Israel. The balance-sheet was not positive, "Je croyais qu'on pouvait vouloir en même temps l'indepéndence de l'Algérie et l'existence de l'État d'Israël. Je m'étais trompé."(Page 505) – I believed one could wish for an independent Algeria and the existence of the Israeli state at the same time. I was wrong.
Israel and 68.
For years Lanzmann was convinced, despite his own experience of the French Communist Party's cynicism and treachery during the 2nd World War, and what he knew at the time (still less at present) about the dark-side of Stalinism, that the USSR was "le ciel sur ma tête" – the sky over my head (Page 546) That this gradually evaporated seems less significant, as we have just indicated, than what he saw massing against Israel. That was a real menace: to destroy the Jewish state.
It is forgotten today that many on the left shared Lanzmann's views in the late sixties. In 1967 he edited a special issue of Les Temps Modernes where Arabs and Jews debated with relative good-will. Sartre, during the Six Day war, and the Yom Kipper war, backed Israel. Sartre naturally is better remembered for another standpoint. During his period of close association with the Mao-Spontex Gauche Prolétarienne (GP), he became pro-Palestinian. As Lanzmann notes, with regret, the ageing thinker wrote in La Cause du Peuple a strident defence of the Munich massacre, saying that "Dans cette guerre, la seule arme dont disposent les Palestiniens est le terrorisme." – the only arm which the Palestinians have at their disposal is terrorism. (Page 573)
Lanzmann attempts to explain, and even to explain away, Sartre's violent streak. He notes that Sartre's Preface to The Wretched of the Earth, which outdid Fanon's psychological justification of aggression, appears to have been an exercise in "philosophie concrète" (concrete philosophy) and conceptual clarity Which seems a roundabout way of saying he didn't really mean to endorse mass killings and cruelty in any form. As evidence, Lanzmann claims that there were some concrete limits Sartre posed to European terrorism.
Lanzmann believes that it was largely Sartre's influence that prevented the French far-left from passing to full-scale terrorism on the German or Italian model (Page 575), though in fact, a small group did travel in this direction, and became the 1980s band, Action Directe. It's true, he indicates, that Algeria has seen a state and society long bathed in "le sang des innocents" (the blood of innocents). It's also the case that post-Munich, nationalist Palestinian terrorism has been supplanted by Islamist mass murder. This, and the US-led armed interventions the world over, illustrate that violence is a spiral not a release.
One wonders how far one push responsibility for this acceleration of ferocity, or its dampening it down, onto any philosopher, however cretinous or emollient his rhetoric may be. Like Fanon's assertion that FLN fighters were busy absorbing Sartre's Critique de la raison dialectique (Page 493), to make such claims is to use arguments of an astonishing légèrté.
One will not find much in Le Lièvre on the controversy surrounding Sartre's secretary, and one-time GP supporter, Benny Lévy. De Beauvoir had her say in La Cérémonie des Adieux (1981). Whether the future Talmudic student determined the utterances of the Universal Intellectual or not, without his influence it hard to see how Sartre moved from this ultra-revolutionary stance to his support for the 1979 'Boat for Vietnam' campaign – to save people from Vietnamese Communism. It is hard perhaps to see Lanzmann seizing the spirit that drove the Gauche Prolétarienne, from strident ultra-leftism to the anti-communist (with a small 'c') apostasy of many of its leading figures, in the first place.
May 68, the French gauchistes' genitor, Lanzmann witnessed from the "extérieur". He was an outsider from another generation (Page 570). More than that he appears never to have seized the fact that Sartre's philosophy, even in its Marxisante form in the Critique de la raison dialectique (written 1956 – 8) had been become not just unfashionable, but unintelligible to much of the post-68 left. While the novels, literary criticism and some of the plays (Les jeux sont faits, 1947 and Les mains sales, 1948)are as bright as new pennies, Sartre's philosophy has not worn well. The focus of the memoirs shifts completely away from talking about disgreeable topics.
Lanzmann as the 'sixties ended had begun to be more and more concerned with one thing: defending Israel. He recounts how he came to produce the film Pourquoi Israel (with no question mark). This work continues to cause controversy. Having never seen the picture it is impossible to judge the description in Le Lièvre. Yet, according to the author, it was the spring-board for one of the last century's greatest documented oral history, Shoah.
Researching, filming and producing Shoah was exceptionally arduous. The film consists of interviews, people left to speak for themselves as participants and witnesses of the greatest genocide of the 20th century. It aims to indicate those who were slaughtered, to show their traces, to hear the echo of their voices. It would be no exaggeration to say that the screening of the nine and a half  hour long documentary mediation on the Holocaust, which took place on British television some years back, was a major political and ethical event. As a measure of its impact the Biblical and Rabbanic word Shoah, catastrophe, disaster, extermination, used to describe the Holocast, has passed into current usage in many languages. Given the enormity of what it refers to it would be better for the pages of Le Lièvre de Patagonie to speak for themselves than to be described here.
The shattering experience of producing Shoah gives an edge to what is already for many a defining moment in their understanding of the Endlösung. After De Beauvoir's death Lanzmann finally became the Editor of Sartre's old journal (1986) marking another significant moment in an exceptional biography.
A Major Biographical Memoir.
Claude Lanzmann's classical prose provides a luminous structure to a complex biography. Le Lièvre de Patagonie is beautifully wrought, and offers a description of that part of the French left which gravitated around Les Temps Modernes. It sheds light on some of the key moments of modern French political and intellectual history, the ideas, relationships, culture and feelings of the circle around Sartre and de Beauvoir, above all their participation in the campaign in support of Algerian independence. For these reasons alone it is of outstanding importance.
Less compellingly the book tries to present a case for Israel. It is unlikely to convince those (like myself) who are, while reluctant to be 'anti' Israelis, see little admirable in a state with a confessional, ultimately ethnic, basis. Not everyone has a strong urge to feel a part of a national "souche" (stock). Lanzmann's passionate beliefs and emotional tissue cannot cloud critical judgement. States are to be judged on political not affective grounds. On democratic, military and human rights criteria Israel is severely wanting. One is equally unmoved by its description of the politics of Les Temps Modernes. As with the declaration of love for Israel, it does not convert those unable to fall under an emotional spell.
For all the beauty of Le Lièvre de Patagonie, on this matter at least, one could say that the Lanzmann's retrospective gaze casts little light on such heat.
A tribute, a bibliography and a filmography appears on the site of Lanzmann's publisher, Éditions Gallimard.
Disparition de Claude Lanzmann.
Guardian:  Claude Lanzmann obituary. Julia Pascal
Director of Shoah, the epic film about the Holocaust presented through individual testimony
Out of Time. The Pleasures and Perils of Ageing. Lynne Segal. Verso.
"In front of the vacant Mausoleum of the First Leader an old woman stood alone. She wore a woollen scarf wrapped round a woollen hat, and both were soaked. In outstretched fists she held a small framed print of V.I.Lenin. Rain bubbled the image, but his indelible face pursued each passer-by. Occasionally, a committed drunk or some chattering thrush of a student would shout across at the old woman, at the thin light veering off the wet glass. But whatever the words, she stood her ground, and she remained silent."
The Porcupine. Julian Barnes. (1992)
In Making Trouble (2007) Lynne Segal asked what become of the 'dangerous' young radicals as they age. For her it was the "bonds we forged in collective efforts not just to wrestle with the world, but also to try to change it which, for a while at least, gave us our strongest sense of ourselves" that would indelibly mark how people develop. 
How this sense of the self both changes and endures over time is one of the most fundamental aspects of being human. But we are not separate islands. As Segal suggests in Out of Time our "collective" actions mark the process of ageing with great weight. The process of ageing cannot be caged in the individual's own life, still less mastered through self-help manuals based on individualism.
One of the contributors to the influential Beyond the Fragments (1980), which brought a libertarian rush of personal feelings into left politics, in Out of Time Lynne Segal relates her private experience of ageing to the world beyond the Self. From her own life, "literary and political, of the women's movement as an activist, a scholar, a teacher and a writer", she reaches out to explore multiple physical, physical and social aspects of ageing. Novels, psychology, paintings, the philosophy of personal identity over time, and the sociology and politics of the increasing numbers of the elderly, are employed to mark out a stunning and thought-provoking book.
Segal retains her emphasis on the left. There are some people, as they say, for whom the glow of that commitment continues to shine through all the defeats and set-backs that we have faced over the decades. "Entering old age, almost all those leftists and feminists I knew forty years ago hold much of the same political views as then. There is no shortage of older radicals who continue to support struggles of justice, equality and a safer, greener more peaceful world."(Page 54)
Sexual Politics.
She is equally resilient in her feminism and sexual politics. From Simone de Beauvoir's autobiographical La Force d'âge (1970) to her La Viellesse (1970) Segal draws on images of the ageing female body as something "pitiable" in the eyes of others. She talks of how elderly women become in simply invisible, undesired. The "double standard" at work in conventional sexuality means that this change does not apply to men. Yet the strictures of abstract feminist theory dampen down when faced with men's own "horror of ageing". She records the importance for elderly men not of aggressive sexual virility but of "intimacy and touch in their experience with wives or partners."(Page 89)
Are women trapped in the beauty culture dictated by masculine desire? Gender as a construction can always be, as Judith Butler suggested, destabilised, and redefined (Gender Trouble. Feminism and the Subversion of Identity. 1990). Known a decade ago as a defender of the legitimacy of heterosexual relations against separatist feminism, Segal describes how she found, after her relationship with a younger man ended in her fifties, "Unexpected erotic pleasure in a relationship with a woman."(Page 117)
Perhaps it is no coincidence that Segal cites Peter Osborne to develop a variegated perspective on time which helps her to come to terms with this feature of her life. Personal identity is something that endures in ageing, but its relationship to the past, the present and the future is not to be fixed by the chronology of clocks. The past remains there in the eternal present. There are always yearnings for roads not taken. In the now there are moments throughout our lives that draw us to the future. In discussing psychoanalysis (Freud and Lacan) and psychology she observes that the unconscious itself is "timeless". One could equally say that grace and charm (and their contraries) are things that may endure  over a life-time. 
Ageing in Literature.
Segal refers to the paintings of Lucien Freud and David Hockney to portray the sight of ageing. But perhaps it's when she harvests literature, such the works of Philip Roth and John Updike, that she makes the most incisive impression. This is literary direction is a fruitful avenue, whether or not it directly speaks for personal experience. Roth's I Married a Communist (1998-  (which she does not cite)  features one character in its wider plot,  whose commitment, worn over the years gradually boils down, as he gets old, to a simple sense of being a "good person".
The importance of life-long goodness is apparent in Flaubert's Un Coeur Simple (1869), the subject of Julian Barnes' Flaubert's Parrot (2009) to which Segal refers. In that short story the maid Félicité devotes herself to others – her mistress, her employer's children, her nephew and an old man with cancer. Dying, in one of the most moving scenes in the history of literature, she imagines god or the Holy Spirit as her parrot, Loulou. In homage to human unselfish devotion Michel Houellebecq (Les Particules élémentaires 1998) describes such beings, who have worked all their lives, uniquely for love and out of devotion for others. In practice, Houellebecq noted, these people have generally been women.
The elderly can also be wrong-footed in their attachments. De Beauvoir's La Cérémonie des Adieux (1981) is marked by the author's annoyance at Sartre's senescent years. Under the influence of Benny Lévy her close companion was enthused by the Cultural Revolution. By the late seventies he turned like a weathervane – as his self-appointed secretary veered to the right and the Talmud – to endorsing the anti-Communism of the nouveaux philosophes. Beauvoir could hardly contain her rage, as Sartre appeared to lose his sense of self and judgement. A besotted dupe Sartre is as pitiable as Balzac's Père Goriot. He sacrifices all his wealth for his daughters, who are ashamed of him, and is left to die in wretched isolation.
Other novelists enter Out of Time to mark out lines of experience. Penelope Lively's reflections on generational difference impress her. Lively also indicated in Treasures of Time (1979) the presence of the monumental past in the now. As her partner, Jack Lively, might have indicated, from his work on Joseph de Maistre, for many individuals (whatever the reality of these impressions), there are deep traces of the people who have gone before in the world of today.