Posts Tagged 'Sara Khan'
Islamists Leading Campaign against Sara Khan. 
Azad Ali is an Islamist, who has indulged himself in the past in violent rhetoric.
He is now the leader of Muslim Engagement and Development (MEND), the self-appointed group in pole position in the charge against Sara Khan and her nomination as head of the Anti-extremism Commission, or the Lead Commissioner for Countering Extremism.
This is a report on him from April 2017.
Azad Ali has been appointed to lead the Muslim Engagement and Development (MEND) organization, which lobbies MPs, the police, councils, teachers, and related groups on anti-Muslim prejudice.

Ali lost a libel case brought against the Mail newspapers in 2010. He had objected to being branded what he termed "a hardline Islamic extremist who supports the killing of British and American soldiers in Iraq by fellow Muslims as justified."
RT (Russia Today) continues,
Azad Ali was criticized for his response to the March 22 Westminster attack.

In a Facebook post, he denied it had been an act of terrorism, insisting that it was "an incident we now know to be a lone wolf act."

His legal representatives Carter-Ruck law firm have since said their client was referring to the meaning of terrorism as an organized attack by established groups.

They said that their client thought the Westminster attack, in which five people including the attacker Khalid Masood and a police officer died, was barbarous and unjustifiable.
There is plenty of previous in this individual's background, (Wikipedia)
"In 2010 Andrew Gilligan produced a Dispatches documentary focused on the Islamic Forum of Europe. An undercover reported followed Ali for 8 months[6] and recorded a live IFE radio show where they showed Ali saying "Democracy, if it means at the expense of not implementing the sharia, of course no one agrees with that."[18] Ali subsequently claimed that the quote was taken out of context and portrayed as though it was his opinion of democracy in non-Muslim countries. "The comment was in response to a caller who asked a question about democracy in a Muslim majority country and whether I support it. I answered yes of course and I gave the example of how some of the Muslim rulers were elected in history. The caller then asked would people, that is Muslim people in a Muslim majority country accept democracy if it didn't implement shari'ah – to which I answered of course they wouldn't."[6]
Ali later attacked the undercover reporter on the IFE's official radio station, saying: "We've got a picture of you and a lot more than you thought we had. We've tracked you down to different places. And if people are gonna turn what I've just said into a threat, that's their fault, innit?
Apparently he is also "Vice chair" of something called Unite Against Fascism  – a very unifying figure no doubt.
He also has ties to CAGE, (Wikipedia), another group with plenty of previous:
In an interview featured in Episode 5 of Julian Assange's World Tomorrow broadcast by RT on 15 May 2012, representatives of Cage Moazzam Begg and Asim Qureshi expressed support for the principle of creating an Islamic caliphate, including precise implementation of Sharia law. During the interview Qureshi expressed support for the principle of death by stoning for adultery and other death penalties prescribed by Islamic law "as long as all due process elements are met".[45] In a 2015 interview on BBC This Week, Andrew Neil repeatedly asked Cage Research Director Asim Qureshi to clarify their position on Sharia law and Qureshi again refused to condemn stoning to death for adulterers.
CAGE tweeted this yesterday
CAGE is actively engaged in denying the reality of genocidal Islamist groups such as Daesh.
It thinks it's all a matter of the invention of an 'Other'.
Ali is, nobody will surprised to hear, a leading  campaigner against Sara Khan,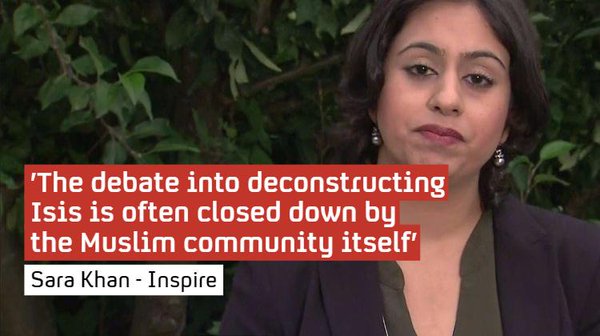 Is there a problem with violent racist Islamism in Britain?
The Independent wrote last October.
More than 400 British Isis jihadis have already returned to UK, report warns.
Thousands of Isis fighters have already returned to their home countries amid confusion over the number of foreign jihadis remaining in the dwindling caliphate, a new report has found.

Research by The Soufan Centre estimated that at least 425 British Isis members have so far returned to the UK – the largest cohort in Europe.

But there are fears many have "disappeared" from the view of security services, who will not publicly confirm how many returnees have been jailed or are being tracked.
These people fought for a group that has engaged in ethnic and religious cleansing and genocide.
How can the support which led to their participation be tackled?
There are many reservations about the Government's Prevent strategy, beginning with the fact that is initiated by the government, and extending to an appeal to "British values".
Sara Khan wins over many by this saying this instead, (Mirror).
"The Bradford-born founder of Inspire vowed to tackle Islamism "in the name of our shared values, fundamental freedoms and human rights."
Her statement  shines in contrast to the following,
Sara Khan's appointment as the UK's counter-extremism chief is symbolic of how the problem of radicalisation is ultimately addressed by the state.   Professor Tahir Abbas Visiting senior fellow at the department of government, London School of Economics.

..government rhetoric focuses on ideology, regressive interpretations of Islam, anti-integration sentiment, resistance politics, anger and disaffection towards failed Western foreign policy and lumps them all together as elements of a problem that has a singular solution. The solution is to modify and moderate Islam.

This is the heart of the problem for the last decade and a half.

Everything else that is important in understanding, breaking down and helping to eliminate issues of radicalisation points to a multivariate set of factors that are important in understanding the processes and the mechanisms through which radicalisation can be eliminated.

The research suggests strongly that radicalisation on the basis of religion is a later-stage process, whereas it is the sociological, political and cultural pressures that act as the initial push factors in relation to radicalisation.
In place of this – alas representative – gibberish Shiraz Socialist  In Defence of Sarah Khan  says,
Human rights and anti-extremism campaigner Sara Khan has come under renewed attack for accepting the Lead role in the government's new Commission for Countering Extremism. Before this she has been condemned for accepting Home Office funding for her Inspire project and for being willing to work with Prevent.

Much of this criticism comes from Islamists and their apologists like the SWP. Some of it comes from left wingers genuinely concerned about Khan's willingness to work with the government. Bizarrely, one of  the most outspoken critics of Khan's appointment is former Tory Party Chair, Lady Wasi!
New counter-extremism tsar Sara Khan faces calls to quit BBC.
MEND (Muslim Engagement and Development) is another prominent critic of Sara Khan.
This organisation issued a speech about Holocaust Day (Wednesday).
While worthy in its content, in defence of refugees and Muslims facing persecution, manages the hard task of not mentioning once the genocide and ethnic-religious cleansing taking place in Syria and Iraq at the present moment. (MEND Head of Policy speech in commemoration of Holocaust Memorial Day.)
The National Secular Society writes,
Many of those who claim to speak for Muslims do not like Khan because she promotes a positive message. She encourages a degree of integration into British society. She says Muslims should obey the same laws as everyone else and cooperate with the British state. She has called for honesty among Muslims about hateful ideologies and intolerant practices which are specific to, or particularly prominent among, those who share their religion.

Her organisation Inspire encourages girls and women from Muslim backgrounds to be aspirational. It has done important work countering the narrative of grievance and resentment peddled by so many. And Khan wrote a book, The Battle for British Islam, in which she tackled many of those peddlers, as well as their counterparts on the white far right, head-on.

Is this really work that we should explicitly describe as 'controversial'? Anyone interested in the future of British society should support the general thrust of what Khan has tried to do.

That doesn't mean there shouldn't be reasonable analysis and criticism of her work. But if such a thing exists it has been drowned out today amid a hurricane of apologism. Advocacy groups such as 5PillarsUK, the Muslim Council of Britain and the Muslim Public Affairs Committee have berated Khan. Politicians such as Sayeeda Warsi, Naz Shah and Diane Abbott have cravenly jumped on the bandwagon.
The Mirror also reports,
Harun Khan, secretary general of the Muslim Council of Britain, said: "The fight against terrorism requires equal partnership between all parties, including Muslim communities.

"This appointment risks sending a clear and alarming message that the government has no intention of doing so.

"Sadly it will be seen as a move to placate those small sections of society who see Muslims as foreign, alien, rather than as equal citizens in this country."
This is another comment.
The more moderately toned response from the Muslim Women's Collective offers problems of its own,
We and the British Muslim women who participate in the online forum we founded – the Muslim Women's Collective – are keen to ensure that the commission and the government engage with diverse voices in the spirit of partnership. With the increase in Islamophobia that has occurred (particularly the attacks on visibly Muslim women) our concern is that the commission will neglect this idea, and cast an unjustifiably wide net in terms of who it considers religious extremists, in a manner that risks being counterproductive.
That amongst the extremists we are talking about there are those that have committed war crimes on a scale that can only be compared to those that took place during the Second World War escapes these critics.
It is recommended that these people read what Sara Khan has actually written.
This is how we can reclaim the British Muslim identity from extremists. Independent April 2017.

The rise and appeal of global terror groups are acutely felt here; approximately 1,000 people have travelled to Syria and Iraq, many seeking to join violent jihadist groups.  Between 1998 and 2015 there have been 269 convictions for Islamist-related offences. Intolerance and extremism has erupted in violence as we saw last year with the brutal killing of Ahmadiyyah Muslim Asad Shah by Tanveer Ahmed. And Muhammad Syeedy, a 21-year-old Isis supporter from Rochdale, murdered 71-year-old imam Jalal Uddin.

These facts depressingly represent the tip of the iceberg. Online, the spread of Islamist beliefs is unprecedented. There are 54,000 searches each month in the UK alone for extremist material.  Teenagers and children as young as 10 have been declaring their support for Isis. In some cases the authorities have had to deal with parents who have been found guilty of radicalising their own children. The challenge of Islamist extremism is anything but insignificant, and the damage done is immeasurable.

Yet despite this clear threat, public debate about Islamist extremism has become toxic and polarised. Entrenched black and white parochial positions, a common feature of our divided post-EU referendum society, predictably emerge.

On the one hand there are those who try to imply that all Muslims are de facto Islamists. Others go into denial mode, play down this reality and erroneously criticise those who dare raise the existence of Islamist extremism as "Islamophobia".

Part of the reason for this is because both sides are guilty of homogenising British Muslims; terms like the "Muslim community" are woefully unhelpful, outdated and do a great disservice to the highly diverse and complex picture that exists among Britain's three million Muslims. There quite simply is no single community. Yet when language is so important, this term is repeatedly used by politicians, the media and sometimes by Muslims themselves.

These entrenched positions cloud our inability to recognise the reality about British Muslims.  We fail to recognise the emerging positive trend: how young Muslims are excelling and contributing in many fields, whether in the arts, music, politics, fashion, the arts and drama.  They serve in the Armed Forces and the police, work in the NHS and, much to the displeasure of Islamists, are patriotic, rejecting wholesale the idea of an Islamic caliphate.

But there also exists a negative trend among some British Muslims, albeit smaller yet highly significant.  When third generation British Muslims inspired by Islamist belief want to join Isis or seek to carry out attacks in London because of their hatred for Britain, hard questions about identity, integration and belonging need to be asked.
Khan concludes,
Muslims must define what British Islam stands for: an ethical and moral religious framework which advocates for human rights and equality while weeding out hate, violence and discrimination. Likewise, confronting the wider obstacles facing Muslims in our country – socioeconomic and political issues, as well as widespread anti-Muslim discrimination – is vital. It's important to remember that no one, apart from extremists, benefits from the presence of Islamist extremism in Britain.
 We can be critical of the Prevent Strategy, we can be hostile to the government's foreign policy, but as a person Sara Khan comes across as a serious individual deeply committed to human rights who deserves attention and engagement not the kind of  denunciation she now faces.
See also:  Congratulations to Sara Khan  Sarah AB.
Update: