Posts Tagged 'Salma Yaqoob'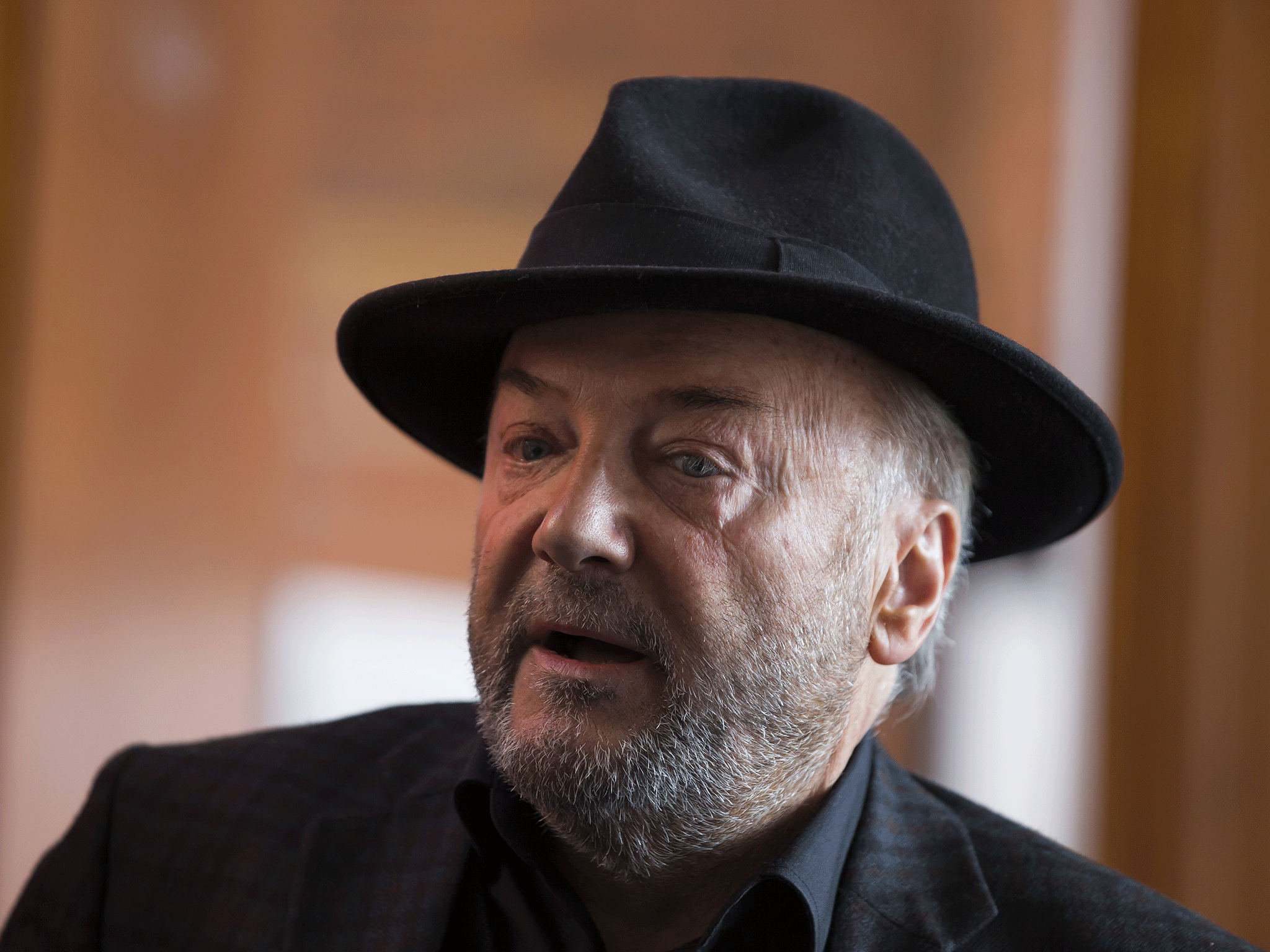 "I used to be George Galloway". 
The victory of Sandy Martin and the defeat of 'Mr Ipswich' and a key author of the Conservative Manifesto (Headline in Le Monde, "Défait de 'l'homme de l'ombre de Theresa May) , Ben Gummer in the Suffolk County Town, has meant that  we are only just now catching up with the results elsewhere.
Our old friend George Galloway is down in the dumps – 5,7% of the vote.
Labour kept hold of Manchester Gorton following the death of veteran MP Sir Gerald Kaufman after the by-election was overtaken by Theresa May's snap election.

Afzal Khan romped home to victory with a majority of 31,730 – comfortably defeating a challenge by George Galloway.

The seat had been up for grabs before the General Election following the death of Sir Gerald, the party's longest serving MP secured 67pc of the vote and a 24,079-strong majority in 2015.

Former Labour MP and Respect Party leader George Galloway had tried to win back his Westminster pass by standing as an independent in Gorton this time around.

Despite a flurry of hype when he announced his candidacy, he failed to turn up on the night. Labour activists shouted 'where's George?' as the candidates took the stage for the result.

Mr Galloway came third.

Instead the seat went to former police constable, solicitor and Manchester councillor Mr Khan elected as an MEP for the north west in 2014, romped home to victory with 35,085 votes – on a turnout of 61pc.
The detailed result should be available (but is not yet when I checked) on the BBC site here. Manchester Gorton. Parliamentary constituency
Update: Galloway 5.7% , 2,615.
There is also this, (Yorkshire Post)

Labour MP Naz Shah increased her vote by just under 10,000 votes after a bruising campaign in Bradford West she said was worse than the one she fought against George Galloway two years ago.

Ms Shah polled 2,944 votes compared with 19,977 in 2015 in one of the largest increased majorities seen so far in this election.

Ms Shah told The Yorkshire Post: "The level of misogyny I received in this election was incredible, I didn't think there was anything that could have topped Galloway. "But here we are. "What doesn't kill us makes us stronger. "The people of Bradford West were very clear about what they wanted to see. They chose hope over division. "Bradford West is one of the poorest constituencies in the country, that is not the sign of a prosperous nation.

George Grant, Conservative candidate, came second to Ms Shah and ahead of the independent candidate Salma Yaqoob who polled 6,345. Mr Grant said he was proud of the clean campaign he had ran but said the "personality-based" campaign had been as bad as 2015.

He also declined to criticise Theresa May's decision to call a snap election.
"The time frame of the snap election meant we had very limited resources and very little time to build a team. And not having a network of local councillors on the ground makes for a tough time. But we have had a positive impact and pushed the Respect candidate into third place."

The seat of Bradford West has been one of the most hotly-contested and controversial in modern political history. A solid Labour seat from the early 1980s, it was the location of the so-called 'Bradford Spring', in which Respect candidate and former Labour MP Galloway won an unexpected by-election in 2012 caused by the resignation of former Labour MP Marsha Singh.

Mr Galloway's party went on to gain seats on the council, including that of Labour leader Ian Greenwood. However infighting among Respect candidates quickly set in and Mr Galloway was defeated in 2015 when Ms Shah won just shy of 50 per cent of the vote in a contest that was mired in acrimony. Mr Galloway made accusations regarding Ms Shah's forced marriage in which she disputed her version of events. He also found himself in hot water for tweeting the results of an early exit poll, prohibited under the Representation of the People Act.
Despite the crushing defeat inflicted upon him by Ms Shah which saw him lose 34.7 per cent of the vote, he indicated his willingness to contest the result. However he would fail to file the relevant papers within the three-week window required of candidates to contest results.
Naz Shah (Labour) 29,744

George Grant (Conservatives) 7,542 

Alun Griffiths (Lib Dem) 712

Celia Hickson (Green Party) 481

Muhammad Hijazi (Independent) 54

Derrick Hodgson (UKIP) 885 

Khadim Hussain (independent) 65

Salma Yaqoob (independent) 6345