Posts Tagged 'Roy Hattersely'
Roy Hattersley, Momentum, and 'Labour's worst crisis"
"Socialism requires the use of collective power to increase individual rights and to extend individual freedom."
"Public ownership in the form of state corporations, centrally owned, planned and administered, is essential for the public utilities."
Pages 120 and 185. Choose Freedom. The Future for Democratic Socialism. Roy Hattersley. 1987.
Sunday's Observer saw elder Labour statesman, Roy Hattersley, launch a call to arms (This is Labour's greatest crisis. Time to fight back. 3.12.17). Momentum, the pressure group dedicated to winning elections for Labour and supporting the leadership of Jeremy Corbyn, aims to move the party to the "far left of the political spectrum". The "threat" to Labour from their "extremism", "Corbyn's revolutionary guard" is carrying out a "cull of councillors" and the "replacement of moderate MPs". It must be "beaten". The task is to "save British social democracy from extinction".
Hattersley's polemic has its moments. Many enjoyed the phrase struck, with successful comic effect, describing former Militant supporters, "the old gang" in Liverpool now apparently active again in the party, "All that is changed is that the Militant now travel to meetings with their bus passes."
Less appreciated was his effort to explain other local developments. On the challenge to Haringey's Labour leadership, the former Labour Deputy leader is seriously awry. Aggressive newcomers were also at work. 'New recruits' brandishing a call for "democracy" were to blame for new councillor selections. A reference to the disastrous implications of the council's plans to redevelop council housing by removing some estates from "public ownership" and handing them over to a private dominated development ("the biggest transfer of local authority resources to a private entity in UK history, and would see Lendlease own a fifty per cent stake in a company which will profit from public assets for at least twenty years")  in which the poor have no place is missed. Absent too was the long, very long, history of disputes over 'modernising' Labour in Haringey, which predate Momentum by….several decades. (1)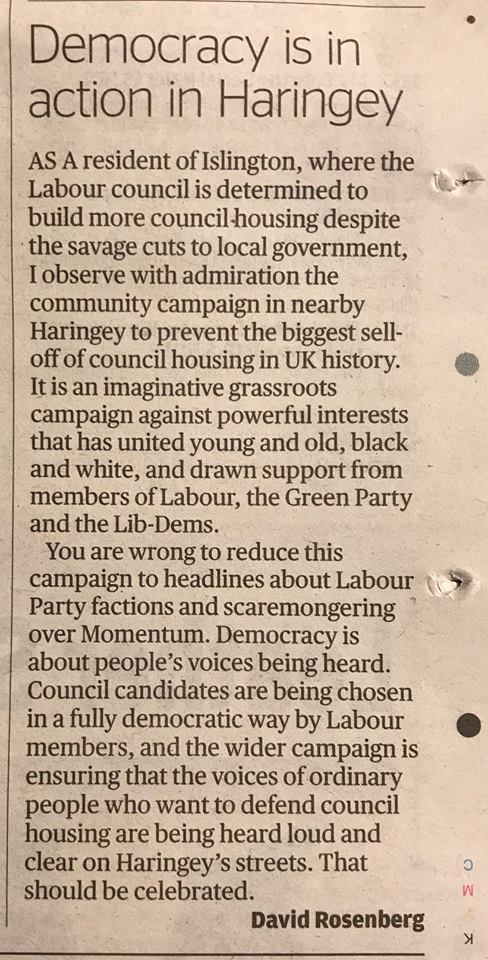 Momentum.
Momentum can no doubt reply for itself and there are already many commentaries on Labour's Greatest Crisis. It is hard to identify the pressure group with the 'far left'. When Militant, now known as the Socialist Party, tried to move in en masse, attempting to create its own "Trade Union Momentum", they were rebuffed. Another group of left-wingers, after several figures were removed from national office, put some effort in forming Grass Roots Momentum. It has foundered. No doubt individuals from various leftist factions are active in Momentum, a proportion of the membership put at lower single figures.
Some on Labour's right appear to believe that Momentum's interest in 'extra-parliamentary' activity is anti-democratic. The term is misleading. Public protest is no more opposed to electoral work (which is the core of the movement's existence), than UNITE Community's Day of Action against Universal Credit, or demonstrations on the NHS. Or indeed, at the labour movement's foundation, strikes for better pay and conditions leading to negotiations for collective agreements. Complaints about UNITE's efforts to influence Labour more directly seem even more paradoxical, if criticism is directed at anti-Westminster politics.
There are legitimate concerns about some aspects of the way the Momentum operates. Conferences attended by delegates selected by lot, a practice adopted in France by President Macron's En Marche! party and used for a percentage of attendees at Jean-Luc Mélenchon's La France insoumise, may quell factionalism. But despite reference to the ancient Athenian Constitution, this method of choosing representatives is not today widely accepted as a democratic method.
No doubt we will learn just how democratic the opposing slate of candidates for Labour's NEC emerged. At present there are none.
On what other grounds does Hattersley accuse Labour of moving to the far-left? The party programme, its policies? Labour is committed to re-nationalising public utilities. One might disagree about the claim that "market distribution" can be fixed to respond to "demand" when, as he noted in Choose Freedom, that income is so unfairly distributed. The objective of developing a replacement for Universal Credit, still in its early stages, can surely be modelled in with traditional social democratic redistribution. In his 1987 book he cited John Rawls' 'difference principle", that is judging reforms by their ability to make the poorest better off. This remains a workable gauge of real reform of welfare. Hattersley's "struggle for democratic rights" equally remains an objective which unites otherwise divided strands of democratic socialism. The Corbyn and McDonnell leadership indeed puts it at the centre of their policies.
Sunday's broadside is a shot from the bows at ..what? The vast majority of members are united around the need to elect a new Labour Government. Yet, behind this there are serious issues at stake within the party. They do no neatly fall into a division between "far left" and "moderates", or even different appreciations of the Blair and Brown years.
New Dividing Lines?
At the risk of whittling down a whole forest of contentious issues some stick out.
 Europe. The Labour Party contains both a small right wing 'patriotic' anti-EU current, a left-wing 'Lexit' (left-exit) current, and a big majority, from the centre to large parts of the left, which wants the smallest possible break from Europe. Some do not want to leave the EU at all. The Lexit left is in disarray as their glee at seeing Britain leave the 'Bosses Club' has turned to ashes faced with the complexities of exit, and the prospect of being at the mercy of the WTO and stronger economies, from the EU itself to the USA.
Specific Policy. Labour's stand on Brexit, is seeking the 'best deal' and letting the Tories tear themselves apart in Brexit negotiations, while balancing its statements with an electoral strategy that attracts anti-EU voters. This has left many unsure about what a possible Corbyn led government will do. On a key aspect, failing to debate the Freedom of Movement at Conference, an issue brought up by left wing activists, does not mean the issue has disappeared.
Internationalism. While the majority of the Labour party, including the activist left, are committed to defending universal human rights (leaving aside weighty philosophical agreements on the topic), there are differences on where to start. Some groups, in numbers only groupuscules about with wider influence within the Party, give priority to fighting 'imperialism', that is the USA. Those backing 'anti-imperialist' forces have watered down their public rhetoric. But as recent pronouncements by Andrew Murray, chief of Unit's political strategy and the Stop the War Coalition (StWC), and of the indicate, there remain elements prepared on international issues who are prepared to align openly with forces hostile to democratic socialism.
As this sketch illustrates, disagreements within the Labour Party and broader left, have moved on from the stark divisions with which Roy Hattersley tries to frighten his readers. Far from being in a position to stifle these differences in a Labour Party that excludes "everyone with whom they disagree" Momentum is obliged to confront them. The progress made so far to elaborate a "synthesis" between different strands of thought in Labour in a policy platform that is resolutely democratic socialist gives one grounds for hope.  That they, Momentum, – and it is hard to call such a disparate group a 'they' – have a core objective it is an eminently Parliamentary one, electing the next PM. One hopes the former deputy leader will do his best to work for that. .
(1): On this see: "We Took the Last Option": The Fight for Democracy in Haringey. New Socialist.