Posts Tagged 'Revolutionary Communist Party'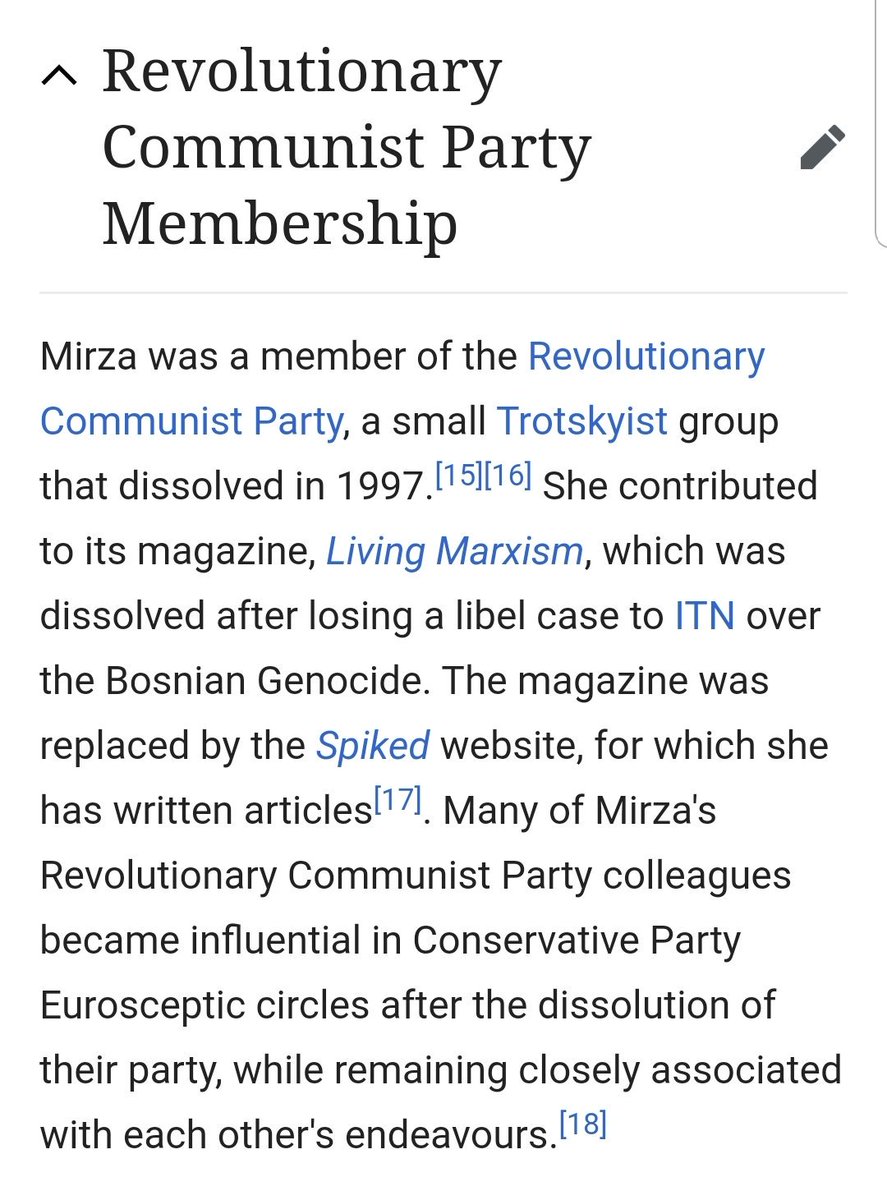 Red-Brown Front Now in Charge of 'Race Inequality Commission."
The Guardian leads with this story,
Munira Mirza has doubted existence of institutional racism and criticised 'culture of grievance'.

…..

The revelation of Mirza's role was met with dismay from experts and MPs. The Institute of Race Relations thinktank said it would be hard to have confidence in the commission's outcomes.

"Any enquiry into inequality has to acknowledge structural and systemic factors. Munira Mirza's previous comments describe a 'grievance culture' within the anti-racist field and she has previously argued that institutional racism is 'a perception more than a reality'," a spokesperson said. "It is difficult to have any confidence in policy recommendations from someone who denies the existence of the very structures that produce the social inequalities experienced by black communities."

Diane Abbott, the Labour MP and former shadow home secretary, said: "A new race equalities commission led by Munira Mirza is dead on arrival. She has never believed in institutional racism."
Then there is the possibility that Trevor Phillips will be involved….
The daily also refers in a separate article, Munira Mirza: PM's 'nonsense detector' who has attacked racism claims,to her Living Marxism background.
She became a member of the Revolutionary Communist party, contributing to its magazine Living Marxism. But she got frustrated at what she saw as the narrow-mindedness of the left, and embarked on the journey across the political spectrum that resulted in her being hired by Policy Exchange, the modernising Tory thinktank, and ultimately took her to Downing Street.
Her comrades in the RCP are now the pillars of a red-brown Spiked network that combines support for a Hard Brexit, and the (former) Brexit Party, free-market "risk-taking " economics, wages the "culture wars" on behalf of the "somewhere" people against liberal metropolitan 'elites' , and the " the chattering classes". Fighting  the "woke PC Establishment " they foam with hatred for the Black Lives Movement.
Their national populism, national sovereignism  is not a million kilometres away from Boris Johnson's Tory version of, er……National Populism and national sovereignism.
If this ideology has an economics it's not far off the Brexit Buccaneering Project of Dominic Cummings.
A groupuscule that began as a faction within a faction at the far arial boundaries of the left, marked perhaps only by a singular loathing of the Labour Party "the main instrument for winning the working class to the stratgey of the bourgeoisie" (Who Needs the Labour Party? 1978), trade unionism and the welfare state, now finds its whelps within the inner circles of the Tory Party.
Is Mirza in any sense still part of the network?
Brendan O'Neill, Spiked's best known Gombeen man, said after Johnson's gang had replaced Theresa May in July 2019,
On top of these ministers we have Boris's new senior adviser, Dominic Cummings, the strategic whizz behind Vote Leave, and his director of policy, Munira Mirza, friend of spiked and a committed Leaver. Downing Street is now a Leave bastion. This is progress.
Read what Bob has to say on this:
Bob From Brockley writes,
July 27, 2019
THE RCP'S LONG MARCH FROM ANTI-IMPERIALIST OUTSIDERS TO THE DOORS OF DOWNING STREET

This week it was announced that Munira Mirza would be joining new prime minister Boris Johnson's team as head of Number 10's policy unit. Mirza, mis-identifed by the Independent as "an academic at King's College London" (her actual job there is running their "cultural strategy"), was Johnson's Deputy Mayor for Culture and Education during his City Hall tenure. Last month, the new crop of Brexit Party MEPs taking up their well-paid if "stupid" jobs in Brussels included Claire Fox, professional BBC talking head with a reputation as a contrarian libertarian.

Regular readers will know what Mirza and Fox have in common: they are both long-term members of the network that emerged out of the Revolutionary Communist Party and its magazine Living Marxism (LM). I've written before about the LM/RCP network, best known today for its web magazine Spiked, and this post draws together some of that material given the party's importance in our current, Brexit political moment.

……

By late 2010, I wrote that the RCP had probably been more influential than any other bit of the British far left in the last decade. They gave a veneer of intellectual respectability to denialism about climate change, have acted as PR agents for the agribusiness, airline and pharmaceutical industries, aided and abetted AIDS denialism and its enormous death toll in Africa, given succour to Serb nationalism at its most aggressive, helped Boris Johnson capture London, provided ideological cover for cuts in the funding for arts, reduced the number of decent free festivals in the parks of London, and, arguably, were the architects of David Cameron's election victory.

Mirza drew closer to the Conservative Party in this period. She married Dougie Smith, Cameron speechwriter and co-ordinator of Tory thinktank Conservatives for Change (Cchange), on whose board sat Nick Boles, along with politicians such as Francis Maude and Theresa May – as well as once running Fever Parties, a London-based organisation that apparently hosted "five-star" orgies for swingers. (Cchange was originally closely linked to Policy Exchange, originally called Xchange, and their personnel overlaps.) Johnson promoted Mirza from advisor to deputy mayor. By 2018, the New Statesman's Stephen Bush was tipping her as a possible Tory mayoral candidate.

Going full Brexit: from Red Front to red-brown front.

…

One LM initiative in the post-Referendum period was "The Full Brexit", an avowedly left-wing pressure group launched in the summer of 2018 to reframe the Brexit narrative as one about "democracy" rather than just bashing immigrants.
Readers of this Blog will be all too aware of the Full Brexit, and the way this alliance of sovereigntists from Blue Labour, 'trade unionists against the EU', the Communist Party of Britain, and other 'left'pro-Brexit forces (including one of New Left Review's stars)  with Brexit Party members and supporters,  helped both Brexit and a Tory win.
This kind of political confusionism – the blurring of boundaries, the accumulation of disparate causes in a common hatred of 'elites', the EU, helped power the Johnson faction into power.
More:
And there is this:
The arrogance of waging a culture war by introducing this factional operator into a key post on the issue of racial neutrality is breath-taking.
More will no doubt follow….
Today the guru of the Red-Brown Front got star treatment on GMB.
Update: (On RCP) and Mirza
Spiked Online, Ireland and Brexit.
John Rogan (Medium).
Amongst MIrza's many contributions to her old national comrades'  web site Spiked is this:
September 2017. Lammy review: the myth of institutional racism
"This review could do more harm than good for black Britons."
.. framing this review publicly in terms of institutional racism and racial bias within the criminal-justice system only clouds the reality of what is happening and in the end could lead to worse outcomes for ethnic minorities.
Other articles available here:
Factional history.
"The Conservative Party will consolidate a new class coalition, tearing up competition rules, reversing Beeching, building real bridges not symbolic ones" Maurice Glasman, Blue 'Labour'. 
The Full Brexit is developing fast from a Sovereigntist alliance, of  Blue Labour, Labour Leave, the Communist Party of Britain, fellow travelling Stalinist chumps, leading New Left Review contributor Wolfgang Streeck, one-time Revolutionary Communist Party cadres, now in the Spiked network, like Heartfield (born John Hughes), the man who bottled out of standing as a Brexit Party candidate against Corbyn, Arron Banks funded Trade Unionists Against the EU, oddballs and funny money chaps.
Welcome their new allies: the Tories.
These are all about a meeting of the faithful, last night, The British Left after Brexit.
Just remember this Dempsey statement when he's invited to speak at labour movement events.
Not that this cranky academic below will ever get asked to speak at one
Failed Greek politician and academic dabbler Lapavitas goes further, bizarrely claiming that backing Brexit and voting Tory is part of the "revolt against neoliberalism"
We just cant wait to watch this:
There is a term for the new turn of the red-brown ('left' and hard right Brexit Party) front, and, now…..Dominic Cummings.
It's political confusionism.
Claire Fox at Brexit Party Election Launch, From Red Front to Anne Widdecombe-Spiked-Farage Front. 
Now that the Brexit Party is standing for election across the country interest is focusing on Farage's crew.
Former Revolutionary Communist Party member and Brexit Party MEP national populist Claire Fox entered the fray with a fog of rhetoric.
"One of the great tragedies of Brexit has been that despite the fact there was an unprecedented public vote for change.
"Brexit was almost hijacked owned and controlled by a technocratic establishment."
Reports the far-right Express.
Here is the launch, where 'red' Fox stood with mad moral hardliner (former Tory Minister of State for Prisons) Anne Widdecombe, and Brexit Party Boss Richard Truce.
Richard Trice, Chairman of the Brexit Party, CEO of property investment firm, Quidnet Capital Partners LLP.
"In October 2019, openDemocracy revealed that two offshore companies had owned shares in Tice's family business, Sunley Family Limited, since 1994."
Alas, one key figure of the front will not be standing.
The Brexit Party have  expelled a renegade Posadist Tendency.
A would-be MP for Batley and Spen believed aliens were "working with our world Governments" and that she came from a star called Sirius.

Jill Hughes was the Prospective Parliamentary Candidate for the Brexit Party in the West Yorkshire constituency.

But when The Yorkshire Post contacted the Brexit Party today, a spokesman said Ms Hughes had stood down and the party would announce her replacement in due course.

Ms Hughes was posting supportive Brexit Party messages on both Twitter and Facebook today, and a photo posted showed her at a Brexit Party meeting on Wednesday.

Ms Hughes' unusual outlook came to light as campaign group Hope Not Hate looked into Brexit Party candidates' backgrounds.

They questioned her employment history but also quoted from social media postings and her book, released last year, Spirit of Prophecy.

In the book it reads "the E.T's, some of them less than Apple Pie wholesome or Positive pumpkins, are already here working with our world Governments, but that's all hush-hush for now".

And in information about the author listed on Amazon, it said: "To this day J.J.Hughes believes in elves/fairies/mermaids/unicorns and all things Elemental and Other Worldly…She has had numerous prophetic premonitions – usually about death, which so far despite a few close shaves she has escaped. She came to believe in reincarnation in her mid-twenties when her old horse Red made a re-appearance, this time as a palomino called Hooray Henry." (1)
Perhaps this is one reason why not everybody takes the Brexit Party that seriously,
Candidate Jill Hughes' CV seems to have a few…embellishments
Jill Hughes, the Brexit Party candidate for Batley and Spen, lists some impressive accomplishments on her LinkedIn, Twitter and Facebook accounts. After 23 years of working in banking in London and New York, she left to become a "No 1 Bestselling author" and "one of the UK's leading Wealth Mentors". But with a bit of examination, both of those claims seem to be highly questionable.

First, let's look at her claims of being a bestselling author. In the 'About The Author' section of her Amazon account, she claims to have "co-authored a No 1 Best Selling Spiritual self help book called 'Inspired by the Passion Test'". It's true that Hughes contributed a section to this book – along with 15 other writers and the two main authors. But was it ever a 'No 1 Bestseller'? We can find no evidence of this. The book itself has just a single customer review on Amazon and we cannot find it described as a 'bestseller' anywhere outside of Jill Hughes' own descriptions.

It is similarly difficult to find any evidence that Hughes is 'one of the UK's leading Wealth Mentors'. While this claim might be somewhat vague and difficult to disprove, there's very little evidence of her activity in this area. Her website is 'under maintenance', her Twitter account for this purpose has just five followers, and she only registered 'MoneyMagnet.Global Limited' with Companies House on October 10th of this year. This is despite her having listed herself as the 'CEO' of Money Magnet on her LinkedIn since November 2017, and having self-published her book, 'Spirit of Prophecy' under that name in March 2018. Though not illegal, it is odd to describe yourself as 'CEO' if you're actually a sole trader.

A cautious investor might be slightly concerned by this philosophy of wealth from a Wealth Mentor:

Outside of the professional sphere, Hughes has made some other odd statements. In 2016, she claimed to be a spiritual guide from Sirius, a star 8.6 light years away from earth:

And in the acknowledgements to her book Spirit of Prophecy, she promotes the idea that extraterrestrials are living amongst us and cooperating with world governments:

"the E.T's, some of them less than Apple Pie wholesome or Positive pumpkins, are already here working with our world Governments, but that's all hush-hush for now."

The 'About the author' section on her Amazon listing also declares some other interesting beliefs:

"To this day J.J.Hughes believes in elves/fairies/mermaids/unicorns and all things Elemental and Other Worldly…She has had numerous prophetic premonitions – usually about death, which so far despite a few close shaves she has escaped. She came to believe in reincarnation in her mid-twenties when her old horse Red made a re-appearance, this time as a palomino called Hooray Henry"

Hughes has already received some pushback from local pro-Brexit activists, who claim they have no idea who she is:

But she wasn't impressed with the idea that where candidates have lived should matter to local voters:

"What is the obsession with the PPC must live in [sic] … Batley… or where ever? …We live in a Global-Digital world now-geographical locations are less and less relevant".

This is probably unsurprising given that Jill Hughes grew up in nearby Bradford, and doesn't seem to have lived in Yorkshire since attending university. Her Twitter bio describes her as 'Bingley born Bradford schooled', but her Facebook page says she is "Honoured to be PPC for Batley and Spen, West York's where she comes from."

We're happy to correct the record on any of these points if Jill Hughes or the Brexit Party would like to provide supporting information, but we think the voters of Batley and Spen deserve to hear a lot more about this candidate's qualifications and beliefs.
Brexit party's delusion makes even Boris Johnson's look normal
John Crace. Guardian.
This could have been a meeting of Brexiters Against Brexit Anonymous. Richard T, Anne W, Claire F as relative newcomers getting their six-month keyrings and Nigel F acting as Remain's trump card in his role of group chair. "My name's Nigel and I am powerless over my self-destruction." The man who can't bear the fact that other versions of Brexit may exist and whose search for significance only renders him ever more insignificant, and who will not rest until the annihilation of himself and those around him is complete.
The admirable Hope not Hate continues the battle: