Posts Tagged 'Red-Brown'
The attack on Paul Mason continues, drawing some of the oddest people into the fray (see above and below).
A fellow advertisement for the merits of laying off the capitalist demon drink, adds,
Not to mention the most respected Teetotaller of them all:
In the meantime, Cde Mason replies to the claims against him:
Last week I became the target of a Russian hack-and-leak operation, with the pro-Russian website Grayzone as the delivery mechanism. I am a high-profile journalist, critical of the Putin regime, and of its supporters in the West. This smear campaign is the penalty.
I make no comment on the purportedly hacked contents other than to repeat that they may be edited, distorted or fake.
I have criticised and investigated attempts by overt supporters of Russian and Chinese foreign policy to influence the British left — which I am part of — to gain a platform within our legitimate campaigns, and to use social media to spread disinformation.
I have called publicly for democratic states to use legal and financial scrutiny to limit the reach of Russia-aligned media outlet like Grayzone. I believe all civil society organisations, including the left, should adopt active counter-disinformation strategies.
Nobody would need to read my private emails to find that out.
The suggestion that I have created a "blacklist" of left-wing groups and individuals is complete nonsense and entirely made up. Likewise the allegation that I am the "agent" or "asset" of an intelligence agency.
These allegations are not only defamatory and false, but look designed to place my personal safety as a journalist at risk.
I have fought for justice for the trade union victims of blacklisting for decades, and for the rights of victims of the Spycops scandal.
The purpose of my journalism on this issue is to defend the left and the anti-war movement against malign state influence.
As I wrote in the New Statesman on 4 May:
If this is an information war, the solution is to arm the people and to strengthen institutions. Society is not just made up of atomised individuals plus the state: we have trade unions, parties, churches, NGOs and many other organised communities. Each has a right to operate a counter-disinformation strategy, and to draw on guidance provided by the state.

Yes, there are risks. The British state under Conservative rule has developed the muscle reflex to see the entire left and progressive movements as an enemy within. As someone targeted daily by the disinformers, both right and left, I do not trust the state to distinguish genuine security threats from legitimate criticism. So all counter-hybrid strategies and organisations must be open to scrutiny.
I would like to thank my colleagues in professional journalism who have understood that a hacking attack on a journalist's source materials is an attack on all of us.
For those who saw this attack, by a fascist state on a left-wing journalist, as the opportunity to amplify the slanders and spread disinformation, I have only contempt.
I will go on building solidarity with the Ukrainian people regardless.
Paul Mason 16 June 2022
(Via Jim).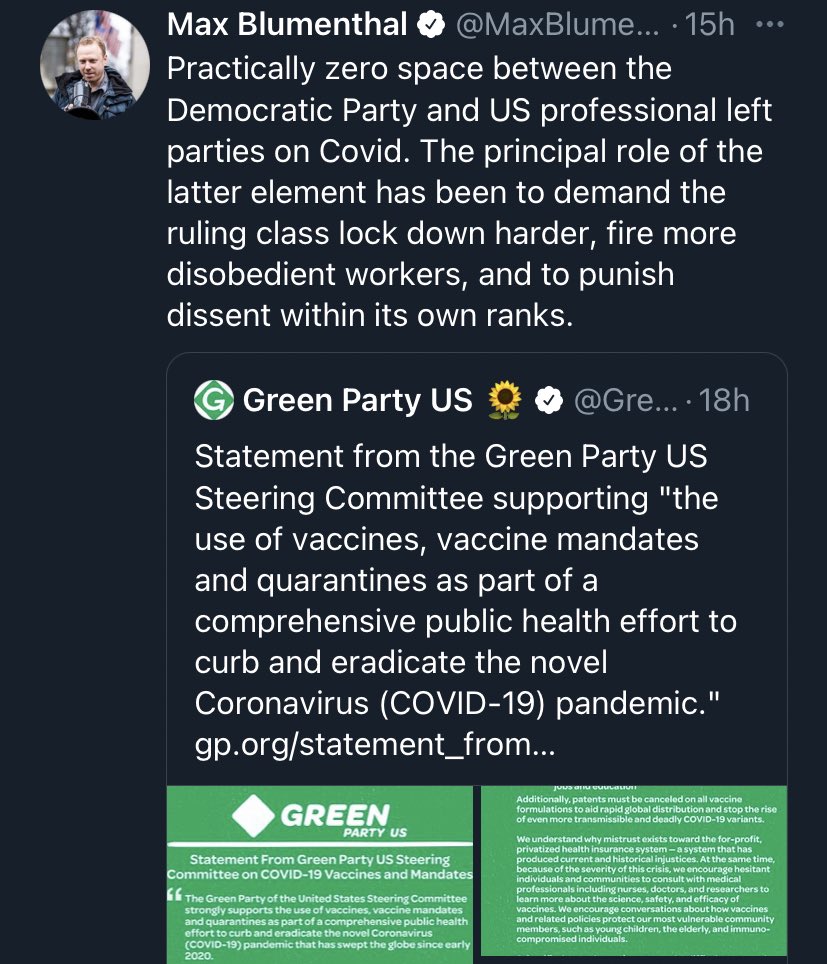 Verso's Most Prominent Red-Browner.
Verso (New Left Review) author Max Blumenthal unites with far-right on Coronavirus.
"Max Blumenthal is an award-winning journalist and bestselling author whose articles and video documentaries have appeared in the New York Times, Daily Beast, Guardian, Huffington Post, Salon, Al Jazeera English and many other publications. He is Senior Editor of AlterNet's Grayzone Project and the author of Goliath: Life and Loathing in Greater Israel, which won the 2014 Lannan Foundation Cultural Freedom Notable Book Award, the New York Times bestseller Republican Gomorrah: Inside the Movement that Shattered the Party, and The 51 Day War: Ruin and Resistance in Gaza. His documentaries and on-the-ground reports have been seen by millions."
New Left Review Editorial Meeting.
Tariq Ali.
"My Dog's got Coronavirus."
"How does he Smell?"
"He can't as Imperialist Big Pharma have got to him."
Boom Boom.
All is not going well with Blooming Max Blumenthal and his conspi site the Grayzone.
UK: Anti-vax marches—a warning from the right
Socialist Worker.
Anti-vax marches in London, and across Britain, last weekend tried to lure those NHS workers angry at mandatory vaccines.
Tens of thousands of people marched against vaccines in central London on Saturday—and they were joined by hundreds more in other towns and cities across Britain.
The demonstrations built on ­previous protests by the ­conspiracy-driven movement that has consistently mobilised large numbers of people.
But now the movement's ­organisers hope to latch on to health workers that face losing their jobs for being unvaccinated.
As with previous demonstrations, the march on Saturday brought together people representing a ­spectrum of anti-lockdown and anti-vaccination ideas.
It includes an element of people frustrated or hit hard by lockdowns, including small business owners and some workers. It also included people sceptical or unconvinced about the safety and ­effectiveness of the Covid-19 vaccine—and those who believe it is some sort of conspiracy.
In both cases, the trajectory was to the right.
Far from a fringe element, those pushing "harder" conspiratorial ideas, often rooted in antisemitism, are at the core.
And although the ­demonstrations are not a fascist movement, they are places where a variety far right groups are tolerated and even welcomed.
The most significant ­difference on Saturday's march was the organised presence of some health workers.
A group called NHS 100k ­organised a large feeder march of people in specially-produced blue hoodies. Most appeared to be genuine health workers and their ­families or supporters.
Many carried homemade ­placards demanding freedom of choice and informed consent, and emphasising the threat to jobs and the NHS, rather than advancing conspiracy theories.
Some even declared they'd had the vaccine themselves, but were against it being imposed on others.
But the main march's ­organisers used the health workers to give the movement a stronger sense of respectability and legitimacy. They encouraged those in blue hoodies to lead the demonstration chanting, "Save our jobs."
The "harder" element among the marchers linked vaccine mandates to their own conspiracy theories.
And the NHS100k website, where the health workers on the march bought their blue hoodies, casts doubt on the effectiveness of the vaccine and promotes false anti-mask "research."
It provides a model email to send to trade unions demanding to know what they are doing to oppose ­vaccine mandates. And it encourages its ­supporters to join the right wing English Workers Union, which is run by the leader of the far right English Democrats party.
Clearly, the right hopes to build on frustration and disillusion among some health workers at the major unions for failing to oppose sackings of unvaccinated health workers.
Look at the state of this man:
Corbyn can piss off with his brother, say we.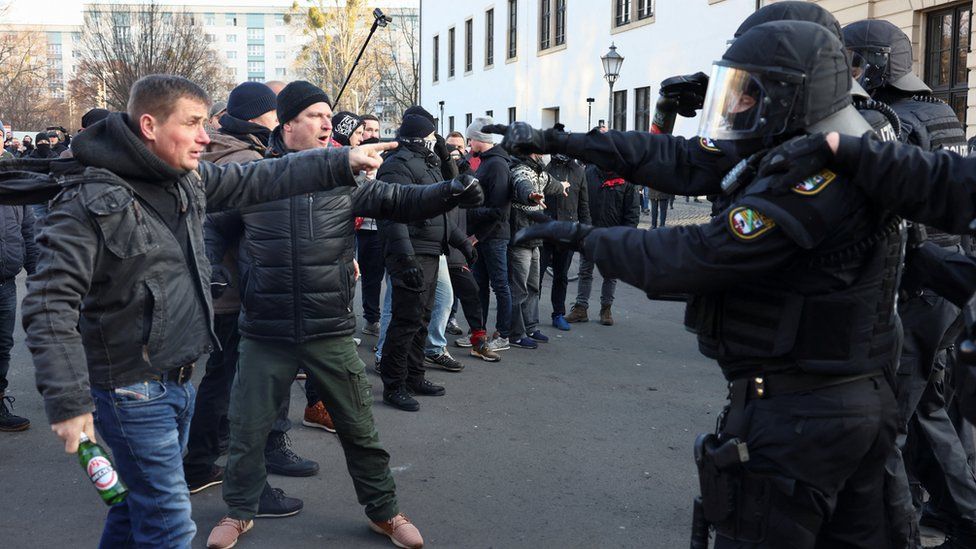 Red-Brown Alliance.
New York Times. The prospect of a vaccine mandate has galvanized a nationwide protest movement attracting naturalists, neo-Nazis and ordinary citizens alike.
UREMBERG, Germany — Maria Liebermann came wrapped in fairy lights and waved a peace flag featuring a white dove. Martin Schmidt carried a Germany flag with the word RESIST scrawled across it in capital letters.
She is a self-described "eco-leftist." He votes for the far-right Alternative for Germany. They disagree on everything from immigration to climate change, but on a recent Monday they marched side by side against the prospect of a general Covid vaccine mandate, shouting "Freedom!"
At the start of the pandemic, Germany was widely lauded as a model of unity in combating the coronavirus. A general trust in government encouraged citizens to comply with lockdowns, mask guidance and social distancing restrictions.
But that confidence in the authorities has steadily waned as the pandemic enters its third year and the fight has shifted toward vaccines, exposing deep rifts in German society and setting back efforts to combat Covid cases.
German Covid protests turn nasty in row over rules and vaccinations
BBC.
Many protests are peaceful, but others explode into violence and experts are increasingly worried by the aggressive language and threats aimed at politicians and public figures online.
Two security officers stood guard as I interviewed Petra Köpping about her experience.
Some of the hatred towards her, she says, is stirred up and exploited by the far right.
"We have to make a clear distinction between organisers who engage in right-wing extremist ideology and want to change society – they don't care about vaccination policy – and the people who come along because they're opposed to vaccination."
Der Speigel.
A number of Germans have sought refuge on Bulgaria's Black Sea coast from what they view as dictatorial anti-coronavirus measures back home. It has developed into a kind of alternative reality for conspiracy theorists.
Meanwhile: