Posts Tagged 'President Assad'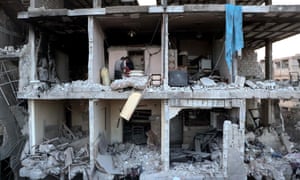 Arbin Hospital after an airstrike carried out by Assad regime forces in Arbin district of Eastern Ghouta in Damascus, Syria on 21st of February Photograph: Anadolu Agency/Getty Images
The Left and East Ghouta by LOUIS PROYECT
This piece merits reading in full but these extracts can give a taste of this deeply thought out and heartfelt article.
Why has East Ghouta become a living hell recently, even more so than in the past? Perhaps this is the result of Assad finally turning to a remaining rebel enclave after final victory in places like Homs and East Aleppo was achieved. Once East Ghouta has been "liberated", the regime will be free to finally deliver the death blow to Idlib, the last sanctuary for "terrorists" in the country.

…

For much of the left, especially the Gray Zone 3, East Ghouta is condemned territory—a haven for al-Qaeda that deserves to be annihilated. Not much research is available on East Ghouta but a few things should be kept in mind. It is part of a belt of mostly agricultural towns and cities that abut Damascus to the east and south. It is like most of the places that rose up against Assad in 2011 and that were largely invisible to the Western press that found Damascus irresistible. After all, it was a place where you could enjoy scotch in a hotel bar, eat at 3-star restaurants, and stroll around in the evenings absorbing local color. Yes, there were people being tortured in Syrian prisons through the CIA extraordinary rendition program but they probably deserved it.

…

The revolutionary struggle in Syria certainly had goals that seem quite modest in comparison with the July 26th Movement in Cuba or any other leftist cause I have been involved with over the past half-century. But in order to overthrow capitalism, you need the freedom to organize the workers movement. That is why Marx and Lenin always stressed the need to oppose absolutism whether it took the guise of the Junkers monarchy or Czarism. That the left has lost track of such an elementary need is a terrible deficit. To build a worldwide revolutionary movement that can abolish class rule once and for all, we have to support the right of people to speak freely and to form political parties without fear of being tortured or killed. It is impossible to say how events will unfold in the Middle East and North Africa over the next 25 years or so but if we can't defend basic liberties such as the kind the Arab Spring demanded, we are useless.
Louis' views will be endorsed by those of us on the left who support universal human rights.
In a piece in French on the anti-capitalist left an even more heart-rending contribution is made by
LETTRE À LA GHOUTA : "C'EST LE CŒUR EMPLI DE HONTE QUE JE T'ÉCRIS"
Via the website of the International Socialist Organisation (US),
We, the Alliance of Middle Eastern Socialists oppose the various military attacks on Afrin, Idlib and Eastern Ghouta  and support all the innocent civilians in Syria. . . There has been a consensus between all the international and regional powers on the necessity to liquidate the revolutionary popular movements initiated in Syria in March of 2011 . .

..

Solidarity with Idlib and al-Ghouta against the attacks by Assad's regime forces and its Russian ally

At the same time, we condemn the Assad regime's attacks on Eastern Ghouta and Idlib, areas which are supposedly considered "de-escalation zones" according to the Astana « peace » negotiations, led by Russia, Iran and Turkey.

…

In the face of this counter-revolutionary consensus,  what is desperately needed is  solidarity between all (Arabs, Kurds and all other ethnic minorities) revolutionaries who are against the Assad regime and all the regional and international imperialist powers and support the struggles for social justice, women's rights and the rights of oppressed minorities.  

 The Alliance of Middle Eastern Socialists supports the right of self-determination of the Kurdish people in Syria and in other countries. This does not mean that we take an uncritical stand  on the policies of Kurdish parties leading these struggles, whether the PYD or  the Kurdish Democratic Party or others, notably regarding violations of Human rights against civilians.

Oppose all forms of sectarianism and racism

Our destinies are linked

Join the Alliance's Campaign in Solidarity with Middle Eastern Political Prisoners.
Syria and the Problem of Left Solidarity by Donya Alinejad & Saskia Baas.
Salvage. 1st of March 2018.
Crude notions of anti-imperialism have for too long yielded dubious analyses of Syria and the Middle East. The contribution of the Left has often been dominated by an unsophisticated 'campism' wherein the enemy of our enemy should not be criticized. This has recently taken startling and contradictory forms: a recent petition calls for the leaders of Russia, Iran, and the U.S. to "ensure that the sovereignty of Syrian borders is not breached by Turkey." The petition was signed by, among others, Noam Chomsky, Michael Hardt and David Graeber. Staggeringly, the petition appeals to the key perpetrators of war crimes in Syria for help in the protection of Afrin.

There are a multitude of ways we might explain such a turn, among them a Euro/American-centrism wherein the Left's positions simply mirror and are dictated by those of their liberal opponents, the Western left's long-running ideological links to the PKK, Left sectarianism, refusal to update expired Cold War categories, incidental ignorance and laziness, and the relative sophistication of the YPG/J's communication networks and media branding with Western audiences. We end up engaging with Syria as no more than a distant war in which our task as the Left is merely to discuss and select the correct armed faction to support. But this filters out the less spectacular but equally courageous initiatives for self-organization still going on in various parts of the country and among its refugee diaspora; compelling cases such as the recent women's campaign against forced disappearances. In ignoring these, we surrender our key principles of upholding the value of human lives in the face of militarism, state interests, and divisive borders.

Our internationalism must cultivate a willingness to grasp the complexity of Syrian polity, society, and culture as it unfolds in everyday life under the current circumstances of extraordinary duress. Rather than a lapse into apolitical humanitarianism, defending the lives of those brutalized by violence is based on an international solidarity that registers survival in this context as struggle. Similarly, our welcoming and hospitality to those who fled Syria in recent years must not smother them into politically pacified victimhood. We must seek out and listen to what a variety of Leftist Syrian political activists and intellectuals have to say about Syria. Their migration experiences and diasporic self-organization are part of the story of the Syrian revolution, an inexhaustibly rich resource for understanding and learning from the realities of this important contemporary struggle. It is a struggle that lives on in many of them and contains intimate knowledge of the notions of racial and ethnic discrimination, prison state, political disenfranchisement, and neoliberal policies we also fight against. The vast contextual differences make articulating the common ground all the more profound.

In short, let us stop approaching Syria in the way a colonial power approaches its subject's civil war, calculating which intervention(s) of force to back and then vehemently spreading the chosen party's war propaganda. Let us focus, instead, on building a socialism that modestly but consistently puts into practice the radical internationalist idea that we inhabit the same world as all those who struggle for a dignified human existence.
This is how the so-called People's Daily, the Morning Star, is 'reporting' the tragedy.
UN aid convoy enters Islamist-held enclave near Damascus
Syrian forces are besieging Eastern Ghouta, a largely agricultural area to the south and east of Damascus.

It is one of the last holdouts of mainly foreign-backed jihadist rebels, who have been firing shells and mortars at Damascus proper from their positions there.

The Syrian government has been pursuing tactics similar to those that broke the grip of Islamist fighters on Homs and Aleppo, shelling rebel-held areas and then using ground forces to retake districts.
As more and more news about the plight of Ghouta reaches the world people are deeply concerned.
Al Jazeera reports,
More than 440 civilians have died in just six days in Eastern Ghouta alone.

The area is now being hit by incendiary bombs that are appearing in the night skies, weapons that are intended to start large fires when they hit the ground.
There are many reasons to stand by the people, as the Guardian today reports: 'We can change this reality': the women sharing news of war in Ghouta.
One troubling feature of the war is the attempts of pro-Assad groups to smear those under attack.
Just to cite one example, French comrades are disgusted by pro-Assad supporters who have been calling the inhabitants of  Ghouta 'cafards', cockroaches.
As they point out one of the nerve centres for pro-Assad propaganda in the Francophone world is the UPR, Union Populaire Républicaine.
They describe themselves as the "mouvement de libération nationale" for French people. The ideology of the party is a Eurosceptic and seeks the withdrawal of  France from the European Union and NATO.  They seek nationalisation of entities such as TF1, La Poste, Gaz de France, motorways (privately managed at present), water management and troubled banks.
Its leader, François Asselineau, a hard-right sovereigntist, is also known for his conspiracy theories.
Like Réseau Voltaire or Alain Soral's Égalité et Réconciliation  (both equally strongly 'anti-Zionist')  Asselineau is pro-Assad.
This is just one example of the international reach of Pro-Assad propagandists.
At the end of last year the following indicated the direction the regime's supporters were going in.
How Syria's White Helmets became victims of an online propaganda machine
The Syrian volunteer rescue workers known as the White Helmets have become the target of an extraordinary disinformation campaign that positions them as an al-Qaida-linked terrorist organisation.

The Guardian has uncovered how this counter-narrative is propagated online by a network of anti-imperialist activists, conspiracy theorists and trolls with the support of the Russian government (which provides military support to the Syrian regime).

The White Helmets, officially known as the Syria Civil Defence, is a humanitarian organisation made up of 3,400 volunteers – former teachers, engineers, tailors and firefighters – who rush to pull people from the rubble when bombs rain down on Syrian civilians. They've been credited with saving thousands of civilians during the country's continuing civil war.

They have also exposed, through first-hand video footage, war crimes including a chemical attack in April. Their work was the subject of an Oscar-winning Netflix documentary and the recipient of two Nobel peace prize nominations.

Despite this positive international recognition, there's a counter-narrative pushed by a vocal network of individuals who write for alternative news sites countering the "MSM agenda". Their views align with the positions of Syria and Russia and attract an enormous online audience, amplified by high-profile alt-right personalities, appearances on Russian state TV and an army of Twitter bots.

The way the Russian propaganda machine has targeted the White Helmets is a neat case study in the prevailing information wars. It exposes just how rumours, conspiracy theories and half-truths bubble to the top of YouTube, Google and Twitter search algorithms.
Here, this week,  is a deeply saddening account of the effect these lies can have.
Syrians explain how pro-Assad conspiracy theories are hurting them
The background of this unrelenting human suffering are the increasingly high-pitched squeals emanating from the keyboards and social media accounts of Western supporters and defenders of Assad.

An amalgam of far-left and far-right bloggers, cranks, conspiracy theorists and loons have converged since the beginning of the conflict to disseminate pro-Russia generated propaganda that serves only to conceal both Russia and Assad's war crimes, and smear victims of their genocide.

No doubt you've heard each one of these entirely and widely debunked pro-Assad conspiracy theories by now: that the peaceful protests against Assad were the product of a foreign driven "regime change" operation; that the White Helmets, a volunteer rescue group that has been credited with saving more than 100,000 lives in rebel held territory, is somehow either a "regime change" propaganda tool or a public relations front for al Qaeda or both; that Assad didn't use chemical weapons but the rebels used them on their own families to gain international sympathy; that Assad is fighting "terrorists,"; that the entirety or majority of Assad's opponents are foreign-born jihadists; that the rebels poisoned Damascus' water supply; and so on and so on.

The purpose of this article is not to debunk all of these smears, false narratives, and crackpot conspiracies. They've been comprehensively debunked and discredited here, and here, and here, and here, and here, and here, and here, and also here.

"The sad thing is that so many Syrian activists and journalists spend a lot of time refuting these s**t conspiracies because they can have such a damaging impact on real people and their lives," tweeted Leila al Shami, a Syrian human rights activist and author, in response to a claim that the White Helmets belong to Al Qaeda.

These pro-Assad conspiracies have gotten so out of hand that Vanessa Beeley — who has become one of the most prominent dispensers of total and utter nonsense — called on Russia to carry out airstrikes against the White Helmets, and for me to be imprisoned for "enabling the destruction of Syria and its people".

Others like Eva Bartlett have falsely accused the White Helmets of either being a figment of Hollywood's imagination, or staging their videos.

Patrick Hilsman, a freelance journalist who has visited rebel held territory three times, laughed when I mentioned these claims about the White Helmets.

"I first encountered them by simply asking my driver what the building to our right was, and he said 'It's civil defense.' We then walked in unannounced and encountered people without weapons, hard at the unglamorous work of digging a well," he told me.

"I wasn't helped by any think tank, no one told me what to say, no one warned the rescuers to start acting for the freelancers with their crappy cameras."

Unfortunately, however, pro-Assad/Russia loons and propagandists have been so effective in muddying the waters, casting aspersions on Assad's victims, and deflecting criticism away from this century's most brutal dictator that they undermine any coordinated and sustained international effort to protect the Syrian people from a genocide.

So I asked a number of Syrians what damage these debunked conspiracy theories have imparted on the Syrian people and the pro-democracy revolution.

"This propaganda facilitates the gas attacks, hospital bombings, sectarian cleansing, and so on, "Robin Yassin-Kassab, co-author of Burning Country: Syrians in Revolution and War, told me.

"It also contributes to the general demonization of Muslims and Arabs in our culture. Beyond hurting Syrians, Arabs and Muslims, it is also damaging our civic and political life in the West, but the main purpose of this propaganda, because it has been carefully planted and guided, is to distract attention from the crimes committed by Assad and the Iranian and Russian occupations against civilians in Syria, and to prevent solidarity with those victims."

When I interviewed Alaa al Ahmad, a Syrian journalist, he told me finds it deeply distressing to read pro-Assad Westerners describe him and the 300,000 other Syrians he is trapped alongside with in besieged Eastern Ghouta as a "terrorist," asking, "Am I terrorist because I demand a civil state and I fight the factions that seek to establish an Islamic caliphate or the like?"

Qusay Noor, another Syrian journalist who is documenting the Assad's regimes crimes against humanity in Ghouta also believes these conspiracy theories are meant only to smear Assad's opposition as "terrorists," and thus have only empowered Assad's authoritarian rule, setting back the ideals of the revolution.

Ultimately, these conspiracy theories will evaporate any international pressure on the Assad regime, and at a time when Syrians need that pressure the most.

"It is essential the international community remains united with those in Syria who want a democratic solution, free from Assad and free from terrorism. That is why we need the international community to apply pressure on Russia to cease its bombing and its support for Assad, so that we can work towards a peaceful political settlement," writes Mardini.

And when all has been said and done, a peaceful political settlement was the only thing demanded of Assad in the first place, seven long and bloody years ago.
For an important summary of more 'fake news' about Syria see:  Truth wars, continued Bob From Brockley.