Posts Tagged 'Piers Corbyn'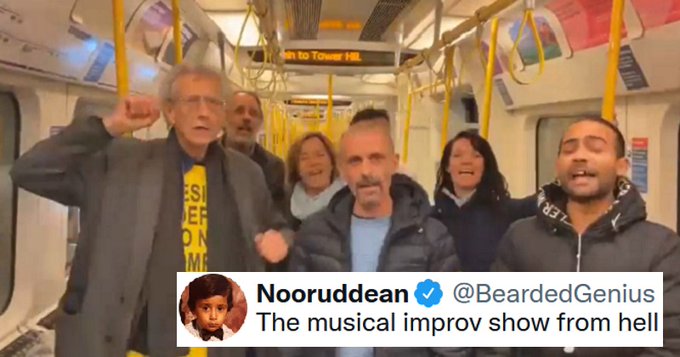 There is an anti-Vaxx sticker on a lamp-post by Bond Street next to the old County Hall in Ipswich near where I live. This year there's been a spate of similar stickers round the centre of town. This one has plumbed the depths: it's a protest against vaccinating school children. In other words, using the youngest to further their own frenzy against public health measures.
Piers Corbyn and his mates have got a reputation recently for targeting schools in their own campaign, "Anti-vaxxers have begun concentrating on kids, with Piers Corbyn yelling at London pupils in an try and scare them off getting the jab"
Is this the latest attempt by Conspiracy Corbyn to attract a youthful audience?
Here is Corbyn's Impresario:
This would be sad were it not more than a joke.
Corbyn is sometimes compared to the 'Protein Man', Stanley Green, who would parade down Oxford Street with placards calling to eat less fish, bird, meat, cheese, egg, bens, peas nuts and sitting and selling Eight Passion Proteins. A man with odd, famously odd, views, that did not harm to anybody.
But Corbyn is not just an eccentric. Nor has his relentless turn as bad penny been without consequences: his lies have helped stir the pot for a whole range of anti-Lockdown types, not just limosine libertarians but the hard far-right.
The former (very former) comrade from the International Marxist Group and brother of Jeremy Corbyn looks like the fascist that he has become.
Like the tasty geezer in the picture above.
Update: in the MSM now:
Experts wade in:
From David W.
Piers Corbyn discusses the 'Jewish question' on far-right political show
Piers Corbyn has appeared as a guest on far-right political party leader Mark Collett's online show where the pair openly discussed "the Jewish question."

Former BNP publicity director Collett – who has spoken sympathetically of Nazi Germany and shared conspiracy theories about Jews – asked the former Labour leader's brother "is Piers aware of the Jewish question?" on his Patriotic Alternative Weekly show.

Anti-vaxx movement leader Corbyn responded by saying: "There's lots of ways of defining a Jewish question – the difficult is answering can lead you into certain dangers because you'll say things …
Piers the 'anti-globalist continued.
"I'm not trying to get out of that, but I'm not convinced we've got time to elaborate at this particular point in time.

"If you come and see me under different circumstances we could discuss that more fully if the meaning of the question can be clarified a bit more."
Earlier Corbyn said: "I'm not a Holocaust denier in case you are leading up to that. Certain things you say, we are told we are Holocaust deniers.
"Well the Holocaust happened and that was horrific. That's all I can say on that."
The 'Jewish question' was a debate that emerged in nineteenth and twentieth century European societies on alleged special problems and concerns with Jewish people.
The expression was used by antisemitic movements since the 1880s, and also controversially by Karl Marx.
It culminated in the Nazi phrase of the "Final Solution to the Jewish Question".
It is not the first time that Corbyn has been linked with figures on the far-right.
In 2016 he gave a speech at an event in which he was welcomed by the disgraced academic Nicholas Kollerstrom, who was disowned by the University College London in 2008 for denying the Holocaust.
Collett's Patriotic Alternative have been described as the fastest growing far-right party, with online broadcasts targeting younger recruits.
A proud fan of National Socialism he published a book in 2017 describing the "alleged extermination of six million Jews", adding: "When it comes to the notion of white guilt, nothing is pushed more strongly."
Hope Not Hate researcher Simon Murdoch has previously said: "Collett is a longstanding antisemite who has spoken sympathetically of Nazi Germany, described the Holocaust as the 'alleged extermination of six million Jews', and has regularly collaborated with David Duke, a former leader in the Ku Klux Klan."
In 2019, the pro-Israel Israel Advocacy Group staged a live debate with Collett – but the stunt backfired after leader Joseph Cohen admitted the "ferocity of anti-Jewish racism expressed in the debate and by the audience was unlike anything we've experienced in over a decade."
Leeds neo-Nazi Mark Collet behind far-right group Patriotic Alternative pushing 'hateful' home schooling with racist songs.
February 2021.
A neo-Nazi from Leeds is behind a far-right group promoting a home school curriculum that uses racists songs and claims all English people have white skin.

Mark Collet, a 40-year-old Holocaust doubter who has tweeted claiming 'white genocide is taking place, runs Patriotic Alternative with Laura Towler, a critic of the Black Lives Matter movement.

The group claims 10,000 people a month are viewing its 'wholesome' syllabus, which has also been dubbed 'hateful and poisonous', online during lockdown, the MirrorOnline reports.

It claims it helps kids "learn history and culture free from the shackles and ideology of the National Curriculum".

Parents are told to teach their children how Britain abolished slavery, glossing over its involvement in the barbaric trade for 300 years and blaming "African chiefs" for selling their people.

Lessons focus on a "heroic age" when Britons were "a superior kind of people showing great feats of courage".
Who will rid us of this Public Nuisance?
Anti-Vaxx, anti-Lockdown campaigns are at a cross-roads. Only a couple of months ago they were on a steep upward curve.
This was most visible and audible in the streets. One of the biggest sites of protest was Germany. The Querdenken (Thinking out of the Box) movement was behind sone of Europe's largest anti-lockdown protests. They mobilised tens of thousands. Deutsche Welle said as the demonstrations had got underway back in April, "Some look like hippies from the 1960s and 70s. Others seek to provoke by wearing a yellow star, similar to those which Jews were forced to wear under the Nazis. Instead of the word "Jude" (Jew) their stars bear the word "ungeimpft" (not vaccinated.) The stars are meant to highlight the alleged stigmatization by the system the protesters reject." They added, that there was evidence of the "interweaving of leading Querdenker figures with far-right Reichsbürger and Selbstverwalter groups." Querdeenken themselves say that extremism, anti-semitism, violence, hatred and causing harm to people has no place in their movement.
Police in Berlin have arrested 300 demonstrators during protests against Germany's coronavirus restrictions. (30th of August)
Some 38,000 people took to the streets in the city for mostly peaceful demonstrations.

Later hundreds of protesters, many from the far right, tried to storm the Reichstag, the home of Germany's federal parliament.

A number of people were arrested and German politicians condemned the attack as "shameful" and "unacceptable".

Some of those involved had insignia from the far-right Reichsbürger (Reich Citizens) movement. Vice Chancellor Olaf Scholz said: "Nazi symbols as well as Reichsbürger and Imperial German flags have no place in the German Bundestag."

Earlier some 200 people were arrested at one rally, which the authorities blamed on right-wing agitators who were said to have thrown stones and bottles.
Anti-fascists have protested against the far-right.
What political impact have the anti-Lockdown anti-vaxx protests had? Katharina Pfaff (Vienna University of Economics and Business), Eric Neumayer (LSE) and Thomas Plümper (Vienna University of Economics and Business), noted at the end of September,
Whether the Querdenken franchise survives the end of the pandemic is an open question. At the moment Querdenken mobilises predominantly against the vaccine campaign. It clearly failed to make opposition to lockdowns the main agenda item for the 2021 elections to the Federal Parliament on 26 September. The recent removal of user accounts, pages, and groups linked to the Querdenken movement by Facebook and Instagram on the basis that they spread misinformation is unlikely to affect mobilisation in the long run. Communication with peers and supporters can still take place via social media.

Querdenken: the German anti-lockdown movement that thrives on public distrust.
Now the German media are carrying reports of possible violence from the movement. Today the Lower-Saxony authorities warn of this threat, Niedersachsens Verfassungsschutz warnt vor Gewalttaten aus Querdenker-Bewegung.
Marches against measures taken to deal with Coronavirus have taken place across the planet. The media has reported not just their 'civil liberty' themes, but the emergence of anti-Vaccination demands and conspiracy theories. A common language carried by the ' querdenken bewegung' and its counterparts world-wide has been the subject of many many articles and studies. You could hear people talking about restrictions on freedom, about the dangers of vaccination, about Globalism, and the New World Order. It was not difficult to find, and not just in hyper-space, the Web. There were even stickers along these lines in the streets near where I live, and a few, small, protests in this town and County.
In France anti-Covid Health Pass (Vaccine 'Passports') demonstrations took place. At their height in August they drew over 200,000 people across the country (237 000 protesters on August the 7th). Numbers have dropped to tens of thousands in the autumn. As with Germany there was far-right involvement. Anti-Vaxx conspiracist signs have mixed with sightings of those wearing Yellow Stars. The presence of Marine Le Pen supporters was not given official RN imprint – reports talk of their 'discretion' faced with a movement that could be seen as 'anti-Republican'. But Florian Philippot, leader of Les Patriotes and former Vice-President of the Front National has played a leading role in the marches. He will be holding this anti-Health Pass event next weekend Défilé national pour la liberté . Violent ultra-right groupuscules have clashed with left-wingers – a minority of the left believed that there was something to back in protests that claim to be for civil rights and against President Macron – on these protests.
October the 9th. The National.
"A French anti-terrorism judge has charged four men with suspected links to a far-right conspiracy theorist over a plot to attack targets including Covid-19 vaccination centres.

Two of the men are also accused of being involved in the kidnapping of an eight-year-old girl in April.

Remy Daillet, a leading figure in conspiracy circles, was arrested in June over the kidnapping as he returned to France on a flight from Singapore.

..

The group are suspected of plotting a series of attacks, including against vaccination centres, a Masonic lodge, prominent people and journalists, sources say.

The team had "a multitude of violent actions planned, targeting institutional sites, vaccination centres, 5G antennas", one source said.
There have been protests over government responses to the Covid-19 pandemic across the world, many around the same themes as the German and French movements.
A critique of those on the left – indicating the depths of confusionism in some quarter – who have shown indulgence towards some of their themes is offered here: Valérie Gérard : « Ce mouvement anti-pass ne construit rien de commun mais prône la destruction de toute communauté "we have all seen the posters "Nazi pass" with S evoking the SS, to join it is to strengthen it, and to reinforce this imagination, by increasing the general confusion. In marching with fascists against authoritarianism, we risk above all reinforcing fascism, and, ultimately, authoritarianism."
Britain, this week.
Part of the same Health Trust as Ipswich Hospital:
And, to cap it all.
With this kind of serious far-right involvement and the stunts in Britain is this surprising? However vile they are they seem to indicate desperation. The upward curve has gone downwards.
Paolo Gerbaudo Today.
Since the beginning of the Covid-19 crisis, the pandemic has become yet another stage for the culture war. But it may be one that the right will end up regretting. The emergency unleashed a flood of disparate conspiracy theories about the virus and vaccines that spread rapidly on social media, while "anti-mask" and "anti-lockdown" protest movements framed contagion prevention measures as a "health dictatorship".

Populist right leaders were quick to take advantage of this, seeing in Covid scepticism yet another opportunity to show the gulf between the priorities of progressives and ordinary people. In Brazil, President Jair Bolsonaro described Covid as "little flu", and to this day continues to claim he has not been vaccinated, though nobody knows for sure. In the US, Donald Trump went into full conspiracy mode, suggesting that bleach may be a cure for Covid. In the UK, Johnson took a more pragmatic mainstream stance after briefly favouring herd immunity. But to his right, Nigel Farage and some Tory MPs continued to dally with Covid scepticism.

Yet, in many countries the populist right is now finding itself at odds with a movement it has fuelled, but cannot control any more
In France, Marine Le Pen also risks being outflanked on her right by populist candidates who have taken more radical culture war stances. These include anti-immigration talk-show star Éric Zemmour, who is sky-rocketing in the polls, as well as Nicolas Dupont-Aignan, the leader of the nationalist Debout la France party, and Le Pen's estranged ally Florian Philippot, who have both espoused Covid conspiracy theories.
In Germany, the far-right Alternative für Deutschland party has had a stormy relationship with the Covid sceptic movement Querdenker (literally "lateral thinkers"). Querdenker activists were involved in internal party squabbles and have gone on to launch a new formation called Die Basis (The Base) contributing to the AfD's disappointing performance in the last elections.
Amid growing culture war polarisation, rightwing parties that have adopted a populist strategy are struggling to hold together their brittle electoral coalition. One in which true believers who embrace conspiracy theories whole-cloth sit alongside more moderate centre-right voters with little patience for popular superstitions.
While anti-vaxxers are very vocal, they are actually a relatively small proportion of the population…..