Posts Tagged 'Patriotism'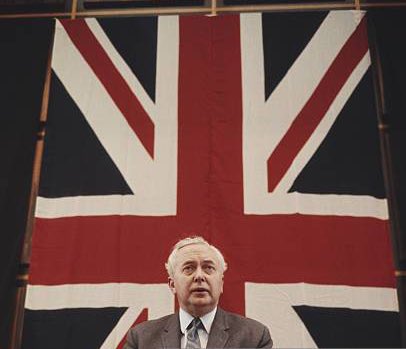 Harold Wilson. Labour P.M.
The professional anti-Starmer crowd have been out in force today.
Here is why:
You would have thought that those who backed Rebecca Long-Baily and her call for "progressive patriotism" would be well pleased. ("To win we must revive this progressive patriotism and solidarity in a form fit for modern Britain. "
Alas, no.
The anti-Labour site, baked by a well known Trade Union,  the Skwawkbox, yells,
Starmer's 'flag-shagging' can't even fool his own front bench, let alone working class communities
Move looks desperate and as false and stupid as it is – and will probably end Labour in Wales and Scotland.
This is the story itself (Guardian):
Leak reveals Labour plan to focus on flag and patriotism to win back voters
Labour must make "use of the [union] flag, veterans [and] dressing smartly" as part of a radical rebranding to help it win back the trust of disillusioned voters, according to a leaked internal strategy presentation.
Let us treat the  froth of the likes of Steve Walker, other 'alt-news' sites and professional anti-Starmer haters.  with the contempt they deserve. It comes from nothing and destined for the Wheelie Bin of History.
One could,  by contrast, write at length on this, about George Orwell's efforts to distinguish patriotism and nationalisa, about Imperialism,  the theory that the "national popular" can be captured by left populism.  about how Scottish nationalists get off the hook despite their country's own contribution to the British Empire, and about how in most countries, France and the USA, just about all politicians use the Flag. Not to mention the long list of Labour Party leaders and politicians have been pictured with the Union banner in one shape or another.
The Harold Wilson government of the 1960s supported this campaign in 1968:
Things have developed, obviously.There is also a history to be written of the nationalism behind Brexit (indulged by many anti-Starmer people who helped Leave win). In the last decades internationalists have opposed those brandishing Britain in at the end of a pole. UKIP, the Brexit Party, Johnson and his cronies have made the sight of the Union Flag distasteful at present. There are serious left wing reasons to be wary of it, and a discussion to be had.
That is, what kind of country does it stand for?
That critical case needs to be explored and expanded.
But this is not what this Blog is going to do today.
Real love of the country is love of people and things dear, it is demonstrated not by symbols, it is shown by acts.
What can that mean?
One of my favourite, fictional, stories explaining English patriotism comes from the satirical novel England, Their England (1933) by A. G. Macdonell.
It is 'travel memoir' by a youthful Scots, Donald Cameron, who has been invalided away from the Western Front  With "no qualifications for any profession except the ability to drive a moderately crooked furrow and to direct the fire of a six-gun battery of eighteen-pounder guns" "he resolved to try his fortune as a journalist." Donald writes for a series of London newspapers, before being commissioned by a Welshman to write a book about the English from the view of a foreigner.
To collect material for his book the young Sots enters the Dragon hostelry in Fleet Street at a Quarter to Twelve.  Engaging in conversation he encounters that he has met once of twice,  a man of about thirty-five from  circles he had begun to get to know. The  man exclaims, ""Have a drink. Flaming fish! but this is a stinking country."
"This is on me," he said. "It is the anniversary of Roland's death in the Valley of Roncesvalles. The world came to an end on that day. It has never really existed since. We must drink to my fellow-countryman who saved Europe in the Pyrenees a thousand years ago, just as that other fellow-countryman of mine saved Europe in the marshes of St. Gond on the River Marne in 1914."

"Do you mean Sir John French?" asked Donald.

The red-faced man became apoplectic. He swelled like a frog and his eyes appeared to become bloodshot. A queer, hoarse croaking issued from his lips. At last he managed to say, "I mean Ferdinand Foch, Marshal of France," and he stood to attention.

"I beg your pardon most profoundly," said Donald in great distress. "I had no idea—I mean your English is so perfect—is it really possible that you are a Frenchman?"

"My family name is Hougins," replied the man with superb dignity. "And there were Hougins in the Channel Islands a good long time before Duke Robert of Normandy cast his eyes upon the tanner's daughter."
After his departure a perplexed Donald was informed of the truth,
But he said his family name was Hougins."

"So it is, in a sense. It's Huggins. Tommy Huggins, and he comes from Bolton. His great-grandfather was Mayor of Bolton about a hundred years ago."

"But he sneered at the British Army," protested Donald.

Mr. Hodge laughed again.

"That's a favourite pose of his," he said. "He went to the War as an infantry Tommy and performed prodigies of valour."
True valour and irony, mocking patriotism, love for others, for countrywomen and men, courage, and humour, are not Jingo.
The below captures the right tone as well…
Susan Press says,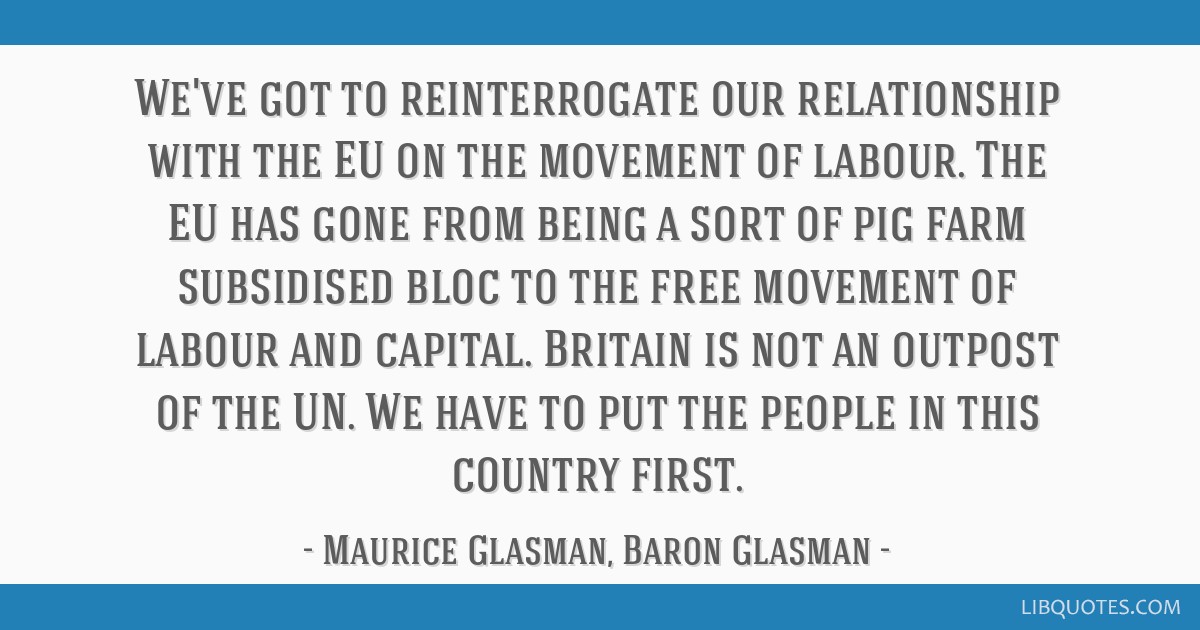 Blue Labour Opponents of EU Now Relishing Post-Brexit Opportunities.
Labour leadership contender Rebecca Long Bailey's call for progressive patriotism continues to echo throughout the labour movement.
Is this the thinker whose ideas can help rebuild a mainstream Labour Party?
Robert Philpot. Jewish Chronicle 
The time may have come for the 'Blue Labour' ideas of Ed Miliband's former guru to help reshape Labour's return to being a party for the working classes, writes Robert Philpot.
.. Lord Glasman is no rent-a-quote. Beneath the headline-grabbing comments was a serious philosophy. "Blue Labour", as he termed it, urged the party to reconnect with its traditional supporters by embracing the values of "flag, faith and family".

There may be few second acts in politics but last month's election may give Lord Glasman a new opportunity to help shape how Labour rebuilds the "red wall" which Boris Johnson so effectively demolished.

Although she hails more from the party's soft left, likely leadership contender Lisa Nandy is probably the most sympathetic of the potential candidates to Lord Glasman's ideas. She has spoken at Blue Labour events and her close ally, Jon Cruddas, has been one of its strongest proponents.

Like Lord Glasman, the Wigan MP called for Labour to honour the result of the EU referendum and her belief that "place, identity, history and culture matter" is straight out of the Blue Labour playbook. So, too, her suggestion last month that, "There is a strong feeling in towns like mine that Labour stopped listening long ago and that we no longer have much understanding or care for the things that matter deeply to them or their families."
Tireless campaigner against rootless Cosmopolitans, Paul Embery tweets.
In the Daily Mail a couple of days ago Peter Hitchens gives Blue Labour a puff.
..there is a tiny glimmer of hope, which I think civilised people should encourage.

It is called 'Blue Labour'. At the moment it is only a few brave and thoughtful people, and it was pushed to one side in the Corbyn era of childish, clapped-out 1970s Leftism.

…

But if it succeeds it could not only be a good Opposition, it might even be a good government. People forget what Labour used to be.

Before it was taken over by Bloomsbury social liberals and Islington Eurocommunists in the 1960s and 1970s, it was a highly conservative, patriotic, working-class party.

…

Where political parties combine patriotism, a strong but just welfare state, good education, firm policing and tough defence, they tend to win elections.

…

If they can seize back control of the People's Party, I'd support them against the Pinko Tories.
You can read more about them on the Brexit Party supporting Spiked site.
'Globalisation has made our lives empty'
Maurice Glasman talks to Brendan O'Neill about Brexit, Blue Labour and the demonisation of the working class.
There are many critiques of Blue Labour, including on this Blog.
A central argument is that it is an adaption to national populism.
Now, with the failure of left populism, this looks an enticing prospect for some, and not just overt right-wingers like Hitchens.
Before somebody proposes "articulating" their ideas into Labour's mix, serious issues need to be looked at.
One of the most recent to offer an account of them is this excellent article in the Political Quarterly (which we have referred to before).
TOXIC FRIENDS? A CRITIQUE OF BLUE LABOUR
Since the Brexit vote, the followers of Blue Labour – an advocacy group associated with the Labour Party that promotes conservative ideas – have accepted much of the far right's analysis. Advanced by the likes of Paul Embery and Adrian Pabst, they have adopted the far rights' language and terminology at an alarming rate.

Importantly, followers of Blue Labour have also bought into a binary divide: the choice is either neoliberal hyper‐globalisation or a patriotic nationalism. The possibility of any different types of globalisation has been denied.

..

Critique of Blue Labour: Towards a renewed social democratic alliance

Labour's successes in 1945, 1964 and 1997 came through linking together the labour movement, the public sector and middle class intellectuals. Alliances will not necessarily return in the 'old' form, but they need to be constructed. The first step is to articulate alternative models of globalisation.

Progressives need an economic policy promoting a new relationship with nature and a thorough green industrial strategy that addresses the economic and social concerns of those who globalisation has passed by.

Progressives should also seek to create a sense of interconnectedness. Blue Labourites find it hard to conceive that a person can approve of European integration and yet still retain a national and local identity. The modern world is interconnected and overlaps. For instance, the wings for an Airbus are made in North Wales and Bristol, but the aircraft as a whole is put together in Toulouse.

To sum up, as the Green movement expresses it, 'think global, act local'. There is no gulf between the two.
Close to Corbyn: as blessed by Pic.
The Labour leadership contest has so far been marked by the fragmentation of the left.
One group has launched this appeal:
"In essence we think that Ian Lavery is the person to take the Labour Party forward and build on the progress of the last 4 years. Please sign and name constituency if you agree. Please do not sign twice."
Skwawkbox seems to like the type, noted for his spade like hands, ready to shovel donations up.
POLL SUGGESTS 3 OUT OF 4 LABOUR MEMBERS BACK LAVERY OVER STARMER
The "poll" is of course a poll of their mates…..no doubt supplied by the same authority which had such success with the Liberal Democrats' polls….
Now we another pitch on the left…
We need to win back the country's trust, champion progressive patriotism – and unite proud communities failed by the Tories.
In fact the pitch is not bad but this mixes two things together.
We have to unite our communities in all their diversity. Britain has a long history of patriotism rooted in working life, built on unity and pride in the common interests and shared life of everyone. This history is internationalist: as in 1862 when Lancashire's mill workers supported Abraham Lincoln's anti-slavery blockade of cotton from the American south. To win we must revive this progressive patriotism and solidarity in a form fit for modern Britain. While Boris Johnson criticises single mothers and likens Muslim women to bank robbers, we must stand for pride in our communities, dignity in our work and a common purpose that unites communities across the country.
But 'Progressive patriotism"?
Perhaps this Blog has missed something but the Mill workers' support was internationalist, and not patriotic.
It's hard to see what patriotism, even as a 'floating signifier',  was involved.
The only people who consider this 'patriotic' are red-brown types like Spiked's James Heartfield.
This is how the First International, created by trade unions and the left, responded to that civil war,
ADDRESS OF THE INTERNATIONAL WORKINGMEN'S ASSOCIATION TO ABRAHAM LINCOLN
To Abraham Lincoln,

President of the United States of America.

Sir,
We congratulate the American people upon your reelection by a large majority.

If resistance to the Slave Power was the reserved watchword of your first election, the triumphant war cry of your reelection is Death to Slavery.

From the commencement of the titanic American strife the workingmen of Europe felt instinctively that the star-spangled banner carried the destiny of their class.
One could add that the support for the abolition of slavery had deep internationalist roots in the British labour movement and left.
Right to the French Revolution.
Thomas Clarkson (who has a street named after him in Ipswich) was one such figure.
Clarkson wrote verbatim accounts of the debates in the French National Assembly in the local paper.
The Society was created in Paris in 1788, and operated until 1793, during years of the French Revolution. It was led by Jacques Pierre Brissot, with advice from British Thomas Clarkson, who led the abolitionist movement in the Kingdom of Great Britain. At the beginning of 1789, the Society had 141 members.

During the five-year period that it operated, it published anti-slavery literature and frequently addressed its concerns on a substantive political level in the National Assembly of France. In February 1794, the National Assembly passed the Universal Emancipation decree, which effectively freed all colonial slaves and gave them equal rights. This decision was later reversed under Napoleon, who tried unsuccessfully to reinstitute slavery in the colonies and to regain control of Saint-Domingue, where a slave rebellion was underway.
That is the origins of the solidarity shown in Lancashire and elsewhere.
So where does this patriotic stuff come from?
Is it some Chantal Mouffe, Gramscian idea about the 'national popular'?
One is surely it's well meaning and terribly kind to appeal to " migrant cleaners in Brixton", "ex-miners in Blyth Valley, "small businesses in Stoke-on-Trent to the self-employed in Salford.."
Is that all?
Unlikely.
Many suggest this is the real Maître à penser in Long-Bailey's campaign.
Tony Blair said last night that he wanted to set out his view of Britain's role in the world on the basis of a modernised definition of patriotism.

Mr Blair pointed to devolution – "tailored to make sure that people's aspirations are reflected in their institutions" – as an example of how strength could be drawn from diversity. "Diversity is about the distinct parts of a whole learning each from the other," he said. "We are not rejecting what makes us British. Britishness is not defined by clinging to the status quo. I define it rather by reference to our common purpose and sense of mutual belonging, born of shared values."
Ah yes…..