Posts Tagged 'Novara Media'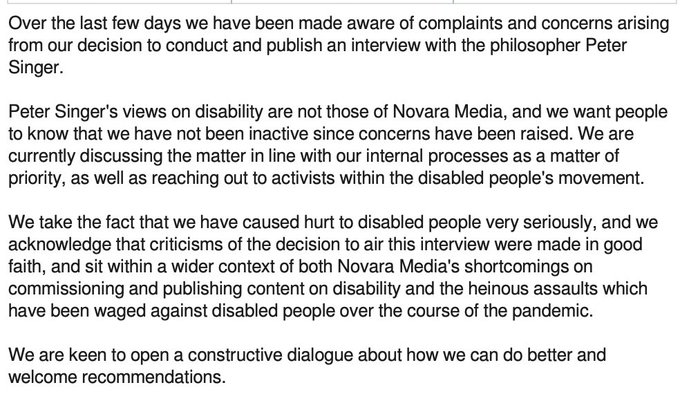 Outrage at 'alt news' site Novara Media.
Arron Bastani recently cleared his busy schedule. He does not only spend his days attacking the Labour Party criticising Keir Starmer, advising the Labour Party on the Hartlepool by-election election, and making off-the-wall 'accelerationist' comments on China.
This was the leader of Novara Media's venture into journalism.
This the reaction from some greatly respected activists.
Outraged disabled activists have criticised a left-wing media organisation for publishing an interview with a philosopher who has repeatedly advocated killing disabled babies, and for failing to challenge him on his views.

Novara Media's video interview with Peter Singer focused on his position as one of the best-known animal rights philosophers, and almost completely bypassed his views on disabled people.

When Singer's views were briefly touched on by Novara co-founder Aaron Bastani, there was no effort to challenge him on his past statements.

Instead, Bastani (pictured, above, left) asked him to respond to the "controversy" and "criticisms that you've had from people around disability activism and so on", but he failed to challenge Singer on any of the disturbing statements he had made in the past.

Singer (pictured, above, right) repeated some of those statements.

He told Bastani that "parents of children with severe disabilities and poor prognoses should have the option of ensuring that those children do not live, that they die rapidly and humanely", which he described as "a proposal".

But Bastani made no response to this and made no attempt to question this "proposal".

Anger at the interview, both the decision to publish it and the way it was conducted by Bastani, was led by Disabled People Against Cuts (DPAC), which said it had caused "justifiable outrage".

DPAC is set to meet with Novara today (Thursday) "in order for our members, especially those with learning difficulties, to express their dismay, hurt, and political objections to how the interview was conducted".

Andy Greene, a member of DPAC's national steering group, said Bastani had allowed Singer to continue "without interruption, without rebuttal, without being challenged or asked to provide evidence for claims and assertions he made.

"No attempt was made to hold Peter Singer accountable in a conversation that began with the premise that disabled children's lives were worth less than others."

He added: "Unfortunately, there's nothing 'new' or 'different' about Novara Media in the eyes of many disabled people now. Only more of the same old same old.

"The same old narrative. The same old rhetoric. The same old failings."

Another DPAC activist, Lucy Burke, said: "If you are someone who needs support in daily living, if you are someone who may not be able to engage in wage labour, if you are someone whose life is characterised by a strong difference, then, for Peter Singer, you are better off dead. (And everyone around you is better off too.)
This blogger has read Peter Singer's best known book  Animal Liberation: A New Ethics for our Treatment of Animals,  and can confirm that the following first statement  is indeed the case, though even I was shocked to learn the more recent Singer claims.
For the last 40 years, Singer's views on disability have shocked and angered disabled activists and allies across the world, and have led to repeated controversies over his various appointments, interviews, publications and speaking engagements.

As a strict utilitarian, Singer has previously made it clear that he believes some disabled babies should be killed after birth, including those with haemophilia, spina bifida and Down's syndrome, because he has said they are lives "not worth living".

He has argued: "When the death of a disabled infant will lead to the birth of another infant with better prospects of a happy life, the total amount of happiness will be greater if the disabled infant is killed.

"The loss of happy life for the first infant is outweighed by the gain of a happier life for the second."

Singer has also suggested that, if it had been his choice, he would have wanted his mother, who had Alzheimer's disease, to be given a lethal injection in the last months of her life.

And more recently he has suggested that it might not be wrong to rape a person with learning difficulties and high support needs if they do not have capacity to consent to sex.
They state,
A DPAC spokesperson said: "We are disappointed that prior to this incident Novara had consistently failed to take up advice from individual DPAC members concerning the importance of acquaintance with the social model of disability and the particular form of oppression that disabled people face.
Disabled People Against Cuts statement on Novara interview with Peter Singer
 We are disappointed that prior to this incident Novara had consistently failed to take up advice from individual DPAC members concerning the importance of acquaintance with the social model of disability and the particular form of oppression that disabled people face. This led to a situation where Singer was given a platform to express views that encourage division and hate without challenge, and at a time of rising hostility towards disabled people and the explicit devaluing of disabled people's lives that has characterised the pandemic – which we are still living through. Either the interviewer lacked even the most basic understanding of why Singer's views are problematic for disabled people or he chose not to deploy those arguments. We are not in a position to know which. DPAC members are currently drafting a longer statement to explain our objections which we hope to make publicly available next week.
Here some of Singer's beliefs.
https://twitter.com/RespectIsVital/status/1369821639114977283?s=20
Speculation is growing about how long the controversial Novara Media site will go on its present journey.
Novara media's Commissioning Editor & Reporter
The above has just been retweeted by Chris Williamson.
Novara Media have yet to respond.
In further news there are demands for a Labour Recall Conference.
A group of left-wing MPs and unions have called on Labour leader Sir Keir Starmer to hold an emergency conference as they warned of widespread "anger and disillusionment" in the party.

The row follows the suspension of former leader Jeremy Corbyn and suspicion among some over the direction in which Sir Keir wants to lead Labour.

The call for a special conference has been backed by the Socialist Campaign Group of MPs, which includes Sir Keir's former shadow cabinet colleagues John McDonnell and Richard Burgon, as well as the Unite union, the Bakers' Union and Momentum.
The Morning Star, (independent of the Communist Party of Britain and owned by the co-op) Socialist Appeal and the anti-Labour site Skwawkbox back the demand;;
Yet this development will surely be overshadowed by this event.
Against no platforming of fellow socialists! What does Free Speech actually mean?
Following the debacle over the no-platforming of suspended Labour activist Esther Giles at the Momentum-led "Labour Lockout" rally, we are pleased to welcome the comrade as a speaker at our February 13 conference on 'Building the Campaign for Free Speech'. It is a great shame that the mainstream left has adopted the strategies of the right – bowing to baseless accusations of "transphobia" reminds us very much of the sidelining, smearing and vilifying of critics of Israel as "antisemites".
Wherever one might stand on the debate over trans rights – and the issue is far from as black and white as some make it out to be – we very much "oppose demands for 'zero tolerance' and 'safe spaces', including on controversial issues like trans rights. They are the opposite of a culture of open debate. The best way to fight prejudice, misperceptions and misunderstandings is through education and debate", which is how our draft Charter for Free Speech (which will be discussed at conference) puts it.
Labour Against the Witchhunt, the Labour Left Alliance and the Labour in Exile Network have issued an excellent joint statement on Esther's no-platforming, which you can read below.
To demonstrate his credentials against anti-Semitism one of the speakers at the event tweet this, from the Monster Raving Greenstein Party:
h
"Those with the least character to spare, can the least afford to part with their good word to others: a losing cause is always most divided against itself."
William Hazlitt. On Jealousy and Spleen of Party. 1826
People join, the Labour Party, for many reasons, to get reforms done, to do a good job in local government, for specific policies, out of a commitment to social democracy, to the broad labour movement, to a variety of forms of socialism, and no doubt, for some, to make a career out of politics. Activism goes from delivering leaflets, attending meetings, holding street stalls, canvassing, to standing in elections, and working in elected positions.
Recent years have seen a newer form of activism, social media. Anybody can tweet, go on Facebook, or other networks. We  can even Blog…
Some have set up sites with more ambitious claims. Like the Canary and Skwawkbox Novara Media had its days of glory during Jeremy Corbyn's leadership of the Labour Party. From 2015 onwards it played a part in millions of people's on-line clicking and flicking. Some at least considered them political players. They were all identified with one cause, Jeremy Corbyn and with the leader himself.
During the 2017 General Election, left-wing alternative media sites such as The Canary, The Skwawkbox, and Novara Media, well-known for their support for Jeremy Corbyn's Labour leadership, were described in the Guardian as a "new force shaping the election debate". By alternative media, we mean online news and commentary outlets that set intentionally themselves out as alternatives to a mainstream media that they consider to be biased and dishonest.
The reasons why will be debated for years, but that cause did not win…..
Fast forward to 2020, and to Labour's 2019 General Election review, and these alternative media sites are now barely mentioned. In fact, they feature just briefly on page 96, buried in the final section of the chapter that dissects the Labour's online campaign. Notable, too, is the lack of attention the sites received in post-election analysis. This is striking, since it is only in October of last year that Ash Sarkar was interviewing Corbyn on Novara Media, in a clear sign of their influence. In contrast to 2017, the narrative taking shape around left-wing alternative media is now one of decline.

Declan McDowell-Naylor. (1.7.2020.)
The post-election and post Corbyn leadership decline has accelerated. The Canary's founder, Kerry-Anne Mendoza quit Labour and has been embroiled in accusations concerning anti-Semitism, and her support for expelled Labour MP Chris Williamson. The site is studded with anti-Labour 'stories', Black Labour members are set to boycott campaigning for the party  Skwawkbox spends its time attacking Keir Starmer, its comments section dominated by abuse of the the "slimy knight"  "dry bumming" the membership. It has now pinned its hopes on the unlikely figure of Northern Labour MP Jon Trickett to become party chief this year. Novara Media, ploughs the same furrow, "Starmer's Worst Week"….
This week a leaked presentation sparked ridicule for Labour, just as Starmer was caught lying in parliament.
The constant drip drip of attacks on Starmer and Labour may fortify the undoubted pleasure of hating. But many people will think that those who spend their time hurling abuse at their party enemies have not got over their rancœur at losing.
Yesterday this story was published in the Jewish Chronicle.
Jeremy Corbyn's 'attack dog' quits Labour – allegedly ahead of an investigation into his conduct
The founder of the pro-Jeremy Corbyn website Novara Media has left the Labour Party, allegedly ahead of an investigation into his conduct.

Labour sources told the JC that the broadcaster Aaron Bastani, who was once dubbed Jeremy Corbyn's "attack dog", had quit his local Labour Party in Hampshire after being alerted to a probe into allegations made against him.

Asked to comment, Mr Bastani told the JC on Friday: "The idea that a journalist and member of the Labour Party would be suspended at the drop of a hat suggests deep seated problems inside the party in bringing together the kind of coalition that won Joe Biden the presidency last year."
The strange final sentence apart (in what sense would Biden fit into Bastani's ultimate goal of total luxury communism), this is the Novara Media's own statement:
The weakening of alt-news sites reflects a wider fragmentation of the Corbyn 'ultras'.
Labour Heartlands
This, and we would welcome more information, as if the ghost of 1930s Communist Party entryism into Labour has risen from the tomb.
The Weekly Worker reports on this event. Labour Left Alliance Conference.
If you want to understand the confused politics and contradictory strategy of the Labour left, the January 30 online discussion conference organised by the Labour Left Alliance was a good place to start. James Harvey.
The majority of comrades who attended and spoke clearly regard themselves as the real, militant left in the Labour Party – in contrast to the tame official left, represented by groups such as the Socialist Campaign Group of MPs and Momentum.

…

Roger Silverman of the Workers' International Network (WIN) and the LLA organising group set the tone in his political opening by suggesting that the one-sided civil war unleashed by the Labour right had finally reached boiling point
For those not up to speed here is Cde Silverman's groupuscule, the site On the Brink.
WIN evolved out of an international online socialist forum, members of which had been corresponding and meeting over the years. In 2009 a draft document setting out our common consensus was published under the title Preparing for Revolution, and in 2012 another: The Future International: socialists and the movement against capitalism. (For these and related documents, see introducingWIN.pdf)
The meeting saw resolutions from Socialist Appeal (the faction created by Ted Grant after the split in Militant), and the Weekly Worker's own Labour Party Marxists. If you still have the will to live after scanning a few paragraphs go to the link above…
There are, in contrast to the old 'alt-news sites' and these warring factionalists, left wing groups and sites offering serious articles about the future of the UK Left,  such as Labour Hub, (see: Focus on Organising  Michael Calderbank), The Alliance for Workers' Liberty ( Scotland, separation and socialism. Dale Street.) , Anti-Capitalist Resistance (England and Labour: Nation or Class? Simon Pearson ). There is also Chartist, Radical federalism  Sam Tarry).
These are some sites identified with the broader cause of socialism. Perhaps this is why they are important reading, rather than 'alt-media' based on one leader.
,
j