Posts Tagged 'Nationalism'
Racist stickers found on streets of Ipswich
A council has taken down around 60 white supremacist posters plastered around a UK town over the weekend, authorities have said.

"It's OK to be white" and "reject white guilt" were written on signs across Ipswich, according to images shared on social media.

Max Stocker, a council spokesperson, told The Independent they have been working to remove the posters, which also included the message "beware non-white rape gangs".

Similar messages have been spotted around different parts of the UK in recent months, including Hull and Perth, according to local media.

Signs saying "it's OK to be white" were also put up in Bristol city centre last week.

Some of these posters bear the mark of Hundred-Hands, a group encouraging the spread of posters containing messages of white supremacy over social media.

Sam Murray, an Ipswich resident, claimed she removed 10 signs in the town herself.

"This does not have a place here," she told The Independent.

"Ipswich is a nice town," she said. "It is diverse and normally people just get on with their lives."

Bryony Rudkin, deputy leader of Ipswich Borough Council, called the white supremacist messages "deplorable".

"This racist behaviour does not represent the people of Ipswich or our town," she said.

"Council staff have been out over the weekend taking these stickers down."

Police are investigating the posters and aware of similar reports in other areas of the UK, a Suffolk Police spokesperson said.

"It's OK to be white" spread as a slogan across the US several years ago, and posters started appearing across American universities.
One of the few telling points in Michel Houellebecq's novel Submission (2015) was his invention of a group called "Indigenous European – a direct response to the Indigènes de la République which claims to represent "colonial subjects" on French territory.  This is not the product of the jaded writer's imagination. I Identity politics is the mainstay not just of campus politics but also, in Houellebecq's twist, of an influential section of the European right. Génération Identitaire claims to stand for Europe against the "Islamisation of Europe" and the "migrant invasion". Hope Not Hate writes that the British offshoot, Generation Identity, has this basis.
Martin Sellner, de facto spokesperson for the movement, talks of the need to preserve "ethno cultural identity" which extends back to an ancient European heritage.
Houellebecq illustrates how identity politics have moved on from the time when Naomi Klein could regret that "The need for greater diversity – the rallying call of my universality years – is now no only accepted by the culture industries. It is the mart of global capital. And identity politics, as they were practiced in the nineties, weren't a threat, they were a gold mine." Hollywood and the media aside, these issues have shifted into national populism, fall out from the EU Referendum, and the efforts of those who failed to oppose the Hard Right Brexit project to throw a smokescreen about Labour's election disaster. (1)
Now we have people putting up stickers spreading the right-wing identity message. Those there say that at the Farage rally to celebrate Brexit last Friday some also repeated other ideas from this quarter, the fight against "cultural Marxism" held responsible for the other side, in the argument, liberal identity politics.
This is not just a fringe movement.
Prominent Spectator writer Douglas Murray's Madness of Crowds (2019) is a sally against the "religion of social justice" prompted by "identity politics". His The Strange Death of Europe (2017) is a lament about the suicide of Europe through mass immigration. The Spectator writes ends with a plea against those politicians who wish to "change our home into an utterly different place." In short, Europe's identity is under threat from others. Murray anglicised Éric Zemmour's complaints against post-68 'cultural Marxist' attacks on "(famille, nation, travail" with Renaud Camus's fear of Europe's inhabitants being replaced by newcomers, the Grand Remplacement. (2)
During Brexit we've often heard that the ancestral inhabitants of Britain are under threat from metropolitan, and cosmopolitan, elites. The late Roger Scruton observed in 2017 that, "The question of identity is bound up with that of sovereignty: who governs us, and from where?" Spiked runs a profitable 'anti-woke' troll farm promoting national populist, and pro=Brexit,  identity politics under the mask of saying, "Identity politics is really for rich white people".   This 'question' has received a left response: the 'real' working class, who struck a blow against the capitalist EU in the Leave revolt, is under attack from liberal identity politics. Some with no doubt admirable aims speak of "the caricature of the white working class as racist and culturally conservative".  In Haringey Labour it's been debated that the working class needs its separate party group (Haringey: Labour members call for 'working-class section' in bid to regain power).
Identitarians.
The identitarians, who have branches across Europe, including Britain, were founded in France. Struggling against 'cultural Marxism', affirming their culture and selves. Douglas Murray has talked about "desire to continue to feel yourself guilty.." for the legacy of Empire. This is an idea can be traced back to Pascal Bruckner's Le Sanglot de l'homme blanc (1983). From disillusionment with Third Worldism, the belief that revolution would come from the global South, the French essayist has not stopped exploiting the theme. In La Tyrannie de la Pénitance he already observed, in 2006 Western "masochism", the desire to apologise for the, very real, crimes of imperialism. Imprisoning people in their ethnic and racial identities, leads to individuals staking up a tally of resentments, not to free themselves as a collective group with universal right. Many will sympathise with Bruckner and his conclusion that "shame" should be replaced by a common search for freedom. But most people who read La Tyrannie would retain the diatribe against those protesting at past atrocities and injustices, and his mocking at the "agglomeration of tribes" standing against the common identity of Citizenship. (4)
There is a point at which identity politics on the left meets the far right and that point has been reached by the French Parti des Indigènes de la République (PIR) The PIR's spokesperson Houria Bouteldja offers a picture of the world in imitation of US Black Power. She melds attacks on 'Whiteness' (Blanchité) and laments for the decline in Arab virility. Bouteldja takes it upon herself to speak for the "nous", the "Noirs", the blacks to the 'vous', the 'Blancs', the Whites, and has some words of advice to the "vous", the 'Juifs', the Jews. In the struggle for the voice of the indigenous she affirms a belief that commemorating the memory of the Shoah is, for whites, the "the bunker of abstract humanism". Anti-Zionism is the "space for an historic confrontation between us and the whites". She has been pictured with a placard reading "Zionists to the Gulag". Bouteldja is fêted in Berkley and other 'post-colonial' academic quarters. She has been given space in the populist US left journal, Jacobin. A certain Richard Seymour has called her "admirable". (5)
White Guilt.
Those now rushing to affirm working class identity should take note of that adventure. Those who wish to talk about a halt to White Guilt have more in common with their approach than they might wish. Both the side attacking some kind of inheritance of 'whiteness' and those trying to stand up for an indigenous, left-behind, working class share something with the right-wing 'identitarians'. That is the immense weight they claim for the past. The enemy of human rights and the French Revolution,Edmund Burke, would be amused to find that political debate has become a squabble about the "Inheritance from our forefathers", the " partnership not only between those who are living, but between those who are living, those who are dead, and those who are to be born."
This Blog prefers another side of the dispute altogether
Every age and generation must be as free to act for itself in all cases as the ages and generations which preceded it. The vanity of governing beyond the grave is the most ridiculous and insolent of all tyrannies.

Tom Paine.
Page 115.

No Logo, Naomi Klein.

Flamingo. 2000.

Page 320.

T

he Strange Death of Europe. Immigration, Identity, Islam. Douglas Murray.

Bloomsbury. 2017.

Eric Zemmour, Le Suicide Français.

Albin Michel. 2014.

Le Grand Remplacement. Renaud Camus

. 2011.

Page 4.

Where We Are. The State of Britain Now. Roger Scruton

.

Bloomsbury. 2017.

Page 175.

Murray. Op cit.

Les Blancs, les Juifs et nous. Houria Bouteldja.

La Fabrique. 2016.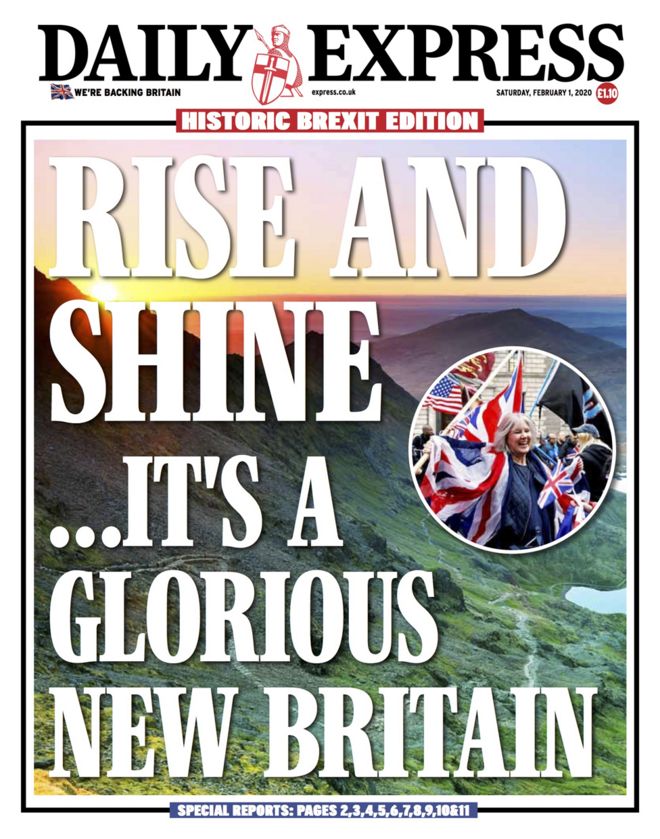 Morning Star Sees "Positive Potential" in Brexit.
The Morning Star, wholly independent of the Communist Party of Britain and owned by the Co-Op, this week hailed the "positive potential" of Brexit Day.
The Morning Star claims that Labour 'handed control' of the Brexit process " to enemies of the working class in Westminster and Brussels" by inflicting "defeats on the government".
In the New Era,
Now Brexit is happening, Labour urgently needs to do what it should have done in 2016, the essence of which was actually outlined by Corbyn in 2018: to recognise the positive potential of a departure from the EU.

These include expanding public ownership without worrying about the strictures of the Lisbon Treaty, or the "rights" of parasitical firms exploiting our public services for profit; to plan economic development sustainably, intervening to clean and green our economy without allowing transnational companies a "fair playing field" on which to ruin our planet; rewriting public procurement rules so contracts are allocated based on public interest and the welfare of workers and users.

For the moment, none of this is on the table. Brexit is an opportunity, because it removes certain treaties and regulations which are barriers to a socialist transformation of society.
But every silver-lined opportunity has a cloud,
But it is no more than an opportunity. It has not liberated anyone. Britain has elected a hard-right government which is already breaking promises to end austerity and will wage ruthless war on our communities and our workforces. It is a pro-imperialist government aligned as slavishly to an aggressive White House as was Tony Blair's.

Some on the left will blame all this on Brexit. Actually it marks a continuation of the policies of the past four decades rather than a departure from them. Labour can keep mourning the EU, keep pleading for total alignment with all its anti-worker treaties and court rulings, keep reproaching people for failing to understand what we could lose rather than inspiring them with a vision of what we can win.

Or it can move on.
And agree with the pro-Leave Morning Star.
By accepting the Boris consensus on Brexit we can finally, by leaps and bounds, engage in the real struggle. That is,
 it accepts we have left and throws itself into the fight for a better future.
Another editorial blames faith in the EU for a downturn in workers' struggles,
A misplaced faith in the EU to protect workers' rights has seen energies misdirected into lobbying on behalf of the supranational organisation rather than building a movement formidable enough to defend and extend rights.
The EU has prevented Britain from defending the national working class.
In fact EU rules have acted to prevent governments keeping manufacturing and construction contracts in the country to protect jobs.

The same applies to workers' rights. Trade unions in particular have been systematically stripped of their rights over the past 40 years.
The national working class can only look to national struggles to fight for its rights.
One welcome result of Britain's departure should therefore be abandoning the myth — laughable given the momentous struggle against attacks on pension rights currently raging in France — that the labour movement can look to the EU for protection. Workers' rights can only be secured by the working class itself.
You wonder why the labour movement bothers with any legislation or tries to get MPs elected.
Perhaps the Morning Star will extend the CPB's call to Boycott Labour and abstain in last year's European Elections to the next British General Election.
Counterfire, meanwhile has held its conference.
Corbynism, socialists and the resistance – Counterfire's conference
The revolutionary socialist organisation resolved to back Rebecca Long-Bailey in the Labour leadership contest.
In prose which only they have the secret of the groupuscule declares,
Counterfire is a revolutionary socialist organisation that differs with those in Labour about whether the party can be won to socialism and whether socialism can be attained through Parliament. Nevertheless, we were at the forefront of defending and encouraging the Corbyn project, while being fraternally critical when neccessary (sic).
They instruct,
Socialists in Labour should vote for Rebecca Long-Bailey and Richard Burgon in the current elections, it will be a boost to the entire left if left-wing candidates win the leadership and deputy leadership of the Labour Party. But the loss of the election has strengthened the right and Corbyn's resignation is likely to lead to retreats, particularly on foreign policy issues. Increasingly the focus for socialists ought to be outside electoral politics.
On Brexit they declare,
That Brexit still represents an opportunity for rupture with Europe's capitalist institutions and only makes sense from the left. There is no better deal for capital than the one it currently has.

In the context of the end of Corbynism and the inevitable moving rightwards of the Labour Party, to continue making the arguments within the left that making a break with the institutions of the EU is a necessary step on the road to socialism.
Agreeing with their national comrades in the Morning Star Martin Hall writes on Brexit Day that  "future is up for grabs", to catch it the left must,
Understand that a rupture with the current model of capitalism in order to rebalance capital and labour in favour of the latter can only be achieved outside the EU.

Leaving the EU: this is about what sort of society we want – and it isn't Johnson's
Try wishing away this: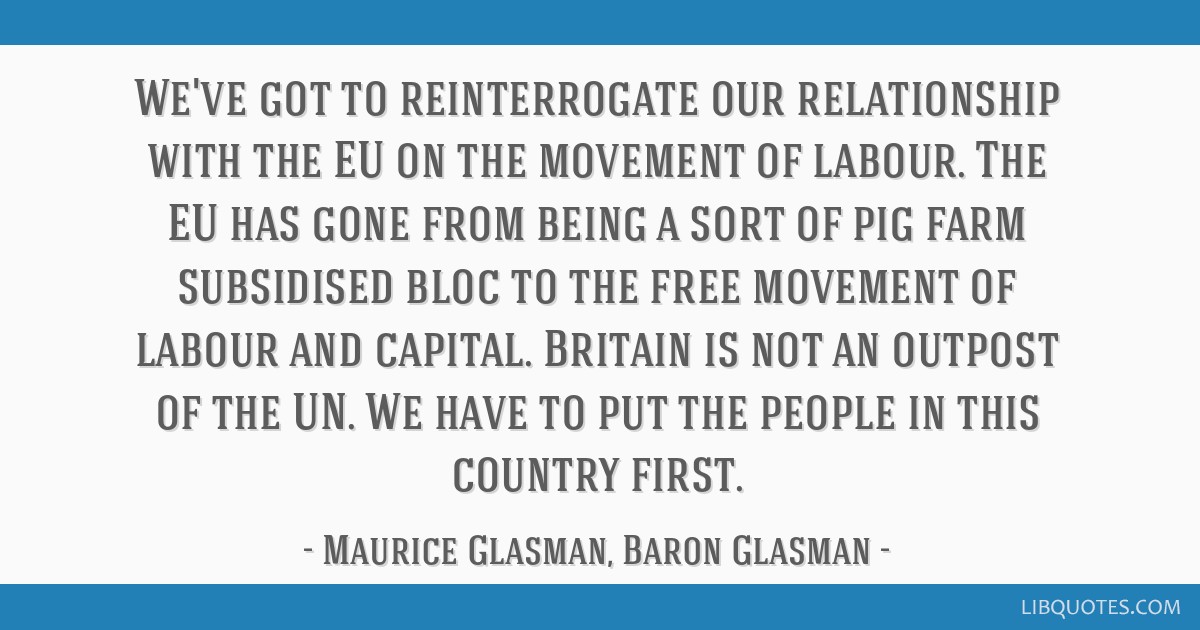 Blue Labour Opponents of EU Now Relishing Post-Brexit Opportunities.
Labour leadership contender Rebecca Long Bailey's call for progressive patriotism continues to echo throughout the labour movement.
Is this the thinker whose ideas can help rebuild a mainstream Labour Party?
Robert Philpot. Jewish Chronicle 
The time may have come for the 'Blue Labour' ideas of Ed Miliband's former guru to help reshape Labour's return to being a party for the working classes, writes Robert Philpot.
.. Lord Glasman is no rent-a-quote. Beneath the headline-grabbing comments was a serious philosophy. "Blue Labour", as he termed it, urged the party to reconnect with its traditional supporters by embracing the values of "flag, faith and family".

There may be few second acts in politics but last month's election may give Lord Glasman a new opportunity to help shape how Labour rebuilds the "red wall" which Boris Johnson so effectively demolished.

Although she hails more from the party's soft left, likely leadership contender Lisa Nandy is probably the most sympathetic of the potential candidates to Lord Glasman's ideas. She has spoken at Blue Labour events and her close ally, Jon Cruddas, has been one of its strongest proponents.

Like Lord Glasman, the Wigan MP called for Labour to honour the result of the EU referendum and her belief that "place, identity, history and culture matter" is straight out of the Blue Labour playbook. So, too, her suggestion last month that, "There is a strong feeling in towns like mine that Labour stopped listening long ago and that we no longer have much understanding or care for the things that matter deeply to them or their families."
Tireless campaigner against rootless Cosmopolitans, Paul Embery tweets.
In the Daily Mail a couple of days ago Peter Hitchens gives Blue Labour a puff.
..there is a tiny glimmer of hope, which I think civilised people should encourage.

It is called 'Blue Labour'. At the moment it is only a few brave and thoughtful people, and it was pushed to one side in the Corbyn era of childish, clapped-out 1970s Leftism.

…

But if it succeeds it could not only be a good Opposition, it might even be a good government. People forget what Labour used to be.

Before it was taken over by Bloomsbury social liberals and Islington Eurocommunists in the 1960s and 1970s, it was a highly conservative, patriotic, working-class party.

…

Where political parties combine patriotism, a strong but just welfare state, good education, firm policing and tough defence, they tend to win elections.

…

If they can seize back control of the People's Party, I'd support them against the Pinko Tories.
You can read more about them on the Brexit Party supporting Spiked site.
'Globalisation has made our lives empty'
Maurice Glasman talks to Brendan O'Neill about Brexit, Blue Labour and the demonisation of the working class.
There are many critiques of Blue Labour, including on this Blog.
A central argument is that it is an adaption to national populism.
Now, with the failure of left populism, this looks an enticing prospect for some, and not just overt right-wingers like Hitchens.
Before somebody proposes "articulating" their ideas into Labour's mix, serious issues need to be looked at.
One of the most recent to offer an account of them is this excellent article in the Political Quarterly (which we have referred to before).
TOXIC FRIENDS? A CRITIQUE OF BLUE LABOUR
Since the Brexit vote, the followers of Blue Labour – an advocacy group associated with the Labour Party that promotes conservative ideas – have accepted much of the far right's analysis. Advanced by the likes of Paul Embery and Adrian Pabst, they have adopted the far rights' language and terminology at an alarming rate.

Importantly, followers of Blue Labour have also bought into a binary divide: the choice is either neoliberal hyper‐globalisation or a patriotic nationalism. The possibility of any different types of globalisation has been denied.

..

Critique of Blue Labour: Towards a renewed social democratic alliance

Labour's successes in 1945, 1964 and 1997 came through linking together the labour movement, the public sector and middle class intellectuals. Alliances will not necessarily return in the 'old' form, but they need to be constructed. The first step is to articulate alternative models of globalisation.

Progressives need an economic policy promoting a new relationship with nature and a thorough green industrial strategy that addresses the economic and social concerns of those who globalisation has passed by.

Progressives should also seek to create a sense of interconnectedness. Blue Labourites find it hard to conceive that a person can approve of European integration and yet still retain a national and local identity. The modern world is interconnected and overlaps. For instance, the wings for an Airbus are made in North Wales and Bristol, but the aircraft as a whole is put together in Toulouse.

To sum up, as the Green movement expresses it, 'think global, act local'. There is no gulf between the two.