Posts Tagged 'Nadia Murad'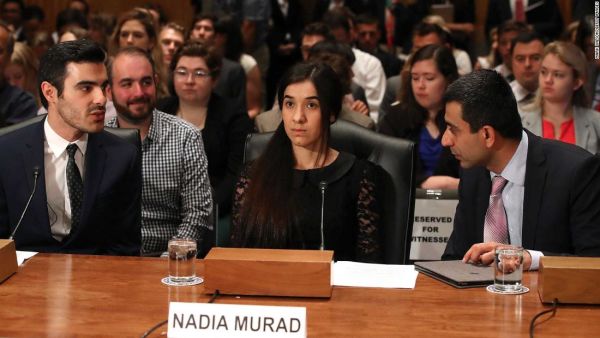 ISIS militants overran Nadia Murad's village in northern Iraq when she was just a high school student. In 2018 the 25-year-old became a joint winner of the Nobel Peace Prize for her efforts to end the use of sexual violence as a weapon of war and armed conflict.

She shared the honor with Denis Mukwege, a doctor who has worked to treat thousands of women and girls affected by rape and sexual violence in the Democratic Republic of Congo.

Unlike some previous winners of the prestigious award, such as Nelson Mandela or Malala Yousafzai, Murad isn't a global household name. But she's become an increasingly high-profile voice. She has used her traumatic experience — kidnapped, enslaved and raped by ISIS fighters — to become an advocate for the Yazidi minority in Iraq and to fight for the rights of women and refugees.

The Nobel committee chair said Murad had "shown uncommon courage in recounting her own sufferings and speaking up on behalf of other victims."

CNN. International Women's Day.
Liberated Yazidi women burn their veils as Islamic State crumbles
As she emerged from five years captivity inside the Islamic State, Barfe Khalaf Farho wanted one thing more than anything else: fire.

The 26-year-old Yazidi had been forced to wear a niqab every day of her slavery in the homes of Islamic State of Iraq and the Levant (Isil) fighters and their wives.

So when she reached the Western-backed Syrian Democratic Forces (SDF) last week the first thing she did was tear off her veil and set it aflame. The Kurdish fighters cheered her on as the black garment twisted in the fire.
Read the, highly recommended, Nadia Murad: The Last Girl: My Story of Captivity, and My Fight Against the Islamic State.
Heroes of the People.
Congolese doctor, Yazidi activist win Nobel Peace Prize for combating sexual violence
Reuters Reports,
They were awarded the prize for their efforts to end the use of sexual violence as a weapon of war, the Norwegian Nobel Committee said.

"Denis Mukwege is the helper who has devoted his life to defending these victims. Nadia Murad is the witness who tells of the abuses perpetrated against herself and others," it said in its citation.

"Each of them in their own way has helped to give greater visibility to war-time sexual violence, so that the perpetrators can be held accountable for their actions.

Mukwege heads the Panzi Hospital in the eastern Congolese city of Bukavu. Opened in 1999, the clinic receives thousands of women each year, many of them requiring surgery from sexual violence.

Murad is an advocate for the Yazidi minority in Iraq and for refugee and women's rights in general. She was enslaved and raped by Islamic State fighters in Mosul, Iraq, in 2014.

"Rape in war has been a crime for centuries. But it was a crime in the shadows. The two laureates have both shone a light on it," said Dan Smith, Director of the Stockholm International Peace Research Institute (SIPRI).

"Their achievements are really extraordinary in bringing international attention to the crime," he told Reuters.

Mukwege, a past winner of the United Nations Human Rights Prize and the European Parliament's Sakharov Prize, performed surgery on scores of women after they had been raped by armed men, and he campaigned to highlight their plight. He also provides HIV/AIDS treatment as well as free maternal care.

Although the Second Congo War, which killed more than five million people, formally ended in 2003, violence remains rampant, with militias frequently targeting civilians.

The hospital has also been the subject of threats, and in 2012 Mukwege's home was invaded by armed men who held his daughters at gunpoint, shot at him and killed his bodyguard.

Shortly before that attack, he had denounced mass rape in the Democratic Republic of Congo and the impunity for it in a speech at the United Nations.

"He has risked his life to help women survive atrocity," said SIPRI's Smith.

Mukwege was in the operation room when he was told the news, Belgian broadcaster RTBF reported on Friday.
The Region adds some details about Murud,
Nadia Murad Basee Taha, a 25-year-old Iraqi woman of the Yazidi faith escaped Islamic State sex slavery after three months of captivity and has been advocating for the end of human trafficking ever since.

She was abducted from Kocho near Sinjar, an area home to about 400,000 Yazidis, and held by Islamic State in Mosul where she was repeatedly tortured and raped. She escaped three months later, reaching a refugee camp, then making her way to Germany.

Islamic State militants consider the Yazidis to be devil-worshippers. The Yazidi faith has elements of Christianity, Zoroastrianism and Islam. Most of the Yazidi population, numbering around half a million, remain displaced in camps inside the autonomous entity in Iraq's north known as Kurdistan.

After escaping in 2014, Taha described her experience of torture and rape at the United Nations in December 2015 and pleaded to the 15-member Security Council to wipe out the militant group.

At least 9,900 of Iraq's Yazidis were killed or kidnapped in days following Islamic State attack in 2014, according to the first study which aimed to document the number of Yazidis affected. The study could be used as evidence in trial over IS for the crimes of genocide.

About 3,100 Yazidis were killed – with more than half shot, beheaded or burned alive – and about 6,800 kidnapped to become sex slaves or fighters, according to the report published in the Public Library of Science journal PLoS Medicine in May.

In August 2014, Islamic State militants launched an assault on the Yazidi religious community's heartland in Sinjar, northern Iraq.

Murad and her attorney Amal Clooney appeared at a United Nations event in March 2017 to appeal for that the crimes of Islamic State militants to be investigated and perpetrators prosecuted. She criticized the international body for inaction.

In September 2016 Murad was appointed the United Nations Office on Drugs and Crime (UNODC) Goodwill Ambassador for the Dignity of Survivors of Human Trafficking. She received the European Parliament's Sakharov Prize for freedom of thought along with Lamiya Aji Bashar, another Yazidi woman, in December 2016.
Murad's intensely moving book, The last girl : my story of captivity and my fight against the Islamic State is available from Suffolk LIbraries.
I read it last month.
The book explains the Yazidi society, their poverty, – she fought hard to get an education – their culture, and their loves. The  ancient beliefs of their religion, including the Peacock angel, are  recounted with dignity.
It is a work of searing honesty.
The conflicts and persecution from which the largely Kurdish speaking Yazidi community have suffered are long-standing.
In modern times these have ranged from the state of fear under the Baathist regime, their difficult relations with neighbouring Muslim Arab villagers, to the fighting after the US-led occupation ended and Daesh rose.
The New York Times summarises,
In August 2014 Islamic State militants besieged 

her village of Kocho

 in northern Iraq. They executed nearly all the men and older women — including Murad's mother and six brothers — and buried them in mass graves. The younger women, Murad among them, were kidnapped and 

sold into sexual slavery

. Raped, tortured and exchanged among militants, 21-year-old Murad finds an escape route when she is sold to a jihadist in Mosul who leaves a front door unlocked. She flees into Kurdistan by posing as the wife of a Sunni man, Nasser, who risks everything to escort her to safety.
The review concludes,
"I want to be the last girl in the world with a story like mine," Murad concludes. Despite recent gains against ISIS in Iraq, many Yazidis still remain in captivity. As a story that hasn't yet ended, "The Last Girl" is difficult to process. It is a call to action, but as it places Murad's tragedy in the larger narrative of Iraqi history and American intervention, it leaves the reader with urgent, incendiary questions: What have we done, and what can we do?