Posts Tagged 'Momentum'
Slates for Labour NEC, "Left has wrong Strategy" Jon Lansman,
Nominations have now closed for the Labour Party NEC elections.
Politics within the Labour Party have been dominated by reactions to the new Labour Leader, Keir Starmer. There have been criticisms, some justified, of his actions, such as made over the Armed Forces Bill, and the tone of an appeal to patriotism. Some who identified with Jeremy Corbyn have, since the election of Starmer,  gone a lot further and yelled about a return to 'Blairism'. There is a would-be war on social media launched those who have returned to Labour, after publicly denouncing the party during the General Election, and now want to purge Labour of the left.
Most people have not joined the wall of wailing against Keir Starmer or the opposite yells for a clean-out of opposition. They are impressed by poll results, which finally place Labour ahead of the Tories. Labour members, a majority of whom strongly opposed Brexit, are appalled at the supporters of an 'Anglosphere' running the country along the lines of the hard right 'Brexit project'. They are not amongst those, intellectuals of New Left Review, or self-appointed voices of the working class left-behind , who welcomed the break from the European Union that gave Boris Johnson his political opportunity. They want leadership, a line of action, to take us out of the present mess. For many Starmer is beginning to offer some hope that we can do this.
Many, probably a majority, would like to see a Labour NEC, the body that gives a voice to the membership, play a supportive, but not uncritical, role working with Labour's Parliamentary leadership.
People will look at candidates in this light. It is to be imagined that only a minority will be attracted to calls to "stay and fight", that is against Starmer,
John Lansman says of the left (that is, the groups he identifies as left, ignoring that a section of the long-standing left backed Starmer):
I think it has the wrong strategy, failing to recognise that 40% of Corbyn supporters voted Starmer, more now accept him whilst some have left the party. We must learn from our mistakes, build coalitions to win the support of party & country.
It is not hard to see that people who cast their ballots for Starmer do not appreciate being called Blairites, or 'left covers' for right-wing politics. But Lansman is more concerned at the way the NEC elections may play out.
There are five slates running.
Grassroots Voice, from the "Centre-Left Grassroots Alliance" a collection of organisations on the Labour left, largely Momentum and the Campaign for Labour Party Democracy. It has just agreed a single slate of six candidates for the nine CLP reps on Labour's National Executive Committee. The 'centre' name was a relic of the `1990s' when the slate was created with the participation of Labour Reform and notably Ann Black. Grassroots Voice is probably known as the most Corbyista group. They stand for "embracing transformative socialist ideas".
Labour to Win, "putting Labour back on the path to Power." This is the slate of factionalists Progress and the 'old right' Labour First. They now call themselves Keir Starmer's bestest  friends.
Labour Left Alliance. They say that Starmer "has stopped pretending to want to continue some of the policies championed by Jeremy Corbyn and has gone back on the promises made in his election campaign." Backed by Labour Against the Witch-hunt, Labour Party Marxists, and, don't even ask, see: Our affiliates.
Open Labour. Democratic socialists, " Our socialism looks outwards to the voting public, is honest about the political challenges we face, and encourages an inclusive & pluralist ethos within the Labour Party."
Tribune. Democratic socialists, "we are socialists of the Tribunite left." That is, the Parliamentary group and others from that current,  not the US Jacobin  owned 'Tribune' magazine.
The last two slates Labour Reform officially only endorses two candidates and Tribune three.
A discussion of those standing requires a different post, there are some really good people, but perhaps slate lists are not the best way to vote.
Information here:
In this confusion, let's be clear, only one candidate immediately stands out: Ann Black.
John Lansman has looked at the possible outcome.
Here are some of his conclusions.
Lansman's answer?
The replies come trickling in.
From the anglosphere we hear this:
There is a Mountain to climb before these types could be part of transformative left alliance.
This looks a better direction for the future of the left:
Anti-Brexit Campaign Urges Left-Wing To 'Wake Up'
A left-wing pro-free movement campaign is urging supporters to "wake up" and join protests against the US-UK trade deal and Boris Johnson's "vicious anti-migrant policy".

Another Europe Is Possible, which spearheaded the left of centre movement against Brexit, will on Monday launch a new campaign aimed at opposing the government's post-Brexit agenda for the country.

Claiming Brits' rights are "under attack" the group is organising socially-distanced demonstrations as part of its new 'Fight For The Future' drive.

Events planned for early October, include speakers such as former shadow chancellor John McDonnell, Labour MPs Nadia Whittome and Clive Lewis, economist Ann Pettifor, War on Want's director Asad Rehman, Global Justice Now director Nick Dearden and the TSSA union's Manuel Cortes.

Another Europe says left wing campaigners despondent about the general election result for Labour need to refocus efforts on opposing the government.

Michael Chessum, national organiser for Another Europe, told HuffPost UK: "The government is going to use the coming months to drive through unprecedented changes to our economy and society.

"With coronavirus dominating the headlines, Johnson is pressing ahead with US trade negotiations and has already announced plans to scrap social and environmental protections, as well as human rights.

"There is huge public opposition to economic deregulation and the lowering of food standards, but unless we build a big, loud opposition to what the Tories are planning, it could all happen very quickly.

"The left and the remains of the anti-Brexit movement need to wake up."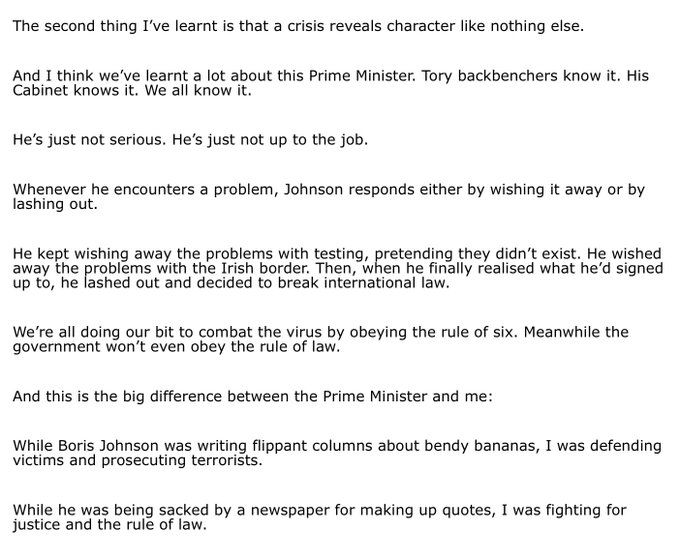 Keir Starmer Goes for Johnson's Jugular.
As Keir Starmer's speech to the Labour Conference goes down well, out on the left, way out, there are now calls for a new 'co-ordinating Committee".
James Schneider, who was the deputy to Seamus Milne (both attended Winchester public school) and helped found Momentum, and former co-Chair of Oxford University Liberal Democrats clearly has some ambitions.
Earlier this year (April), on the pro-Brexit Verso site he expressed strong opinions against internationalists who fought against Brexit,
Bridging the Gap: Corbynism after Corbyn

Brexit gave the establishment a wedge to drive into the heart of the Corbyn project – and it did so with glee. Its repertoire – round-the-clock attacks, accusations of idiocy, performative confusion – need not be rehearsed. Within the party, those who both wished Corbyn well and to overturn the referendum result acted in large part as the establishment's unwilling dupes. They wanted Corbyn to make the anti-democratic, Europhiliac argument that he never convincingly could. By the 2019 general election, Corbyn had lost his room for manoeuvre and his team was fundamentally divided on how to play an extremely challenging hand. The burnish of 2017, when Corbyn had appeared a politician apart, authentically himself, had been painfully wiped off.
To put it simply, the anti-Brexit left were part of the blame for the December General Election defeat.
This was Schneider's strategic vision for the future of the left in April 2020.
With no party leadership to defend, Momentum could focus on bridging the gap between the moment's possibility and the movement's weakness. It could help build socialist capacities across the movement as a whole and offer coordination on every terrain of social struggle.

The Corbyn movement may be half-orphaned but it is no infant. It can succeed if it proves its maturity through tolerance for diversity, internal generosity and commitment to the long haul. Corbyn's leadership was never going to bring socialism, even if elected with a majority government. It was a spark, an organiser and a staging post. It is up to the movement to take the cause further and win advances, for the many, not the few.

The movement can prove Jeremy Corbyn right: there is no such thing as Corbynism. There is socialism. And, things can, and they will, change.
It is hard to see any of these "dupes" and "Europhilics"  willing to work on a common project with Milne's colleague.
As for socialism, there is little to indicate what this means. If he seriously believes the following then we can only remain in despair, "The horizon of state power turbocharged the Corbynite intellectual space: several important books were published in 2018 and 2019, Tribune and Novara expanded their output, and a boom in left-friendly think tanks developed."
He has clearly not given up on the hopes he outlined in 2016 in an interview for the left-populist US journal Jacobin,
They see themselves as part of a post-2008 movement that has engaged with the Labour Party to change politics.

I see my role in Momentum as a dialogue between those two. I've read Miliband, I learned from his critiques, but I don't come from his tradition. He helped me understand the historical development of the Labour Party and concepts like Labourism, but he was also writing in a different moment of history. The direction of history and politics, the nature of the economy, and technology's role in society is quite different today. Our job is to adapt to that and to build coalitions that can win social majorities for change.

One of the tasks is to unite these two camps. That is the nature of a movement-party, combining the benefits of a tradition with the innovations of newer movements. What we have seen over the course of the year since Corbyn's election is each group learning a lot from each other. They have become stronger. If you're going to build a mass organization today, and repoliticize society, you need new ways of organizing, thinking, and communicating. But if you're going to win the change you want to see, to be the government, to be in power, you need to engage and win with a party.
Those were the days, Sanders, Corbyn….
This camp has not come to terms with their defeat, nor with the wider problems of left-populism, in retreat across Europe. where it's had a serious presence, France and Spain.
His initiative has had these more positive responses:
And this,
We have yet to register the response from the heavyweights of the alt left, Skwawkbox, and Aron Bastani's Novra Media.
Bastani seems to engaged his troops in an important war of manouvre against Paul Mason.
It's all to play today…
For some reason many people on the left just do not take these initiatives seriously.
Labour List today offers a survey of the Over 170 members standing in Labour's NEC elections. 
Our top-team of experienced cadres has been working hard overnight on our own guide to the Candidate Statements 2020.
Slates, commonly known as 'factions'.
Labour to Win.
This is the slate of   Progress and  Labour First.
Progress scores a few points for left-wingers in two areas, it "opposes Populism" and takes an anti-Brexit line. However, it was "founded in 1996 to support the New Labour leadership of Tony Blair". It defines itself as a voice for "Progressives". This is a term with a long history, back to the American '"progressive era" (1890s to 1920s)  fellow-travellers of the old Communist Parties. At present it is used by people as varied as American liberals (those called 'left-wing' by Trump supporters) , backers of the former Democratic candidate Bernie Sanders, and France's centrist President Emmanuel Macron.
The word today is without serious local attraction or resonance in British politics and the left in the rest of Europe.
Most of the ideas of Progress are as vacuous as the SWP's hopes for revolutionary socialism, "Most of all, we believe the United Kingdom is a country of which we could all be truly proud. It contains all the ingredients for a country that could help people to get on and make the most of life.  What we need are new ideas, new leadership and a commitment to change the way that Britain works. We have faith, that given the potential that our country has, we all have real reasons to be hopeful about the future of our community, our country, and our world." (Our ambition for our country).
Labour First is a factional instrument of the old Labour Party right. "Labour First is a network which exists to ensure that the voices of moderate party members are heard while the party is kept safe from the organised hard left, and those who seek to divert us from the work of making life better for ordinary working people and their families."
Its factional record is poor (New Statesman 2015),
Labour First, founded in 1988, is a pre-Blairite pressure group seen as the voice of the party's traditional right. Headed by campaigner and former councillor Luke Akehurst, this faction supported ABC (Anyone But Corbyn) in the leadership election, while Akehurst himself backed Yvette Cooper. In the deputy race, it emphasised its ties to Tom Watson
They claim to be Keir Starmer's best friends. This kind of claim to closeness to the winner  is familiar on the left amongst the groups that discovered  warmth for 'Jeremy' after many years of attacking the Labour Party as a pro-capitalist organisation.
Left-wingers are certainly right to accuse this alliance as drag backwards to the kind of centrist politics that lack bark and bite. They are expected to try to perform the role of left groups in demanding an ever-growing list of demands on the Labour Leader to follow their own 'moderate' politics, not his, or those of the largely left-leaning Labour membership.
A factional point to note is that the Progress/Labour First  list supporters do not advertise their slate's existence in their candidates' statements.
Luke Akehurst (perhaps their best known candidate) says simply, "I recommend also voting for Baxter, Paul, Payne, Singh Josan, Tatler, and Black, Griffin, Sherriff."
This contrasts with the rival left list,
Gemma Bolton says,
I am supported by the Centre-Left Grassroots Alliance. I am fighting for a socialist Labour Government that will deliver the radical change we need.

Please also support Yasmine Dar, Ann Henderson, Nadia Jama, Laura Pidcock and Mish Rahman.
Their principal rivals are backing the above.
They are the
Centre-Left Grassroots Alliance (CLGA).
The first point to note is that the CLGA was originally a genuine 'centre" and "left"alliance (Note, the Tendance was involved in this).
The Centre-Left Grassroots Alliance's founding groups were originally Labour Reform, a centre-left democratic group within the Party founded at a meeting in Birmingham in November 1995, and the Campaign for Labour Party Democracy, the left wing democratic grouping, who subsequently brought in other more left-wing groupings from within the Labour Party. Private talks with trades union representatives to build a broader base had failed on union demands and this initiated the inclusion of a much broader Left group from the grassroots, including Labour Left Briefing [Liz Davies] and the then-Editor of Tribune, Mark Seddon. Successful efforts were also made to include the Scottish Left.
While the original CLGA Co-ordinator, Tim Pendy, (Labour Reform), is at present languishing in the wilderness of the red-brown Full Brexit, and something called the " Democratic Left Movement" many of the players are still around on the left, notably Ann Black.
Labour List sums up the present line-up
The CLGA comprises Momentum, which is the biggest membership organisation, the Campaign for Labour Party Democracy (CLPD), thought to be the second largest, plus the Labour Representation Committee (LRC), Jewish Voice for Labour (JVL) and Red Labour.

The smaller groups include the Labour Briefing Co-operative, Labour Assembly Against Austerity, the Labour Campaign for Nuclear Disarmament, Kashmiris for Labour, Grassroots Black Left and new joiner Labour Women Leading (an alternative to the Labour Women's Network).
But its reputation is associated with these positions (conveniently summarised on Wikipedia, though extremely well known to many).
JVL has defended former Mayor of London Ken Livingstone,[5] supported Jackie Walker[36][37] as being a victim of a "vituperative campaign… based on this sliver of quasi-fact",[38] deemed accusations of antisemitism against Moshé Machover as "ill founded",[39][40] opposed and condemned the expulsion of Marc Wadsworth[41][42] as being "punished in advance of investigation and hearing of the case",[43][44] welcomed the lifting of Derby North MP Chris Williamson's suspension[45] and called the National Executive Committee's ruling not to endorse him as a Labour candidate for the 2019 general election a "dangerous development for everyone who stands for justice for Palestinians and for democracy and freedom of expression in Britain, including within Labour".
Many people would defend Moshé Machover and, perhaps, Marc Wadsworth. Those behind Livingstone, Walker, and, above all Chris Williamson, will be fewer in number.
It is to be doubted if their endorsement will help the slate win wider support.
On their candidates not many people on the left, and certainly not socialist internationalists and democrats will wish to be associated with Yasmin Dar's past  participation public celebrations of  the Iranian regime's anniversary.
The other candidates of the CLGA,  Ann Henderson, Nadia Jama, Laura Pidcock and Mish Rahman have serious supporters.
The AWL comments,
 Laura Pidcock has taken a pro-Brexit position. What about broader internationalism? Yasmine Dar has repeatedly attended Islamist events celebrating the "Islamic revolution" in Iran, i.e. the Islamist counter-revolution that crushed Iran's workers, women and national minorities.

Lara McNeill and Ellen Morrison are both linked to the Stalinist left in Young Labour and have been actively involved in witch-hunting the socialist left and shutting down democracy in sections of the party and left where they are active.
Smaller Lists.
Another  group of candidates are running with the Tribune label.
This is not associated with the magazine of that name, now owned by 'left populist' US Jacobin. The UK 'Tribune' specialises in attacks on Keir Starmer and claims that the " Israeli "secret services" are involved in Labour Party politics ("The shame of the new 'Tribune' and its editor")
The Tribune group of MPs, not to be confused with Tribune magazine, has endorsed three ex-parliamentarians as NEC members' section candidates. This is the grouping in Westminster that was reformed in 2005.
The Tribune group is chaired by Clive Efford. As a whole, it was not critical of Jeremy Corbyn during his leadership, apart from the party's handling of antisemitism at that time. It fully supports Keir Starmer.
Theresa Griffin – Former MEP for the North West (2014-2020)
Paula Sherriff – Former MP for Dewsbury (2015-2019)
Liz McInnes – Former MP for Heywood and Middleton (2014-2019)
Open Labour is particularly worth noticing,
CLP rep candidates:

Ann Black – Former NEC member (2000-2018), South East regional board member, Oxford & District secretary
Jermain Jackman – British singer (winner of The Voice UK), founder of the 1987 Caucus (a collective of young Black men in Labour)
Experienced Cde DW says there are good  reasons to back these candidates:
… Dave Anderson, the former Blaydon MP who stood down in 2017 and appears to have distanced himself from any faction, and a fascinating note from one Aram Rawf who says "In twenty years I have gone from being an asylum seeker on the back of a lorry to being a Labour councillor." What he does not say, is that he won office for Labour in the hostile environment of Thanet, the place that Farage coveted for his abortive career on the green benches
Labour List covers some of the other Independents (see article), though far from all.
Surely one outstanding candidate should have been included?
Brian Precious.
The Tendance recalls the Cde's writings on Ernesto Laclau and Chantal Mouffe,
 L and M assert that social antagonisms emerge when identities are threatened, rather than when they are fully constituted – contra the classical Marxist (Hegelian) formulation of a general antagonism and showdown between the bourgeoisie and the proletariat in advanced capitalism. L and M proceed to critique the Marxist understanding of antagonism in terms of "contradiction" , rejecting it on the basis that, for such a conception to be viable, it requires the presence of things which are absent in an antagonistic situation: namely, fully constituted identities: Logically, in order for proposition A to be contradicted by proposition not A , we must, in the first place, have "fully A" and "fully not A" .But in antagonism, identities are in a state of flux: Two things which are in antagonism to one another are in a situation where the "partial presence" of one of them prevents the coming to full presence of the other, and vice-versa. Think of looking at one thing close to your eyes and another thing far away; you can't focus on them simultaneously: The sharpness of one produces the blurring of the other.

..

Ernesto Laclau and Chantal Mouffe have deepened, enriched and updated the revolutionary tradition.
Now Cde Precious says,
Our 12.12.19 debacle was caused by a disastrous shift in our Brexit policy and a ferocious media campaign attacking Jeremy Corbyn personally. Antisemitism was massively exaggerated so as to be weaponized. This created the fear and intimidation typical of a witch hunt, as in Arthur Miller's "" The Crucible "".

On 12.12.19 we went down to our worst defeat since 1935. The big difference between our 2017 near-victory and our 2019 disaster is the change in our Brexit policy. It is long past time we faced up to this elephant in the room.

On 23.6.16 many Labour voters didn't suddenly become xenophobic little-Englanders. They voted leave as they saw the EU as a threat to jobs, services, houses and democracy.

Only Labour has the policies to answer these worries. I am totally committed to our 2017 manifesto and our 2019 manifesto without the suicidal Brexit shift.
Still crazy after all those years!
Update:
On the wilder fringe Skwawkbox has yet to issue his instructions on who to vote for in the NEC elections and has decided to devote himself full time to attacking the Labour Party Leader.