Posts Tagged 'Marine Le Pen'
Marine le Pen: Presidential "first Choice" for 25 to 34 Year olds,
Le Monde has this story "If abstention remains officially the first choice of "first-time voters", the voting intentions for young people in their late twenties and early thirties are for Marine Le Pen vote while 18-24 year olds lean more towards Emmanuel Macron."
While the intention to abstain remains strong amongst those in the 25 to 34 cohort, "only 20% want to vote for Macron. Marine Le Pen has increased her backing from 23% in 2017 to 29% today.
"What is very striking," says the deputy director of the polling institue Ipsos, "is that these young people, even more than the wider population, have deserted the traditional parties that were the Socialist Party and the Republicans (conservative right wing . They are looking for something else, something radical. In 2017, it was Mélenchon and partly Macron, today it is still a little Mélenchon and much more the greens, but support for the Rassemblement National has grown significantly."
The historical links between Marine Le Pen's party and its extreme right violent founders, illustrated by her father Jean Marie Le Pen's comments on the gas chambers as a "detail of history", no longer appear to repel large numbers of voters.
46% of young people believe that the RN is an honest party, that it is "capable of having a vision of the future for France" (45% among RN voters, 49% among 18-30 year olds).
An accompanying interview with the sociologist Anne Muxel is headlined:
"« Le clivage gauche-droite a perdu de sa pertinence chez les jeunes."The left-right divide has lost its relevance among young people.
In effect that while backing the Greens or La France insoumise could channel the same anti-system protest vote casting a ballot for the far right, Muxel draws a parallel between the protest, radical vote, on the extreme right is and support for La France insoumise, She argues that Jean-Luc Mélenchon had known how to attract a a section of young people unhappy with the with the in-government official left. He also had a very good campaign aimed at young people, using their channels and vectors of expression.
The RN has also, it is widely reported, largely succeeded in a process of "detoxification" or "de-demonisation" of its brand which began with Marine Le Pen's ascension to leadership of the Front National, name change to the Rassemblent National, ('re-branding') in 2017 and continues with her (formal) resignation of Party leader to stand for next year's Presidential elections as the candidate for "all French people,"
One of the most important reasons for this development is that the French left is fragmented, Mélenchon is not a unifying figure, and people, young or old, cannot see a an alternative 'bloc de gauche' as a serious contender in the Presidential elections against either Macron or Le Pen.
The FT has the story today:
French politics: Macron faces test of character as Le Pen's popularity grows
Victor Mallet
It would be a political earthquake as disruptive as the UK referendum vote for Brexit in 2016 and the election of Donald Trump as US president later that year. Marine Le Pen, leader of France's extreme right Rassemblement National party, is doing so well in the polls that she threatens to foil Emmanuel Macron's re-election bid and could win next year's presidential vote to become the country's first far-right leader since the second world war.
….
The latest opinion polls suggest Le Pen has a real chance of winning, representing a significant threat to the French establishment and the unity of the EU.
..
Next year, according to the latest opinion polls, Le Pen could lead in the first round and therefore be assured of a place in the final, and if it is Macron that makes it through as well then he is currently forecast to win by as little as 53 per cent to 47 per cent, according to a Harris Interactive-L'Opinion poll in March. The front républicain system is crumbling because many leftwing voters say they will abstain. Some may even vote for Le Pen, whose strongholds are in the industrial towns of the north once dominated by communists.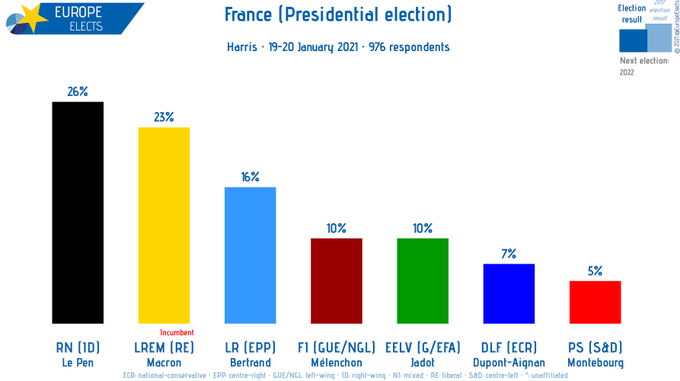 Marine Le Pen Tops Poll.
Le Monde:
Presidential: Marine Le Pen's last chance in 2022
Seventeen months before the election, the president of the National Rally appears in the polls as the main opponent of Emmanuel Macron.
Marine Le Pen, who is due to present her New Year greeting to the press on  Monday January 25, is still given as the main competitor of Emmanuel Macron, seventeen months before the presidential election, even if the political landscape is ever-changing. An IFOP-Fiducial poll for CNews and Sud Radio in June 2020 even credited the president of the Rassemblement National (RN) with 45% of the voting intentions in the second round, if it was necessary to vote immediately. And above all 40% of the voters of Jean-Luc Mélenchon in 2017 would be ready to vote for her, and 33% of those of François Fillon (republican right-wing).
This Poll was taken seventeen months, before the French Presidential election.
Marine Le Pen's Party Le Rassemblement National, RN,  (ex-Front National) topped the 2019 European Election poll in France, winning 23,34% of the vote.
Now she is credited with 26%
Marcon remains popular, despite disquiet at his high-handed way of dealing with politics. Demands for more resources to fight Covid19 and mass protests at a new security law which will ban people taking pictures of the police in action and increase surveillance.
The classic 'governing' right wing (the present incarnation of Nicolas Sarkozy's party) Les Républicaines (LR), at 16% is down from their 20.1% score in the 2017 Presidential elections.
Jean Luc-Mélenchon, at 10%  is well down from his 19.58% result in the same contest.
At 7% he national populist Nicolas Dupont-Aignan  is slightly up from his 2017 4,70%
There is no clear Socialist Party candidate – it could well be, to say the least, Anne Hidalgo rather than the sovereigntist Arnaud Montebourg who is ploughing his own path. Other forces on the left are likely to be more favourable to her – as Mayor of Paris she governs with the support of a wide range of left wing forces, including the Communists and Greens.
Marine Le Pen has been compared to Donald Trump.
The RN's national populism could be say to have parallels with Make America Great Again her organisation's origins and  strategy has been very different.
TO begin with the Front National was founded by members of the revolutionary nationalist group  Ordre nouveau. Jean-Marie Le Pen  had a long, and violent history on a French far-right which goes back to supporters of the Vichy regime and fighters for l'Algerie Française.
As they have emerged as electoral force in the 1980s a  prime aim has been to purse the long-term Front National of " dédiabolisation". (literally de-demonise). That is, to exorcise that past.
When Marine Le Pen took over the reins ten years ago the renaming of the party as the RN was a new turn in this long-term strategy.  She further attempted to tone down her party's language, using  allusions rather than direct attacks on "enemies" of France and the French, defending the Republic despite the presence of extreme-right Monarchists around the party, supporting Laïcité while her backers are often traditionalist Catholics – a 'secularism' aimed  against Muslims.
Dix ans de Marine Le Pen à la tête du RN: la grande arnaque de la «dédiabolisation»
Marine Le Pen has only pursued this strategy with more or less the same recipes: recruitment of executives doing well in the media – Florian Philippot was the perfect example for years – distancing himself, officially, distancing her self from extremist groups, polishing her speech to make its racism and xenophobia largely euphemistic… Marine Le Pen used the expression "national priority" rather than "national preference" , too overtly discriminating…
In 2012 they created a broader front, the le Rassemblement Bleu Marine, to attract the traditional right and former socialist sovereigntists. Yet as Mediapart notes, the core of the party remains far-right, to the point where the street fighters of the Groupe Union Défense (GUD) and extreme racists linked to Alain Soral's Égalité et Réconciliation, have roles in the organisation.
While it has 6 deputies in the National Assembly, 1 Senator, 306 regional councillors and 827 local councillors, at  83 000 members (a figure hotly disputed, " selon des sources internes, entre 20 000 et 25 000".) The RN is not a mass movement. Run from the top down with a structure not far off "democratic centralism" it also not a totalitarian mass party with a military wing.
Not only is Marine Le Pen more measured in tone than Trump has ever been, but she has no militias behind her, nor supporters ready to rampage through the Assemblée National.
She is actually a lot milder than Brendan O'Neill….
And there is no French far-right mass media to compete with the British extreme nationalist press.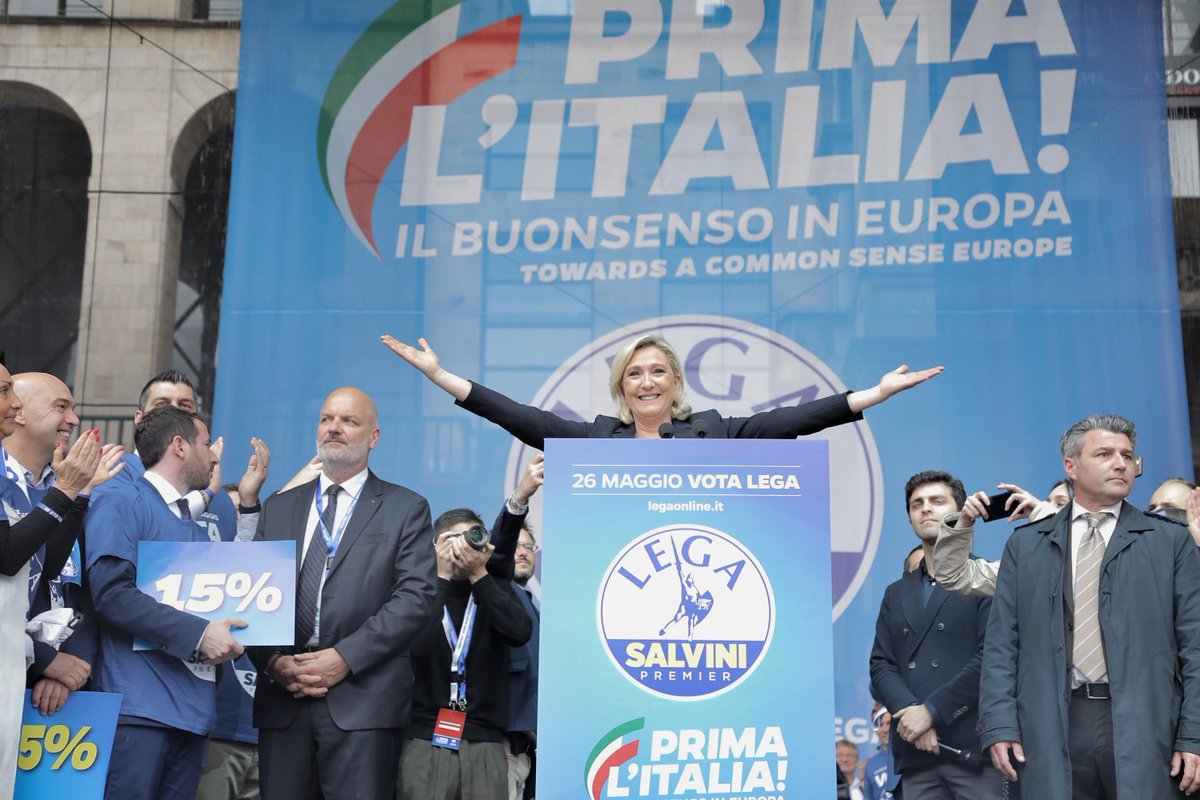 National Populists Predicted to get strong vote in European Elections.
Elections européennes 2019 : à deux jours du vote, le RN solidement installé en tête des sondages
European elections 2019: two days before the vote, the RN firmly installed at the top of the polls.
Le Monde.
Selon la dernière étude Ipsos-Sopra Steria pour « Le Monde », la liste RN devance de deux points celle de LRM. L'estimation de la participation augmente fortement, à 47 %.

According to the latest Ipsos-Sopra Steria study for Le Monde the RN list is two points ahead of LRM. The estimated  level of participation has increased sharply to 47%.
The party of Marine Le Pen, the Rassemblement National, RN,  (ex-Front National) is at around 25% while President Macron's list, La République En Marche  (LRM) with the centrist party, the Modems,  ( Mouvement démocrate) of François Bayrou  is at 23%
The once ruling right-wing politicians (under the Presidency of Nicolas Sarkozy 2007 – 2012) grouped in the Les Républicains have only 13%
The RN no longer advocates withdrawal from the European Union.
The hard-line sovereigntist far-right, which backs Frexit, with 'social' policies of nationalisation and anti-austerity with an end to uncontrolled immigration (resembling the British red-brown alliance), of Debout la France of Nicolas Dupont-Aignan, and Les Patriotes of Florian Philippot stand at 3,5% and 0,5% respectively.
According to these figures the Party of Jean–Luc Mélenchon, La France insoumise (LFI), has continued its decline and stands at 7,5%.
The Greens (EELV), who have been keen to stress that they are neither right nor left (Ecologie "ni de gauche ni de droite" : la stratégie à l'allemande de Yannick Jadot) , at 9,5% are well ahead of LFI.
The Socialists, Parti Socialiste (PS) have their own alliance, PS-Place publique. The list is led by Raphaël Glucksmann, of Place Publique, a socially liberal forum of intellectuals. he is the son of the anti-Marxist New Philosopher  André Glucksmann.  Glucksmann, fils, is a one-time dabbler in "neo-conservatism" with a controversial advisory role to the former President of Georgia  Mikheil Saakachvili . They are hovering at just over 5% at 5,5%
Both the Communists, the Parti communiste français  (PCF), and the alliance of Benoît Hamon  (former French Socialist presidential candidate in 2016, 6,36% of the vote),  Génération.s, stand well below the 5% needed to get MEPs (both at 2,5%)
It is worth noting that Génération.s, is linked to  DieM25,
This initiative, promoting a Green New Deal,  very much led by Yanis" Varoufakis, which has a European candidacies across the continent  seems unlikely to make an impact.
The far left  Lutte ouvrière is at 0,5% and a Gilets Jaunes slate (Alliance Jaune) is at 1,0%
Génération écologie, the historic bearers of "écologie intégrale", who have aligned with just about everybody in the long career of  Brice Lalonde are at 0,5%
The Parti animaliste, which backs animal rights, tops all three of them with 1,5%.

There was an important article in le Monde yesterday which judged that any alliance between the very disparate forces of the European nationalist populists is likely to unravel fairly quickly.
 L'alliance à contrecœur de Matteo Salvini avec Marine Le Pen »
By the "spécialiste du populisme et des droites radicales Gilles Ivaldi."
The failure of the French left to present a united front is clearly a major obstacle in efforts to win electoral support, leaving the way open for the RN and Macron list duel.
But this is not all.
The National Populist leaning (suitably mashed up in a Mouffe antagonistic articulation) left magazine Jacobin, could not be wider of the mark with this claim (yesterday):
Given the state of the Left on most of the continent it seems unlikely to benefit from a breakup of the European Union. If recent trends are any indication, the kind of broad social base and political power necessary to implement a bold, socialist exit from the EU is still quite a way off — Jeremy Corbyn being the hopeful exception.
Anybody looking at the Labour Party's probable European elections result (which is certain to see a big vote for non-Labour Remain parties by Labour supporters) will laugh at that "hopeful exception" comment.
Un rire jaune.