Posts Tagged 'Kerry-Anne Mendoza'
Harmony Party: Well-Established Rumour Says Kerry-Anne Mendoza Has Joined.
One for the Spotters.
Some months the eagle-eyed contributors to Urban 75 noticed that The Harmony Party had been formed. Gumshoes found that it was an incorporated company, registered n the 29th of June 2020. Initial assessments that it was a two people and a canine  job were confounded when a third member was discovered.
There was speculation that it was neo-Posadist or futurist group inspired by the collected works of Aaron Bastani. This rested on the declaration that in their world,
all Consensus of Assemblies and all Party Consensus must seek never to take a decision which will result directly in unavoidable injury to a human being, and must not, through inaction, allow human beings or humanity to come to harm…
Old hands suggest the name is a tribute to much-loved Buffy The Vampire Slayer character, Harmony Kendall
The harmonious types who run The Canary, like the 'Mendoza' woman, Kerry-Anne Mendoza  have just now given the party a major boost on their respected and prestigious alt-news site.
A new left-wing party has put socialism fully back on the political agenda. But unlike the current Labour and Green parties, its approach is entirely different. Because member-led democracy and mutual aid are at its heart.
This is a very long and deeply researched piece, evidently the product of hard toil on the Net.
We urge those who wish to contribute to the coffers of the benchmark investigative journalists who run the Canary to click on the link below.
A new left-wing party aims to bring 'Harmony' to the UK
To whet the appetite, John Urquhart, for it is he, the founder of the new party, says,
I came to the realisation back in March 2020.

I'd started a mutual aid organisation called Cymbal. While handing out soup on the University and College Union [UCU] picket lines back in February and early March people kept asking about what Cymbal was, what it was for, and so on. By the end of every conversation was what I at first assumed was a joking question of "when can we vote for you then?"

I realised that people weren't joking. People were desperate for something that would amplify their own voice. And the precariat today are not just working class but also middle class.
Here is the Harmony Party in their own words,
We're unlike any Political Party you are familiar with.

Harmony means consensus. We're led by our Members and Participants. We decide pretty much everything by discussion (and everything else by vote).

Action on the climate disaster and action on inequality are at the top of our agenda.

We oppose social exclusion and apartheid.
Rumour has it that Kerry-Anne Mendoza has already started an oppositional faction in the new party.
Tonight on Alt-News Site the Canary.
Jeremy Corbyn's launch of the Peace and Justice Project was flagged up first in the US left populist magazine Jacobin. Jacobin has published some serious articles . And there are other writers… Corbyn was interviewed by David Border, an admirer of Jean-Luc Mélenchon…
Today we have this, another exclusive:
The Canary was founded, and is run, by a former Labour Party member Kerry-Anne Mendoza. It is a 'News site'.
It is not universally liked on the left, or considered left wing.
Here is some background (2019)  to the Canary explaining why.,
The Canary has always had been more then willing to embrace conspiracy theories ranging from the Syrian Chemical Attack to claims Laura Kuenssberg was a speaker at the Conservative Party conference.

This isn't surprising. While she may have tried to play it down since The Canary hit the mainstream Mendoza has always been a conspiracy theorist as her now deleted blog shows.

She has promoted the old far right favourite of a secret padeophile network and openly promoted the conspiracy film Zeitgeist.

So it's not surprising that The Canary have had issues with antisemitism, whether promoting a play written by an antisemite or putting unabashed antisemites on their writing staff.
The post, thoroughly researched and written from the radical left, concludes,
As I have demonstrated, The Canary is not a project that should be supported in any way. From its business model to its conspiracism it's a barrier to meaningful left growth, not a path to it.

It should also be recognised that this isn't the first time we've had this issue with alternative media. The previously useful resource Indymedia degenerated into racism and conspiracy theories, in large part due to Atzmon supporter and police informant Roy Bard/Freethepeeps. For any left media project larger than a few close comrades serious discussion on how to stop this happening needs to take place.
More recently:
Pro-Corbyn Website The Canary Blames 'Political Zionists' After It's Forced To Downsize
Huffington Post.
A leftwing pro-Corbyn website has blamed "political Zionists" after it was forced to downsize due to a fall in advertising revenue.
This is one of the articles that prompted the crisis.
The inconvenient truths that prove it is not anti-semitic to compare Israel to Nazi Germany

The harsh truth is this: those people turning their heads and disowning the rights of Palestinians today would have done exactly the same to European Jews during the Holocaust. They would have believed the propaganda, they would have absorbed and espoused the same bigotry, they would have tacitly or overtly gifted their complicity.
Here is some more material on Mendoza.
Bob from Brockley:
More (a thread):
Cde Paul Canning:
The response:
There is a lot, a real lot, more.
The Mail carries this story:
Jeremy Corbyn's peace project is backed by supporter of controversial hate preacher Abu Hamza
Massoud Shadjareh is the founder and chairman of the Islamic Human Rights Commission and appears in a promotional video for Corbyn's initiative

Shadjareh has previously criticised the extradition of hate preacher Abu Hamza to the United States and voiced support for the Iranian regime
Robbie Travers, Right-Wing Millennial to appear on QT to 'balance' left-wing firebrand Kerry-Anne?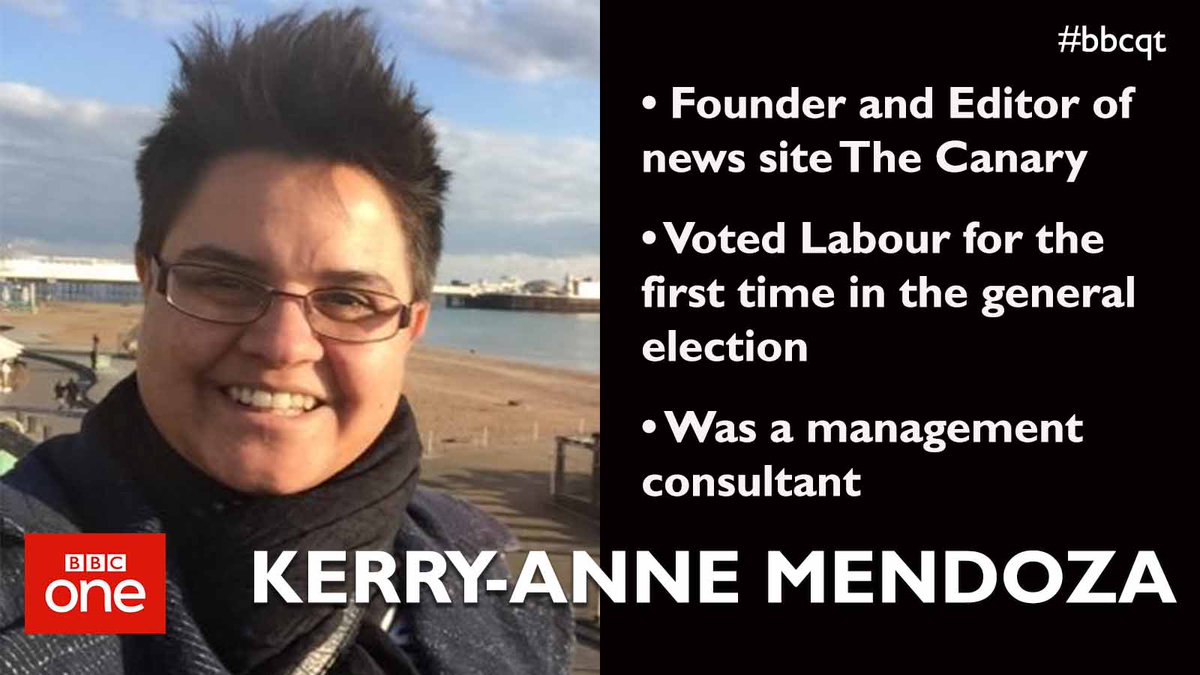 Following the announcement that Kerry-Anne Mendoza is to appear on QT this week well established rumour has it that Robbie Travers will be on soon to offer 'another view' to  the respected left-wing political commentator.
Oor Robbie….from the Official Travers' Blog Site, "Things that Never Happened."
Rapunzel hair and a dedicated social media following are just two of the many things that caught our eye about Robbie Travers.

A third year lawyer at Edinburgh University, the outspoken student has been coined the city's biggest name on campus thanks largely to his unashamed political views. We're not just talking politics chats around the pub table; Travers is a professional political commentator and consultant who founded his own think tank in 2014.

A combination of these things means Travers has nearly 10,000 followers on his Facebook page, where he regularly posts current affairs commentary (an example of which is embedded below).

Alongside his social media musings, he writes regularly for think tank the Gatestone Institute and sometimes the nationals (an article the LLB student wrote on the "dangerous fallacy" of university safe spaces featured in The Telegraph earlier this month). He is pals with Liz Kendall MP, and needs an administrative helper to sift through the emails he receives from journalists and clients.

Phew, that's quite the bio. But, if that wasn't BNOC-y enough for you, the Russell Group student has another claim to fame. In December, he posted on his Facebook page that the President of the United States, Donald Trump, had blocked him on Twitter.
Robbie, like Kerry-Anne, a master of the new social media, has also starred on the Victoria Derbyshire Show.
He has recently joined the Conservatives: