Posts Tagged 'Jon Lansman'
Yesterday this set several felines amongst the peace-loving doves of the British left.
The Real Battle For Labour's Soul? Lansmanites Vs Cranks
Jade Azim.
Momentum, as a national body, have been swift and effective. There was a delay in the decision to drop Willsman from their slate, but the line at the top has since been clear: we will not tolerate antisemitism or bigotry that has become the apparent priority of the 'crank' left. In doing so, the Momentum National Coordinating Group (NCG) has aligned with the 'Lansmanites' who rightly draw the line at the likes of Jackie Walker. But local parties and local Momentum groups have seen rebellion and dissent. This has manifested itself online in organised 'Twitterstorms', the replies of Momentum's Twitter account, and most amusingly in the replies of loyalists such as former Jeremy Corbyn spokesman Matt Zarb-Cousin. These activists, now #JC9-branded, have made it known this is still a hill they want to die on. On the left, the split hasn't only just emerged – but it's become too difficult to ignore.
This is poor old Skwawky's response:
At present the Azimites are winning:
But there is a backlash:
This attack on comrade Azim intensely annoys me, and I imagine many others:
By contrast, the tone, not just the content, of the Azim article is immediately attractive.
The existence of this crank tendency, is one of the reasons many of us on the left have played no part in Momentum.
Not that it defines Momentum.
Or Jeremy Corbyn's supporters.
There are a number of recommended books for those who want a serious analysis of the Corbyn phenomenon:
The Candidate: Jeremy Corbyn's Improbable Path to Power Paperback Alex Nunns (Second Edition 2018) 
Nunn's lucid account focuses on the inner workings of the Corbyn candidacy, both as he won the leadership (twice) in the Labour Party, with a full command of the various Parliamentary, party and union players. There is an illuminating section on the (post-Referendum) 2017 electoral  campaign. The role of Momentum, as a positive force that works to reach outside the Party is underlined. The debate  on whether Momentum should be a support team for Corbyn  or extend to becoming a wider social movement is discussed. 
A Party with Socialists in It: A History of the Labour Left Simon Hannah (2018).
The definitive modern account of the Labour left, pre and post-Corbyn.
Democratic Socialism.
There are problems about Momentum. Its basis may be democratic socialism but supporting Corbyn is its principal focus. Not everybody thinks that left populism', around a Leader, however important unity may be, is the way forward.
The way the Momentum national structure appears not to have a fully transparent democratic basis, critics says far worse, does not give strong legitimacy to a NGC run by 'Landsmanites'. Which is not to ignore problems in the way other groups, from the Campaign for Labour Party democracy to the Labour Representation committee, operate internally or externally.
It may well be, signs indicate, that Momentum will run out of steam faced with the present controversies.
Regarding Azim's main charge, it is true that a fringe of cranks exists in the Labour Party, in Momentum and amongst the 'ultra-loyalists' like poor old Skwawky
It would not take long to find the word used for some in the Lansman camp as well……
But one group of kenspeckle cranks  are conspicuous on the issue of  antisemitism, defending their right to shout their 'anti-Zionism' at the top of their voices.
This body, Labour Against the Witch Hunt is noted for its oddballs,  internal faction fights and purges.
It is  hard to beat Lansman's Nemesis,  the Monster Raving Greenstein Party (expelled from Labour and a pillar of Labour Against the Witch-Hunt).
Here is his latest plea for help:
We need to turn the heat up on the BBC and all the other liars in the mainstream press.  When we can have the racist press, the Sun and Mail, being in the forefront of the campaign against 'anti-Semitism' we can be sure that the 'problem' in the Labour Party is utterly contrived.  That is why Corbyn has to be saved from his own stupidity. If he doesn't start fighting back he is doomed.  And the person who bears most responsibility is the scab leader of Momentum, Jon Lansman, a Zionist for whom defence of Israel is more important than a socialist Labour Party.  Already there are reports of secret meetings of his MPs.  CORBYN'S CURTAIN CALL: Furious MPs vow to 'COLLAPSE' leadership at SECRET MEETINGS

We know who these MPs are and in the event Corbyn manages to win a working majority at the next election we can expect these scabs to refuse to support him as Prime Minister.

We have to deselect Labour's Tory MPs now.  If their bluff isn't called then they will, when the time is ripe, act as a Tory/Liberal 5th column.
We confidently predict that we will see some crankery from this quarter after today's news: Exclusive: Jon Lansman lobbying Labour to adopt full IHRA with examples
Sources tell Jewish News that the Momentum founder believes the NEC must accept full anti-Semitism definition to rebuild trust with the Jewish community.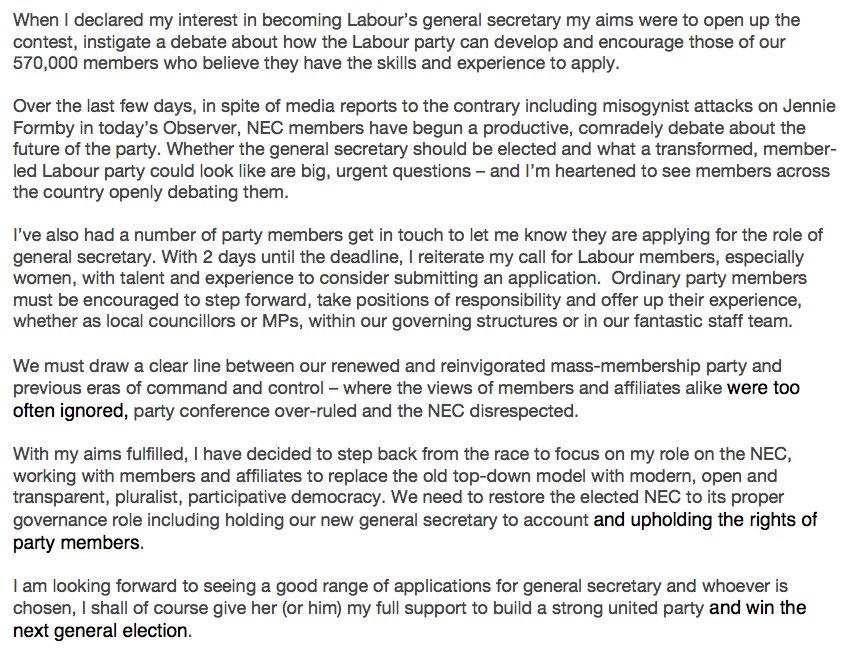 Background:
Contest for job of general secretary widens rift between Unite and Momentum.  Michael Savage. Observer.
"Senior backers of Jennie Formby, the Unite union's former political director and the frontrunner to become Labour's new general secretary, are trying to reassure party staff that there are no planned overhauls should she secure the job.

It comes as senior party and union figures try to find a last-minute "compromise candidate" to take on Formby, with several sources warning she has had run-ins with some of the other major Labour-affiliated unions that have left them seriously concerned about her appointment."

"The split between Lansman and Formby supporters has also spilled into an online battle, with tensions among a group of leftwing blogs and news sites that emerged to support Corbyn's leadership. The Skwawkbox, which is seen as having strong links with the leader's office, has been pushing for Formby's appointment and has questioned Lansman's decision to run, while Novara Media, another Corbyn-supporting outlet, has backed both the opening of the contest and a member-elected general secretary. The internal tension has also seen the arrival of the Red Roar, a more centrist blog that details the fights raging within the ranks.

Some moderate Labour MPs now believe the forces that brought Corbyn to power are dividing. The split has even been criticised by the Labour Party Marxists group, which said it was "at best, ludicrous and, at worst, irresponsible".
Now since these, if obviously mischief making, are clearly not misogynistic attacks what could Lansman be referring t?
Look no further in the Observer:
Don't look to Len McCluskey and his sorry ilk to defend workers' interests. Nick Cohen

Apart from the ill-thought and condescending content, the tone of the last sentence sounds like a crib from Hancock's Half Hour…. the Brave Hungarian Girl Magna Carta….
Cohen's article also contains some words for this pair,
The Scottish aristocrat Andrew Murray (he's descended from the earls of Perth and the kings of Navarre on his father's side and the dukes of Norfolk on his mother's) not only offers apologies for Lenin but Stalin too. He's moved from Unite and the Communist Party of Britain to join Seumas Milne, another apologist for Uncle Joe, in Jeremy Corbyn's office.
I did not notice Murray, the son of the  Slains Pursuivant  educated at a Benedictine independent boarding school in Sussex complaining about his coverage in the New Statesman recently  which cut out this aspect of his biography, and referred only to him leaving school at 16 with 4 'O' Levels. Nor this – accurate – description " Mr Corbyn's most senior aide, Seumas Milne, was a Soviet Union sympathiser. Andrew Murray, the chief of staff of Unite and a consultant to the Labour leader, was a member of the Stalinist Communist Party of Britain until 2016 and expressed solidarity with North Korea in 2003. They hail from an authoritarian leftist tradition."
This Blog is more concerned with Cohen's attacks on UNITE. Apparently they and UNISON are "stale bureaucracies" with little interest in their membership's day-to-day needs.
Against these  "old far-left-dominated unions." Cohen advocates USDAW (whose new General Secretary Amy Murphy is a supporter of the 'far-left' Socialist Party), the Broadcasting, Entertainment, Communications and Theatre Union (BECTU), a section from the far-from-unbureaucratic Prospect union, and a small Independent Workers Union, whose origins lie in the (respected) far-left anarcho-syndicalist tradition of the  Industrial Workers of the World (IWW), or the "Wobblies" which they left to form their own union, the  IWGB.
It is questionable if the "consensus" method of reaching decisions admired in the article, and made a rule in the Occupy movement,  and prevalent amongst those influenced by certain strains of "alter-globalisation" activism and anarchists, is an answer to authoritarianism. Critics point to the imposition of a consensus by the loudest voices and the unsuitability of this model for union activity which, however we wish to put it, involves controversy and strong differences of opinion – normally resolved by voting contests between opposed stands.
Cohen completely neglects the role of UNITE in organising the unorganised, and, above all, its 'Community branches' which campaign for the rights of those receiving benefits, for the disabled, and in coordination with those acting  against the injustice inflicted on women through changes in the state pension scheme (WASPI – Women Against State Pension Inequality) The union is at the forefront of protests for such 'far-left' issues as defending the NHS.
UNITE also works for the day-to-day interests of workers across a range of sectors, areas perhaps not striking enough to attract the journalist's attention.
The Lansman announcement was greeted with joy by Skwakbox, "We applaud Mr Lansman's decision. "
That alone, given Skwakbox's involvement in fake news (from Greenfell 'D' notices, to the claim that all the disabled would receive a 'sanction' if they did not get a job within 2 years) is cause for concern.
But there is more, the 'anti-Zionists' of Labour Against the Witchhunt states,
LAW welcomes Jon Lansman's decision to withdraw
We believe that Unite's Jennie Formby would be the best choice for general secretary. As a supporter of the rights of the Palestinians people we think her election would send a powerful political signal. We hope that her tenure would mark the beginning of the end of the witch-hunt.

Steering Committee
But,
Labour General Secretary election to play for as many NEC members hold out for third candidate. Red Roar.
Analysis by The Red Roar shows that while Unite's Jennie Formby has over three times as much support as her rival Jon Lansman in the race to become Labour's general secretary, an equal number of NEC members remain undecided.

No one can claim to know how NEC members will vote, of course. This is not an exercise in mind-reading but an honest attempt to give as clear a picture as possible as to how the two main candidates for the job are likely to fare.

Backing Formby: 17
Backing Lansman: 5
Undecided: 17
Total: 39
More to follow……
The Labour Party as Social Movement and Political Trade Unionism.
In one of his lesser-known works, L'Éternité par les astres (1872) the 19th century socialist insurrectionist Louis-Auguste Blanqui announced that there were millions of stars and worlds like our own. In each of them lived our personal doppelgänger. Those who have reflected on this discovery would deduce that our alter egos would each have minor differences, slightly different points of our view, that would end in distinct narratives about our existence.
Recent events in the Labour Party have brought similar differences about what has happened during a number of events, from goings-on at the National Policy Forum, to the National Executive Committee (NEC). The same meeting the same people, but very different takes on what took place.
The most recent, and, politically, the most important, is the latest NEC meeting. Christine Shawcroft's dissatisfaction with a decision to submit allegations of anti-semitism to further disciplinary procedure has tumbled over into disagreement about the role of trade union representatives on Labour's ruling body. She is reported to have expressed the view, amongst other things, that union delegates are unreliable allies of the left. Shawcroft suggested on social media that the Labour-union link should be re-examined. Those hostile to her intervention, and no doubt Momentum, in which the long-standing NEC member is a leading figure, have claimed that she called for a break with the organised working class. Since then everybody has united on keeping the union link (Labour unites behind trade union affiliation).
The row in the wake of these comments takes place against the backdrop of a contest for Labour's General Secretary. This, a post, unlike, in other European parties (such as the French Parti Socialiste's similar sounding position) has organisational and not directly political responsibility. The Secretary is appointed by the Party's upper structure and is therefore, in principle, not an issue that involves the wider membership. But the different candidates, above all Jon Lansman, on the NEC but best known as a founder of Momentum, and Jennie Formby  from the union UNITE, have increasingly been seen in a political light. It is known that Lansman was not happy with a union 'shoe in' into the position. What is clear now is that UNITE's leadership is unhappy with any questioning of their political weight in the party. These, and other issues about the candidacies, have been echoed amongst those Labour activists interested in the future direction of the party.
Momentum: Labour as social movement.
It should be clear that while there are no real differences about the primary need to campaign to get a Labour government elected, and to work out policies to achieve this, the dispute could be seen in the light of some important differences. For some Momentum is not just a pressure group to build support for Labour's leader Jeremy Corbyn. It is, grandly, a project designed for Labour to gain a "collective transformative" capacity. It may be seen, as Hilary Wainwright put it "having a creative capacity and transformative power" "distinct from (not opposed to) electoral politics". As such as, "a party as a means of experimenting and prefiguring in the represent" "the relations we envisage in the future". Less inclined to an extra-terrestrial discovery to rival Blanqui's, Momentum is seen "grassroots politics" with activists, many of them youthful, pouring energy and enthusiasm into Labour's campaigns. In this capacity – that is a means to help bolder the party's capacity to root change in the wider society, – the group is highly welcome. (1)
Momentum's own difficulties include an 'on-line' democracy that critics allege does not function, conferences and decision-making process which resemble the centralised aspect of the equally 'social media' and Web hub based La France insoumise (LFI) of Jean-Luc Mélenchon. In its defence it could be said that Momentum is not LFI, out to 'federate the people' by means of a virtual political party, but has become an auxiliary of one with the goal of helping Labour get elected. It has avoided becoming embroiled in the worst aspects of left in fighting and sectarian recruitment politics. Momentum, unless one reads Shawcroft's NEC intervention in the most hostile possible way, has shown no inclination to indulge the – ultra-minority – strain of Judophobia that has become an issue in left politics.
These positive achievements do not prevent another set of concerns at the place of such a body in drawing up lists in local Labour Parties with the sole aim of getting approved candidates elected to internal positions and councillor selections. In some case, Haringey stands out, this is part of a justified and broader effort to change very wong council policies. But in others this polarising practice, right up to clashes over the most minor positions, many complain, overrides debate of policy issues.
Political Trade Unionism.
What has also come to light is that the trade unions have a distinct idea about their role in the Labour Party. The TUC and affiliated unions have always seen the party as a means to get legislation passed in their favour, most recently by some who give priority to restoring collective bargaining in negotiations. Apart from these classical demands some, above all UNITE, have their own ideas about "political unions".
Andrew Murray, a key figure in Len McClusky's circle, and a consultant to Jeremy Corbyn, argued in 2014, for rebuilding the left around the People's Assembly. This national campaign against austerity, Murray noted, drew the unions, ant-cuts activists and left-wingers from Labour and a variety of small left parties, with the objective of creating "rooted movements for change" "re-establishing the basis for mass socialist politics". Behind this, based on the working class movement, was a strategy to "reclaim Labour" for the left – a prospect Murray saw – in 2014 – that could be thwarted by the "Blairite undead". (2)
Murray may have his own eccentric ideas about 'anti-imperialism', and the positive side of the Soviet past. But, Labour has been largely (not entirely) been wrenched from the Blair/Brown legacy. In this the importance of initiatives such as the People's Assembly stands out. It was one of the factors that prepared the ground for Corbyn's election. The alternative strategy, which his article thoroughly took to pieces, of various left electoral challenges, from Left Unity, to the (continuing) Trades Union and Socialist Alliance (TUSC) faded into oblivion.
The problem now is whether the trade union movement, dedicated to achieving goals through electoral power, can sustain a relation with those who see 'Labour as a social movement'. This is not a just a matter of 'control', which unions do not have over Momentum. A central policy issue equally divides the left. Some still see the future in terms of a "People's Brexit'. Some decades later, on another planet, Tony Benn's call for "genuine national sovereignty" – is proposed by the Morning Star, and, in a souped up form, by the 'revolutionary' remnants of the People's Assembly reduced to the mouthpiece of the groupuscule Counterfire (The why and what of a People's Brexit). But it is unlikely that inside the party, in Momentum or anywhere else, apart from the far from dynamic minority of 'patriotic Labour' is attracted to this prospect. Many remain strongly opposed to Leave. A few respond to the demand for a new referendum. The compromise over the Customs Union is a stop-gap a more detailed set of policies on Europe remains to be settled.
The differences between Labour-as-a-social-movement and Political Trade Unionism are far from irresolvable. Those, like this writer, who rejoined Labour, are intensely conscious that for Labour to be elected compromises and a great deal of respect is due for those activists, councillors and MPs who have kept membership over the years. Their concerns focus on issues such as the funding for local government, housing, welfare reform and …Europe. It would be better if disputes took place over policy, in a collaborative fashion, and not over jostling for internal positions in the party.
*******
(1) Radicalising the party-movement relationship: from Ralph Miliband to Jeremy Corbyn and beyond. Hilary Wainwright. Socialist Register. 2017. Merlin Press. Beyond the Boundary, Momentum's role in the #GE2017 Campaign, Puru Miah. Chartist. 277. July/August 2017.
(2) Left Unity or Class Unity? Working class politics in Britain. Andrew Murray. Socialist Register 2014. Merlin Press.
(3) On this aspect of Tony Benn's politics see: Chapter 6 A Party with Socialists in it. A History of the Labour Left. Simon Hannah. Pluto Press. 2018