Posts Tagged 'Jo Cox'
British Giles Jaunes for Brexit.
Nigel Farage tells Leave Means Leave rally to prepare for second referendum on Brexit.
Evening Standard.
Nigel Farage has said he believes the UK may face a second Brexit referendum in the coming months and has urged Leave campaigners to "get ready for every situation".

The MEP and former Ukip leader said he did not think "the great Brexit betrayal is anywhere near finished" and was "more fearful than any point in this process".

Speaking (in American), at the Leave Means Leave rally in London on Friday night, Mr Farage said: "My message folks tonight is, as much as I don't want a second referendum, it would be wrong of us on a Leave Means Leave platform not to get ready, not to be prepared for a worst case scenario."..

Mr Farage was joined at the event by other prominent Brexit campaigners including Conservative MP Jacob Rees-Mogg, Tim Martin, the owner of JD Wetherspoon, the Democratic Unionist Party's Sammy Wilson, and Labour MPs Kate Hoey and Graham Stringer.
Provider of the "essential theory" behind the UK's 2010 austerity programme. Lead economist of the official Leave campaign. Main proponent of CANZUK Tweeted a couple of days ago.
More: Is this the most disgraceful comment ever associated with Brexit?
Given the hard right bloc now in view, with its 'Gilets Jaunes' and other far-right outriders, the internationalist left campaign for Another Europe comes to the fore.
Another Europe has a plan – to fight for and win a referendum on Brexit, and to transform Europe. We also have a strategy for every outcome in the coming period, win or lose, referendum or not. Our campaign against Brexit is indelibly linked with a campaign against the status quo: for a society run in the interests of people and the planet, and for free movement for all.
Campaign group Hope not Hate is demanding a retraction and an apology from Nigel Farage after he called the organisation "extremist" live on air.

Reports the Huffington Post.

The former Ukip leader made the accusation during an interview with LBC on Tuesday morning.

Hope not Hate was formed in 2004 as a means of countering the rise of far-right groups such as the British National Party (BNP). It describes itself as an organisation seeking "to challenge and defeat the politics of hate and extremism within local communities".

Hope not Hate said in a statement: "Nigel Farage's allegations against HOPE not hate on LBC today are a political smear, which is why our lawyers have written to Mr Farage demanding that he retracts and publicly apologises for his remarks, or face further legal action.

"Hope not Hate is a well-respected, civil society organisation whose more than 200,000 supporters come from all political persuasions. They are united by a common desire to combat racism and to do so using lawful, peaceful means.

"That Nigel Farage made his remarks in the context of a discussion about Jo Cox, who was so brutally murdered earlier this year, makes them all the more poisonous and hateful.

"As is well known, Hope not Hate was one of three entities chosen by Jo's widow, Brendan Cox, as the recipient of donations from the public who wished to show their solidarity with the family."

Farage also sparked outrage this morning after hitting back at the husband of murdered MP Jo Cox, telling the widower that he would "know more about extremists than me".

The Ukip MEP's comments come after he said the Berlin terror attack, which left 12 people dead and 48 injured, was "no surprise" as he criticised German Chancellor Angela Merkel's "legacy".

Brendan Cox replied to Farage, saying: "Blaming politicians for the actions of extremists? That's a slippery slope Nigel."

When asked about Cox's comments during an interview on LBC this morning, Farage responded: "Yes well of course he would know more about extremists than me, Mr Cox.

"He backs organisations like Hope not Hate who masquerade as being lovely and peaceful but actually pursue violent and very undemocratic means.

"And I'm sorry Mr Cox but it is time people start taking responsibility for what happened. Mrs Merkel has directly caused a whole number of social and terrorist problems in Germany, it's about time we confronted that truth."
Many people are outraged at the slur at the memory of Jo Cox.
She was a wonderful person and her memory is deeply cherished.
The sooner Farage goes and ponces full-time for Donald Trump in America the better.
Help us take Nigel Farage to court
This morning, on LBC radio, former UKIP leader Nigel Farage launched an outrageous attack on us, on Brendan Cox, husband of murdered MP Jo Cox, and by association on everyone who believes in HOPE not hate. Our lawyer has just sent Farage a letter demanding he retracts and publicly apologises or we will begin legal proceedings against him.
Help us take Nigel Farage to court. Please donate.
Hope Not Hate.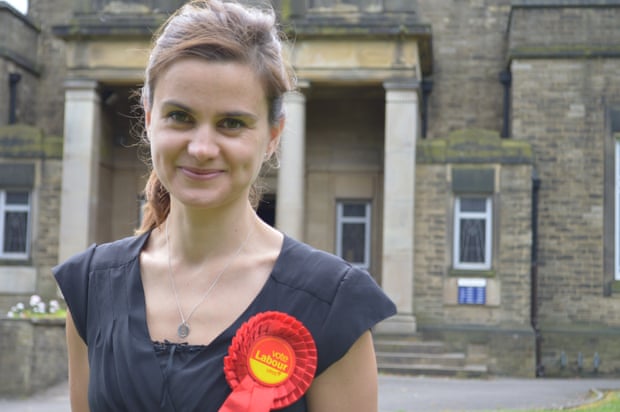 Jo Cox 's death has affected us all.
Her husbands words still echo,
"Jo believed in a better world and she fought for it every day of her life with an energy, and a zest for life that would exhaust most people."
Jo Cox was not just Jo Cox, she was one of the thousands of wonderful  activists.
Jo Cox was the bright, the hard-working, the  dedicated, the open-minded people who are the pillars of our movement.
Jo Cox was why the best memorial to her is to continue her fight "'against the hate' that killed her."
This was beautifully put,
Canadian politician Nathan Cullen breaks down in tears as he pays tribute to friend and Labour MP
'Jo used her voice for those who have none, dedicated her passion to those who needed it most'