Posts Tagged 'Jeremy Corbyn'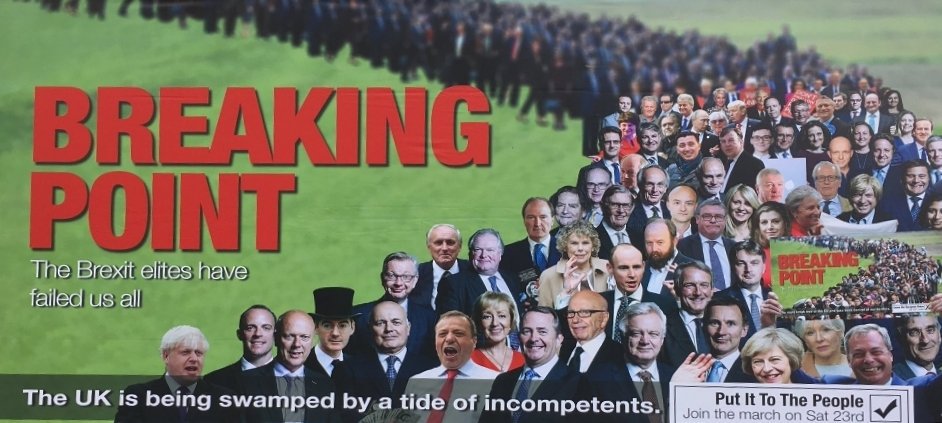 Yet Corbyn is widely reported to be doing everything he can to save Brexit.
Jeremy Corbyn has said he will work with Conservative MPs to try to avert a no-deal Brexit.

The Labour leader met with senior Tories Sir Oliver Letwin and Nick Boles on Wednesday to discuss their plan for a softer Brexit.

Speaking afterwards, he said he was "reaching out to all groups in parliament" and "looking at all the options" to prevent no deal.

It comes with talks between the UK and EU deadlocked and just days left for Theresa May to secure new compromises before MPs vote against on her deal next week.
Sienna Rodgers writes on Labour List.
All options are on the table. Some commentators and members are surprised – or perhaps just disappointed – that this remains the case: they expected that the twice-defeated Labour Brexit deal would be shelved by the party once support for another EU referendum was declared. But the leadership has made it clear all along that it is still looking to push for an alternative that involves leaving the EU (although also willing to whip for a public vote). The main reasons are two-fold: it is opposed to the idea, on ideological and electoral grounds; and it knows that a second public vote proposal is unlikely to pass in the Commons. Jeremy Corbyn has written in The Mirror today that "getting Brexit right" is his focus.

As well as publicly campaigning for "Our Alternative", LabourList understands that the leader's office has been quietly working with the Common Market 2.0 group to draft a new Brexit amendment. Made up of Labour's Lucy Powell and Stephen Kinnock, plus Nick Boles, Oliver Letwin and Robert Halfon from the Tories, this cross-party initiative has been campaigning for a deal consisting of single market membership and a new customs arrangement. They say it meets Labour's six tests and only requires changes to the political declaration in Theresa May's deal.
Perhaps Corbyn really believes that through these attempts at  backroom deals he is doing his best to secure a deal on Brexit that meets Labour's six tests.
But the very way this is being carried out is deeply distasteful, not in front of Labour's membership, but with Toires, and not doubt Corbyn's famous pro-Brexit 'advisers'. Playing along with Labour's Brexit supporters will raise the hackles of the wider membership as well
It is equally hard to believe, despite the pro-leadership spin,  that anything that's the result of negotiations with the Tories will meet this "2. Does it deliver the "exact same benefits" as we currently have as members of the Single Market and Customs Union?" and 4. Does it defend rights and protections and prevent a race to the bottom?
The Labour List report continues on the last issue:
People's Vote campaigners aren't happy, of course, and say such moves contradict the conference policy agreed in September. But others contend that the composite motion – which promised "full participation in the single market" – is actually more in line with the 'Norway Plus' group plan than anything else. And the leadership is keen to point out that avoiding 'no deal' is the priority, and if a fresh public vote proposal has no chance of securing a Commons majority, isn't backing a softer Brexit the only way to do that? Nonetheless, Clive Lewis – who is still a shadow minister – has called the latest strategy a "grave error". PV-ers are determined not to back any kind of Brexit now. But with around 30 on the Labour benches prepared to defy the whip to vote against PV, it will be interesting to see whether that changes. If the mood does shift after their preferred plan of another public vote is substantially defeated next week, Common Market 2.0 could be the future of Brexit.
Here is  Clive Lewis:
Here is  alternative to the 'Soft' Brexit Labour leader's.
On 23 March, six days away from the scheduled exit day, hundreds of thousands of people will march to demand a final say on Brexit.

We are coming together as the left in all our diversity to organise a massive left bloc and rally for the march, to put forward a clear left message and to bring as many people as possible on to the streets.

We are campaigning to transform society, not for the status quo. We are against Brexit because it is a massive assault on working-class people, on the environment, on migrants and on the communities that the left aims to represent.

We will put forward the positive politics of internationalism: for the transformation of Europe and Britain, for free movement, for international cooperation to stop climate chaos, and for solidarity between people and across borders. We urge everyone on the left to join us on 23 March at 11am at Grosvenor Square in London.

Marsha de Cordova MP, Clive Lewis MP, Kate Osamor MP, Caroline Lucas MP, Preet Gill MP, Lloyd Russell-Moyle MP, Rachael Maskell MP, Sandy Martin MP, Rosie Duffield MP, Chi Onwurah MP, Anna McMorrin MP, Sian Berry and Jonathan Bartley Co-leaders of the Green party, Amelia Womack Deputy leader of the Green party, Manuel Cortes TSSA general secretary, Joseph Healy Principal speaker of Left Unity, Michael Chessum Another Europe is Possible, Nadia Whittome Labour for a Socialist Europe, Zoe Williams Journalist, Julie Ward MEP