Posts Tagged 'Jean-Marie Le Pen'
Red Brown 'Popular Front' Debate.
Before beginning we should shed some light on who and what Éric Zemmour is and what he has been doing in recent months.
Éric Zemmour, the will-he-or-won't-he-run far Right French Presidential candidate has been scoring up to 15% in opinion polls, just behind the candidate of the Rassemblement National, Marine le Pen, at 16%. Both the principal possible candidates of the main right-wing party (they will only choose a Presidential runner at their Conference at the start of December) Les Républicains – Xavier Bertrand (14%) and Valérie Pécresse (12%) are behind the far-right polemicist in the most recent surveys. Emmanuel Macron remains at 24 to 25%. According to a recent poll no French left wing candidate has got above 10%.
As Le Monde pointed out on Saturday, this is a drop of 10 points for the leader of the "de-diabolised" far right party. Keen to rub this in her father, Jean-Marie Le Pen (kicked out of the predecessor the RN, the Front National in 2015), commented in an interview with the French daily of record, ""If Eric is the candidate of the national camp in the best position, of course, I will. support him".
One of Zemmour's most notorious claims is that the Vichy regime kept French Jews safe from the German occupiers. Le Pen did not lose the opportunity to remark that. It was not Pétain who was the boss, he defended the French Jews and gave up foreigners (to the camps…..) . The French police carried out a procedure in a more humane way. It is easy to say sixty years later "they should have……" He added, "The only difference between Eric and me is that he is Jewish," Jean-Marie Le Pen bluntly. concluded, "It's hard to call him a Nazi or a fascist. This gives him greater freedom. "
Now for yesterday…
Yesterday an audience of 3,700 (tickets were at 24 or 44 euros) came to the Palais des congrès in Paris for a meeting of "sovereigntists from two different sides. " Michel Onfray once a self-styled libertarian anarchist is the founder of the journal Le Front Populaire, which brings together the extreme right and nationalist 'anti-woke' left. He helped organise this friendly conversation-spectacle, billed as a 'debate'. Most came, reports say, to see and listen to Zemmour.
This meeting illustrates what sociologist Philippe Corcuff describes as "blurring of political boundaries" . "Onfray's confusionism, cobbled together from the far right to the radical left, endorses the ultraconservatism of Zemmour, which mixes xenophobia, sexism and homophobia in a nationalist framework", judged the author of La Grande Confusion. How the far right wins the battle of ideas (2021). One could add that both share an anti-European Union position.
The Nouvel Obs estimates that the pair share 92,7% of the same opinions.
Both mourn the decadence of our civilisation, our lost sovereignty and the Machiavellianism of Pope Francis. They do not agree on Voltaire and fridges.
Slate magazine has gathered together what they call "the worst" of Zemmour's statements.
Le pire des citations d'Éric Zemmour.
Were he the French President, "a Frenchman will not have the right to call his son Mohamed" .
Employers "have the right to refuse Arabs or blacks".
"All Muslims, whether they say it or not," regard jihadists as "good Muslims".
Unaccompanied minors (that is, those who come as refugees) "like the rest of immigration […] have no place here: they are thieves, they are murderers, they are rapists, that's all they are".
"I think rap is an illiterate subculture."
"When General Bugeaud arrived in Algeria, he began to massacre Muslims, and even some Jews. Well, today I am on the side of General Bugeaud. That's it, being French! "
"-Shouldn't power remain in the hands of men?
– Of course it should, otherwise it will be wasted. "
His "humour": The green of the Greens (ecologists) corresponds, as if by chance, to the green of Islam."
The death penalty: " I am philosophically in favour of it."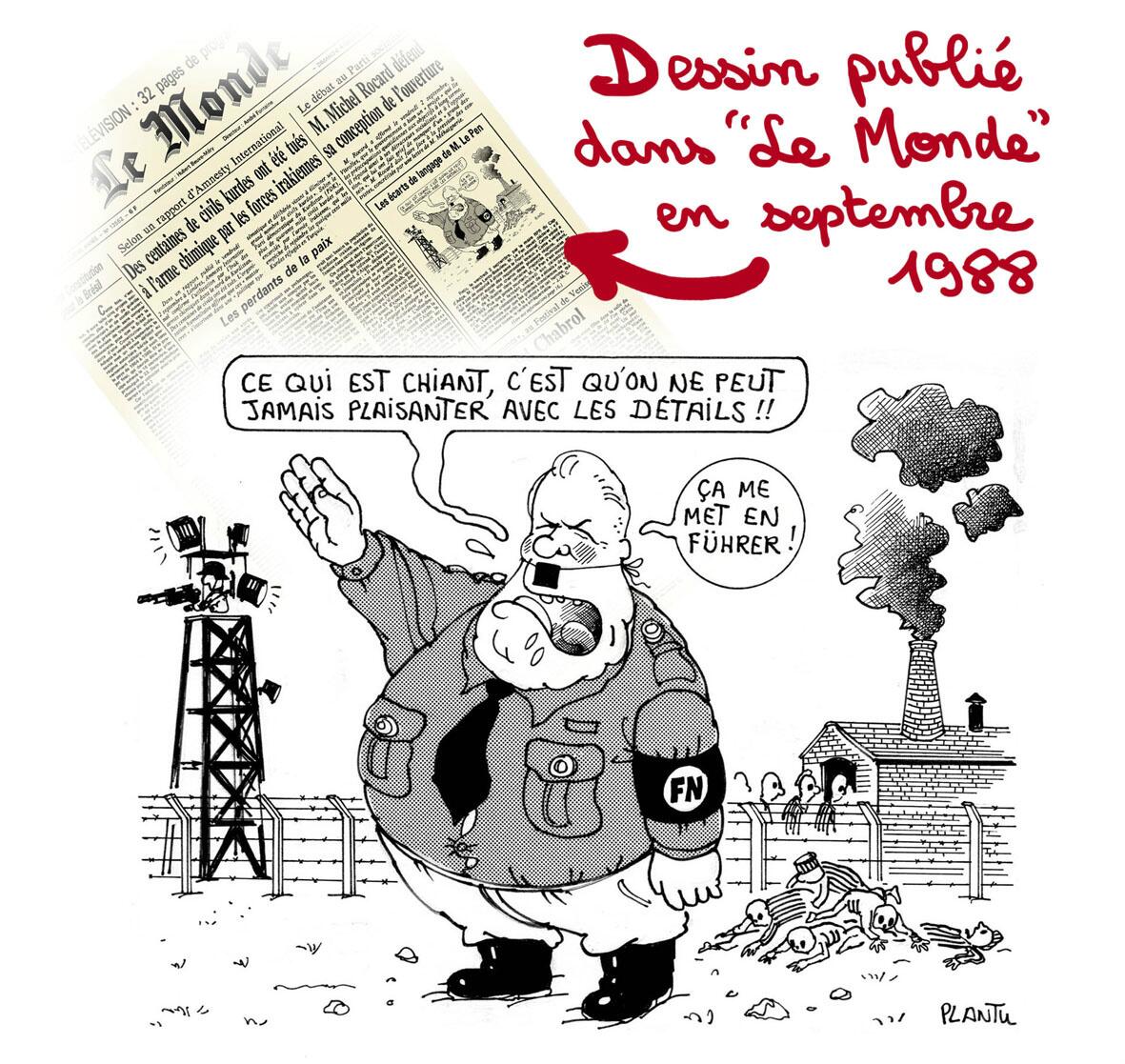 When Le Pen called the Nazi Gas Chambers a "Detail of History".
This is a report from France 24.
The 93-year-old founder of France's main far-right party, Jean-Marie Le Pen, goes on trial Wednesday over allegations of once again inciting racial hatred, this time with comments targeting a Jewish pop singer.
He already has a string of hate speech convictions that eventually became too much for his daughter Marine Le Pen, who expelled him from the National Front's leadership in 2015 in a bid to achieve mainstream respectability.
Le Pen senior, however, has continued to relish the outrage prompted by his statements regarding Jews, Muslims, black people and immigrants.
The latest trial stems from a 2014 video on the party's website in which Le Pen railed against artists who denounced his extremist stances, including Madonna and the French tennis star-turned-singer Yannick Noah.
Asked about the French singer and actor Patrick Bruel, Le Pen referred to his Jewish origins with a pun evoking the Holocaust – "I'm not surprised. Listen, next time we'll do a whole oven batch!"
The taunt sparked a torrent of indignation including from leaders of his own party, with Marine Le Pen criticising what she called a "political error".
Jean-Marie claimed the comments carried no anti-Semitic connotations "except for my political enemies or imbeciles".
He does not intend to appear in person at the trial in Paris, where he is charged with inciting anti-Semitic hatred, according to associates.
"This case is based only on part of a phrase taken out of context," said his lawyer Frederic Joachim, who will seek to have the charge dismissed.
The trial was delayed for years while Le Pen claimed immunity from prosecution as an MEP, a seat he won in 1984 and held until 2019.
But fellow lawmakers stripped his legal protections over the case in 2016.
Le Pen, his daughter and others from the party – now rebranded the National Rally (Rassemblement National, RN) – are also facing financial misconduct charges over subsidies earmarked for paying their EU parliamentary aides.
Tense atmosphere at the trial of Jean-Marie Le Pen for his comments on "the batch"e (la fournée) literally "batch" but in also a reference to things put in an oven – le four).
Le Monde.
This is undoubtedly the last trial of Jean-Marie Le Pen. The elderly founder of the National Front had planned to come but, at 93 and after a painful weekend, he wrote to the court to apologise. He was being prosecuted, once again, for "provocation to racial hatred", for a sentence pronounced on June 6… 2014 about Patrick Bruel: "It doesn't surprise me, listen, we'll do a ' batch" (la fournée) next time" , which had aroused outrage.
The Court's judgement will be made public on the 29to of October.
Le Pen, apart from his qualities as an old style far-right rabble rouser, is quite an Orateur in his own right. One minute he is speaking elevated, formal, almost literary French (he studied to be a lawyer). The next he switches to colloquial, inevitably vulgar, language. The former leader of the Front National is both a mini-Mussolini (this Blogger has seen him address a crowd of followers at the statue of Jeanne d'Arc, rue de Rivoli, Paris on the 1st of May), and a café loudmouth.
Continuing his provocations, even as the trial is underway Le Pen has called for
the establishment of "camps" intended for the confinement of "drug addicts" and "traffickers" . Asked by his old fellow traveller , Lorrain de Saint-Affrique, and the secretary general of the Jeanne Committees, Alexandre Simonnot, Jean-Marie Le Pen commented on the new,s as is his wont, n this 630th logbook largely devoted to Marseille, where Emmanuel Macron is on the move. A city plagued by drug trafficking that the former boss of the FN links directly to immigration and to this "migratory flood " that Alexandre Simonnot invoked. This he claimed, is the fault of the "laxity" of the "red judges" but also of the "lack of means of coercion and in particular of the detention of convicted or prosecuted "….he stopped then continued, :"People in any case who call into question public order and who should be removed to protect the the public."

Faced with the issue of the time needed and the cost of building more prisons Le Pen suggested a quicker solution, "des camps. Des camps de rétention. Holding camps.
Torture: a 'Useful Tool' Says Marine Le Pen. 
"Moi je crois que les gens qui s'occupent des terroristes et accessoirement de leur tirer des informations, lorsque ces informations leur permettent de sauver des vies civiles, sont des gens qui sont responsables. S'il y a des abus c'est aux Etats-Unis de le déterminer", a-t-elle commenté. "Il peut y avoir des cas, comme quand une bombe doit exploser dans une heure ou dans deux heures et, accessoirement peut faire des victimes civiles, où il est utile de faire parler la personne pour savoir où est la bombe avec les moyens qu'on peut", a-t-elle ajouté.
I believe that those who deal with terrorists, who have also to extract information from them – information that allows civilian lives to be saved –  are responsible people. If there's abuses in the USA it's for them to work this out," she commented, "There could be cases, when a bomb is about to explode in an hour or two – something that could cause civilian victims – when it is useful to make somebody talk in order to find out where the bomb has been placed – using the means that one can." – she continued.
Torture can be a "useful" tool in certain cases French far-right leader Marine le Pen said on Wednesday, before later backtracking and stating that her words had been "misinterpreted".

Speaking early Wednesday on BFMTV in an interview discussing the revelations that the CIA used brutal interrogation methods, Le Pen said she "did not condemn" the use of torture when questioning terror suspects.

"Of course [torture] can be used," she said. "It's been used throughout history."

"I believe that the people responsible for getting information out of terror suspects that can save civilian lives do a responsible job," she added.

"There are times, such as if a bomb is about to go off, when it is useful to get a suspect to talk…by any means."
This is what the backtracking consists of:
(from Marine Le Pen dément avoir défendu l'usage de la torture. Libération.  Marine Le Pen denies defending the use of torture.)
Specifically she asserts that the phrase  "Les moyens qu'on peut" (the means available) refer to "les moyens de la loi" – legal means.
One thing is clearly on many people's minds: Marine Le Pens father, Jean-Marie Le Pen, has regularly been accused of using torture during his time in the French military fighting against Algerian  independence – most recent controversy here (2012)