Posts Tagged 'Islamism'
The Left and Labour Movement Should Defend Secular Freedom.
Two more members of staff at Batley Grammar School have been suspended, it has been reported.
The school had apologised and suspended a teacher pending an investigation following a protest over the cartoon of the Prophet Muhammad being shown in a class last week.

The picture had been used as part of a religious studies lesson, and the teacher involved has since been suspended and gone into hiding with his partner and four children.

It has since emerged two other teachers have also been suspended although this information was not made available to the public.

According to Mail Online, one 'school source' said: "Two other teachers are also being investigated but the school has been trying to keep it secret because they don't want attention being drawn to the fact that this went beyond the actions of one person."

It is understood they were aware the material was going to be used, but were not in class when it was shown.
LBC continues:
Batley Multi Academy Trust said in statement on Wednesday that an inquiry panel would begin work within a fortnight and said: "We understand everyone will want clarity as soon as possible."

It said: "We're grateful for the constructive engagement with all our stakeholders over the last few days with regard to Batley Grammar, one of the schools within our trust.

"We believe the right way forward is for an independent investigation to review the context in which the materials (which caused offence) were used, and to make recommendations in relation to the Religious Studies curriculum so that the appropriate lessons can be learned and action taken, where necessary."
This Blog does not usually recommend the Weekly Worker, still less 'Eddie Ford', although it is well known that many of our section of left contributed to its pages in the past, but one of the best articles on the issues raised is in this week's edition, (extracts)
Outraged, the local mosque mobilised its supporters, forcing the school to adopt remote learning. Mohammed Hussain of the Batley-based 'Purpose of Life' group – a registered charity – declared that the teacher "has insulted two billion Muslims on the planet" and "we cannot stand for that", sharing the teacher's name on social media with a letter condemning him. Taking it upon himself to speak for the entire 'Muslim community', as so often happens, he went on to state: "We do feel that, if this had been something that offended the LGBT community or something that was anti-Semitic, he would've been sacked on the spot." For Hussain, the teacher's resignation "should be forthcoming immediately."

Similar sentiments can be heard from the protestors. One of them was quoted in various media outlets as saying the western world "is at a loss in understanding the reaction" from the Muslim community, as they are "required to stand up when prophet Mohammed is insulted, and when all the prophets are insulted, including all the prophets of the Old Testament, including Jesus" – the British "Muslim community" everywhere needs to review the materials being taught in their children's schools. Showing images of Mohammed, we are told, should be as unacceptable as using the word 'nigger'. Just beyond the pale.
This begins with something on everybody's mind.
The very first thing to say is that this is an extremely serious matter. In October last year Samuel Paty, a school teacher in Paris, was horrifically beheaded after he too showed Charlie Hebdo cartoons during a class about free expression. In that sense, very similar to Batley. It is widely reported that the teacher there, who loved his "fantastic job", is now in fear for his life – as are his family. He was whisked away from his home on "police advice" after receiving constant death threats. He is unlikely to return to Batley, let alone his job.
Secondly, we should support the immediate reinstatement of the suspended teacher – the lesson was precisely designed, presumably, to elicit critical thinking and philosophical inquiry. In which case, why not show the cartoon? Teachers should be free to show cartoons, pictures or quote texts that are relevant to the subject. After all, how can you conduct a lesson on blasphemy otherwise? Thirdly, Kibble was totally wrong to make his wretched apology – it will only encourage a climate of censorship.
There are wider issues, as religious figures push for the banning of views they dislike.
Many of those protesting outside Batley grammar school, and beyond, want the UK to resurrect its blasphemy laws. The common-law offences of "blasphemy" and "blasphemous libel" were formally abolished in England and Wales in 2008 after an amendment was passed to the Criminal Justice and Immigration Act 2008.1

And in Scotland the blasphemy law was only formally abolished this month after the new Hate Crime Bill passed its final parliamentary vote. There is now a new offence of "stirring up hatred" on religious grounds, meaning that Scots could be subject to prosecution if their behaviour is deemed "threatening or abusive".2 As a consequence, the threshold for prosecution for "stirring up hatred" on religious grounds remains lower than in England and Wales – inevitably having a chilling effect on freedom of expression north of the border. This only leaves Northern Ireland, where blasphemy continues to be an offence under the common law, despite an attempt in the House of Lords to abolish it in 2009.
"""
This Blog covered the SWP line. This is a excellent answer.
According to the SWP, there is "a big difference between ridiculing a religion such as the establishment-backed Church of England and mocking the beliefs of the poor and oppressed" – apparently Islam is above analytical criticism, sceptical questioning, let alone biting humour, and can never be the belief of the rich and powerful. Ignorance in the extreme. Religions are almost always cross-class phenomena. The Church of England unites Elizabeth Windsor and Justin Welby with the worthy poor who huddle in church every Sunday. Roman Catholicism is the religion of Francis I, a bloatedly rich bureaucracy, and huge numbers throughout the Americas, Europe and Africa. The same with Islam. Sunni Islam unites the Custodian of the Two Holy Mosques, the fabulously rich king of Saudi Arabia, with millions throughout the world. The same goes for Shia Islam, the Mormons and Judaism. Vicars, priests, imams and rabbis form a privileged middle class with a material interest in maintaining their hold over their congregations and fuelling hostility to secularism and anything that smacks of criticism.
There are countries with state churches, like England. But more widely it is not just the wealth of the pious religious bourgeoisie behind institutions of faith, right to their most extreme forms. Political Islamism enjoys the financial and political support of capitalist dictatorships, from Saudi Arabia to the Islamic Republic of Iran.
The conclusion is absolutely spot on.
We do not want to unnecessarily offend religious people like modern-day zealots from the League of Militant Godless.5 Rather, we want to be freely able to use Marxism to investigate the truths and untruths of religion. Religion is profoundly human – bearing all the characteristics and contradictions of class society. In that sense, as Marx argued, religion is an encyclopaedia of humanity's complex history.
Lest we forget, this is what actually existing Blasphemy laws are like,
Junaid Hafeez, a university lecturer in Pakistan, had been imprisoned for six years when he was sentenced to death in December 2019. The charge: blasphemy, specifically insulting Prophet Muhammad (P.B.H.) on Facebook.

Pakistan has the world's second strictest blasphemy laws after Iran, according to the U.S. Commission on International Religious Freedom.

Hafeez, whose death sentence is under appeal, is one of about 1,500 Pakistanis charged with blasphemy, or sacrilegious speech, over the last three decades. No executions have taken place.

But since 1990 70 people have been murdered by mobs and vigilantes who accused them of insulting Islam. Several people who defend the accused have been killed, too, including one of Hafeez's lawyers and two high-level politicians who publicly opposed the death sentence of Asia Bibi, a Christian woman convicted for verbally insulting Prophet Muhammad. Though Bibi was acquitted in 2019, she fled Pakistan.

Opinion: Is Pakistan's blasphemy law a result of the ulema-state alliance?
A Year Ago Mila had to leave her Secondary School, she and her family now live in hiding and under police protection. 
France-Inter. 16th of March 2021.
L'affaire Mila ou la fatwa numérique
For more than a year, a young woman has received daily threats of death, rape and torture. Her first name: Mila. His age: 17 years old. His fault: having insulted Islam in a video on Instagram.
Whether or not we approve of what she said and the way she said it, Mila is, from a legal point of view, guilty of nothing. In France, the crime of blasphemy has not existed for nearly 150 years. But the question of criticism of religions and in particular of Islam had resurfaced, with  dramatic results, on January 7, 2015, 12 people were murdered in the Charlie Hebdo attack on the pretext that the newspaper had published caricatures of Muhammad; On October 16, 2020, teacher Samuel Paty was assassinated after showing cartoons in class. Mila , heroine of freedom of expression or some, disrespectful and Islamophobic for others, has also revived this controversy.
L'affaire Mila est une affaire médiatique et judiciaire française qui commence le  lorsque Mila, une adolescente de 16 ans, critique l'islam de manière virulente sur Instagram. Elle venait de refuser les avances d'un internaute, qui dès lors l'accusait de racisme et se montrait insultant contre les lesbiennes.

The Mila affair is a French media and judicial affair which begins on when Mila, a teenager of 16 years , criticised   Islam virulently on Instagram . She had just refused the advances of an Internet user, who therefore accused her of racism and was insulting against lesbians .
This is an appalling case, many might have thought that Mila was now safe. The racist misogynistic defenders of 'Islam' have not, apparently, gone away.
The radio broadcast is heart-rending. She called Islam a religion of hate and fanatics arseholes. For that she got extreme threats of violence, and graphic attacks on her lesbianism. One of the leading Muslims in France said of her, a 17 year old girl that, Celui qui sème le vent récolte la tempête. ('who sows the wind, reaps the whirlwind, As you sow, so shall you reap') . Threatened by Islamist racists in the street she still lives under their menace. Listening to the insults and vivid threats to murder her, anybody will be deeply shocked.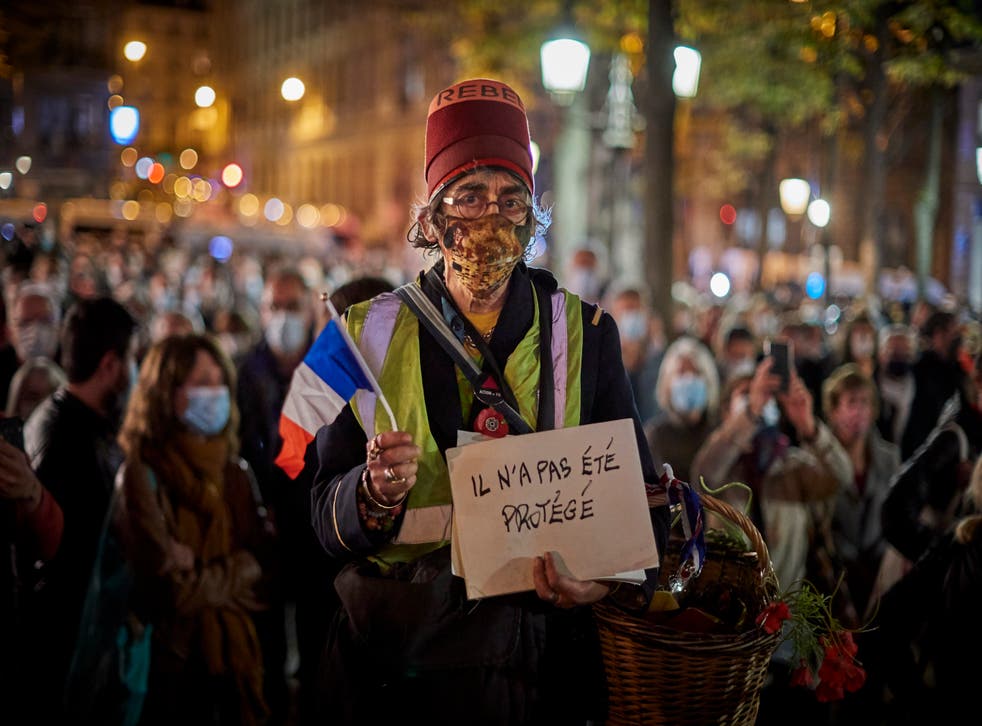 Tragedy Originated in Lies.
This story is getting wider attention:
French schoolgirl admits lying about murdered teacher Samuel Paty
The Independent.
A French schoolgirl has admitted lying and fabricating a story about her teacher, who was beheaded last year after her accusations against him.
The 13-year-old pupil, whose father started a hate campaign against Samuel Paty by filing a legal complaint, says she lied to please her father, and she was not even at the class in which the teacher was alleged to have shown a caricature of the Prophet Muhammad.

The girl, who has not been identified, had originally claimed that Mr Paty had asked Muslim pupils to leave the class before he showed "a photograph of the Prophet naked" to children during a class on free speech.
Her claims led to a dramatic chain of events, including death threats against the teacher and outrage among Muslims.

Ten days after her comments, the teacher, 47, was beheaded by 18-year-old Abdullakh Anzorov, who was later shot dead by police.
"This lie with tragic consequences is part of a wider family context: made more complex by the academic success of her twin sister, Z. would not have dared to admit to her father the real reasons for her exclusion shortly before the tragedy, which were in fact linked to her bad behaviour."
French schoolgirl admits lying about decapitated teacher
A 13-year-old schoolgirl whose Muslim father led a hate campaign against secondary school teacher Samuel Paty for showing a class on free speech cartoons of the Prophet Muhammad, and who was attacked and decapitated in the street, has admitted lying to her father about the details of the class in which she was in fact not present.
Socialist Worker said at the time,
Paty

had shown his school class an image produced by the Charlie Hebdo magazine of a naked caricature of Mohammed. He had told Muslim children to turn their backs or leave the room

It was rightly seen as an insult. "
h