Posts Tagged 'Islamism'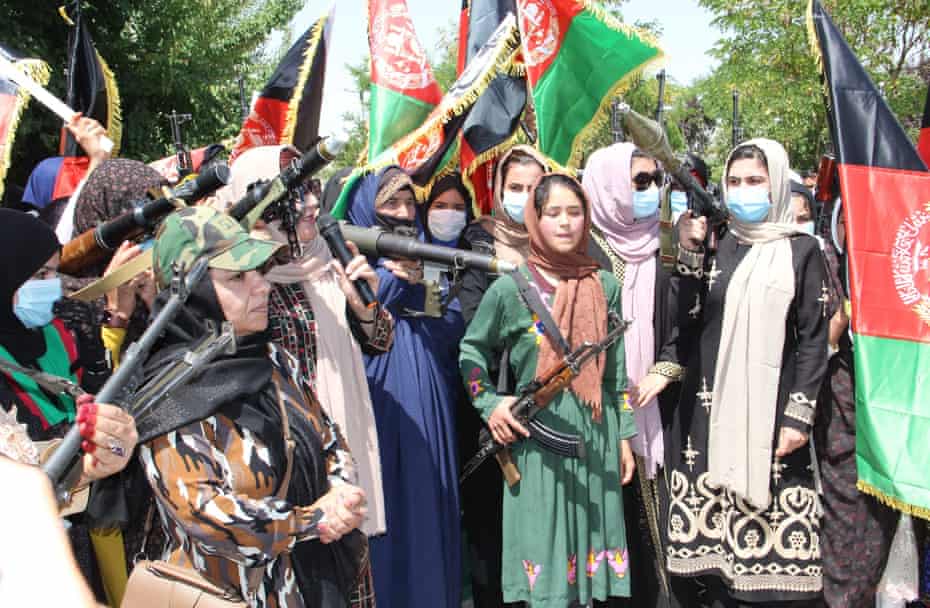 The Stop the War Coalition, a long-standing opponent of Western Intervention, claimed that this withdrawal was 'hushed up'. In a statement on the 2nd of July they went through the damage wrought. They expressed no solidarity with those who now risk being brought under the boot of the Taliban.
DEFEAT AND HUMILIATION: THE HUSHED-UP END TO THE US'S LONGEST WAR
This weekend marks the humiliating end of one of the most disastrous wars the western powers have ever fought. For twenty years US and British troops, later joined by NATO allies, have occupied Afghanistan claiming to be forces of liberation against the Taliban.
This weekend the western forces are pulling out.
For Afghans, the US/UK invasion was one more foreign intervention in decades of occupation. As we in the anti-war movement predicted when Bush and Blair took the decision to invade, the result was a disaster for ordinary Afghans. Though no accurate records have been kept, hundreds of thousands have died as a result of the fighting.
instead of covering up or making excuses for this defeat, our politicians should be apologising first to the Afghans, and then to their own people for a catastrophic folly that has made the world a much more unstable and dangerous place. We in the anti-war movement must ensure that nothing like this can happen again.
Instead of covering up or making excuses for this defeat, our politicians should be apologising first to the Afghans, and then to their own people for a catastrophic folly that has made the world a much more unstable and dangerous place. We in the anti-war movement must ensure that nothing like this can happen again.
Socialist Worker is worried that the US may launch future attacks on the Taliban
Many now agree with Dannatt and predict a new civil war between various warlords and the Taliban.

It's a horrifying prospect for people who have known nothing but brutal conflict since the Russian occupation that began in 1979.

But for Biden, the last moves have not yet been played.

The CIA is now in negotiations with the Pakistani government to reopen a US airbase once used for drone attacks on Afghanistan.

This is despite Pakistan kicking out the Americans in 2011, and the country's ISI secret service being the main backers of the Taliban.

US diplomats are also exploring the option of regaining access to bases in former Soviet republics that once were used for Russia's Afghanistan war.

Yet this time around, there will be no boots on the ground.

In order to "liberate" Afghanistan, Biden will now rely solely on missiles launched on the territory from military bases thousands of miles away.
People in the country are also worried at the fight between war-lords, but that the Taliban will take over.
"The Taliban are now notorious for their human rights abuses. The group emerged in 1994 after years of conflict. Many of their members were former Mujahideen fighter who had been trained in Pakistan during Afghanistan's civil war in the '80s and '90s. They came together with the aim of making Afghanistan an Islamic state. The Taliban ruled in Afghanistan from 1996 until 2001."
Under the Taliban, women and girls were discriminated against in many ways, for the 'crime' of being born a girl. The Taliban enforced their version of Islamic Sharia law. Women and girls were:
Banned from going to school or studying
Banned from working
Banned from leaving the house without a male chaperone
Banned from showing their skin in public
Banned from accessing healthcare delivered by men (with women forbidden from working, healthcare was virtually inaccessible)
Banned from being involved in politics or speaking publicly.
"During the five-year history of the Islamic Emirate, the Taliban regime interpreted the Sharia in accordance with the Hanafi school of Islamic jurisprudence and the religious edicts of Mullah Omar.[1] The Taliban forbade pork and alcohol, many types of consumer technology such as music,[1] television,[1] and film,[1] as well as most forms of art such as paintings or photography,[1] male and female participation in sport,[1] including football and chess;[1] recreational activities such as kite-flying and keeping pigeons or other pets were also forbidden, and the birds were killed according to the Taliban's ruling.[1] Movie theaters were closed and repurposed as mosques.[1] Celebration of the Western and Iranian New Year was forbidden.[1] Taking photographs and displaying pictures or portraits was forbidden, as it was considered by the Taliban as a form of idolatry.[1] Women were banned from working,[1] girls were forbidden to attend schools or universities,[1] were requested to observe purdah and to be accompanied outside their households by male relatives; those who violated these restrictions were punished.[1] Men were forbidden to shave their beards and required to let them grow and keep them long according to the Taliban's liking, and to wear turbans outside their households.[1][24] Communists were systematically executed. Prayer was made compulsory and those who did not respect the religious obligation after the azaan were arrested.[1] Gambling was banned,[1] and thieves were punished by amputating their hands or feet.[1] In 2000, the Taliban leader Mullah Omar officially banned opium cultivation and drug trafficking in Afghanistan;[1][25][26] the Taliban succeeded in nearly eradicating the majority of the opium production (99%) by 2001.[25][26][27] Under the Taliban governance of Afghanistan, both drug users and dealers were severely prosecuted.[1]
The US, which helped fund the Taliban's Islamist predecessor, the Mujahideen, as a force to defeat the pro-Soviet Democratic Republic of Afghanistan (DRA), and troops from the USSR, is guilty of having wreaked havoc in Afghanistan. The Saudis have their own responsibilities, "The Taliban, or "students" in the Pashto language, emerged in the early 1990s in northern Pakistan following the withdrawal of Soviet troops from Afghanistan. It is believed that the predominantly Pashtun movement first appeared in religious seminaries – mostly paid for by money from Saudi Arabia – which preached a hardline form of Sunni Islam." "Afghans, weary of the mujahideen's excesses and infighting after the Soviets were driven out, generally welcomed the Taliban when they first appeared on the scene. Their early popularity was largely due to their success in stamping out corruption, curbing lawlessness and making the roads and the areas under their control safe for commerce to flourish."
The attention of the world was drawn to the Taliban in Afghanistan in the wake of the 11 September 2001 World Trade Center attacks in New York. The Taliban were accused of providing a sanctuary for the prime suspects – Osama Bin Laden and his al-Qaeda movement.
On October 7, 2001, a US-led military coalition launched attacks in Afghanistan, and by the first week of December the Taliban regime had collapsed. The group's then-leader, Mullah Mohammad Omar, and other senior figures, including Bin Laden, evaded capture despite one of the largest manhunts in the world.
This history (Who are the Taliban? concludes,
Having outlasted a superpower through two decades of war, the Taliban began seizing vast swathes of territory, threatening to once again topple a government in Kabul in the wake of a foreign power withdrawing.

The group is thought to now be stronger in numbers than at any point since they were ousted in 2001 – with up to 85,000 full time fighters, according to recent Nato estimates. Their control of territory is harder to estimate, as districts swing back and forth between them and government forces, but recent estimates put it somewhere between a third and a fifth of the country.

The advance is more rapid than many had feared. General Austin Miller, the commander of the US-led mission in Afghanistan, warned in June that the country could be on a path towards a chaotic civil war, which he called a "concern for the world".

A US intelligence assessment the same month reportedly concluded that the Afghan government could fall within six months of the American military departure.
Neither Counterfire (who lead the StWC) nor the SWP have learnt anything from their failure to offer an independent stand on the war in Afghanistan. They have concentrated all their fire on attacking the Western coalition, and have few words left over to criticise the armed Islamistes and their totalitarian history and project. These 'anti-imperialists' have no strategy on how the reactionaries, the Taliban and other jihadists, may be fought or any idea of what forces the left might give concrete help to.
Armed Afghan women take to streets in show of defiance against Taliban
Women in north and central regions of country stage demonstrations as militants make sweeping gains nationwide by Emma Graham-Harrison in Kabul
Women have taken up guns in northern and central Afghanistan, marching in the streets in their hundreds and sharing pictures of themselves with assault rifles on social media, in a show of defiance as the Taliban make sweeping gains nationwide.

One of the biggest demonstrations was in central Ghor province, where hundreds of women turned out at the weekend, waving guns and chanting anti-Taliban slogans.

They are not likely to head to the frontlines in large numbers any time soon, because of both social conservatism and lack of experience. But the public demonstrations, at a time of urgent threat from the militants, are a reminder of how frightened many women are about what Taliban rule could mean for them and their families.
The article is thorough.
It concludes,
The Ghor provincial governor, Abdulzahir Faizzada, said in a phone interview that some of the women who came out in the streets of Firozkoh, the provincial capital, had already battled the Taliban, and most had endured violence from the group.
"The majority of these women were those who had recently escaped from Taliban areas. They have already been through war in their villages, they lost their sons and brothers, they are angry," he said. Faizzada added that he would train women who did not have experience with weapons, if the government in Kabul approved it.
The Taliban's conservative rules are particularly unwelcome in Ghor, where women traditionally wear headscarves rather than covering themselves fully with the burqa, and work in fields and villages beside their men, Parastish said.
The Taliban have banned women even from taking care of animals or working the land in areas of Ghor they control, she added. They have closed girls schools, ordered women not to leave home without a male guardian and even banned them from gathering for weddings, saying only men should attend.
Women from these areas were among those who marched. "More than a dozen women have escaped from Allahyar in Shahrak district last week and came to us and asked for guns to go and fight for their lands and freedom. The same situation is in Charsadda region," Parastish said.
"Women said: 'We are getting killed and injured without defending ourselves, why not fight back?' They were telling us that at least two women were in labour in their region, with no medical things around and they couldn't come with them."
For now, she said, the main thing holding the women back was the men in power. "The governor said there is no need for us now and they will let us know."
…….
Instead of gloating at the US and allied failure we should explore ways of giving solidarity to this resistance.
Islamist Hardliner Wins Iranian 'election'.
Iran election: Hardliner Raisi will become president
Hardliner Ebrahim Raisi has won Iran's presidential election, following a tightly controlled race.
He thanked Iranians for their support, after a vote that was widely seen as being designed to favour him.
Mr Raisi is Iran's top judge and holds ultra-conservative views. He is under US sanctions and has been linked to past executions of political prisoners.
Iran's president is the second-highest ranking official in the country, after the supreme leader.
Iran's Leading Candidate for President is a far right Notorious Hanging Judge
Polling suggests that Ebrahim Raisi will likely win Iran's presidential election. So who is he?
In 1980 after the Islamic Republic was established, Raisi joined the public prosecutor's office in the city of Karaj to the west of Tehran and rose to become the public prosecutor there that year. In 1985 he took up the position of deputy public prosecutor in Tehran. In the early to mid-1980s,the newly established clerical regime gradually banned middle class liberals and the Islamic-Marxist People's Jihadis (Mojahedin-e Khalq) from politics and pursued a Great Terror against them. Some 10,000 Mojahedin are said to have been killed in those years, some in running street battles, while others were polished off in prison.
In 1988 there was a massacre in jail of some 5,000 People's Jihadis (Note more commonly known simply as the People's Mujahideen), and Raisi was implicated in it. (The official Iranian account did not mention this role for him, as a result of which he has been sanctioned by the US and others, so that he cannot travel internationally.)
..
Iran seems set to continue to be ruled by a network of hardliners and racketeers, but my guess is that they now think they can make more money rejoining the nuclear deal with Biden than they could by remaining isolated from the world economy.
A Reminder of what Blasphemy Laws Can Bring.
Pakistan Islamists clash over French cartoons depicting Prophet Mohammad
Reuters two days ago,
ISLAMABAD (Reuters) -Thousands of Pakistani Islamists clashed with police for a second day on Tuesday in protest against the arrest of their leader ahead of rallies denouncing French cartoons depicting the Prophet Mohammad, officials said.
.
At least one activist and one police officer died from wounds suffered overnight after Islamists blocked highways, rail tracks and main entry and exit routes, paralysing business in almost all major cities.

Police fired tear gas to disperse the protesters, government official Naveed Zaman told Reuters, adding that they had refused to leave until the release of their leader, Saad Rizvi, who was arrested on Monday.

Rizvi is the head of an extremist group, Tehrik-i-Labaik Pakistan (TLP), that rose to prominence making the denunciation of blasphemy against Islam its rallying cry.
The Tehreek-i-Labaik Pakistan (TLP) party, which has widely denounced perceived acts of blasphemy against Islam, has organized three days of protests in which more than 100 police officers have been injured. The group opposes the publication of cartoons depicting the Prophet Muhammad in France, and also the French response reaffirming the right to "blasphemy" after schoolteacher Samuel Paty was beheaded last October.

The TLP has demanded that the government expel the French ambassador and endorse a boycott of French products.

Anti-French sentiment has been simmering for months in Pakistan since the government of President Emmanuel Macron expressed support for Charlie Hebdo's right to republish the cartoons, deemed blasphemous by many Muslims.
France 24. Today,
Clashes erupted on Tuesday between TLP supporters and police officers after the group's leader, Saad Rizvi, was detained hours after encouraging thousands of his supporters to take to the streets in cities across Pakistan.
Two police officers died in the clashes, which saw water cannon, tear gas and rubber bullets used to hold back crowds.
Rizvi has been charged with instigating murder.
TLP supporters brought the capital Islamabad to a standstill in November last year for three days with a series of anti-France rallies.
Announcing the decision to outlaw the TLP, Pakistani Interior Minister Sheikh Rashid told reporters in Islamabad that the government did not want "to be known as an extremist nation at international level".
But the TLP is backed by a majority Sunni sect of Islam with a massive following in Pakistan, that will make it difficult to enforce any ban.
Pakistani extremists groups also have a history of popping up with different names after being outlawed.
Blasphemy is a hugely sensitive issue in conservative Pakistan, where laws allow for the death penalty to be used on anyone deemed to have insulted Islam or Islamic figures.
Islamist racists in Street Protests.
The Pakistani prime minister has also sought a ban on "Islamophobic content" on Facebook. Imran Khan's criticism of Emmanuel Macron comes at a time when he is under scrutiny for rising religious intolerance at home.
Pakistani Islamists have a long history of attacks on Freedom of Expression. Here demonstrators express support for the racist killers who attacked Charlie Hebdo and murdered our comrades: 2015.
Thousands marched in several Pakistani cities on Sunday against the publication of Prophet Mohammed cartoons by French satirical magazine Charlie Hebdo, two days after similar protests were held across southern Asia.
The largest rally on Sunday was held in the financial center of Karachi by Jamaat-e-Islami (JI), Pakistan's main Islamic party, and according to police estimates it was attended by some 25,000 people.
This indicates a wider lesson: