Posts Tagged 'Islamic State'
Yazidi woman encounters 'Islamic State' captor in Germany
The past she was attempting to flee came back to haunt a young Yazidi woman in a small town in Germany. Her former IS tormentor confronted her on the street and "told me he knew everything about me."

A 19-year-old Yazidi woman has fled Germany with her family after encountering the "Islamic State" (IS) fighter who had enslaved her in Mosul on the streets of Schwäbisch Gmünd, a town in Baden-Württemberg.

Ashwaq Haji Hamid arrived in the southwestern state with her family in 2015 through a programme aimed at assisting Yazidi women who had been subjected to violence by IS.

In 2014, IS committed what the UN concluded was a genocide of Yazidis in northern Iraq. The militant group also abducted scores of women and children, including Hamid, who were sold into slavery.

But while attempting to leave her past behind, she was confronted by her tormenter, who had kept her as a slave for 10 weeks.

"I ran away from Iraq so I would not see that ugly face and forget anything that reminds me of it, but I was shocked to see him in Germany," Ashwaq Haji Hamid told InfoMigrants, a news site about migration run by DW, France Medias Monde and Italy's ANSA agency.

"The first time was in 2016," she said. "He was chasing me. He was the same person, but the second time, he came close to me and told me he knew everything about me."

Deutsche Welle.
This tragic case raises the issue of how to prosecute Islamic state genociders.
Some of the members of the modern Einsatzgruppen who went and fought for Daesh have been found, some executed,  and others face prosecution.
Prosecuting the Islamic State Fighters Left Behind.
In Syria, the SDF operates amid a civil war and depends on U.S. aid to maintain operations. It is reportedly holding 593 fighters from more than 45 countries, including Egypt, France, Germany, Morocco, Russia, Saudi Arabia, Tunisia and Turkey.

For local IS fighters, the Kurdish enclave also holds no official legal authority complicating their ability to prosecute Syrian and Iraqi fighters. Still, the SDF set up counterterrorism courts, which have focused on reconciliation and prohibit the death penalty. In some cases, the SDF negotiated with local tribal leaders to have fighters released to face tribal tribunals. Though, the Kurds face an uncertain operating environment and overstretched prisons. Lack of adequate security has already allowed a number of ISIS fighters to escape.

In Iraq, out of the approximately 19,000 individuals detained for ISIS-related terrorism charges since 2014, some 1,350 are foreigners. Foreigners and citizens face quick trials, differing standards of evidence and harsh penalties. Iraq's 2005 counterterrorism lawpermits judges to sentence anyone holding membership in a terrorist organization—regardless of their role—to death. As of March, more than 3,000 individuals had received the death penalty and many others faced life in prison for their involvement in the group. The Iraqi government now needs to delicately balance sectarian tensions. Building trust between citizens residing in formerly ISIS held territory and the Baghdad-led government remains its biggest challenge to permanently rooting out the Islamic State.

Western governments shifting responsibility to local forces to prosecute or indefinitely detain their citizens are unlikely to prevent these individuals from falling through judicial loopholes to reengage in jihadist activity. Especially for those detained in Syria, uncertainty about the country's future and U.S. engagement creates potential for foreign fighters, like John Doe, to be released if they are not sent home. Such releases are likely to further destabilize an already volatile region.

Foreign fighters are known to exploit weak political and security environments to advance their jihadist agendas. If released, these fighters are likely to find another conflict zone to advance their violent ideology, disrupt communities and conduct attacks. Foreign fighters well versed in governance and combat will continue to pose a global threat, whether or not their citizenship is revoked. And if countries do not take responsibility for their citizens, the alternative—fighters further destabilizing other countries and taking advantage of civil unrest—feeds the cycle of terrorism.

Recall that those responsible for the Sept. 11, 2001, attacks and subsequent strikes across Europe fought in foreign conflicts and formed global jihadist networks. While counterterrorism efforts have improved since 9/11, ISIS attacks across Europe, especially those in France in 2015, demonstrate that foreign fighters, and their networks, still pose a threat.

The U.S. and its allies need to choose a path for those who become Islamic State fighters. History has shown that leaving foreign fighters on the battlefield can have serious repercussions.
Daesh poses  the same kind of problem that came after the Second World War, of tracking down and prosecuting war criminals and those who took part in genocide.
This present case illustrates the difficulties faced: Two British 'Beatles' Islamic State Fighters Captured In Syria. They were part of the same group as 'Jihadi John'.
The State: A Cautionary Tale?
The first episode of The State, the tale of four British people who leave Europe and join the Islamic State in Raqqa Syria, was shown last night. Channel Four, at a time of glossy, paper-thin, series, terrestrial, streamed or in Box Sets, needs no justification to show serious tragedy. Peter Kosminsky, who adapted Wolf Hall, it was a "narrative that needed to be told". "As far as I know there's been no other depiction certainly in drama, of what happens to young British Muslims when they arrive in Islamic State." (The 'I'. 17.8.17)
The audience hardly has to be told of the importance of the subject. Globalisation means not only that media had brought a cascade of information about Daesh and its acts, but also has facilitated the recruitment of these supporters amongst several thousand other Europeans. As Graeme Wood put this in the Way of Strangers (2017) "Since 2010, tens of thousands of men, women and children have migrated to a theocratic state, under the belief that migration is a sacred obligation and that the state's leader is the worldly successor of the last and greatest of prophets. If religious scholars see no role for religion in a mass movement like this, they see no role for religion in the world."
This should not lead us to forget that ISIS was able to create its original totalitarian strongholds from many more Middle Eastern recruits in the wake the bloodbaths of post-invasion Iraq, and the Syrian civil war. Or that, as Michael Weiss and Hassan Hassan have recounted, their "draconian rule and religious obscurantism" was initially resisted in Raqqa itself by brave individuals like schoolteacher Souad Nofa (Pages 187 – 190. Isis. Inside the Army of Terror. 2015)
In this vein, The State Kosminsky has stated that the production is based on extensive research both about life in Raqqa, and the "relationship many radical Muslims have with their faith". "These people are either recent converts to Islam or people [who are] born Muslims, but who've been relatively recently 'born again' relatively recently and come to an interest in the faith".
Radicalisation.
Sunday's broadcast did not begin with lengthy treatment of the process of 'radicalisation' that led to the voyage to Raqqa. We are rushed into the crossing into Syria, hungry for clues about whether the recruits were 'self-radicalised', dreamt of their own pious utopia, or were pushed into Jihad by a passage through Salafism and recruiters who float in its milieu, as Gilles Kepel famously suggests (La Fracture. 2016).
Some indications about their background do emerge. Adolescent Ushna is anxious to fit in and wed. She hopes to be "a lioness amongst the lions" but her manners suggest an effort to adapt to Daesh's Islamist rules, as do the other, mobile phone hugging, companions. Single mother and Junior Doctor, the Black British Shakira,  wants to tend to the – Islamist – sick. In a  scene, with echoes of The Handmaid's Tale, women are instructed by American convert  Umm Walid, brittleness peppered with "sweeties",  in their proper role as helpmeets. This Ushna challenges, as if she was in a university seminar, by citing female warriors at the time of the Prophet. 
Towards the end of the programme, a speech, in which the male combatants are informed of the coming Apocalypse, when America has been lured into their territory and Armageddon will unfurl, suggests something of Olivier Roy's Jihadist "imaginaire" (Le djihad et la mort. 2016). Yet the characters already show ambiguity towards this war, a global jihad waged with the utmost force against the unclean, unbelieving "Kuffar" (the word constantly used in The State), whose violent momentum Roy considers the source of the attraction of ISIS.
The State is, Kosminsky has announced, a "cautionary tale" far from a "recruitment video". We can expect disillusion, although it is hard to see why anybody should feel empathy for those, portrayed by actors,  who have joined an armed totalitarian organisation, a would-be state, whose genocidal acts are more than well known and self-advertised. It is certainly a powerful story, well dramatised. 
Whether this series will help shed light on the wider conflicts in the Middle East, from the Civil War in Syria to Iraq, where, as Gilbert Achcar has underlined, there are many other murdering bands, not to mention the Assad regime itself, remains to be seen (Morbid Symptoms: Relapse in the Arab Uprising  2016) But we hope, that after we see how Daesh treats women, we'll hear a lot less of the genre of comments by Judith Butler about the Burka carrying "many meanings of agency" which Westerners have not grasped. (Precarious life. The Powers of Mourning and Violence. 2006)
Next episode tonight…
******
The State is a four-part mini-series following the story of four British men and women who have left their lives behind to join ISIS in Syria, and although it is a fictional story, it is based on extensive research of real life events.
The Mail reviewer Christopher Stevens  says,
The State is no sort of truthful drama, as it claims to be. This is a recruitment video to rival Nazi propaganda of the Thirties calling young men to join the Brownshirts.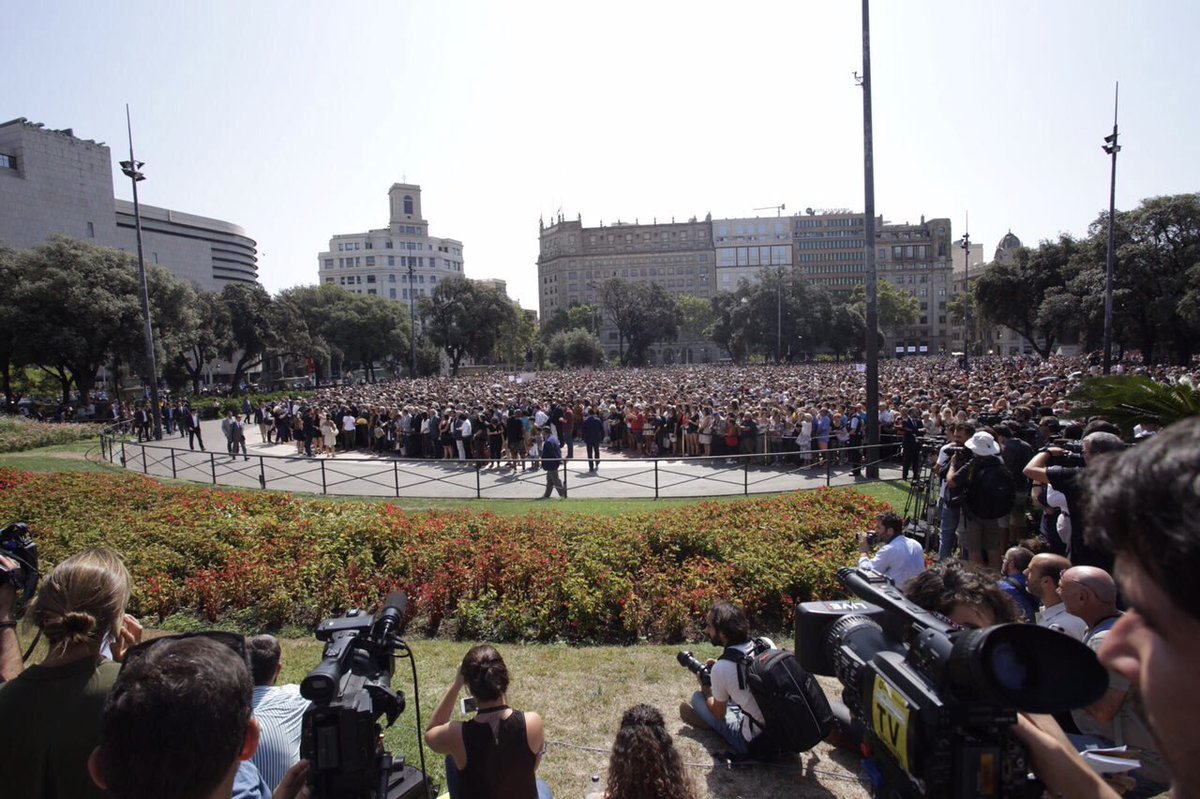 Barcelona: "No tenim por! No tienen miedo! We are not Afraid!
Spanish police kill five suspected terrorists in resort town of Cambrils
Suspects believed to have been preparing attack following killings in Barcelona on Thursday afternoon; one woman injured has since died. El País
ISIS claims responsibility for Barcelona terror attack that killed at least 13 people
Police detain three suspects, naming Driss Oukabir, who allegedly rented the van used in the attack El País
Isis supporters celebrate Barcelona attack after the terror group claim responsibility.
Several pro-Isis social media channels put out messages in Spanish such as "Kill the Spanish pigs" and users changed their profile pictures to Driss Oukabir, a suspect in custody.
More: Daesh reivindica el atentado y llama a matar "cerdos españoles"
Barcelona and its people have a special place in many hearts.
The history and culture of the City is celebrated and loved throughout the world.
It goes without saying that many are keenly aware of the tragic 20th century history of Barcelona. Some on the English speaking left will have read the translation of Max Aub's Campo cerrado (1943, translated as Field of Honour 2009), "It tells the story of Rafael Serrador, a young man from Castellón, near Valencia who, aged sixteen, moves to Barcelona. He gradually becomes involved in politics. He is very unsure of himself and what he believes and ends up joining the Falange, i.e. the Fascists. He starts becoming disillusioned when the leader tells him that he is interested only in ideas and not people. When the Spanish Civil War does break out, at the end of the novel, we follow events in Barcelona as the workers resist the take-over of the city by the Fascists and Nationalists. At this point, Rafael realises the error of his ways and fights with the anarchists rather than the Falange.  (The Modern Novel).
It is to be hoped that the same left will respond with dignity to the present horrific events.
We do not need a further recycling of the idea that the murders took place because of "imperialism", and "Western Wars".
Nor do we need yet another 'Nothing to do with Islam', "so-called Islamic State" lecture, still less 'Islam is a religion of Peace' homily.
A simple declaration of love for those affected by the slaughter and condemnation of the killers is the principal message called for. 
We could however mention this,
Islamist extremists suspected of opening fire on diners at Turkish restaurant popular with foreigners in Ouagadougou.