Posts Tagged 'Islam'
Fears that Batley's Blasphemy Law Will Spread in Education.
But now, the Batley Grammar School religious studies teacher has found unlikely support from a Bury branch of Unite, which largely represents binmen.
Brian Bamford, secretary of Tameside Trade Union Council, has submitted an emergency motion for the National Conference of Trade Union Councils in June to champion the cause of the suspended teacher.
The motion urges the NEU and all other unions to support the teacher and to publicly condemn those demanding his dismissal.
It notes that blasphemy laws were abolished more than a decade ago, and adds that "dogmatic restraints" should not be imposed on the religious education curriculum.
Mr Bamford is also secretary of Bury Unite commercial branch in the North West, which represents binmen across the borough, and the motion's wording had to be approved by the branch committee before being passed up to the Tameside TUC which it is affiliated to.
"This is a motion which has come in from bin men, from ordinary working people," said Mr Bamford, a retired electrician who has been active in the trade union movement since the 1970s.
"As far as I can see, staying silent goes contrary to what we believe in at our branch, and especially in the trade congress.
"We are affiliated to the Orwell Society and freedom of expression is very important. I don't feel guilty in any way for taking a stand on this issue."
Mr Bamford claimed that an NEU official attempted to pressurise him into withdrawing the motion on the basis that it was "unhelpful" to draw further attention to the issue.
He said he was phoned by the official who asked him to "reconsider" the motion since it "risks inflaming what is an extremely sensitive and very complex situation" for members.
Despite this support this is what has happened:
Humanists UK says:
May 27th, 2021
Batley Grammar School will no longer use images of the Prophet Muhammed when teaching Religious Studies (RS). That was the conclusion announced today of the School's investigation into controversy over such an image being used in a recent lesson. The School has said it will take this approach because 'it is committed to ensuring that offence is not caused'. Humanists UK has expressed alarm at a blasphemy law now effectively being in place, and the chilling effect this is likely to have on other schools.
This incident occurred in a lesson on blasphemy. It led to Muslims protesting outside the school gates. The teacher in question was suspended. He has now been reinstated.
An independent investigation into the incident has now found:
'Difficult issues such as blasphemy are included in the curriculum offer, as these are key aspects of the provision, and are important learning points for all our young people. The image in question was used on 22 March as part of the "controversial issues" topic in the RS scheme of work for Year 9.
'It has been confirmed that the image was used on more than one previous occasion. The image had been selected to supplement the scheme of work and was not included in the formal scheme overview. The Trust fully recognises the level of concern this has caused.
The independent investigation has concluded and the Trust has accepted that the teaching staff who developed and delivered the lesson genuinely believed that using the image had an educational purpose and benefit, and that it was not used with the intention of causing offence. Nevertheless, the Trust recognises that using the image did cause deep offence to a number of students, parents and members of our school community. The Trust deeply regrets the distress this has caused. The Trust also considers that the topics covered by the lesson could have been effectively addressed in other ways and without using the image.…
'The Trust considers that its lesson planning processes could have facilitated a more holistic approach to the selection of teaching aids, taking more careful account of relevant factors which would include: …the need to respect and understand all faiths and no faiths
'In the light of the above, and in respect of the views of our school community the Trust is clear that it is not necessary for staff to use the material in question to deliver the learning outcomes on the subject of blasphemy; or any such images of the type used on 22 March for use in any Trust RS lessons, or any other lessons…
'The Trust will not avoid addressing challenging subject matter in its classrooms but it is committed to ensuring that offence is not caused…'
In October a Muslim extremist murdered the French schoolteacher Samuel Paty after he used an image of Muhammad in a lesson on free speech in an open society.
A Humanists UK spokesperson commented:
'Schools should be able to show depictions of Muhammad. If done sensitively, this can be an important part of Religious Education.
'High-quality RE should not merely seek to "respect all faiths" or avoid "offence". If that is all it does then it cannot hope to equip young people to understand and navigate contemporary debates around religion. Schools are public bodies, charged with the education of children. They must open their minds by promoting critical inquiry and personal, intellectual, and moral development. This means they must cover criticism of religions in ways religious groups won't like. And in the case of Islam, this means debates around depictions of Muhammad. Pupils can understand such debates much more easily if they see what all the fuss is about themselves.
'If schools shy away from this responsibility, and instead reintroduce a blasphemy law that was repealed 13 years ago, that would represent an educational failure.'
En soutien au journal "Charlie Hebdo".
The Guardian reports:
A teacher displayed satirical cartoons depicting the prophet Muhammad. The teacher has been suspended pending a formal investigation.
Gary Kibble, the head of Batley grammar school, apologised to parents for the inappropriate use of the cartoons, taken from the French satirical newspaper Charlie Hebdo, during a religious studies lesson this week which sparked a protest outside the school on Thursday morning.
"Upon investigation, it was clear that the resource used in the lesson was completely inappropriate and had the capacity to cause great offence to members of our school community for which we would like to offer a sincere and full apology," Kibble said in an email sent to parents that promised further investigation.
Images on social media showed about 30 to 40 protesters, many wearing masks, outside the school, with police at the entrances to the school grounds and the road outside. The Huddersfield Examiner reported from the school that the protests were peaceful as children arrived, with the start of the school day delayed until 10am. West Yorkshire police said that no fines or arrests were made.
However, the Department for Education spokesperson condemned the protests which it said included issuing threats and was "in violation of coronavirus restrictions". A spokesperson described the protest as "completely unacceptable"
A demonstration that took place outside a school after a teacher showed a caricature of the Prophet Mohammed in the classroom was "disturbing", a cabinet minister has said.
Housing Secretary Robert Jenrick said the protest was "not right" and that "we shouldn't have teachers feeling intimidated".
"That is not a road we want to go down in this country so I would strongly urge people concerned about this issue not to do that," he told Sky News on Friday.
Mr Jenrick added that reports the teacher is now in hiding are "very disturbing".
The National Secular Society has criticised the protests and the school's response.
The NSS is planning to write to the school, to ask for an explanation of its rationale and urge it not to pander to demands for blasphemy taboos.
Reports suggest the teacher warned that some members of the class may find the cartoon offensive, before using it to prompt a discussion about killings that have taken place after the publication of Muhammad cartoons.
School's statement
In a statement, the school said: "The school unequivocally apologises for using a totally inappropriate resource in a recent religious studies lesson. The member of staff has also given their most sincere apologies.
"We have immediately withdrawn teaching on this part of the course and we are reviewing how we go forward with the support of all the communities represented in our school.
"It is important for children to learn about faiths and beliefs, but this must be done in a sensitive way.
"The school is working closely with the governing board and community leaders to help resolve this situation."
NSS comment
NSS chief executive Stephen Evans said the protest was "an attempt to impose an Islamic blasphemy taboo on a school".
"Teachers must have a reasonable degree of freedom to explore sensitive subjects and enable students to think critically about them.
"Schools will understandably want to promote community cohesion and inclusiveness. But this cannot be achieved by pandering to religious groups who wish to dictate what can and cannot be taught.
"And the school's weak response will fuel a climate of censorship, which is brought on by attempts to force society as a whole to accommodate unreasonable and reactionary religious views."
Note
In October last year a school teacher in Paris, Samuel Paty, was killed after he showed cartoons of Muhammad from Charlie Hebdo magazine during a class about free expression.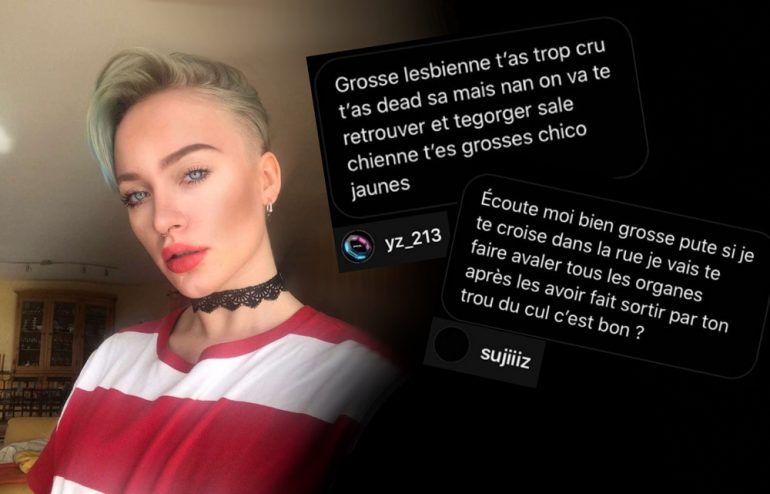 Anti-Gay Hate Against 16 Year Old Who Criticised Islam.
Le Monde has just reported.
Five additional people are sent to the Paris Criminal Court for attacking the adolescent from Isère after the publication, in November, of a new controversial video on Islam.

On Monday, six people, aged 18 to 35, had been placed in police custody in Paris, Seine-et-Marne, Gironde, Isère, Bouches-du-Rhône and Bas-Rhin , in the framework of the investigations carried out by the ' pôle national de lutte contre la haine en ligne (national Pole against online hate,' recently created at the Paris prosecutor's office. On Tuesday, the custody of a man was lifted without prosecution at this stage and a minor was taken into police custody in Val-de-Marne. The latter was released "the same day for further investigation," said the prosecution.
Two people already convicted
Five other people, aged 18 to 29 and arrested on February 9 in Loire-Atlantique, Moselle and Calvados, will also appear on June 3 for "online moral harassment", and, for two of them, " death threats ".
The story goes back to a young gay woman publishing a statement on social media, calling Islam a variety of colourful names. She attacked the religion, not Muslims.
Among her original remarks, she described Islam as a "religion of hate".

"She never made any racist comments, just used teenage words that were a bit vulgar," the lawyer said.
The BBC has had a report this year,
Five people have been detained on suspicion of making death threats to a French teenager who posted videos critical of Islam, prosecutors say.

Mila, 17, had to change schools last year after an Instagram video for her friends in which she criticised Islam was widely shared on social media.

She then posted another video on social media site TikTok last November which prompted a new wave of online threats.
This underlines just how serious thing had got,
She was getting about 30 hate messages a minute at one point, her lawyer said.

France's online hate crimes task force took over the case.

Mila, who is known in France only by her first name, is originally from the eastern Isère region. Her story has revived debate in the country on freedom of speech as well as protection for schoolchildren from online bullying.

A schoolteacher was murdered last October close to his school near Paris, days after showing caricatures of the Prophet Muhammad to a class discussing freedom of expression.

Mila had published in November on the social network TikTok a new video in which she sharply attacked her detractors. The teenager had shared on Twitter screenshots of the death threats received, some referring to the assassination of Professor Samuel Paty in October 2020 in the Yvelines. The prosecutor's office in Vienne (Isère), which opened an investigation in mid-November, gave up at the beginning of December in favour of the National Pole against online hatred. Read also Delphine Horvilleur: "The Mila affair questions: what God would be upset to be so mistreated? "

A high school student in Villefontaine (Isère), Mila was forced to leave her school after having published in January 2020 a first video that went viral in which she was vehemently critical of Islam. Two people have already been sentenced in 2020 to prison terms for death threats against the girl. Others are indicted in the investigation into the death threats of January 2020 and the dissemination of his contact details.