Posts Tagged 'Ireland'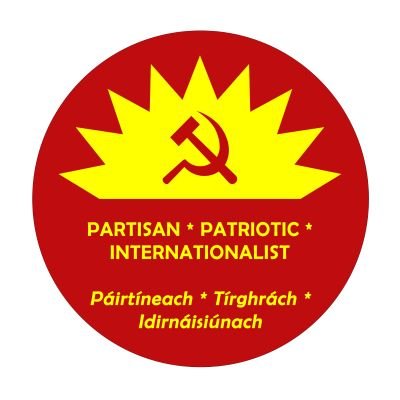 "Form of entryism" at centre of split.
The Communist Party of Ireland (CPI; Irish: Páirtí Cumannach na hÉireann) is an all-Ireland Marxist–Leninist party, founded in 1933. The party is a member of the International Meeting of Communist and Workers' Parties.
The claim to Marxism-Leninism is already leading to splits.
From tip top Gumshoe Jim. (my middle name, a coincidence, I think not!)
Important information for International readers and subscribers to Unity.
As you are a regular subscriber or international reader of Unity the Northern Area of the CPI is duty bound to inform you of important events that have resulted in serious adverse consequences for the entire Communist Party of Ireland. Earlier this year the CPI's Youth Movement, the Connolly Youth Movement (CYM) held a special Ard Fheis (Congress) at which they voted to sever their links with the CPI.
The decision was carried with 73% in favour. This was the result of accusations by the NEC of the CPI that the Youth Movement was practicing a form of entryism under the influence of an ultra – leftist leadership. The southern area and subsequently the NEC had imposed a ban on CYM members who wished to hold joint membership with the CPI. We should stress the Northern Area of the Party's relationship with the CYM had remained harmonious throughout the intensifying conflict with a section the NEC of the Party.Concurrently the NEC itself was increasingly divided, with northern members in particular concerned that serious breaches of the constitution, political programme and democratic centralism were taking place.
The Northern Area Committee expressed these concerns in a series of letters to the NEC requesting they be discussed. These were dismissed as groundless, and the NAC told to withdraw their concerns and allegations peremptorily. As the conflict grew deeper the Northern Area indicated we could no longer accept these decisions and the direction in which the NEC majority was taking the Party.
Added to this a new method of re-registration was introduced without full discussion or consultation and comrades were advised failure to adhere to this would mean they would no longer be members of the CPI. All but two of the northern comrades chose to re-register according to the procedure in place for the previous 50 years, in line with the constitution and were subsequently considered to have expelled themselves form the CPI. In addition, we in the Northern Area have been constantly named as partitionist and reformist.
While the decision of the CYM to sever its links with the CPI is in the public domain neither the NEC nor the NAC has at the time of writing made public what has happened – although this is unlikely to remain the situation. However, given the fact it is currently not in the public domain we feel we should not release the detailed documentation on what has transpired, both on the NEC's criticism of the NAC and northern members generally and our responses.We appreciate this makes it difficult for you to have an informed opinion but hope you will appreciate our aim is not to solicit your support for our position at present, but to inform you of the current situation.
We would also ask you to treat this letter as confidential until and if the issue is in the public domain.We do feel however, as Unity has been removed from the CPI website and in view of the current crisis that as a subscriber to the paper or international reader you are entitled to be informed of the situation. We can assure you that Unity will continue to reflect the work of comrades in the northern area for the party and in the people's organizations in accordance with the constitution, programme and democratic practices of the Communist Party of Ireland. We hope you will continue to be a reader of the paper and or subscribe to it. We can provide you with a fuller explanation of what has happened in due course if you so wish. We all hope these serious difficulties can be fully addressed and eventually overcome, but it would be disingenuous to suggest this will happen in the near future.Northern Area Committee and northern members of the of the CPI.
Comment: These micro Marxist-Leninist Parties are barking;
Anti-Fascists, Republicans and Socialists confront National Party in Dublin.
Hundreds clash in violent exchanges at Dublin protest
Protest by anti-mask, anti-lockdown groups, including right-wing National Party took place outside Leinster House
A protest by anti-mask and anti-lockdown groups, including the right-wing National Party, was organised to take place outside Leinster House at 1pm on Saturday. However, scuffles quickly broke out when the demonstration was met with a group of counter-protestors.

Gardaí confirmed an investigation focused on the organisers of both protests is now under way, while two men, one in his 30s and second in his 40s, were arrested for public order offences.

..

The group of at least 100 counter-protestors, which appeared highly coordinated but made up of disparate groups, met opposite the Shelbourne Hotel on St Stephens's Green at 12.45pm.

The group, all of whom were masked and mostly dressed in black, marched down Dawson St and turned right onto Molesworth St before moving towards Leinster House chanting "Nazi scum, off our streets".

The group was flanked by uniformed gardaí on bicycles, while several Garda vans from the force's public order unit remained on standby in the vicinity. Plain clothes members of the Garda also mingled among the crowds.
On Saturday 10th October 2020, Anti-Fascist Action (AFA) Ireland and its allies confronted a rally organised by the fascist National Party (NP) outside Leinster House, Dublin. Over 150 militant anti-fascists challenged a meagre group of NP supporters who were protected by a wall of steel barricades, lines of Gardaí and the Public Order Unit who had their batons drawn. The NP event was a failed attempt to use current Covid-19 restrictions as a rallying point to attract unsuspecting members of the public who may hold genuine grievances with the lockdown.
The Albert Meltzer quote "there's no such thing as a fascist march – only a police march" was proven again today as the massive Garda operation was required to ensure the larger anti-fascist mobilisation was kept away from the underwhelming fascist presence.
It continues,
Despite several weeks of publicising the demonstration on social media, the demo received zero traction beyond the NP's core members and supporters. Disingenuously the group didn't even have the courage to put their own name on the event poster which was widely shared by all main NP organisers.

Amongst the speakers today was mini-führer Justin Barrett and former British army soldier 'Tan Torino' (Rowan Croft) who served with the Royal Engineers in the late 1980s and early 1990s. Hardly what could be described as Irish patriots! A nervous Torino was spotted leaving the vicinity immediately after his rant and did not even stay around for Justin Barret's rambling long speech.

The fascists may have been emboldened by their recent attacks on individuals but cowered behind a sea of cops until they were led away for their own safety. The sight of them being escorted away was a pathetic sight. They have recently boasted about 'controlling' the streets of Dublin but seemed genuinely shocked and scared by the sight of hundreds of working-class anti-fascists in Dublin today. Our numbers proudly marched afterwards through the city from Leinster House to the GPO carrying Irish tricolours, starry ploughs, sunbursts and rainbow/lgbt+ flags. Passersby stopped and clapped on hearing the chant "Fascist scum, off our streets!" This was the second Saturday in a row in which the so-called hardmen of the far-right were shown up as mouthy cowards.

The National Party have strongly opposed the use of masks to prevent the spread of Covid-19 during this global pandemic. Their supporters are undeterred by restrictions. Today we saw the full support that these pricks can muster whereas we know that huge numbers of our supporters did not take to the streets today out of concern for the most vulnerable in society. Those of us out today did so out of a sense of necessity and true patriotism to protect our country from their dangerous and toxic ideologies.

The National Party, founded in 2016, is an ethno-nationalist far-right group. Its leader, veteran fundamentalist Catholic Justin Barrett, called for doctors who perform abortions to be executed. He has had long-standing ties with European fascists and spoke at several neo-Nazi rallies in Germany and Italy in the late 1990s and early 2000s when he was a leading member of the extreme anti-abortion group Youth Defence. He has remained unapologetic about sharing platforms with former SS officers.

AFA Ireland is a militant anti-fascist organisation formed in 1991. We believe in physically and ideologically confronting fascism whenever and wherever it rears its ugly head. As always, we encourage all anti-fascist minded people across the island to reach out to us and work together in a militant, disciplined movement against fascism. Profound thanks again to all our members and supporters in the republican, socialist, grassroots, LGBTQ+ and trade union movements.
Beir Bua. La Lucha Continúa. No pasarán.
AFA Ireland, 10 October 2020
ENDS
There is a background to this:
Socialist Democracy:
Fascism: Ireland's illusion of immunity begins to pall
18 September 2020
In reality Ireland is a society riddled with misogyny, class hatred,  sectarianism and anti traveller discrimination that easily adapts to racism.  In the North an entire political system is built around competing sectarian rights and housing apartheid.

The old governmental system in Dublin, revolving around two largely identical right wing parties, is in decay.  An opening has occurred and fascists have begun to mobilise.

They are still weak and disguise themselves in yellow vest and anti mask protests, but they are strengthened by their willingness to use violence and by winks and nods from the police.

Two guiding principles should lead us.  Firstly we must not privatise opposition,  with each left and republican group organising independently,  shouting "trash the fash" without having built the means to follow through on our promise.  There has to be an all Ireland anti-fascist  movement.  Secondly, socialists in such a movement must argue for a radical alternative.  Fascism grows whenever the workers movement fails.  At the moment the trade union leaders have buried themselves in partnership with the government and many socialists are advancing the fatuous plan of a "left" government led by Sinn Fein.

When working people are desperate and the left are silent we are leaving the door open for the far right.  Time to unite for a revolutionary alternative!
People are beginning to ask why there have been no counter-protests against the 'anti-mask' confusionist and  far right demos in Britain.
Ex-International Marxist Group activist now stands with Holocaust denier David Icke and the far-right.
The Guardian carries an article, on the demonstration, Coronavirus sceptics, conspiracy theorists and anti-vaxxers protest in London.
But, this, written in a respectful tone, is how it talks about three of the best-known participants..
Among those due to speak were Piers Corbyn, the weather forecaster and older brother of the former Labour leader Jeremy Corbyn, the former newspaper columnist and health journalist Dr Vernon Coleman, and the conspiracist celebrity David Icke.

Although the demonstration focused on coronavirus restrictions, those taking part espoused anti-authoritarian grievances ranging from the lockdown to the imprisonment of Julian Assange to claims of elite child sexual abuse.

On the eve of the protest, Corbyn told the Guardian that a number of groups had come together to join in with the demonstration.

"In terms of whether you believe that the virus is a hoax or not, whatever is happening now is less than or equal to a normal flu, so the lockdowns and all that goes with them is unjustifiable in any terms," he said.

"We are calling for MPs to refuse renewal of the Covid Act [Coronavirus Act], and if they do not, we will campaign to have them removed from office."
One of the aspects of Piers Corbyn which is not given a wide airing is the revulsion that his former comrades in the International Marxist Group (IMG) and others on the radical left feel about his present politics.
In the 1970s Piers was better known on the left than his brother.
From Imperial College to the Squatters' movement, he was a well-known figure on the left. He was active in the IMG, standing in 1977 in Lambeth Central for a GLC election under the group's name. Not everybody appreciated his efforts to create a Squatters' union. Like the rest of the British section of the Fourth International he joined the Labour Party and was a party councillor in Southwark between 1986 and 1990. He remained in the Borough, and people speak of him in the 1990s selling left publications in his local pub.
Corbyn appears in the 2006 BBC Documentary 'Lefties', in the first episode, Property is Theft, about squatting in the 1970s.
PIers made a career forecasting the weather, forming WeatherAction, in 1995. The meteorologist was still sending out EMails about his prognostic power to leftists (using a wider list) when the Internet began to take off in the new millennium. He fell out with the same left when he began promoting climate change denial in the same decade, and was pushed out of left-wing politics. His thinking was wildly at odds with his former Fourth International comades, who took an Eco-Socialist turn at the same time and joined the fight for "Global Climate Justice".
Interviewed in 2016 (Guardian) he was without regrets: "Like his brother, physicist and meteorologist Piers Corbyn is a man of revolutionary zeal. His own battle, however, is against all this 'climate-change nonsense'…
He has certainly changed, and not just because of his climate change denialism.
This is one of the leaflets he has been distributing this year.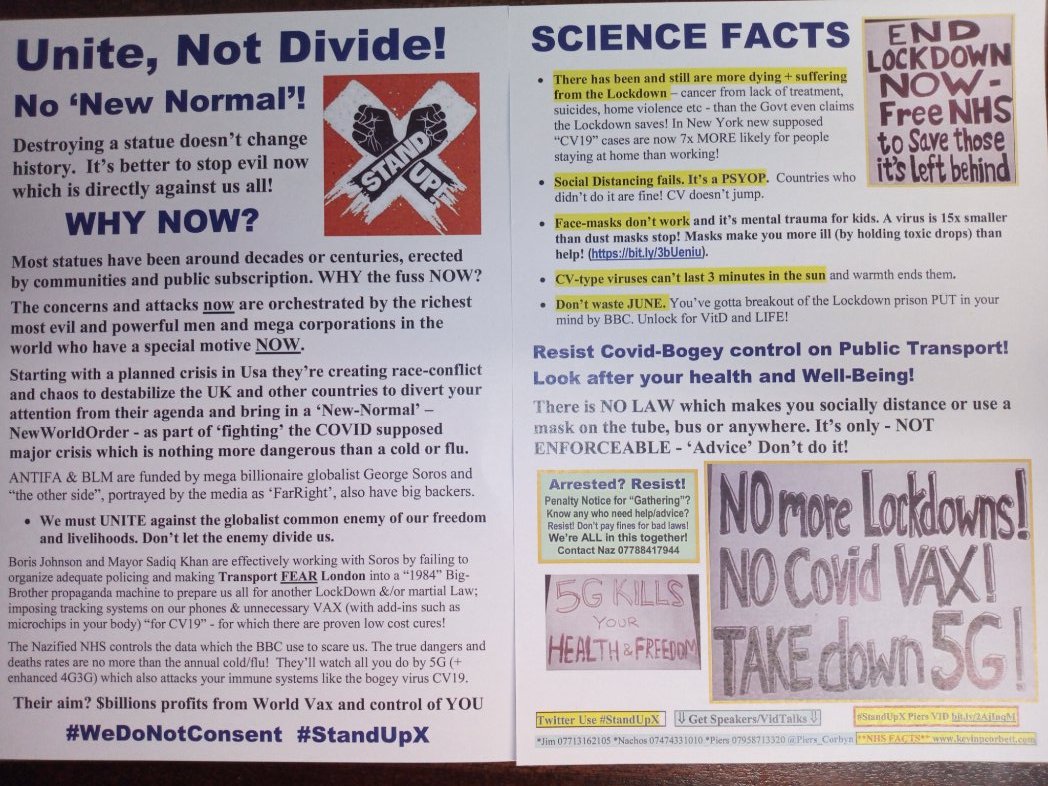 We must "unite against the globalist common enemy", the "Nazified NHS", "AntiFa and BLM are funded by mega billionaire Soros. The (BLM) concerns and attacks on statues are "orchestrated by the richest most evil men and mega corporations" to "divert your attention and bring in a 'New Normal' – New World Order" "Covid ..is nothing more dangerous than a cold or flu."
Most people would say that somebody who produces this material is not entitled to any respect whatsoever.
This is the far-right charlatan yesterday in London.
These are some more of this friends.
And these:
There is a view that the a core group protesters who assembled against the Lockdown in Trafalgar Square come from a long-established fan-base of David Icke. Others, from  Save Our Rights UK organisation, Q Anon, 'Wellness' anti-Vaxx campaigners, and anti 5-G obsessives, are of a more recent ilk. They are political confusionism, a mixture of right and left united against an enemy that they define in their imagination.
This is an international phenomenon as this report on a demonstration in Ireland last week indicates,
A Garda investigation has begun into an anti-face mask rally held in Dublin at the weekend on suspicion it breached coronavirus regulations prohibiting the organising of events.

Separately, a number of disturbances at the rally were also under criminal investigation, including one incident during which men who were armed with sticks or batons clashed with others present. *

They wore black caps and scarves covering their faces, as well as PPE-type latex gloves, and clashed with a number of other men present in what appeared to be a pre-planned attack. One man suffered significant injuries before gardaí restored order. *

The event was organised by the Health Freedom Ireland, which says it is a non-political organisation, with support from Yellow Vest Ireland.

….

Other speakers included members of the Irish Freedom Party which wants to "regain control" of Ireland's border to more closely control immigration.
There is a sharp political edge, one underlined by Piers Corbyn: the anti Bill Gates and above all, George Soros, theme.
Soros is a hate figure for the far-right and some on the 'anti-imperialist' left (see above picture about Syria).
George Soros Conspiracy Theories Surge as Protests Sweep US.
USNews and World Report.
George Soros, the billionaire investor and philanthropist who has long been a target of conspiracy theories, is now being falsely accused of orchestrating and funding the protests over police killings of Black people that have roiled the United States. Amplified by a growing number of people on the far right, including some Republican leaders, online posts about Soros have skyrocketed in recent weeks.

They have been accompanied by online ads bought by conservative groups that call on authorities to "investigate George Soros for funding domestic terrorism and his decades-long corruption."
We can add Piers Corbyn to that list of conspiracy theorists.
The leftist rhetoric about the New World Order, first used in the 1990s after the First Gulf War, has been moulded after a well established pattern into a rant about mysterious figures controlling the planet.
It is said that there is a special place in Hades for renegades from the IMG who turn to the far-right.
Worse than this (story not verified):