Posts Tagged 'Internationalism'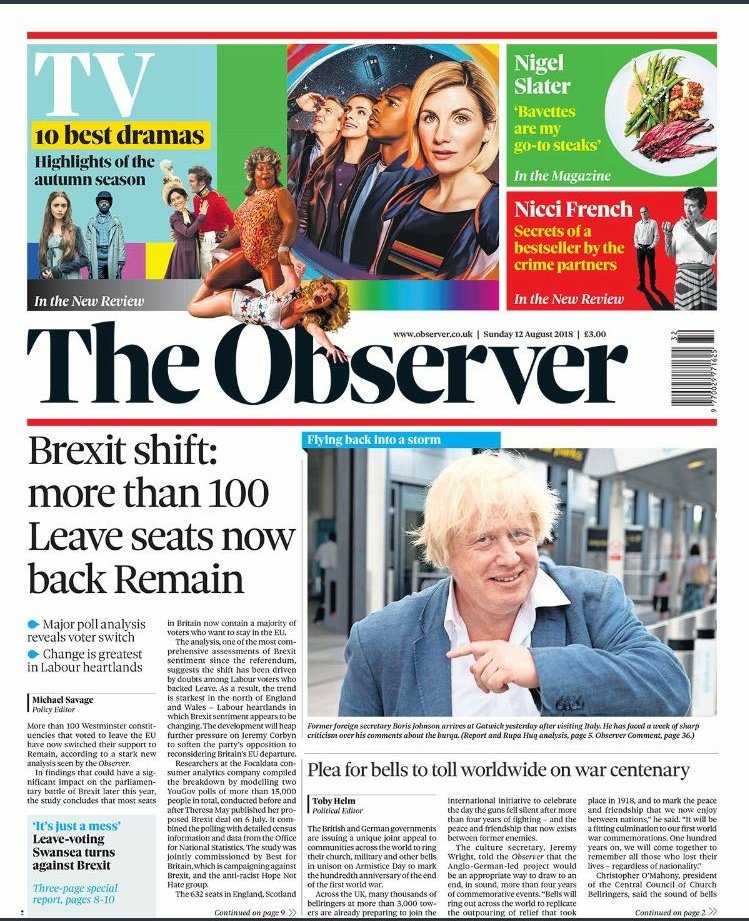 Opinion Shifting Against Brexit.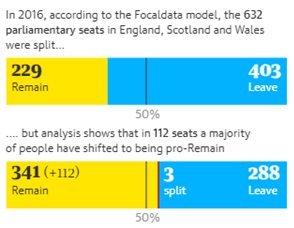 Major new analysis shows most constituencies now have majority who want to Remain

The analysis, one of the most comprehensive assessments of Brexit sentiment since the referendum, suggests the shift has been driven by doubts among Labour voters who backed Leave.

As a result, the trend is starkest in the north of England and Wales – Labour heartlands in which Brexit sentiment appears to be changing. The development will heap further pressure on Jeremy Corbyn to soften the party's opposition to reconsidering Britain's EU departure.

Researchers at the Focaldata consumer analytics company compiled the breakdown by modelling two YouGov polls of more than 15,000 people in total, conducted before and after Theresa May published her proposed Brexit deal on 6 July.
Corbyn hopes to avert call for public vote on Brexit at conference
Guardian 9th of August.
Labour members seeking second referendum could inflict damaging defeat.
Labour has been considering how to head off a concerted attempt by remain-supporting members to stage a vote at its annual conference calling for a second referendum, to avoid what would be an embarrassing defeat for Jeremy Corbyn on the party's Brexit policy.
About 130 constituency Labour parties (CLPs) were understood to have expressed willingness to back a motion in favour of a second vote, drafted by the pro-Corbyn campaign group Labour for People's Vote.
To avoid a damaging defeat, one option is to invite delegates to support a Brexit policy statement that would refer to holding a second referendum, but only in exceptional circumstances.
It could be similar to a watered-down resolution that was supported at Unite's policy conference in July, which was offered by the union leadership to defuse a similar situation.
Major new polling of 10,000 people suggested Labour voters backed a second referendum by 63%, with just 8% opposed, in one of the largest surveys of public opinion since the referendum to leave the European Union.
Motion: (I have submitted this, for my CLP All Members' Meeting).
Oppose Tory Brexit and win a radical Labour government.
This CLP supports the earliest possible election of a Labour government led by Jeremy Corbyn. The current government is putting Tory Party dogma first, not jobs first – and they have no mandate for their agenda.
We note and support Labour's six tests for Brexit, which aims to ensure that the post-Brexit settlement preserves the benefits we currently get from collaboration with Europe, defends our rights and protections, and delivers for all parts of the UK. It is increasingly clear that the Tories' Brexit deal will fail these tests.
We believe that only Labour can lead the British people into a progressive and economically sound relationship with Europe.The Brexit deal being pursued by Theresa May is a threat to jobs, freedom of movement, peace in Northern Ireland, and the future of the NHS and public services. Tory Brexit will wreck the British economy, will commit us to a series of long-term trade deals which will enforce American-style deregulation, and will undermine the rights, freedoms and protections currently enshrined in EU law. All of this will bind the hands of a future Labour government, and will make it far harder for us to deliver on our promises.
We therefore urge Labour to oppose the Tories' destructive Brexit and unite the country behind a radical vision for the future. In government, Labour could rally left-wing parties across the continent, and create a Europe for the many, not the few.
The social problems that caused the Brexit vote – inequality, declining public services, falling pay, a lack of quality affordable housing, and so on – will be made worse, not better, by Tory Brexit and the continued austerity that would result. The problem is the policies of the political establishment, not immigrants, and the solution is a radical social and economic programme.
We must make the election of a radical Labour government our first priority.
We note that given the Fixed Term Parliament Act, the most likely route to a general election before 2022 is the collapse of the government's Brexit agenda. This motion supports all available avenues to bring down the government: voting down the EU exit deal in Parliament, calling for a snap election, and a popular vote on the deal.
We note and support the 2016 Conference commitment to a public vote on the Exit Deal so the people have the final decision on whether to accept the government's deal or to stay in the EU.
We call on the Labour Party to:
1. Oppose any Brexit deal that does not satisfy Labour's 6 tests.
2. Call for an immediate general election, and make a manifesto commitment to call a public vote on the Brexit deal with an option to remain in the EU if the public rejects it.
3. If we cannot get a general election, to campaign for a public vote on the deal with an option to remain in the EU; and following a defeat for the government, to call for an immediate general election.
4. To place radical social and economic policies at the heart of our programme of government – taxing the rich and big business to pay for better public services, rapidly expanding common ownership, abolishing anti-union laws and engaging in massive public investment.
Delegates from this CLP to Labour Party conference should vote in line with this policy.
While the old sovereigntist left and those claiming to back a non-existent "People's Brexit' are running out of steam, the anti-Brexit left is organising!
Labour set for policy shift as left and Labour grassroots turns against Brexit
Labour looks set for a strengthening of its Brexit position, as an unprecedented number of constituency Labour Parties (CLPs) look to submit motions in favour of a People's Vote. The countdown to the conference begins in earnest on August 8th with the motion submission now open.

Labour for a People's Vote, which launched in June with the support of key left wing figures within the party, has put forward its motion in well over a hundred constituencies across every region and nation of the UK.

Because of the Labour Party's rules, CLPs only have a small window between August 8th and September 13th in which to pass conference motions. Nine CLPs have already agreed to submit the Labour for a People's Vote conference motion before submissions even opened, with around 130 set to consider it prior to the deadline. Delegates at Labour conference will first decide whether to debate Brexit as a policy area, and then decide whether to support the motion.

The movement in CLPs follows a series of large town hall meetings held across the country last month. The 'Left Against Brexit' tour, run by Another Europe is Possible, has drawn hundreds of local activists to meetings in Manchester, London, Liverpool, Bristol, Nottingham and Birmingham with speakers including Ann Pettifor, Catherine West, Manuel Cortes, Zoe Williams, Billy Hayes and Marina Prentoulis. It will continue in late August and September with events in Glasgow, Leeds, York, Sheffield, Cambridge, Northampton, Newcastle, Norwich, Cardiff, Cornwall, Plymouth and Oxford.

The conference motion argues that "the Brexit deal being pursued by Theresa May is a threat to jobs, freedom of movement, peace in Northern Ireland and the future of the NHS." It continues: "Tory Brexit will mean a future of dodgy trade deals and American-style deregulation, and undermine our rights and freedoms. This binds the hands of future Labour governments, making it much harder for us to deliver on our promises."

If passed, it would commit Labour to voting down Theresa May's deal in October, and then calling for a general election, with a commitment in its manifesto to holding a People's Vote. If a general election could not be achieved, Labour would campaign for a People's Vote as a means of bringing down the Tory government.  The motion also argues for "taxing the rich to fund better public services, expanding common ownership, abolishing the anti-union laws and engaging in massive public investment."

The push for motions at Labour conference comes alongside a major shift inside Momentum, the grassroots group set up to support Jeremy Corbyn in 2015.  A petition, started by Tower Hamlets Momentum activists Alena Ivanova, has ostensibly now obtained the 4000 signatures it requires to trigger a vote of Momentum members on backing a strategy to stop Tory Brexit.
While a Brexit bonus is a lie Peter Kenyon checks out progress and sees opportunity at this year's Labour Annual Conference.
Feeding the groundswell of discontent with the Tories – and it must be the Conservative Party as a whole that is targeted – should be the leitmotif of Parliamentary Labour Party activity until a Brexit deal is delivered, whether dead or alive. Voters need reminding repeatedly – there is no Tory Brexit bonus – it was a lie. There are no alternative trade deals under the Tories – it was a lie. National sovereignty will be surrendered with a Tory Brexit, and so on.

This will not be achievable in current circumstances. Too many of Labour 's elected representatives in Parliament are Brexit bromide dependents. For Labour's electoral ratings to enjoy another major uptick, Labour MPs in so-called Leave constituencies need to be working over the summer wising their voters up to the realities of the Tory mess – surrendering our right to have a say, continuing to pay into the Brussels budget, accepting European Court of Justice rulings. We should be relaunching that old rallying cry from across the pond – no taxation without representation – to justify the Remain option, when the time is right.

Constituency Labour Parties have an opportunity to table so-called contemporary resolutions to Party conference.

Chartist editor Mike Davis has tabled one for his local party:

Labour & Brexit –

Conference notes:

*British households are £900 worse off following the vote to leave the EU;

*the economy is now 2% smaller than forecast before the referendum;

*a rise in racist attacks and abuse since the referendum;

*an almost 20% devaluation of the Pound in relation to the Dollar and Euro;

*a relocation of many businesses to European states;

*the threat to the peace process and Good Friday Agreement with the introduction of a hard border in Ireland;

*the HMRC estimate of a cost of over £20b to leaving the EU in addition to the £39b settlement:

*Trump's election and declaration of a protectionist trade war:

This BLP/Conference further believes the Tories will either exit with no deal or manage a bad deal that will not protect jobs or workplace rights or safeguards for environmental and human rights including full citizenship rights for EU citizens in Britain.

This branch/BLP/Conference resolves to:

Call on the party in parliament to reject any deal which fails to sustain these current rights and conditions.

Support the proposal to negotiate for as long as it takes to secure these terms, through a transition period for continued membership of a Customs Union and single market.

Campaign in a general election for the option of retaining membership of a reformed EU.

To work with our European partners for:

– an end to EU austerity policies with

– a European recovery programme for jobs, rights, benefits and economic security that the British

and other European peoples deserve, after ten years of austerity, worsened employment, reduced pay and welfare deprivation.

The affiliated trade unions also have rights to table such resolutions. In the face of mounting evidence of the job losses in the UK arising from Brexit uncertainties, it would seem negligent in the extreme if they did not link staying in the EU Customs Union and possibly the Single Market to Labour's ambitious and necessary anti-austerity programme for jobs and investment. What is certain is they will not seek to embarrass Labour's leadership. Nor should rank and file members, but that is an idle wish. As long as Labour has dropped any pretense of negotiating a 'Better Brexit' or delivering a Brexit bonus, an open debate at Conference can only help seal the idea in the electorate's mind that 'Brexit means a Tory mess'.
Time is running out. Theresa May's Brexit deal will go to the vote in parliament in autumn.

The closer we get, the clearer it becomes that Tory Brexit is an attempt to deregulate our economy, sign our future over to dodgy trade deals and allow bosses to cash in. It is all-out attack on the rights, freedoms and prosperity of working class people and the communities that the left is supposed to represent. And it is built on an agenda of racist scapegoating.

We have been quiet for too long. The fight back starts now.

This summer, join us for a nationwide tour — with inspiring speakers, and an in depth discussion about how we can stop Brexit