Posts Tagged 'Huffington Post Maghreb'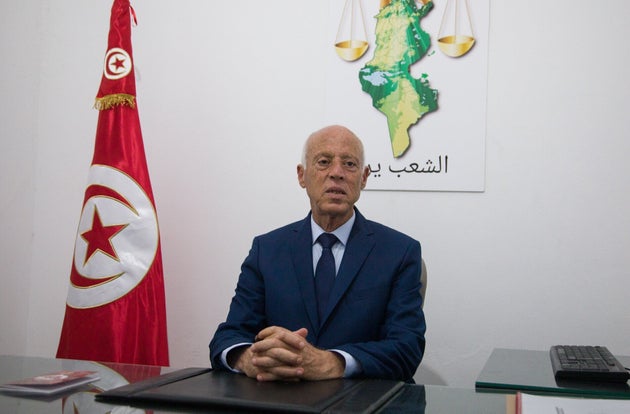 Robocop Heads Tunisian Presidential First Round.
Presidential election results were seen as a shock in the Tunisian media.
Here
Tunisia election: Outsider in lead stuns after most votes counted.

Al Jazeera.

With two-third votes in presidential race counted, conservative constitutional law professor Kais Saied takes the lead.

Law professor and political outsider Kais Saied is leading Tunisia's presidential polls with two-thirds of the votes counted, the electoral commission said, after the country's second free vote for head of state since the 2011 Arab Spring.

Saied was on 18.9 percent on Monday night, ahead of imprisoned media magnate Nabil Karoui, who was on 15.5 percent, according to the electoral commission, ISIE.

Prime Minister Youssef Chahed, a presidential hopeful whose popularity has been tarnished by a sluggish economy and the rising cost of living, could well turn out to be the election's biggest loser.

ISIE figures showed him in fifth place with 7.4 percent of the vote, trailing both Ennahdha party candidate Abdelfattah Mourou (moderate' islamists, once a favourite of Jeremy Corbyn's right-hand man, Seumas Milne)  and former defence minister Abdelkarim Zbidi.
France 24 noted,
In a sign of voter apathy, especially among the young, turnout was reported by the elections commission (ISIE) to be 45 percent, down from 64 percent recorded in a first round in 2014.
Reports indicate that  Kaïs Saïed's electoral base is the educated youth, the "les 20-30 ans éduqués."
Nicknamed, "robocop", this comes from his unflagging diction, his use of a rigorous literary Arabic (when many candidates speak in Tunisian forms), his analysis essentially based on the country's constitutional problems, his conservative positions on social issues. Others have made the connection with "Robespierre", a "  Robespierre without guillotine, but if the situation was that of two centuries ago, he would have used it," an observer noted. He has been a favourite in the polls for many months.
The  analysis by Syrine Ben Youssef on Huffington Post Maghreb has a different angle on the age cohort.
Kais Saïd ou le choix de la génération Z
37 % des électeurs de Kais Saïd auraient entre 18 et 25 ans

37% of the voters for Kais Saïd  are said to be between 18 and 25 years old.
Syrine Ben Youssef summarises some reasons for this result.
They call them 'Generation Z' who have grown up since the Tunisian Spring, in contrast to 'Generation Y who made the revolution.
This is the digital generation, "digital natives" ultra-connected, born with internet, mobile phones, and  social networks.
Saïd is seen as "honest, independent, intellectual" and, above all, he conveyed this image in short broadcasts which can be quickly absorbed and gave an image of furthering a change from the old political set up, the style of lengthy speeches and arguments. He, the Huffington Post journalist, argues,, managed to give an accessible image and a message of supporting, "ideas of ​​direct popular participation" and backing for "universal suffrage", that is, not the rule of a squabbling political class.
Generation Z, for its part, shows us, through this election in 2019, that it needs change and that it thinks differently. Kais Saïd advocates  a direct democracy where the intermediaries between the power and the people would be reduced. A democracy in the image of a horizontal company or even a liberated firm having little or no level of separation between employees and the executive. Kais Saïd targets, perhaps very intentionally or possibly accidentally, Generation Z.
In case anybody should think this audience makes Saïed a liberal, think again.
He is in favour of the death penalty, he thinks homosexuality is promoted by 'foreign' forces' (l'homosexualité, ou plutôt son expression publique, est encouragée par des parties étrangères qui les financent »)  which should be kept Private, and he thinks that inheritance laws should give priority to males (as in most interpretations of Islamic 'law'). More here.
It looks like a standoff between two "populists", the one, constitutional and conservative, who attacks "elites", the other Nabil Karoui, referred to as a Tunisian Berlusconi with dodgy money – currently in Gaol awaiting trial for this – who wants to "Libérer l'économie", free the economy.
December the 17th 201o, Mohamed Bouazzi, a 26 year old street vendor, set himself on fire in Sidi Bouzid to protest against social conditions. 

It was this act that triggered a protest movement against the regime that went beyond his home town of  Sidi Bouzid, Tunis and Tunisia to affect countries across in the Arab world. Al Huffington Post Maghreb (French version). 
Al-Jazeera reports,
This year, two separate events are planned to take place on December 17; one organized by major unions UGTT and UTICA, the leftist Popular Front, and civil society organizations, and one officially sanctioned programme, which will feature remarks from government officials as well as artistic performances.

Marzouki has confirmed his attendance, according to organisers.

"Politics have divided Sidi Bouzid," says Aida Daly, an organizer of this year's official December 17 programme. "It will be impossible to repeat the first [anniversary]."

"There is nothing to celebrate" this year, Daly added. "After the revolution, we still see martyrs; police and security officers who died because of violence and terrorism."

Part of the UGTT-backed programme will be what organizers are calling a peaceful march to express loyalty to the martyr's of the revolution. The committee has designated public spaces in Sidi Bouzid to be named in memorial of Mohamed Brahmi, who was assassinated this year.

As for unrest, both Gharbi and Daly acknowledged the tense political tone underlying the planned events; Daly citing whispers of protest in Sidi Bouzid, and Gharbi pledging them. and expressing that the political climate affects these programmes.

"This year, like last year, the festival will have a stamp of politics," said Daly, adding, "I don't imagine there will be more promises this year."
La Presse de Tunisie supplies more background on the anniversary and the hostility of many Tunisians to the  ruling Islamists of  Ennahda.
They cite this,
 «La Révolution survient quand ceux qui sont au pouvoir ne veulent plus le quitter et ceux qui sont dans l'opposition sont incapables de les déloger. » (Lénine)

The revolution continues to exist while those in power do not want to leave it, and those in the opposition are unable to dislodge them.
French branch of the Front Populaire here.
Tunisia Live, in English, here.
This explains why many people feel why the Revolution has yet to achieve its objectives.
Tunisia: security sector reform Robert Joyce.
In October, photos surfaced of the savagely beaten body of 32 year old Tunisian man Walid Denguir. Police reportedly arrested Denguir in the Bab Fellah neighborhood of Tunis. Around an hour after his arrest, Denguir's mother was called on by the police and told her son was dead. Pictures taken after autopsy show Denguir's skull had caved in and a prominent human rights lawyer said that his injuries resemble the "roasted chicken" position, said to be common to the Ben Ali era, where the victim is hung by four limbs on a pole and beaten with sticks.

Three days after Denguir's death, the Ministry of Interior remarkably released a statement blaming his death on "excessive violence" while in custody. The officials quickly got back to the normal routine, though, and removed the press release. An investigation is said to be under way from both within the ministry and the external court. Since then, despite continued reporting and civil society pressure no updates have been released. In a show of stunning nerve, the security forces union blamed Denguir's death on the consumption of cannabis. Local media has run the same cause of death, attributing this to a phantom autopsy report.

The Denguir case serves as a particularly brutal example of the larger issues of police arrest practices. A Human Rights Watch report released earlier this month exposed the flaws in existing laws that have yet to be improved since the revolution. Police in Tunisia can hold arrested suspects for six days without pressing charges or processing them in the prison system. During this time as HRW writes, "detainees are particularly vulnerable to mistreatment by law enforcement agents because they have no access to a lawyer or to family visits."