Posts Tagged 'Gender'
JK Rowling has accused three people who campaign on transgender matters of posting a photo of her Edinburgh address on Twitter.
BBC
The author, who has been criticised for her views on trans issues, has reported the matter to police.
Police Scotland said they had been made aware and inquiries were ongoing.
In a now deleted social media post, one of the group said the photo had been removed after they had received "threatening" messages online.
In her own Twitter thread, Rowling said the image depicted the three activists in front of her home, "carefully positioning themselves to ensure" the address was visible.
She said: "I want to say a massive thank you to everybody who reported the image to @TwitterSupport. Your kindness and decency made all the difference to my family and me.
"I implore those people who retweeted the image with the address still visible, even if they did so in condemnation of these people's actions, to delete it."
Rowling sparked controversy in June 2020 for posting tweets which took issue with the phrase "people who menstruate" – she objected to the avoidance of the use of the word "women".
In a lengthy blog post, the writer of the Harry Potter books said her interest in trans issues stemmed from being a survivor of abuse and having concerns around single-sex spaces.
Critics said her views "diminished the identity" of trans people, while stars from the Harry Potter films, including Daniel Radcliffe and Emma Watson, distanced themselves from her comments.
*****
Some people make light of people standing outside somebody's home to protest against them.
The first thing I thought of when I saw this story a few days ago was this:
Iglesias, who has since left the leadership of Podemos and politics, was targeted by the far right. The man organising the daily protest outside his house was Miguel Ángel Frontera, an ultra right activist and a sympathiser and voter for the far-right party Vox.
Frontera even took video recordings on his mobile of the inside of the residence:
There have of course been worse cases of harassment outside people's homes, in the Basque Country, not to mention the North of Ireland.
The principle though, of protesting against somebody at their own address, the one where they live, is a very bad one. As can be seen, it can be used by all kinds of political forces.
The opponents of Rowling respond:
Anybody who wants to read what Rowling actually thinks on the issues should begin here.
J.K. Rowling Writes about Her Reasons for Speaking out on Sex and Gender Issues. (2020)
(Extracts from a long piece).
This isn't an easy piece to write, for reasons that will shortly become clear, but I know it's time to explain myself on an issue surrounded by toxicity. I write this without any desire to add to that toxicity.
For people who don't know: last December I tweeted my support for Maya Forstater, a tax specialist who'd lost her job for what were deemed 'transphobic' tweets. She took her case to an employment tribunal, asking the judge to rule on whether a philosophical belief that sex is determined by biology is protected in law. Judge Tayler ruled that it wasn't.
My interest in trans issues pre-dated Maya's case by almost two years, during which I followed the debate around the concept of gender identity closely. I've met trans people, and read sundry books, blogs and articles by trans people, gender specialists, intersex people, psychologists, safeguarding experts, social workers and doctors, and followed the discourse online and in traditional media. On one level, my interest in this issue has been professional, because I'm writing a crime series, set in the present day, and my fictional female detective is of an age to be interested in, and affected by, these issues herself, but on another, it's intensely personal, as I'm about to explain.
……
It would be so much easier to tweet the approved hashtags – because of course trans rights are human rights and of course trans lives matter – scoop up the woke cookies and bask in a virtue-signalling afterglow. There's joy, relief and safety in conformity. As Simone de Beauvoir also wrote, "… without a doubt it is more comfortable to endure blind bondage than to work for one's liberation; the dead, too, are better suited to the earth than the living."
New Row Breaking Out.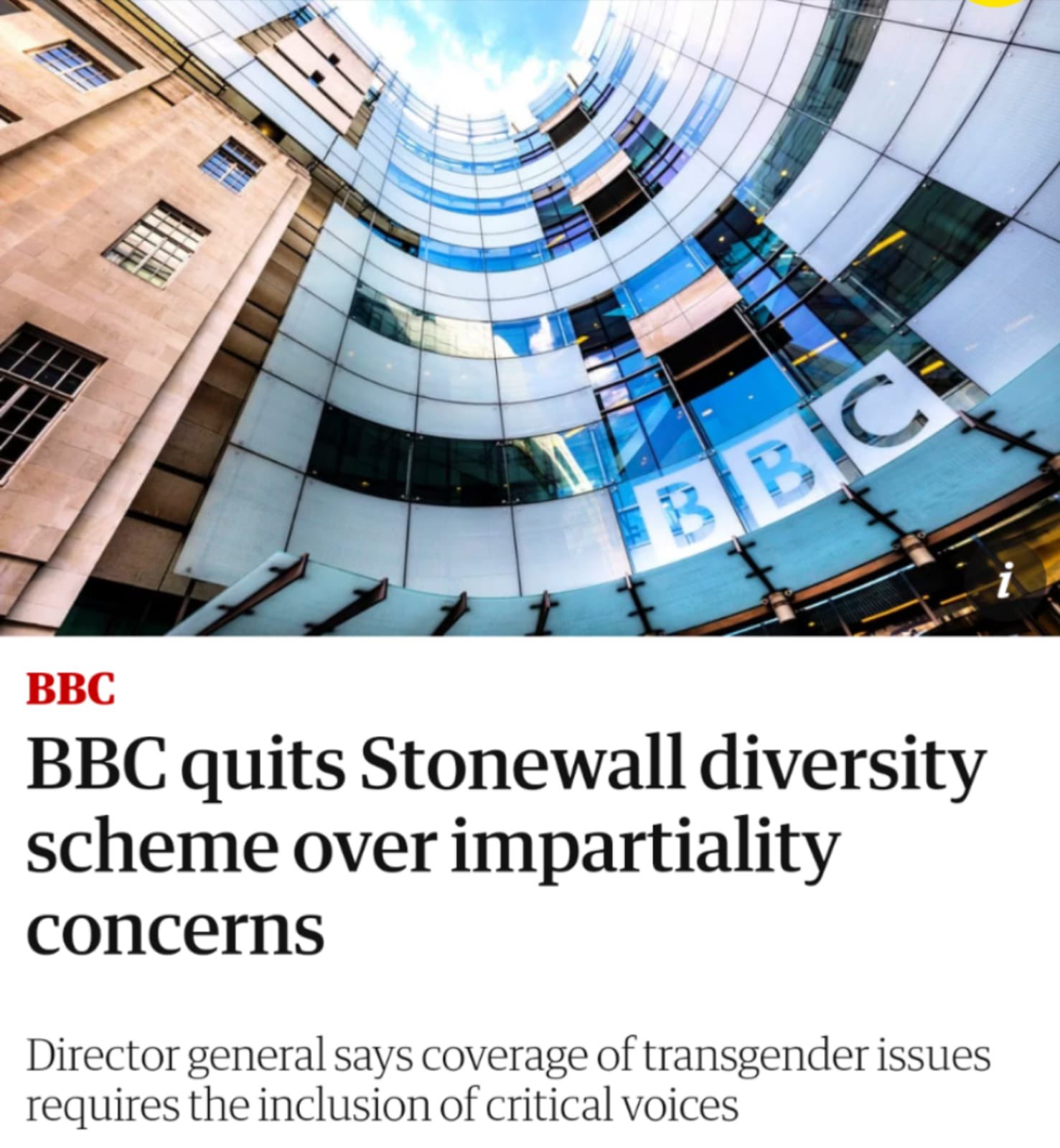 BBC quits Stonewall diversity scheme over impartiality concerns. Guardian.
The BBC has quit a diversity programme run by the LGBTQ+ charity Stonewall, saying it believes coverage of transgender issues should be considered an impartiality topic that requires the inclusion of critical voices.
The national broadcaster said it would no longer be a member of the Diversity Champions programme, under which the corporation paid Stonewall for ongoing advice and assessments on creating inclusive workplaces.
The BBC director general, Tim Davie, told staff it was "unquestionable" that its ongoing participation in the scheme "has led some organisations and individuals to consider that the BBC cannot be impartial when reporting on public policy debates where Stonewall is taking an active, campaigning, role".
Jim Waterson Media editor
The BBC is fully committed to being an industry-leading employer on LGBTQ+ inclusion. We are proud of our lesbian, gay, bisexual and trans colleagues and we support them to have fulfilling careers at the BBC.

"Along with many other UK employers, the BBC has participated in Stonewall's Diversity Champions Programme to support our objective to create a fully inclusive workplace. However, over time our participation in the Programme has led some to question whether the BBC can be impartial when reporting on public policy debates where Stonewall is taking an active role.

"After careful consideration, we believe it is time to step back from the Diversity Champions Programme and will also no longer participate in Stonewall's Workplace Equality Index.

"Being a part of the Diversity Champions Programme has never required the BBC to support the campaigns of Stonewall, nor its policy positions. As a broadcaster, we have our own values and editorial standards – these are clearly set out and published in our Editorial Guidelines. We are also governed by the Royal Charter and the Ofcom Broadcasting Code. Our journalists continue, as ever, to report a full range of perspectives on stories.

"Although the BBC will not be renewing its participation in the Diversity Champions Programme, in the future we will continue to work with a range of external organisations, including Stonewall, on relevant projects to support our LGBTQ+ staff."
In other words, the issue is that the close work with Stonewall has led "some to question" the BBC's neutrality on the issues which Stonewall champions (read: its positions on gender on transsexuals, self-identification, gender fluidity). The BBC has by contrast, it says, never been anything other than guided by its own "values".
Reactions from Gender Critical Feminists, Labour's Deputy Leader, Angela Rayner, and Stonewall.
This report in Variety is useful, above all because it puts the Nolan Podcast centre-stage. Having listened to the (long) series of broadcasts it is not hard to imagine the effect it would have.
The BBC has quit two controversial schemes run by Stonewall, an LGBTQ+ lobby group and charity, following an investigation by one of the corporation's own journalists.

The public service broadcaster has now followed media regulator Ofcom and fellow broadcaster Channel 4 by withdrawing from Stonewall's Diversity Champions programme and Workplace Equality Index.

The news comes after BBC 5 Live journalist Stephen Nolan released a 10-part investigative podcast examining whether the schemes had influenced the BBC's editorial output. Journalist David Thompson also contributed to the investigation.

In the podcast, Nolan and Thompson questioned whether the BBC was too close to Stonewall, providing numerous instances of BBC internal policy and editorial output that appeared to breach the corporation's own impartiality guidelines, as well as the Equality Act 2010, following communication with Stonewall in connection with these schemes.

The podcast, which was the culmination of an eighteen month investigation, quickly rose to the top of the charts on both Apple and Spotify after its release last month and garnered numerous headlines as well as comments from members of parliament.
Variety also notes this,
In June, Channel 4 also announced it was pulling out of Stonewall's diversity scheme while Ofcom quit the scheme in August.

Numerous public bodies, including the Department of Health and the U.K.'s Equality and Human Rights Commission also announced they were withdrawing from the schemes this year.
Don't let other people think for you on the podcasts.
Pass over the highly coloured description below and look at the material itself.
Nolan Investigates: Stonewall – All ten podcasts transcribed
In October 2021 a team of BBC journalists blew the lid off the controversial lobby group Stonewall and its influence on public institutions across the UK. Eighteen months of investigative work has now been broadcast in a series of 10 podcasts.

The new evidence and personal testimony contained within this series needs to be widely shared and easily accessible to as many people as possible. So a team of volunteer supporters at Fair Play For Women have transcribed the key contents of each episode for people to read and quote from.

You can listen to the full podcast on BBC Sounds here.
This first episode set's out why these podcasts are important "It's not about the rights and wrongs of what Stonewall are doing. They're entitled to lobby. It's about the process. And is it right that in a democracy, a lobby group can have so much influence within government on government policy. And if Stonewall can have it, who else can have it?"
The team introduces the Work Place Equality Index and Champion schemes. Stonewall have created a league table, and organisations around the UK are trying to climb up this league table in order to say to the public they are LGBTQ friendly. Not only are the public bodies paying a lobby group to be marked by a lobby group, but then this lobby group is also saying, well, you're not doing well enough. Pay us some money and we'll tell you how to get up higher next year.
Stonewall is campaigning to make it a societal norm, that rather than just male and female, human beings can have lots more genders, including genderqueer, queer, non-binary, two-spirit, many others. That is controversial territory. In this episode we hear what this means from different perspectives. We hear from Ben Cohen of Pink News and Rosie Duffield MP.
In this episode the team speaks to a non-binary person, Owen Hurcum, about gender identity and why it matters. "Some women have penises. Some men have vaginas, some non-binary people have penises, some non-binary people have vaginas, and people can change that if they feel they need to."
HIGHLY RECOMMENDED. An in-depth interview with consultant Psychiatrist Dr David Bell about the treatment of children with gender dysphoria. "We're at risk of taking the things at the manifest or surface level and acting too quickly on what is being said. And therefore in danger of doing irreversible damage to a child who might have desisted, and that's very, very important".
In this episode the team sets out the evidence showing how governments and civil servants across the UK have been influenced by Stonewall.
Stonewall's advice to employers is to go above and beyond the law. The team presents the evidence that Stonewall are giving advice based how they want the law to be, and not as the law stands.
Not all trans people think the same! In this episode we hear a discussion between two trans people with very different views on sex and gender identity; non-binary Owen Hurcum and transsexual Debbie Hayton. "I'm still as male as I was when I was born. It's simply the surgery has helped me become more comfortable with my own body. That's the only thing that changed".
The team cast serious doubts over the impartiality of OfCom. In this episode we hear the evidence that shows how OfCom has cited its own judgements on BBC broadcasts to impress Stonewall in an attempt to climb its equality league table.
And finally we discover the extent of policy capture within the BBC. We hear what its been like from an ex-BBC employee and how Stonewall has influenced editorial content through the BBC style guide. "when I queried this stuff, I was told that the BBC kind of checked this with Stonewall and Stonewall were fine. They were fine with it, and therefore the BBC was fine with it."
Update Julie Bindel:
When the BBC announced today that, "After careful consideration, we believe it is time to step back from the Diversity Champions Programme and will also no longer participate in Stonewall's Workplace Equality Index," sighs of relief could be heard around the corporation. Many lesbians, feminists and gay men had become sick and tired of the dominance of transgender ideology, and increased pressure to use pronouns on email sign offs and capitulate to various demands of the handful of transgender staff whilst being expected to side-line their own needs had become intolerable.
When Ruth Hunt was applying for the role of CEO of Stonewall in 2014, she requested a meeting with me. I was a little surprised and perplexed: I have never been a fan of Stonewall, and had written a book, published that same year in which I criticised the organisation for focusing on wealthy, white gay men bleating about 'tolerance' and 'acceptance'. I considered Stonewall to be a gay men's rights movement, in which lesbians barely featured. I could never have imagined at that time how much worse it was to become.

During our meeting, which was perfectly pleasant, Hunt explained to me that she had "no intention" of Stonewall becoming a LGBT organisation, and was planning to, if she got the job, help support transgender organisations to autonomously fight for their rights by accessing funding and giving advice and mentoring.

Fast forward a few weeks, and, as soon as she was in post, Hunt held a meeting with several trans activists during which she apologised about my nomination for Journalist of the Year in 2008, at which there was a huge protest by trans activists on the grounds that I am seen as a transphobic bigot.

I am not suggesting that Hunt misled me during our meeting when she said Stonewall would remain focussed on sexual orientation and identity as opposed to gender, but I wonder if she allowed herself to be 'persuaded' by the individuals in that meeting that to exclude the T would bring trouble to her door.  This was in the context of brewing animosity about the unreasonable demands being put forward by some trans activists, and the trans rights movement was well on the march.

Whatever happened in that meeting that led to Stonewall changing direction. It soon adopted intransigent, strong-arm tactics. Its "No Debate!" catchphrase and the uncompromising, dictatorial mantra, "Trans women are women" alienated lesbians and gay men. They felt pushed aside by trans activists who argued that same-sex attraction was transphobic bigotry, and that lesbians can have penises. Gay men and lesbians began to turn against the organisation, feeling betrayed.

At the same time, as well as having no advocacy from an organisation that had supposed to be about protecting the rights of same-sex attracted people, Stonewall captured massive institutions that played a huge part in our lives, including the BBC, the NHS, the Office for National Statistics, the Crown Prosecution Service, much of the Police Service, and a number of workplaces including local authorities.
In extricating itself from Stonewall today, has the BBC, a treasured institution, lead the way for other public bodies to follow suit? No other lobbying organisation, particularly ones that refuses to even discuss differences of opinion on matters of public importance, should ever get that close again.
Mary Davis: Back in 2018.
The Morning Star, independent of the Communist Party of Britain and run by the co-op, today carries this article by a leading member of Communist Party of Britain, Mary Davis.
It is safe to say that this is not just an opinion up for debate but reflects the views of strong currents in the Daily's team and the CPB.
Extracts,
The unrelenting ideological onslaught on women's sex-based rights has escalated to the point at which the very definition of "women" as a biological sex is now subject to sustained attack.
This has resulted in the collective rights of women threatened and undermined. The overused term "cancel culture" is wrong and inadequate to describe the current and unparalleled ideological onslaught on women as a biological sex. We are facing erasure in the face of gender identity policy capture.
Note: No direct reference to Stonewall.
This weekend's FiLiA conference, I hope, along with other gender critical women's organisations will play an important part in creating a regenerated women's movement.

The building of a broad-based women's movement and a strengthened labour movement, which rejects capitalist ideology and understands the vital importance of protecting and extending women's sex-based rights, must go hand in hand.

However, without a robust renewal of Marxist-feminist theory, which challenges the dominant ideology of identity politics, such a project will remain a distant vision.
Note are all gender critical feminists Marxists or even socialists? Kathleen Stock defines herself in other ways, "am I, or am I not, a feminist? Yes in the broad sense that I'm broadly focused on promoting the rights and interests of women in a world in which they're often neglected. But not in the sense that I sign up, no matter what, to any particular doctrinal element. I think everything should be up for reasonable discussion. If you think I'm not a real feminist, that's fine by me. I'm honestly not that attached to the term. What I am attached to is trying to get the underlying actions and attitudes right" Julie Bindel concentrates on the demand to "defend women's sex-based rights".
……
The oppression of women is rooted in class exploitation. The super-exploitation of women as workers and their oppression as women is a fundamental prerequisite for the operation of capitalism — economically, politically and ideologically. Hence, the eradication of class exploitation is the essential precondition for the liberation of women.
Socialism provides the only means by which the most complete form of class exploitation (ie that represented by the capitalist system), can be ended.
Whether conscious of its mission or not, the labour movement exists for this purpose. But its socialist mission can only be fulfilled if it expunges capitalist ideology — and that includes any ideological practice which impedes the protection and extension of the rights of women.
..
Both these two movements — a strong and class-conscious feminist-inspired labour movement and a broad-based women's movement — are essential together as the twin pillars of the challenge to women's oppression and super-exploitation.
However, we still have a long way to go in ensuring that the labour movement truly represents the interests of 51 per cent of British population, let alone the majority of its members — women!
Recent events have shown that gender identity ideology has permeated the labour movement, with the result that defending women's rights has taken a back seat.
Currently, a campaign against alleged transphobia has taken precedence over the threat to Professor Kathleen Stock's employment at Sussex University. She has received no support from the University and College Union.
For socialists, the goal has to be the forging of working-class unity based on a recognition of its historic divisions; divisions founded principally on race and sex.
…
The first is the ideological battle which has to be shifted away from the "gender" issue per se and on to our terrain of the fight for women's rights and the understanding of women's oppression.
Second, the (at present non-existent) "respectful debate" can only be achieved when we women are a mighty assembled unignorable force so that our analysis and our policies lead the debate.
This requires a powerful women's movement. Thirdly, even at the risk of vilification, our argument must be taken into the labour movement in order to challenge and expose an ideology which erases women and tramples our rights. We are many, they are few.
Comment: this looks like a call for some serious rows. There are points on which this Blog agrees, 'gender fluidity' being one. AS one of the ideas in some modern gender theory, promoted by Stonewall, it initially sounds reasonable, but then splinters off into a kaleidoscope of definitions, and even stripped down to a minimum is hard to pin down as a legal or campaigning category. There equally serious issues about women's spaces which would take a lot more than Mary Davis' article to draw lines on.
It is not clear that 'materialist feminism' is just abut biology and class, or capitalism, there are views about the structural reality of patriarchy for example that exist in many different societies. This open up further into the picture of " "how women are produced as a category" which in some version (such as the 1970s-early 80s journal M/F), included linguistic ideas and the theories of Michel Foucault about 'power'. Dos class 'trump' everything else? Religious ideologies, embodied in state apparatus like the Islamic state of Iran, have relative autonomy to the class rule of the Islamist bourgeoisie, and the laws restricting women in that country cannot just be explained by capitalist oppression.
There remains concern that words like "onslaught" are intended to provoke a 'counter-attack'. Davis has, in the recent past, defended Blue Labour pro-family figures like Paul Embery, who has also entered this fray. Will she align with this anti-rootless cosmopolitan in a war against Woke?