Posts Tagged 'Gavin Williamson'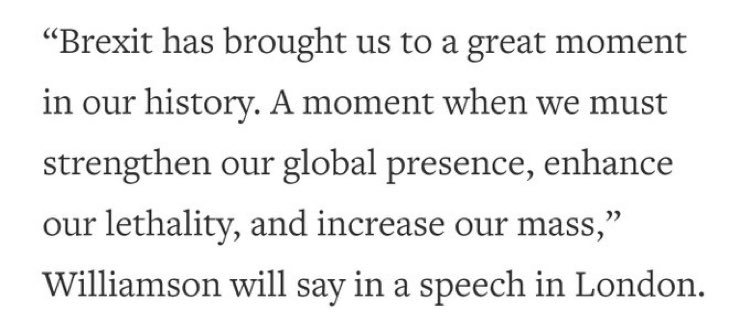 'Defence Secretary" Makes Strong Case of Brexit Benefits.
With all that talk about Dunkirk and valiant little Britain Battling Brussels Bullies it's a wonder the military side of Brexit has not gotmuch of an airing.
Today that's all changed.
Brexit 'can enhance UK's lethality', says defence secretary
Brexit represents an opportunity for Britain to boost its global military standing and "enhance our lethality" in response to the threats posed by Russia and China, the defence secretary will say in a notably combative address at a defence thinktank.

Gavin Williamson intends to argue in a speech at the Royal United Services Institute on Monday that a post-Brexit UK should redefine its role as a global power prepared to intervene against countries that "flout international law", backed up by new military technologies and capabilities.

The cabinet minister, who is increasingly keen to talk up Brexit at a time when a deal is elusive, is expected to say leaving the EU will allow the UK "to consider how we not only project but maximise our influence around the world in the months and years to come".

Williamson is expected to conclude: "Brexit has brought us to a great moment in our history. A moment when we must strengthen our global presence, enhance our lethality and increase our mass."
Without challenging the premise of this rabid rant this was Labour response:
Labour's Nia Griffith, the shadow defence secretary, said Williamson's rhetoric was undermined by cuts to the defence budget of £9bn in real terms since 2010.

"Instead of simply engaging in yet more sabre-rattling, Gavin Williamson should get to grips with the crisis in defence funding that is happening on his watch," she said.
It is hard to deny that the concerns of the Leave voting, 'left-behind', 'people-from-somewhere', and their wish to "enhance our lethality" have to taken seriously.