Posts Tagged 'francois fillon'
François Fillon: as Devout as he is Avaricious
On French radio stations this morning the latest revelations about François Fillon's 'employment' of his family dominated the political reports.
There is the clear suggestion that Fillon – apparently a very proud (orgueilleux) person –  refuses to heed advice.
While he is sticking to the policy of "stout denial", suggesting that the revelations about his corrupt use of public money to pay his family immense sums of money for services it's hard to find evidence of, senior people in his party are said to be preparing his exit from the political stage.
French presidential candidate Fillon got wife, kids jobs paying €1m, report claims. (France 24)
François Fillon's wife Penelope was paid more than €900,000 for work she allegedly didn't perform, according to investigative weekly Le Canard Enchaîné, which claims the embattled presidential candidate also hired two of his children.

The report by the satirical and investigative weekly, which first broke the story last week, almost doubles the amount Penelope Fillon is claimed to have earned from jobs her husband got her.

It claims that the conservative presidential candidate also employed two of his five children as parliamentary assistants while he was a senator, earning a further 84,000 euros.

Under French law it is not illegal for MPs to employ family members as assistants, provided they actually do the work.

The Canard, as it is known in France, claimed last week it could find no evidence that Mrs Fillon had been doing her job as parliamentary assistant for her husband and later another MP.

It said she had earned as much as €7,000 per month, in addition to money earned for her work at a literary review owned by a family friend, whose former editor said he had never seen her.

Tuesday's new allegations come hours after investigators searched parliamentary offices as part of a preliminary inquiry into the case. They mark the latest twist in a suspected embezzlement scandal that has already damaged Fillon's presidential bid.

Fillon, who served as France's prime minister from 2007 to 2012 and has since served as a member of parliament, won the conservative Les Républicains party's presidential nomination in November.

He has since been touted as the frontrunner in the election, but in recent days has struggled to respond to the allegations involving his wife.

French financial prosecutors launched a preliminary probe into embezzlement and abuse of public funds in the wake of the newspaper report.

MP Christian Jacob, the parliamentary leader of Les Républicains, on Tuesday confirmed that Parliamentary offices had been raided, but defended Fillon.

"François Fillon himself has asked for the investigation to proceed quickly, and the justice system must do its work," Jacob told reporters at the National Assembly. "But what I can tell you as that all Républicains lawmakers support François Fillon and are standing behind our candidate."

fThe former premier has said he would abandon his presidential bid if placed under formal criminal investigation. A formal enquiry by an investigating magistrate could take months to reach a conclusion.

Marc Ladreit de Lacharrière – a businessman and friend of Fillon – has also been questioned in connection to the allegations. He owns the literary review La Revue des Deux Mondes, which Le Canard Enchaîné said paid Penelope Fillon another 100,000 euros for very little work.

Fillon has defended his wife's work as real. Declaring his love for her at a political rally in Paris on Sunday, he repeated that the allegations are nothing but a smear campaign against them.
This is not all.
Le Monde has just revealed suspicions about a Consultancy company owned – exclusively – by Fillon.
La florissante société de conseil de François Fillon

Le candidat de la droite à la présidentielle entretient l'opacité sur les clients et les contrats de sa société 2F Conseil, qui lui a rapporté plus de 750 000 euros entre juin 2012 et décembre 2015.

François Fillon's  flourishing Consultancy.

The Candidate for the Right's company 2F Conseil, which earned him more than 750,000 Euros between June 2012 and December 2015, ran its contracts in terms of complete obscurity.
The leading French Daily dryly notes that each day brings forward a new set of allegations about the "candidat de l'honnêteté".
Meanwhile……
Le Pen spurns deadline, refuses to repay €300k of 'misused' EU funds, (France 24).
Marine Le Pen has refused to repay €298,000 to the European Parliament following allegations the French far-right leader misused funds, disregarding a deadline set by the body.

EU authorities have been seeking to recover a total of €340,000 from the far-right leader, who is a lawmaker in the European Parliament but also a leading presidential candidate in France's upcoming presidential election.

The EU Parliament has sought to recover the funds after accusing two of Le Pen's parliamentary assistants of in fact working for her National Front party back home.
Libération reports that other fraud investigations are in the pipeline:
Au Front national aussi, de coquettes sommes étrangement distribuées.
Apparently there are 20 other cases of Front National Euro Parliament assistants involved in the same racket. The French prosceution is invesigating them under the titles of the ominous sounding names of  "«abus de confiance», «recel d'abus de confiance» (both meaning, breach of trust), «escroquerie en bande organisée» (organised criminal fraud) , «faux et usage de faux» (falsification), et «travail dissimulé (hidden work, i.e. for the FN nationally and not for their  EU work.
French Far-Right Hesitates between Marine le Pen and François Fillon.
France 24 reports,
By overwhelmingly backing former prime minister François Fillon, voters in the primary held by France's centre-right on Sunday opted for an economically liberal, socially conservative candidate whose vision for France leaves little ambiguity.

Any hope rival primary candidate Alain Juppé had of springing a surprise in the Les Républicains party run-off vote failed to come to fruition, with Fillon taking some 66.5 percent of the vote. If Fillon's strong performance in the first round of voting could be in part attributed to voters merely wanting to shut out Nicolas Sarkozy, his landslide victory over Juppé on Sunday left little room for doubt: Fillon's firmly right-wing platform had won the firm backing of the conservative electorate.

The "fight between one project and another", as the more moderate, centrist Juppé had called his showdown with Fillon, had been decided. Despite attacks by Juppé between the two rounds of voting that had depicted him as both "ultra conservative" and "ultra liberal" economically, Fillon had clearly prevailed.
The Guardian columnist  Angelique Chrisafis  comments,
The Front National leader has reason to fear the Republican candidate, whose views overlap with some of her key ideas.

..

The Front National has reason to fear Fillon. His traditionalist and socially conservative line on family values and "the Christian roots of France", his emphasis on French national identity, "sovereignty" and "patriotism", his hard line on immigration and Islam as well as a pro-Putin foreign agenda against "American imperialism" all overlap with some of Le Pen's key ideas.

This could potentially see Fillon steal some of Le Pen's most socially conservative voters, particularly rightwing elderly people, who always have a big turnout to vote but remain sceptical about the Front National.

"Fillon presents us with a strategy problem, he's the most dangerous [candidate] for the Front National," Marion Maréchal Le Pen, the Catholic and socially conservative Front National MP and niece of Marine Le Pen, told journalists this week.

..

Despite Fillon's hardline rightwing stances, he is not a populist. "He's closer to [the former British prime minister] David Cameron than [the Ukip leader] Nigel Farage," said Jean-Yves Camus, an expert on the French far right.

This leaves Le Pen a wide margin in which to go for Fillon's jugular as she fights a campaign centred on "the people versus the elite". The Front National has already begun attacking Fillon as a snobbish, political has-been. It argues thatFillon, as Nicolas Sarkozy's prime minister, was responsible for the failures of the Sarkozy era and cares more about the rich, globalised elite than the working class who have faced decades of mass unemployment.

The battle will largely focus on economic policy. Fillon has promised a "radical shock" for France with free-market reform, major cuts to public sector jobs and reducing public spending. Le Pen claims to represent the "forgotten" French underclass and has an economic line that is essentially leftwing: she is anti-globalisation and favours protectionism and state intervention. Le Pen's campaign director, David Rachline, has called Fillon's programme "economically insane" for wanting to slash 500,000 public sector jobs.

Le Pen's advisers believe Fillon will struggle to appeal to the lower middle class and working class voters who are afraid of losing their jobs. The Front National has slammed Fillon as a symbol of lawless, ultra-free market, globalised capitalism. Fillon, in return, says Le Pen's economic project is simply "a cut and paste of the extreme left".
Some on the French far-right are already moving towards backing Fillon (Le conservatisme affiché de François Fillon séduit à l'extrême droite).
Has the French left any chance?
The Socialists continue to hover between indecision and hesitancy.
This weekend the French Communist Party (PCF)  voted to back Jean-Luc Mélenchon's Presidential bid (Finalement, les communistes soutiennent… Mélenchon. Libération). They supported his candidacy under the banner of la France insoumise  by a slim, at 53,6% for, majority. It is obvious that there was little chance of a the Communists being able to launch their own Presidential challenge. The Party announced its intention of launching their own campaign in support his proposals against austerity. They do not intend to give him 'carte blanche' (un blanc-seing).
This follows the decision of the other component of the (now effectively  defunct) Front de gauche, Ensemble, to back Mélenchon, Communiqué du Collectif National d'Ensemble des 19 et 20 novembre 2016)
 That Mélenchon  looks potentially capable of beating a Socialist candidate into fourth place no doubt counts in his favour – although no poll gives him a chance of getting to the run-off.
The reasons for the PCF's reservations – shared no doubt by many in Ensemble, are not hard to find. Beginning with the personality of the Man of Destiny.
We nevertheless cite a major source of difference which, given the importance of the issue of immigration in the coming contest,  will no doubt grow in importance
Philippe Marlière has noted (Guardian),
Despite a steady increase in Euroscepticism in France, the underlying principle of free movement of people across the EU remains broadly undisputed. Apart from in one telling area. There is growing evidence of opposition towards EU migrants and the notion of freedom in what has become known as "social dumping". This relates to "posted workers", employees sent by their employer to carry out a service in another EU member state on a temporary basis. Those EU workers do not integrate in the labour market in which they work.

Jean-Luc Mélenchon, an MEP, a presidential candidate in 2012 and running again in 2017, has singled out posted workers in a speech at the European parliament last July. He declared that "posted workers took the bread out of French workers' mouths". Part of the French left was stunned by words that could have easily been uttered by Marine Le Pen.
Meanwhile Jean-Luc Mélenchon  has insulted yet another section of the left. He has attacked the journalist and Latin American specialist  Paulo Paranagua with a series of allegations about his political past in Argentina.  The journalist, the Presidential hopeful  raved, had been objectively Muse of the CIA – no doubt the reason he was captured and tortured for his association with armed resistance to  the 1970s military regimes of the time. Paranagua was only released from an Argentinian gaol and deported to France after an international campaign in his defence.
A protest at these slanders has been launched: "Nous n'acceptons pas de voir notre passé commun insulté par J.L. Mélenchon". Signatures  include Alain Krivine..
Update, Post Primary Opinion Poll:
None of the left gets more than 13% in opinion polls, Fillon, 26% Marine Le Pen (24%) Emmanuel Macron – Centre (14%) et Jean-Luc Mélenchon (13%), t François Hollande9%, François Bayrou, Centre, à 6%. Ecologists Yannick Jadot and Nicolas Dupont-Aignan 3% Far-left Nathalie Arthaud et Philippe Poutou 1% – poll today l'Express.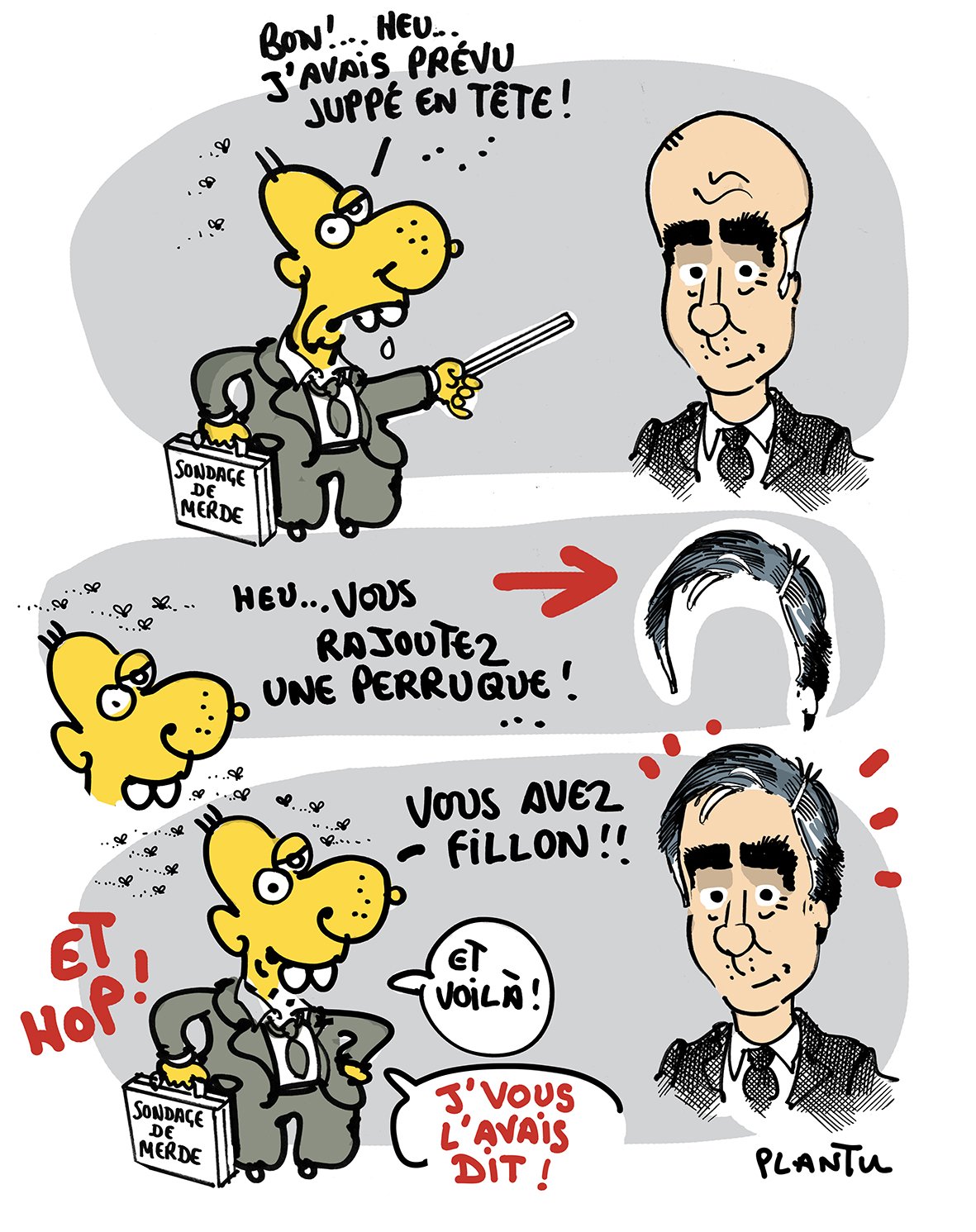 Pollsters Deny Not Having Foreseen Fillon's Win. 
Sarkozy's comeback in tatters as he's knocked out of French presidential primary
Reports France 24.
Nicolas Sarkozy, whose dream of a triumphant return to the French presidency was destroyed at the first hurdle Sunday, failed to shake off a reputation as one of the country's most divisive figures.

With tough talk on immigration, security and national identity, the 61-year-old tried to woo voters tempted by the far-right National Front with an unabashedly populist campaign.

But the man known universally in France as "Sarko" was humiliated in the rightwing's first ever primary, finishing third behind the man who served as his prime minister, Francois Fillon, and another ex-premier, Alain Juppe.

 "I have no bitterness, I have no sadness, and I wish the best for my country," Sarkozy said in a dignified concession speech.


Sarkozy

tried to bury the "bling-bling" image of his 2007-12 presidency by casting himself as a defender of the "down-and-outs against the elites".
Spare a minute, or an hour, for celebration as we pop open the Leffe.
The great man's supporters took his defeat calmly. At his HQ they shouted,  "it's the fault of the left" (recycling the claim that left-wingers joined in the primary to vote against their candidate)  and added, "you journalists are traitors to France". (Libération. Au QG de Sarkozy: c'est la gauche qui est «coupable»).
Sarkozy is now, more than ever, embroiled in scandal as these cases remain to haunt him.
A host of legal troubles failed to deter Sarkozy's bid to take care of what he considered unfinished business.

He became the first former head of state to be taken into custody for questioning when he was charged with corruption, influence peddling and violation of legal secrecy in July 2014.

In what is potentially the most damaging case, he is accused of conspiring with his lawyer to give a magistrate a lucrative job in exchange for inside information on a different corruption probe against him, in conversations on a secret phone registered under an assumed name.
Or, (Wikipedia),
5 July 2010, following its investigations on the Bettencourt affair, online newspaper Mediapart ran an article in which Claire Thibout, a former accountant of billionairess Liliane Bettencourt, accused Sarkozy and Eric Woerth of receiving illegal campaign donations in 2007, in cash.[148][149]

On 1 July 2014 Sarkozy was detained for questioning by police over claims he had promised a prestigious role in Monaco to a high-ranking judge, Gilbert Azibert, in exchange for information about the investigation into alleged illegal campaign funding. Mr Azibert, one of the most senior judges at the Court of Appeal, was called in for questioning on 30 June 2014.[150] It is believed to be the first time a former French president has been held in police custody, although his predecessor, Jacques Chirac, was found guilty of embezzlement and breach of trust while he was mayor of Paris and given a suspended prison sentence in 2011.[151] After 15 hours in police custody, Sarkozy was put under official investigation for "active corruption", "misuse of influence" and "obtained through a breach of professional secrecy" on 2 July 2014.[152] Mr Azibert and Sarkozy's lawyer, Thierry Herzog, are also now under official investigation. The two accusations carry sentences of up to 10 years in prison.[153] The developments are seen as a blow to Sarkozy's attempts to challenge for the presidency in 2017.[154][155]

On 16 February 2016, Sarkozy was indicted on "illegal financing of political campaign" charges related to overspending in his 2012 presidential campaign and retained as witness in connection with the Bygmalion scandal.[156][157][158][159]

In April 2016, Arnaud Claude, former law partner of Sarkozy, has been named in the Panama Papers.
A large shelf of books exists on this subject.
But they look now like the concern of specialists. Or gloaters…..
Now what of the actual result?
These are the figures at the moment (final result later today) ; François Fillon 44,1%, Alain Juppé,  28,6% et Nicolas Sarkozy  20,6%.
Former PM – under Sarkozy's Presidency, with whom he did not enjoy an always easy rapport  – (2007 – 2012) Fillon emerged as a front-runner only in the last few days. It was initially far from a landslide lead. (1)
Now he has swept his opponents aside.
French papers talk of his organised support amongst Catholic right-wingers (catholiques conservateurs, including the overtly anti=-gay, Sens commun, ): he is 'pro-family' and (….)opposed to the right of gay couples to adopt children and to have access to artificial procreation  (Loi Taubira) and is strongly in favour of opening new 'private', that is, Catholic and religious, schools. Fillion is tough on some aspects of immigration, without singling out (in contrast to Sarkozy) any particularly group. On Islam He stands for a big cut in the number of public employees and state spending, as well as measures to increase the working week (continuing his efforts as PM), and 'free' up labour laws.
As a conservative (values) and a liberal (economy) Fillon appeals to the widest possible constituency of the right. (le Monde) He is said to have appeared au dessus de la mêlée. Crudely he lacks the hysteria of Sarkozy's campaign, which became known for the former President's remarks against not only 'elites' but Muslims.
Fillon is also said to enjoy good relations with Russia's President Putin….( François Fillon et son ami Poutine).
What of the former favourite?
Alain Juppé (71 years old), has a past.
In November/December 1995, as Prime Minister his plan for Welfare State reform caused the biggest social conflict since May 68 and, under duress, abandoned it. He became the most unpopular Prime Minister of the Fifth Republic. " Juppé  has his own – conviction – for corruption, "n 2004, Alain Juppé was tried for the felony of abuse of public funds, when he was head of the RPR and the RPR illegally used personnel provided by the City of Paris for running its operations. He was convicted and sentenced to an 18-month suspended jail sentence, the deprivation of civic rights for five years, and the deprivation of the right to run for political office for 10 years. He appealed the decision, whereupon his disqualification from holding elected office was reduced to one year and the suspended sentence cut to 14 months.
That said, his slogan of  l'identité heureuse, (taken as a contrast to France's answer to Melanie Phillip's, Alain Finkielkraut's rant, L'identité malheureuse, 2013 – it is truly dire.)  was a welcome stand in favour of tolerance towards religious and ethnic minorities. This morning Juppé's supporters were claiming that there had been a sustained social media campaign against him alleging that he has close links with 'Islamists.'
Juppé still  intends to go to the second round on the 27th of November.
Meanwhile the French left still looks as if it is going nowhere.
(1) L'ultime enquête réalisée par Ipsos pour Le Monde, vendredi 18 novembre et publiée sur notre site Web, au lendemain du dernier débat, donnait pour la première fois le député de Paris en tête (30 %) devant Alain Juppé et Nicolas Sarkozy, tous les deux à 29 %. On était encore loin du scénario du raz-de-marée de dimanche soir. le Monde.