Posts Tagged 'France'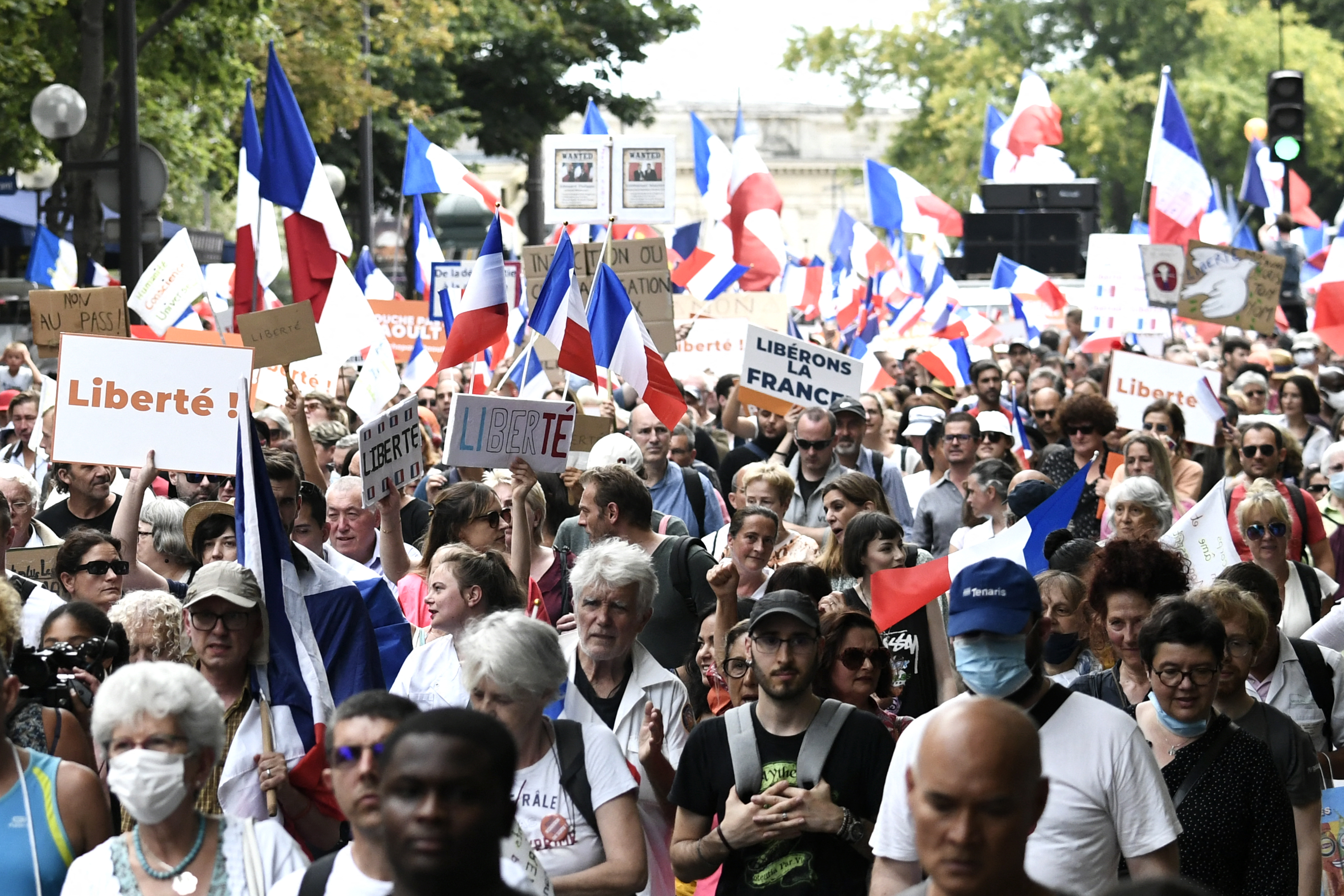 Another weekend of protests against France's 'health pass' restrictions
France 24.
Thousands of people demonstrated in the streets of France again on Saturday against the government's Covid-19 vaccination policies amid concern from rights groups about anti-Semitic sentiment in the protest movement.
Saturday's protests were called for the sixth weekend in a row to denounce a new "health pass" system announced by President Emmanuel Macron that they see as unfairly restricting the rights of the unvaccinated.
The Ministry of the Interior put the number of people turning out at around 175,000 at 220 demonstrations nationwide, including 14,700 in Paris, as of 1900 GMT.
The protest movement has brought together conspiracy theorists, anti-vaxxers, former members of the "Yellow Vest" anti-government movement, as well as people concerned that the system unfairly creates a two-tier society.
Anti-Semitism worry
The anti-health pass movement has been marked from the beginning by slogans and symbols that have been denounced by Jewish groups and anti-racism campaigners.
Some protesters have worn yellow stars similar to the ones that the Nazi regime forced Jews to display during World War II, leading to condemnation from Holocaust survivors for the offensive comparison.
Others have been photographed holding up signs with the word "Qui?" (meaning "Who?"), a coded reference to Jews who are accused of spreading Covid propaganda through the media and profiting from vaccination campaigns.
"What I find striking is how it (anti-Semitism) is recurrent and openly displayed," the head of SOS Racisme, Dominique Sopo, told AFP.
"During the Yellow Vest movement it was something expressed on the margins… now the people carrying these signs are not hiding and other protesters are not reacting."
Left-wing newspaper Le Monde condemned the rise in anti-Semitic behaviour in an editorial this week, calling it a "poison for society, a danger for all of us."
"Although anti-Semitism on the far-right is old, it seems to be encouraged at the moment by the rise in conspiracy thinking," it added.
Tristan Mendes-France, a specialist on the conspiracy movement, called Covid-19 "an accelerator of anti-Semitism because we are seeing a tragedy unfold continuously.
"People who have fallen into the conspiracy theory movement online are reminded daily about their anger and their frustration because we're always talking about the epidemic. It's like rubbing salt in an open wound."
******
A leading figure has been Florian Philippot who leads the far right, pro Frexit group, Les Patriotes:
Manifestations anti-pass : rixe violente entre extrême droite et extrême gauche à Montpellier
Libération.
A fight pitted demonstrators from several far-right groups and anti-fascists in Montpellier on Saturday during an anti-health pass rally. Several people were injured.
After Nantes three weeks ago, Montpellier was the scene of a violent fight this Saturday between anti-fascist and far-right activists on the sidelines of a demonstration against the health pass. A brawl that left several injured in the ranks of the far left and in those led by the Ligue du Midi, an identitarian group, regionalist and Islamophobic well known in the region for its violence.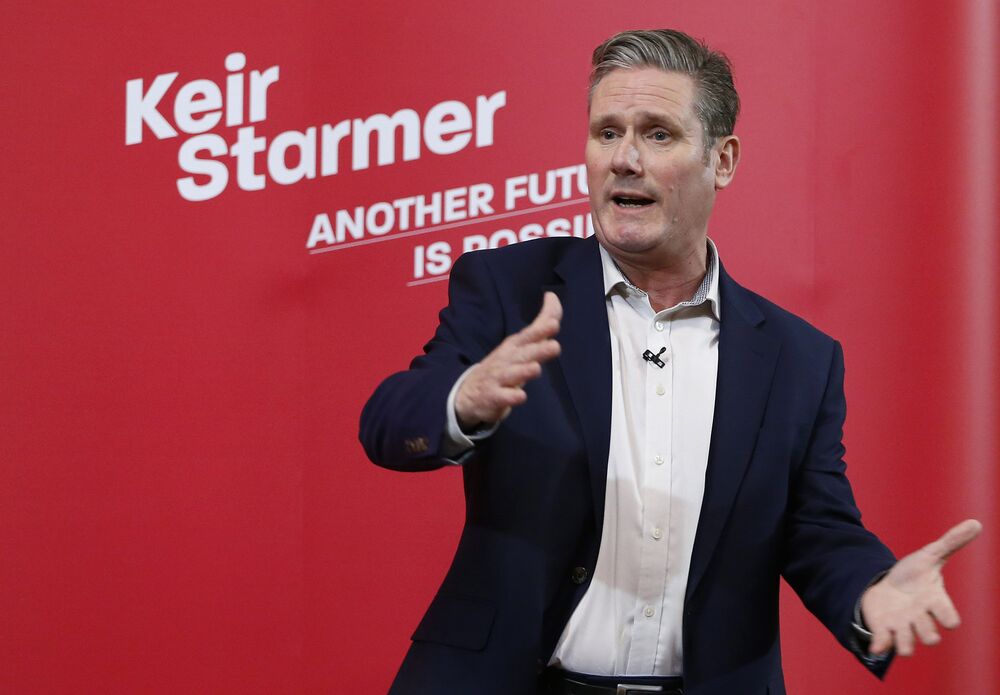 A number of different takes on the future of Labour and the left have emerged in recent months.
Last week Andrew Fisher (Labour party's executive director of policy from 2016 to 2019) made an important contribution that should help focus minds. He wrote that,
The idea of winning back millions of Tory supporters is a misdiagnosis. The aim should be registration and participation
The party has an identity crisis that reflects a changing class composition across demographic and geographic divides. In Scotland, the rise of Scottish nationalism and a Conservative unionist counterweight appears to have closed the door on Labour winning the sort of landslide the party used to take for granted, even in its dismal defeat in 2010. No wing of the party, in Westminster or Holyrood, has yet found an answer to that conundrum. These challenges are significant, but they are not insurmountable. If Labour is to win again, it has to be crystal clear about its potential voters – and the electoral coalition it needs to win.
One could observe that these demographic and geographical divisions – including the erosion of the Red Wall, and the rise of middle class led Scottish nationalism – are reflected in other parts of Europe. Centre and centre right nationalism has strong support in Catalonia. In Belgium where linguistic issues also play a big role, the Socialist Party, Forward, Vooruit, and is a small minority in the Flemish region, (13 out 124 in the regional Parliament, Greens with 14 and the once Marxist-Leninist Partij van de Arbeid van België, 4). The erosion of the Northern Labour vote can be paralleled in Northern France (though not in Belgium's Wallonia).
The cultural and economic basis of the decline of this electoral constituency has been explored in a series of books in France over the last decade. Retour à Reims by Didier Eribon is a personal and literary journey to the once heartland Communist and Socialist North of France where many people now back the far-right Rassemblement National of Marine Le Pen. There are many more directly sociological works. A parallel between the writings of Christophe Guilly on La France périphérique (2014), (see his more recent Le Crepuscule De La France D'en Haute 2017) , the left-behind 'real' rooted working class and salaried people living in in non-metropolitan areas and the cosmopolitan left and the British Blue Labour tendency is obvious. Guilly has been criticised for his broad generalisations. A summary of the debates about the claims, and sustained critique is given in La Grande Confusion Phillipe Corcuff (2021) who notes their ethnic, that is, anti-immigration, drift and the echoes of his views on the right and extreme right and a part of the 'confusionniste' left. Numerous studies show that poverty is mainly concentrated in urban areas. Thus, three quarters of the working class do not live in "peripheral France" but in the cities. A similar remark can be made about the urban working class in the UK, many of whom continue to back Labour, and, in London, and other cities, were often voters against Brexit.
In this year's regional elections the left vote, thought by some to have fractured into irrelevance, held up. If the mainstream centre right were the victors, he Socialists, sometimes in second-round alliances with La France insoimuse (LFI) and Greens (EELV), also drew some comfort, especially from Carole Delga's victory in Occitanie in the south with a record score of 57.8%. The underlying problem was nevertheless abstention, 68%, much of which affected the left vote.
In No Society. La fin de la classe moyenne occidentale, (2019) Guilly talks of the new bourgeoisie is formed, the "winners of globalisation" concentrated in globalised metropolises as the focus of economic and / or cultural and geographic domination. The traditional middle class position of white collar workers and small businesses has been wreaked. Above all he argued (which can be supported by comparisons across Europe, Universal Credit being one) its is the welfare state and social security which has been cut back and replaced by reduced cover and 'flexible' working arrangements.
Without direct political representation, and deprived from an open voice even inside social democratic and left parties that have undergone a long process of embourgeoisement the sovereigntist author asserts that electoral 'soft power' to protest (Gilets Jaunes) or the vote people out, continues. Writing in the Guardian in 2019 Guilly claimed,
In France, the working classes donned hi-vis vests to show they still existed. Their British counterparts seized on Brexit to send the City of London a wake-up call. All over the western world, globalisation's losers are pulling the strings of populist leaders in order to raise their own visibility. Far from being all-powerful, or even political wizards, the likes of Donald Trump, Matteo Salvini and Nigel Farage are little more than puppets of the working classes.

How Macron discovered the soft power of the working class

Yet in the UK it was a section of this internationalised bourgeoisie which backed Brexit, supported by the sovereigntist anti-EU left and their hangers on, and now runs the government in the form of the present Conservative Cabinet. Few would assert that Johnson is a "puppet' of the working class. National populism is better at manipulating people than the 'people' are at using them.
So how does this help explain some of the background to Labour's present difficulties? If there are, without doubt, underlying social trends at work which have dethatched' a traditional social base from the left the ability of 'voluntarist' politics, populist or not, to win support suggests that political strategy has a big part to play.
Fisher says,
Labour lost Hartlepool because, as deputy leader Angela Rayner confessed, "people didn't know what Keir Starmer stood for". Activists and MPs who trod the streets in May's dire elections almost universally complained about the lack of clear, flagship policies on the doorstep. That complaint is recognised in the central thesis of Mattinson's leaked analysis: that Labour needs "clearer, sharper, more uplifting messaging about the party's values and Starmer's vision".
He continues,
The reason why Labour should focus on non-voters is pragmatic: there are simply more of them, and 2017 showed they can be inspired to vote Labour. Non-voters are more likely to have at least one of these overlapping characteristics: working class, young or from ethnic minority communities. All three of these cohorts have one thing in common: if they do vote they are more likely to vote Labour. But mobilising them will require the strongest voter registration drive in Labour's history to overcome the voter suppression tactics that this government has imported from the American Republican right.
This important point reinforces the message that abstention, as in France, could become a growing problem for the left.
The conclusion,
Voter registration drives are labour intensive: they require passionate supporters going door to door in the right neighbourhoods with the right message. Social media can do some of the work, but it is no substitute for human engagement in target seats. It's worrying, therefore, that Labour membership, as reported to last month's national executive committee, has dived by 116,000 since Starmer became leader.

In contrast, when Labour inspires people to vote for them, it also inspires them to join. Starmer's Labour must resist a strategy of triangulation based on exaggerated numbers of Labour-Tory switchers, and instead prioritise a strategy of inspiration: only then will it stand any chance of winning the next election.
Fisher may put too much emphasis on inspirational words; he is not wrong that it would be a mistake to focus on the views and needs of those who have voted Tory. A bit of 'oomph' is needed and clarity about the message. We could do with some strong campaigning on issues like rents and Universal Credit as well.
In this respect Dave Osler points in the right direction,
The next war is going to be different. Instead of harking back to 1990s Cool Britannia and the permanent 20 point poll lead Blair was gifted by Black Wednesday, Starmer needs to stop evading the fundamental question of what Labour stands for in the 2020s.

If he fails to do so – and do so soon – the battle is already lost.

By contrast Counterfire which runs what remains of the People's Assembly Against Austerity, and has a strong influence of the veteran protest group the Stop the War Coalition, has its own answer to the left's difficulties.
Is the party over? Starmer and the deep problems of social democracy
As the right strengthens its grip on Labour, Chris Nineham looks at the context of of Labour's crisis.
The crucial thing here is that we understand that there is politics outside of parliament, and that this is in fact the most important kind of politics. Tony Benn, the leading figure on the Labour left in a generation, left parliament in 2001 to, in his words, 'devote more time to politics'. Amongst the most important things that have happened in Britain in the last twenty years have been the anti-war movement in which he played such an important role, the anti-austerity movements, the Black Lives Matter protests and the massive campaign in solidarity with Palestine.
Speaks the group which has made a specialism of running street protests…..
The last People's Assembly demo on the 26th of June got a "good few thousand" on it.
Urrugne, in the Pyrénées-Atlantiques: arson attack against a marquee hosting a Vaccination Centre
Anti-vaccination activism against Covid-19 measures has moved to a higher stage – with serious attacks and damage against vaccination centres and death threats – after the government decided on 'health passes' (pass sanitaire) and he compulsory vaccination of nursing staff and carers.
People having been setting fire to vaccination centres.
Swastisjas, New Genocide, Assacin (word play on assassin and vaccin).
Last week.
More than 100,000 people rallied across France on Saturday to protest President Emmanuel Macron's plans to require a Covid-19 "health pass" to access public places such as cafés and cinemas starting next week. In addition to traditional concerns about curtailed civil liberties, conspiracy theories have fuelled the opposition to making proof of vaccination obligatory.
The move has provoked furious opposition among many in France: some 137 rallies took place across the country on Saturday, gathering nearly 114,000 demonstrators (including 18,000 in Paris), according to the interior ministry.
Many appeared to have taken to the streets out of a libertarian belief that obliging people to be vaccinated if they want to access public venues and activities is an infringement on their basic rights. "In no way does a president have the right to decide on my individual health," one Paris protester, who gave her name as Chrystelle, told Reuters.
Lucien, a young shop manager demonstrating in Paris, told AP he was by no means an "anti-vaxxer" but that the state should not effectively coerce people to get inoculated. "The government is going too far," he said.
Some mainstream politicians have echoed these arguments. François-Xavier Bellamy, a prominent young MEP for the conservative Les Républicains party, and Loïc Hervé, vice-president of the Senate's Centristes bloc, penned a joint opinion piece in Le Figaro this week in which they laid out their reasons for opposing the measure.
"Opposing the health pass does not make someone an anti-vaxxer," they wrote. The "essential problem" with the pass is that, "for the first time in our history, people will have to present a document in order to do the most simple, ordinary things".
But most of the political opposition to the health pass has come from extremes on both sides of the political spectrum. Macron's plans mark a "backward step for personal freedoms", said leader of the far-right National Rally (Rassemblement National or RN) party, Marine Le Pen, earlier this week. The health pass is an "abuse of power", thundered Jean-Luc-Mélenchon, leader of the extreme-left France Unbowed (La France Insoumise or LFI).
LFI firebrand François Ruffin went further on Friday as he urged people to rally, characterising the health pass as a means of "humiliation" coming from an "absolute monarchy" in the form of Macron's government. Florian Philippot, Le Pen's former right-hand man and leader of the right-wing populist Les Patriotes party, declared ahead of Saturday's protests that they would demonstrate the "power of the people" in the face of a "disgrace".
Various populists have argued against the health pass on civil libertarian grounds, avoiding anti-vax statements. But many of Saturday's protesters thought differently.
Tellingly, when Philippot was addressing the Paris rally and introduced a man called Benjamin onto the stage, saying, "He got vaccinated, but that was his choice," there was an awkward moment of hesitation in the crowd, Le Figaro reported. It then erupted into cheers when Philippot said, "But he's against the health pass!" as Benjamin ripped up his vaccination certificate.
Embedded in the crowd, Le Figaro's reporter repeatedly overheard conspiracy theories such as that the pandemic "was orchestrated in advance" and "it's all to make money for the laboratories". When Richard Boutry – a former France Télévisions journalist who now tours the country propagating conspiracy and anti-vax ideas – arrived on the scene, many demonstrators chanted his nickname: "Ricardo! Ricardo!"
"We're members of the Resistance; you've only just go to look at what happened under Vichy – one minute different people have different rights, the next …" a demonstrator told Le Figaro's reporter – one of several comparisons he heard to the Nazi Occupation.
On Friday night, a vaccination centre in rural southeastern France was broken into and vandalised with the Cross of Lorraine (a symbol of the French Resistance) and graffiti saying "Vaccination = genocide" and "1940", presumably a reference to the year the Vichy regime was founded.
"I feel there were likely fewer avowed and strident civilian libertarians than there were conspiracists at these demonstrations," said Andrew Smith, a professor of French politics at the University of Chichester.
French anti-vaxxers likening themselves to the Resistance constitutes a "worrying manipulation of history", he continued.
"It also shows something very specifically French about the anti-vax movement in the country. That language about defeat, collaboration and Nazism – it's a big difference from what you see in Anglo world, where Nazis are, of course, often the bad guys many people evoke but it's much more abstract."
Rise of QAnon
Polling data shows that French anti-vax sentiment has waned as the vaccination rollout proceeded in the first half of the year. Nevertheless, an OpinionWay survey published in May found that 20 percent of French adults would turn down a jab while 13 percent are undecided.
The French Academy of Medicine has said the country needs 90 percent of its adult population to be fully vaccinated to receive herd immunity and defeat Covid-19.
The popularity of French pseudo-documentary "Hold-Up" shows that Covid disinformation has a big audience in this country. Endorsing an array of debunked claims, the online film got more than 2.5 million views after its release in November, with several famous faces including iconic actress Sophie Marceau sharing the video.
It is in this context that the QAnon conspiracist phenomenon – which weaves falsehoods about the coronavirus into a broader tapestry of fantasy, including warning of a worldwide cannibalistic cabal of paedophiles – has grown in France over the past year, boosted by French-language misinformation websites such as DéQodeurs and FranceSoir (a renowned broadsheet in the years after the World War II, which closed in 2012 before re-emerging two years ago as a conspiracist Internet publication).
Today from the same le Monde article,
Selon une note des renseignements territoriaux, s'y côtoient l'ultradroite et l'ultragauche, militants politiques, militants antivax, complotistes, personnels soignants, professionnels concernés par les mesures sanitaires ou encore « gilets jaunes »
According to a note from territorial intelligence, there are the ultra-right and the ultra-left, political activists, anti-vax activists, conspirationnistes, nursing staff, professionals concerned by health measures and also "Gilets Jaunes'.
Example:
More confusionnisme (from a French FB mate).
Les jaunes victimes d'apartheid ….