Posts Tagged 'France'
Charlie Hebdo Helpfully Suggests Zemmour Campaign Posters.
A few weeks ago an article in the French press remarked that it is tempting to run a new story every day about extreme right, will-he-or-won't-he-run-for-President Éric Zemmour, the dances of the seventy veils as he shows his latest provocations, the cadres of the far-right backing him, amongst the crowd are (there is a constant stream) the anti-Semite Hervé Ryssen, radical identitarians like Daniel Conversano, up to the outermost fringes (latest, "La Famille gallicane"), his social network successes, and his wealthy backers, beginning with Charles Gave, and his potential electorate, "an alliance between the patriotic bourgeoisie and the popular classes" (i.e. workers, unemployed and lower middle class), with highest support from Marie-Le Pen and classic right-wing François Fillon voters (BFMTV) There has also been this, "France's chief rabbi called Eric Zemmour, a Jewish journalist and far-right provocateur thought to be weighing a presidential bid, an antisemite." (Times of Israel. 2.10.21)
For those welcoming the split on France's far right between Zemmour and Marine Le Pen, which has weakened the support for her Rassemblement National, one should caution that the major effect has been to drag French political debate on the terrain of the identity anti-immigration politics of this pair and to render almost inaudible the campaigns of the fractured left wing candidates (at least 7 of them). In this atmosphere it is wonder that Michel Onfray has drawn together an alliance of sovereigntist ideologues in his magazine Le Front Populaire. axed towards the nationalist right but including one-time left-wingers. As Yves Colman has pointed out, the former left drawn to the politics of this side are no longer evidence of 'confusionism' but part the national populist far right.
The polemicist's most recent book, La France n'a pas dit son dernier mot (France has yet to say her last word), is a vulgar self-regarding, self-pitying 359 page long journal starting in April 2006. Launched to boost his campaign, over 205.000 copies have already been sold. This long pamphlet has a title whose rancorous tone that sounds like a cornered villain shouting "You haven't heard the last of me! Come And Get Me Coppers!".
It is a "man obsessed with the idea of ​​an inevitable fight to the death between the "native" French people of true national stock and the "enemies of France", full of whingeing about feminism, gay marriage and his least favourite Daily, Libération, lightened by memories of playing Monopoly in a lost paradise of Gallic culture – Suburban France. Amongst the sustained hatred against the Great Replacement, a war waged by "envahisseurs prédateurs "(Predatory Invaders) we learn that in the Battle of Civilisations only France has a truly "Great" (Grande) Cuisine.
One of the few passages of note, as the writer talks of his brushes with famous people – his list of dining companions outclasses The Goncourt Journal – is a convivial visit in 2015 to Régis Debray, a sage much liked by New Left Review. Zemmour describes the once-upon-a-time revolutionary as his own Barrès (novelist and founding figure of La Terre et les Morts refrain) and Paul Valéry (greatly loved poet and essayist, yes I find the reference to him obscene, Le cimetière marin is one of the best poems ever written, his is the subject of a book by Debray, out in 2019). The one-time guerrilla says that he feels like he is living like a monk during the Fall of the Roman Empire, looking at ancient Greek manuscripts in which nobody else is interested. Debray said that he agrees with Zemmour's views in his best known books, Le Suicide Français about everything except women, Islam and Vichy. Look it up, "J'ai bien lu votre Suicide français. Je suis d'accord avec tout. Sauf sur les femmes, l'Islam and Vichy" (Page 216).
Britain is now catching up on the permanent news machine that is Zemmour:
Royal Institution cancels event with far-right French pundit Éric Zemmour
Guardian.
London's prestigious Royal Institution has cancelled an event at which the far-right French TV pundit Éric Zemmour was due to speak on Friday.
Zemmour, who has convictions for inciting racial hatred, is due to arrive in London on Thursday as he ponders a potential run in France's presidential elections next year.
He was due to speak in the grand surroundings of the RI's headquarters in Albemarle Street off Piccadilly, in an event billed as "Eric Zemmour in London". The venue appears to have been deliberately chosen for its grandeur and association with the RI, which was founded in the 18th century to promote science and research and which boasts Prince Charles as one of its patrons.
The RI stressed that it had not invited Zemmour to speak and had only cancelled the booking after researching his background.

In a statement it said: "The RI has taken the decision to cancel a private venue hire booking for an event featuring the media commentator and politician Eric Zemmour."

It added: "The booking was received at short notice and was one of many the RI receives each week. Following a process of due diligence the RI has taken the decision to cancel the venue hire event and therefore Mr Zemmour will not be speaking at the RI."
Meanwhile.
Many famous and even notorious French writers and statesmen have sought refuge in England over the years. It's the proud boast of the English to have hosted generations of exiles and dissidents from Voltaire to Zola, Napoleon III to De Gaulle. That was then. Zemmour appears to offend the tender sensibilities of today.
I hear through a paper cup through a very long piece of string that on orders from Number 10, Conservative MPs have been banned from meeting Zemmour in London this week, for the absurd reason that this is a sensitive time in Anglo-French relations. As if Anglo-French relations have not been sensitive for 1,000 years.

Michael Gove was said to be interested in meeting Zemmour. I'm guessing that won't happen. It seems like a missed opportunity. Zemmour has at least a theoretical chance of being the next president of France. Is it smart that London should snub him? A cheeky Boris would be rattling Macron's cage, inviting Zemmour to Downing Street for a cup of tea and a photo opp.

Zemmour will go ahead with private dinners in London as he raises money in advance of a possible declaration of his candidacy on 5 December at the gigantic Zenith concert hall in Paris. Where he's not been cancelled. He has been speaking right across France recently without being cancelled. That he's been shut down in London is pathetic.

To be honest I was not surprised to hear that Zemmour had been blacklisted (if you're allowed to say that). For all its grandeur, the Royal Institution is evidently thoroughly woke, and only took the booking in the first place because it was too dim to refuse the money. It's also been fairly broke, one reads.

François Fillon, the French presidential centre-right candidate five years ago until he was written out of the script by a corruption investigation, spoke at the Royal Institution, so presumably it's not French politicians generally who are unacceptable. As they say in France: 'C'est comme ça.' There have supposedly been 25,000 lectures at the Royal Institution but in our age of Cancellation, Eric Zemmour's will not be amongst them.
Zemmour sill stands at 17% in opinion polls to Marine Le Pen's 16%. The chances of there being a run off between a far-right candidate and Emmanuel Macron remain very very high.
In the Footsteps of Flora Tristan. A Political Biography. Máire Fedelma Cross. Liverpool University Press.
(Published, slightly shorter, in the Reviews section of the latest Chartist magazine – November/December).
Flora Tristan (1803- 1804) has, writes Máire Cross, "has achieved as much literary and political renown since her death as during her tumultuous life." She "became a conduit for a certain kind of socialism and feminism." and "a symbolic figure in militancy". Denied a part in the inheritance from her wealthy Peruvian family her first work was Pérégrinations d'une paria (1838). An unhappy marriage to an abusive husband ended with him attempting to kill her in a public shooting in 1838. Tristan's feminism kept alive and developed the declarations of women's rights by Olympe de Gouge (executed on the Guillotine during the Reign of Terror) and Mary Wollstonecraft (a writer Tristan admired), during the time of the French Revolution.
At the age of 41, shortly before her death, her last work was a call to create a universal workers' union, the Union Ouvrière (1843). This call to 'organise" labour was said by Marx and Engels to anticipate "Critical Criticism" (The Holy Family. 1844). In 1890 the theorist of reformism and "socialisme intégrale" Benoît Malon, celebrated its role in promoting the "international dimension" to workers' interests and class struggle. The French socialist academic Charles Andler, in 1907 generously (the text itself contains many ideas) saw in her initiative an outline of the "frame of the Workers' International". Yet the First International did not acknowledge the woman who had cried Workers of the World Unite! – four years before the Communist Manifesto.
In the Footsteps does not just trace the path of Tristan's life, or her reception and interpretation, academic and political. It is the story of two political legacies, "My contention is that the political legacies of Flora Tristan and Jules-Louis Puech beyond their graves are completely intertwined", Their works, are, she argues, best seen in a "double biography". Above all, Puech kept the memory of Tristan's work alive and introduced her to new audiences in the 20th century.
Puech wrote prolifically (53 documents in the BNF) on Pierre Proudhon, socialism and utopianism. He embarked on the "trail of Flora Tristan" before the Great War, in which he fought despite his pacifist sympathies. His biography, La Vie et Oeuvre de Flora Tristan appeared, finally, in 1925. A "bourgeois", married to the "suffragette and feminist" Marie-Louise Puech, (women had to wait till 1944 to get the vote in France) he was not a card-carrying socialist but had empathy for the left individuals and movements he wrote about. He was, she suggests, both a "spectator" and engaged.
Máire Cross makes a solid case that this deeply researched, "history from below" "seeking out forgotten lives" was a forerunner of modern "new social history".
Tristan Puech paid due attention to the on-the-ground campaign for the workers' union in 1843 and 1844, from her diary, meeting reports, and, more than 200 letters sent to workers. This is the background to Flora Tristan's Diary: The Tour of France 1843–1844. This, she contrasts – rightly – with the approach taken in books such as G.D.H.Cole's 5 Volume The History of Socialist Thought in the 1950s which concentrated on governments, conferences, the broad sweep of the socialist movement rather than the "little people".
Puech also helped create the "Association of friends of Proudhon". The theorist of 'mutualism' was probably the most anti-feminist thinker on the 19th century left. His followers continued to oppose women's rights in the 1st International. It is a paradox that somebody who warmed to a man, hostile to any role for women "outside the home" could be sympathetic to Flora Tristan.
Perhaps one of the best introductions to Flora Tristan is her Promenades dans Londres, 1840. (The London Journal of Flora Tristan,). This lucid outsider's view of London in the late 1830s.includes scenes of great poverty, aristocratic richness, hypocrisy, and her meetings with London radicals, Chartists and democrats. It covers a world that was different from the proletarian and industrial North of the Condition of the Working Class in England (1844). The scenes described in Outcast London by Gareth Stedman Jones. (1971, " with its vast numbers of casual and irregular day labourers and the artisans and seamstresses engaged in seasonal and workshop trades" suggest that class structures in the British capital had far from simplified into bourgeois and proletarians by that time, even if one subtracts the presence of the "aristocracy". What Tristan meant by 'working class', and what kind of 'union', and future she offered, in these conditions, may not be what a 21st century reader would be thinking of.
In the Footsteps of Flora Tristan is in some respects a specialist work. Yet it contains such a wealth of research and analysis that Máire Cross illuminates whole areas of socialist, feminists and labour history. It should shape all future studies on Flora Tristan and, one hopes, Jules Puech.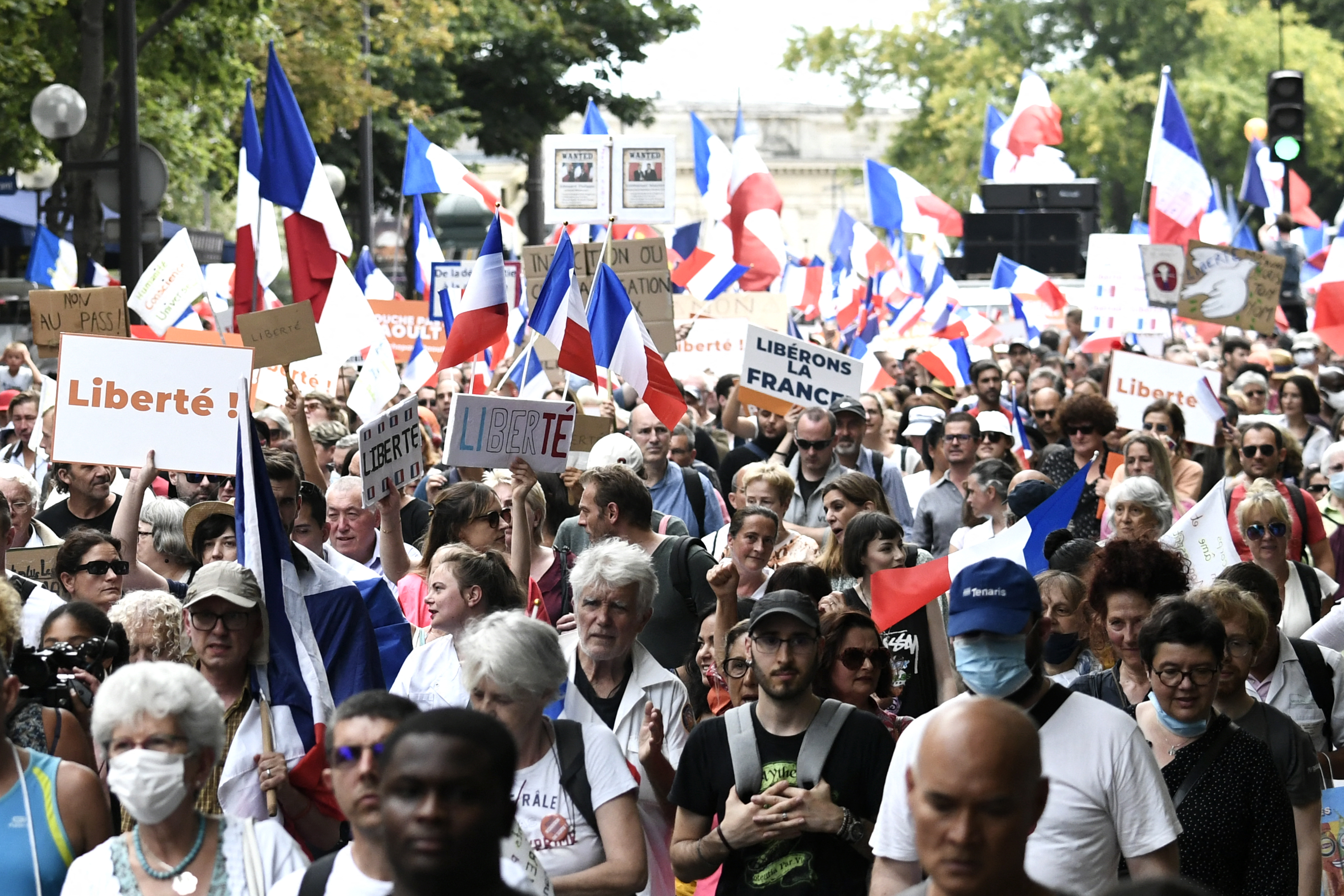 Another weekend of protests against France's 'health pass' restrictions
France 24.
Thousands of people demonstrated in the streets of France again on Saturday against the government's Covid-19 vaccination policies amid concern from rights groups about anti-Semitic sentiment in the protest movement.
Saturday's protests were called for the sixth weekend in a row to denounce a new "health pass" system announced by President Emmanuel Macron that they see as unfairly restricting the rights of the unvaccinated.
The Ministry of the Interior put the number of people turning out at around 175,000 at 220 demonstrations nationwide, including 14,700 in Paris, as of 1900 GMT.
The protest movement has brought together conspiracy theorists, anti-vaxxers, former members of the "Yellow Vest" anti-government movement, as well as people concerned that the system unfairly creates a two-tier society.
Anti-Semitism worry
The anti-health pass movement has been marked from the beginning by slogans and symbols that have been denounced by Jewish groups and anti-racism campaigners.
Some protesters have worn yellow stars similar to the ones that the Nazi regime forced Jews to display during World War II, leading to condemnation from Holocaust survivors for the offensive comparison.
Others have been photographed holding up signs with the word "Qui?" (meaning "Who?"), a coded reference to Jews who are accused of spreading Covid propaganda through the media and profiting from vaccination campaigns.
"What I find striking is how it (anti-Semitism) is recurrent and openly displayed," the head of SOS Racisme, Dominique Sopo, told AFP.
"During the Yellow Vest movement it was something expressed on the margins… now the people carrying these signs are not hiding and other protesters are not reacting."
Left-wing newspaper Le Monde condemned the rise in anti-Semitic behaviour in an editorial this week, calling it a "poison for society, a danger for all of us."
"Although anti-Semitism on the far-right is old, it seems to be encouraged at the moment by the rise in conspiracy thinking," it added.
Tristan Mendes-France, a specialist on the conspiracy movement, called Covid-19 "an accelerator of anti-Semitism because we are seeing a tragedy unfold continuously.
"People who have fallen into the conspiracy theory movement online are reminded daily about their anger and their frustration because we're always talking about the epidemic. It's like rubbing salt in an open wound."
******
A leading figure has been Florian Philippot who leads the far right, pro Frexit group, Les Patriotes:
Manifestations anti-pass : rixe violente entre extrême droite et extrême gauche à Montpellier
Libération.
A fight pitted demonstrators from several far-right groups and anti-fascists in Montpellier on Saturday during an anti-health pass rally. Several people were injured.
After Nantes three weeks ago, Montpellier was the scene of a violent fight this Saturday between anti-fascist and far-right activists on the sidelines of a demonstration against the health pass. A brawl that left several injured in the ranks of the far left and in those led by the Ligue du Midi, an identitarian group, regionalist and Islamophobic well known in the region for its violence.