Posts Tagged 'European Union'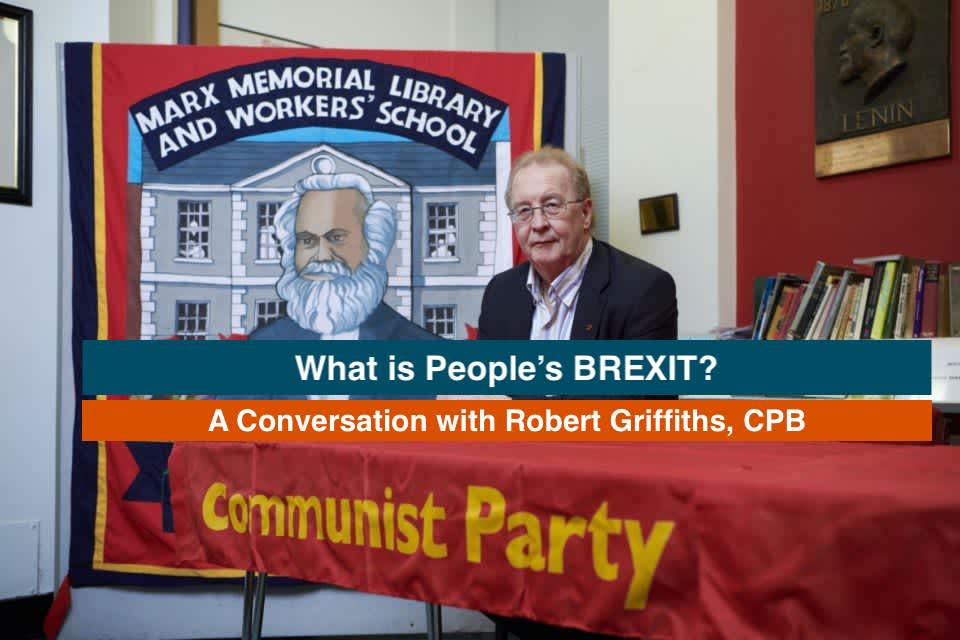 Be Vigilant! Communists Warn of Labour MPs' "sabotage" against Brexit on April the 12th on World Trade Organisation terms.
Communists condemn 'saboteur' MPs and demand April 12 EU exit
3rd of April.
Monday evening's votes in the House of Commons confirm that a substantial number of MPs remain determined to bind Britain as closely as possible to the EU and its rules and institutions if they cannot stop Brexit altogether.

These MPs show utter contempt for the EU referendum result – the biggest democratic vote in our history – and make a mockery of their past pledges to 'honour' the decision made by a clear majority of voters.

A majority of MPs have no genuine disagreement with the Prime Minister's Withdrawal Agreement which ties Britain to the EU Single Market in most goods, keeps us permanently aligned with the EU Customs Union through the unnecessary Irish 'backstop', maintains EU Court of Justice sovereignty in large areas of economic and social policy and pledges to pay the EU at least £39bn in a bogus divorce settlement.

However, a substantial number of these are also holding out in the hope of locking Britain permanently into a customs union or overthrowing Brexit altogether in a second referendum that would exclude a real exit from the ballot paper.

Tragically, many of these would-be saboteurs are Labour MPs who put their loyalty to the EU above any loyalty to democracy, popular sovereignty and the Labour Party.

Many are opposed to the leadership of Jeremy Corbyn and have no concern that by painting Labour as an anti-Brexit party they are jeopardising the prospects of a left-led Labour government. Some openly support the possibility of an all-party 'national government'.

The priority now must be to allow Britain to exit the EU on April 12 on The priority now must be to allow Britain to exit the EU on April 12 on World Trade Organisation terms and secure an early General Election and a Labour victory.and secure an early General Election and a Labour victory.

That government would then be free to carry out Labour's left and progressive policies, which include aid for manufacturing industry and mutually beneficial trade agreements with European and developing countries.
What, some wreckers and saboteurs might dare to ask, is a Brexit on WTO terms?
Brexit: What is the 'no deal' WTO option?
One of the terms that keeps cropping up in the Brexit debate is "the WTO option".

If the UK left the European Union without a deal, it would automatically fall back on World Trade Organisation (WTO) rules.

So what would that mean?

First, the basics. What is the WTO?

The WTO is the place where countries negotiate the rules of international trade – there are 164 members and, if they don't have free trade agreements with each other, they trade under "WTO rules".

Which are?

Every WTO member has a list of tariffs (taxes on imports of goods) and quotas (limits on the number of goods) that they apply to other countries. These are known as their WTO schedules.

The average EU tariff is pretty low (about 2.8% for non-agricultural products) – but, in some sectors, tariffs can be quite high.

Under WTO rules, after Brexit, cars would be taxed at 10% when they crossed the UK-EU border. And agricultural tariffs would be significantly higher, rising to an average of more than 35% for dairy products.

The government has set out its plans for tariffs in the case of a no-deal Brexit.

Its temporary schedule would mean that 87% of imports by value will be tariff-free, compared with 80% before Brexit.

There will be some protection for companies producing cars in the UK, farmers producing meat and the UK ceramics industry. The government has attempted to balance the benefits of free trade in getting cheaper products for consumers, with protecting the livelihoods of some UK producers.
Some groups, which claim to be on the left, still cling to the idea of a "People's Brexit".
The Full-Brexit supporting Counterfire publishes today this;
Neoliberalism and Brexit: why Brexit is about more than just Brexit
"Brexit is about more than just Brexit" says Dragan Plavšić, "it's about the wider crisis of neoliberalism and the long-diminishing authority and standing of the British state and ruling class."
However, if Corbynism is indeed to be true to the discontented mood shift of which it is the most authentic expression, then it has to advocate a Brexit – a People's Brexit – that provides a future Labour Government with the necessary freedom to undo the destructive and devastating effects of forty years of neoliberalism. A People's Brexit is therefore the only real alternative to the neoliberals who wish to leave the EU or remain in it. A general election is feared by them all; the sooner we have one the better.
Most people will have forgotten what a 'People's Brexit' was ever meant to be – and Plavšić does not enlighten us in this reheated rhetoric.
But Counterfire has published articles arguing that WTO rules are better than the EU's,
"The WTO Red Herring

WTO anti-subsidy provisions are a completely different kettle of fish from EU state aid rules – being far narrower in their scope, far less stringent in their implementation and fundamentally different in how they operate.

The radical case against the single market is no myth February 2019. Reuben Bard-Rosenberg.
So the 'left' Brexit or People's Brexit camp has adopted versions of the Tory 'Hard Brexit' position, with the UK negotiating free trade deals with other states through the World Trade Organisation.
There is the minor problem that not only does this prospect go against present Parliamentary votes,  Labour policy, and the views of nearly all but the fringe of the fringe of the Party, but that it runs up against this prospect:
UK cannot simply trade on WTO terms after no-deal Brexit, say experts
The UK will be unable to have frictionless, tariff-free trade under World Trade Organization rules for up to seven years in the event of a no-deal Brexit, according to two leading European Union law specialists.

The ensuing chaos could double food prices and plunge Britain into a recession that could last up to 30 years, claim the lawyers who acted for Gina Miller in the historic case that forced the government to seek parliament's approval to leave the EU.

It has been claimed that the UK could simply move to WTO terms if there is no deal with the EU. But Anneli Howard, a specialist in EU and competition law at Monckton Chambers and a member of the bar's Brexit working group, believes this isn't true.