Posts Tagged 'Emmanuel Macron'
After the Dutch election, national populism is said to have another chance to make an impact in Europe in the French Presidential contest at the end of April (first round). Wilders may have been seen off in Holland but Marine Le Pen, who claims to promote the French "people" (in jobs, 'priorité nationale') against uncontrolled "mondialisation" (globalisation) the "elites" of the European Union. She leads the polls, with majority backing in the manual and administrative working class. The Front National's chances may have been increased by the scandals that have all but wiped out the hopes of victory of Les Republicans' candidate, François Fillon. It is claimed that many of the once favoured right-wing party's supporters, feeling that their man has been the victim of a judges' plot, filled with spite, and underlying affinity, could vote for the Front National in the decisive second round.
For some on the left of centre the candidacy of Emmanuel Macron, a liberal, economically and socially, centrist, "progressive" even a ""centrist populist" now represents the most effective riposte to the far right. A sizable chunk of the Parti Socialiste (PS) right and socially liberal personalities in the wider left orbit, have smiled on his candidacy. Polls suggest he may come close to Le Pen in the April ballot, and, with transfers from all sides of the political spectrum, though notably from left supporters, could win the two-horse play off in May.
A Bulwark against National Populism?
For some commentators Macron could be at the crest of a wave of modernising politics that may be able not just to defeat Marine le Pen but set an example to others on how to overwhelm nationalist populism. For others it could pave the way for an international renewal of the centre, or the 'centre left', including the one time dominant modernisers inside social democratic parties This has resonance in Britain, where Liberal Democrats gush admiration, former Social Democratic Party stalwart,  Polly Toynbee has fully endorsed him as a bulwark against Marine Le Pen, disappointed Labour leadership candidate, Liz Kendall is said to admire Macron, as has former Europe Minister Denis MacShane, who sees him as standing up to Euroscepticism, and would no doubt enlist him in the battle to rehabilitate Tony Blair's record in government.
It is tempting to think of, or to dismiss, Macron as a political entrepreneur, a "personality", the creator of a "start up", a political firm (Candidate Macron Jeremy Harding. London Review of Books. 15.3.17). Others have concentrated on attacking his "empty words" (discours creux), and efforts to appeal to all, strongly criticising French colonialism, while offering a dialogue with the ultra-conservatives of 'Sens commun', if not further right.
These, together with an elitist education and high-powered insider employment (from the heights of the State to Banking) are important facets of Macron's character, and his present politics revolved around that personality. But this is to ignore the reasons why this candidacy is unsettling the Parti Socialiste. The former Minister of the Economy (2014 – 2016) under PS Premier Manuel Valls, with, from time to time, most clearly from 2006 – 2009, membership of the Socialists, he was marked out for the economic side of his "social liberalism". Macron promoted the maximum loosening of labour protection in the El Khomri  labour law, and advanced his own proposals for wider economic reform.
A Tool Against Hamon.
The left outside of France was more interested in Socialist Party critics of the El Khomri law, the "frondeurs" for whom this summed up their dissatisfaction with Manuel Valls and François Hollande's market reform and fiscal policies. But Macron could be said to be embody the breakaway of the opposite side of the "synthesis" that held the government together between the Prime Minister's authoritarian modernisation and those with socialist and social democratic values. In this sense En marche! is a handy tool against the present candidate of the Parti Socialiste, Benoît Hamon, the left-wing 'frondeur' now representing the Party, with the support of the Greens, EELV and the small, but traditional ally of the Socialists, the Parti Radical de gauche.
The development of Marcon's campaign bears looking at through this angle. Briefly, in 2016, Macron wished the outgoing President, François Hollande, to stand again. Perhaps heeding Valls' own judgement that the divisions within the Left, including those inside his own party, were "irreconcilable" he founded his movement En marche! in April that year, as his personal ambition – were it possible – became more assertive, he was obliged to leave the government in the summer.
It is at this point that a programme publicly emerged. Relying on the authority of an economist he has now revived the deregulating, "working with grain of globalisation" "skills and competitiveness" economics of the 1990s centre left. In this vein the central elements of the electoral platform of En marche!, his "contract with France" (Retrouver notre esprit de conquête pour bâtir une france nouvelle) calls to "Libérer le travail et l'esprit d'entreprise" by lowering social charges and doing away with obsolete regulation. His priorities, if in power, are, he has announced to Der Spiegel, (March 17th)
Three major reforms: The labor market must be opened, we need improved vocational training programs and the school system needs to support equal opportunity again.
For Europe.
France must restore its credibility by reforming the labour market and getting serious about its budget.

(and, this precondition fulfilled…)

Much deeper integration within the eurozone.
Just beneath the surface language, which evokes a meld of promoting a "core" Europe (negotiated after a 'hard Brexit"….)  and French patriotic feelings it's not hard to discover the economic liberalism that Marcel Gauchet has described as fixing the limits of what is politically possible (Comprendre le malheur français 2016). Macron's core proposals could be said to be an internalisation of the reduction of state action to the needs of economic actors.
This is more than the traditional call to cut red tape. It is for a shake up of labour laws that El Khomri only began. The dream of much of French business, right-wing politicians, and pundits, but some on the PS right is apparently now possible because, Macron believes, we are in "extraordinary times"  The wish that France could follow other European countries and make a clean sweep of all the laws and protections that 'burden' the land's labour market, and revive the dream of 'flexibility' to meet the global challenge, had found its voice again. Perhaps it is no coincidence that a large section of the programme entitled "a State that Protects" is not devoted to welfare but to giving people a sense of security through the protection of the Police and Security services.
Beyond this constituency is Macron a newly minted saviour for the centre? He declares his movement, "transpartisan". As Thomas Guénolé, author of the witty, Petit Guide du Mensonge en Politique (A Brief Guide to Political Lies. 2014) points out in Le Monde, his "révolution par le centre" bears comparison with former President Valéry Giscard d'Estaing's "advanced liberalism" in the 1970s (Le macronisme est un nouveau giscardisme. 16.3.17). They have a shared admiration for the Swedish social model, hard, then as now, to translate in French terms, an identical privileged background, and support for social and economic liberalisation against socialism or, today, 'collectivism'.
It is difficult to see how this brand of "reformism" will marry welfare, and liberal economics. How "progressive" politics will deal with mass unemployment and the problems of the banlieue that successive modernising French governments of the right and left over last four decades have not resolved remains to be seen. Holding hands across the French social and political divide is unlikely to be the answer.
All Have Won, All Must Have Prizes!
The telegenic Macron would no doubt wish to begin the Presidency, transcending "party lines",  by announcing, "The Race is over! Everybody has won and all must have prizes! But who will award the trophies? What other forces will there be to do the job in the National Assembly, whose election takes place immediately afterwards and which forms the basis of a President's Cabinet?
The scramble to secure government posts and positions on Macron's hypothetical list of candidates for the Legislative elections, is accompanied by the refusal of former Socialist Prime Minister Manuel Valls (despite his own record of less than easy relations with the leader of En marche!) to back his own party's candidate Benoît Hamon.
Longer-standing political facts intervene at this point. While this hastily formed 'trans-party' may well get some candidates elected it is unlikely to win a majority in Parliament. As Guénolé points out, in order to establish his power properly Giscard had made a choice to ally with the right, the Gaullist party. Macron, while enjoying the backing of well-known individuals and small groups like the present incarnation of Giscardianism headed by François Bayrou and his MoDems, has yet to choose between an alliance with the real players: Les Républicans (LR) or the Parti Socialiste.
Either choice carries risks. The former agreement could end like that of the British Liberal Democrats and the Conservatives, alienating liberal opinion. The latter would run up against the left, including not just the Hamon wing of the Socialists but those further to his left.
We might ask if, and it remains an if, Macron becomes President, if the results of his programme, which subordinate politics to the economy, would really mean in the words of his programme, that everybody would be have more control over their own destiny and that people would be able to live better together ('chacun maîtrise davantage son destin et que nous vivions tous mieux ensemble') Standing against this possible future two left candidates, Hamon and Jean-Luc Mélenchon, both in their different ways, offer to put economics in the service of politics. But that needs a further analysis…..
See also this,  French presidential candidate Emmanuel Macron's 'anti-system' angle is a sham Philippe Marlière
Latest Opinion Polls.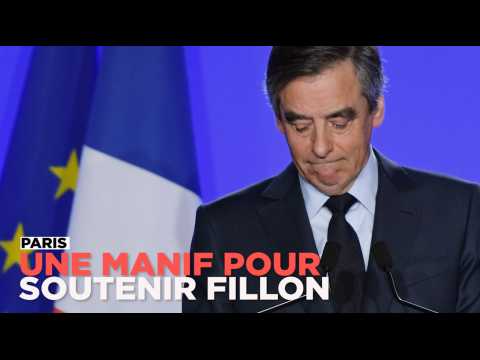 Weather Reports Indicate Hail and Rain….
In le Monde a couple of days ago Pierre Rosanvallon, (Les propos de Fillon « marquent un tournant populiste dans la campagne) observed that the right's candidate François Fillon's ranting against Judges marked a "populist turn" in the campaign.
This "grand rassemblement" today at Trocadéro is billed as in support of Fillon, while in the wake of accusation of fictional employment and other scandals  scores and scores of his elected supporters have dropped their backing for the beleaguered Presidential candidate dizaines et des dizaines d'élus lâcher François Fillon, voire démissionner de son équipe de campagne).
Some have compared this demonstration to those of the 1930s 'leagues' who moblised against Constitutional Democracy and the Front Populaire.
Rosanvallon outlines a number of developments that underlie the present crisis in French democracy.
Despite to rally backing Fillon is increasingly distanced in the polls by Emmanuel Macron  who looks like the main opponent to Marine Le Pen, in the first as well as the second round of the elections. Neither of these candidates has  real, democratic, political party behind them. The first has created a 'movement', En Marche, which is an ephemeral, if enthusiastic rally , based on Marcon's presidential campaign. The second has the Front National, which while structured electorally, with many local councillors, and MEPs, though only one MP, has no democratic or debated policy-making process. It remains a 'family business', set up by Jean-Marie Le Pen as a "front" to assemble the far-right, whose objectives remain to moblise support on a platform decided by Marine Le Pen and her close advisers.
Rosanvallon also points to the 'left populist' campaign of Jean-Luc Mélenchon Pierre Rosanvallon,. His movement, la France insoumise set up after he decided on a bid to be president, is equally not a party, with competing tendencies, or policy-making outside of the guidelines set down by Jean-Luc Mélenchon and his advisers to meet the demands of the Era of the People (as he calls it, L'Ère du peuple).
The historian, who has produced  studies on the gap between popular demands and the evolution of modern political systems (latest: Le Bon Gouvernement 2015), observed that all three candidatures, who dominate the present Presidential election, mark a significant turn in the country's politics. Not only do not represent parties, but beyond appeals to the "People", that is the French people, they neither appear to wish to represent a clear constituency, nor have of where this 'interest' is going to lead politics to.
This is naturally less of a problem for Macron and Le Pen than for the 'left' that supports Mélenchon. They have abandoned the idea that the working class represents the future of the left, they have weakened the broader ties of the left with the labour movement, and what remains?  The 'construction of the People' in a political alliance against the 'Elite' La Casta, led by the Man of Destiny ('homme providentiel)…. Mélenchon.
French Presidential hopeful Emmanuel Macron visited Britain yesterday.
There was great interest in this trip.
Macron is said set to make it through to the final two-round contest against Le Pen since the Republican candidate Francois Fillon has been enveloped in the "Penelopegate" scandal.
Though few would be certain about the French polls at present, as this one (also yesterday) indicates: SONDAGE. Fillon repasse devant Macron, Mélenchon rattrape Hamon. Emmanuel Macron's rating how gone down, to between (First Round) 17% – 18,5%, with Fillon at 20%.
The alt- and far-right Express headlines,
Macron blasted for 'abusing' British hospitality and 'making enemies' during London visit

FRENCH presidential candidate Emmanuel Macron has "made many enemies in Britain" by "abusing" Theresa May's hospitality to slam Brexit on the steps of Downing Street, the leader of a powerful Tory think tank has blasted.
A more sober account appears on the France 24 site,
It is unusual for a British prime minister to host a foreign candidate for elected office, although Downing Street noted that former prime minister Tony Blair had hosted Nicolas Sarkozy months before he became French president in 2007.

"Monsieur Macron was already in London, he asked for a meeting and we were able to accommodate," May's spokesman told reporters.

Asked if May would be prepared to meet Le Pen, he said: "There's a long-standing policy that we don't engage with the Front National."

Conservative leader May promised a close post-Brexit relationship with France on security and defence as she met with French Prime Minister Bernard Cazeneuve in London on Friday.
The Guardian reported,
Emmanuel Macron, the centrist candidate for the French presidency, has vowed his campaign will learn from the mistakes of David Cameron's Brexit and Hillary Clinton's failed election campaign by being boldly pro-liberal and pro-Europe.

Speaking after a meeting with Theresa May in Downing Street on Tuesday, Macron defended his decision to be unambiguous in his views as he fights a campaign against the far-right's Marine Le Pen, saying: "In the current environment, if you are shy, you are dead."

He added: "In the current environment, when extremes and anti-globalisation win elections, that is probably the best moment for France to decide to do the opposite."
Le Monde described his Rally at Central Hall,
Largement composé de jeunes employés dans la finance ou d'entrepreneurs, le public du Central Hall, grandiose salle de congrès de style 1900 surmontée d'un orgue géant, a bu du petit-lait quand l'ancien ministre a fustigé le système fiscal français qui « empêche les gens de réussir trop bien ».

The former Minister addressed an audience, largely made up of young employees in finance or entrepreneurs, at (the Methodist) Central Hall, an enormous conference Chamber in 1900 style complete with a giant Organ. His denunciation of the French tax system,  an "obstacle to those who succeed too well", was music to their ears.

« En France, on stigmatise l'échec et on n'aime pas le succès, a-t-il insisté, alors on va le chercher ailleurs. »

'In France we vilify failure and we don't like the successful", he emphasised, "so people leave the country to try  their luck."
Libération summarised the speech bluntly, "Macron caresse dans le sens du poil les Français de Londres" – he flattered and buttered up the London French.
They noted this, " Il y a même des Britanniques, dont l'ancien ministre à l'Europe de Tony Blair, le travailliste Denis MacShane, venu «en observateur».
We do hope  Denis is keeping well.
Yesterday on British news programmes the visit was top news.
Newsnight followed reports with a discussion as to whether Macron and his political 'party' or rally, En Marche! represents a fight-back against 'populism' from the liberal centre.
Polly Toynbee's admiration for Macron has been echoed by a number of pundits, although divisions between pro-EU centre-left and centre-right were quickly apparent in the studio that followed.
As the le Monde report indicates, Macron stands all too clearly for the 'winners'.
Not everybody is a winner.