Posts Tagged 'Donald Trump'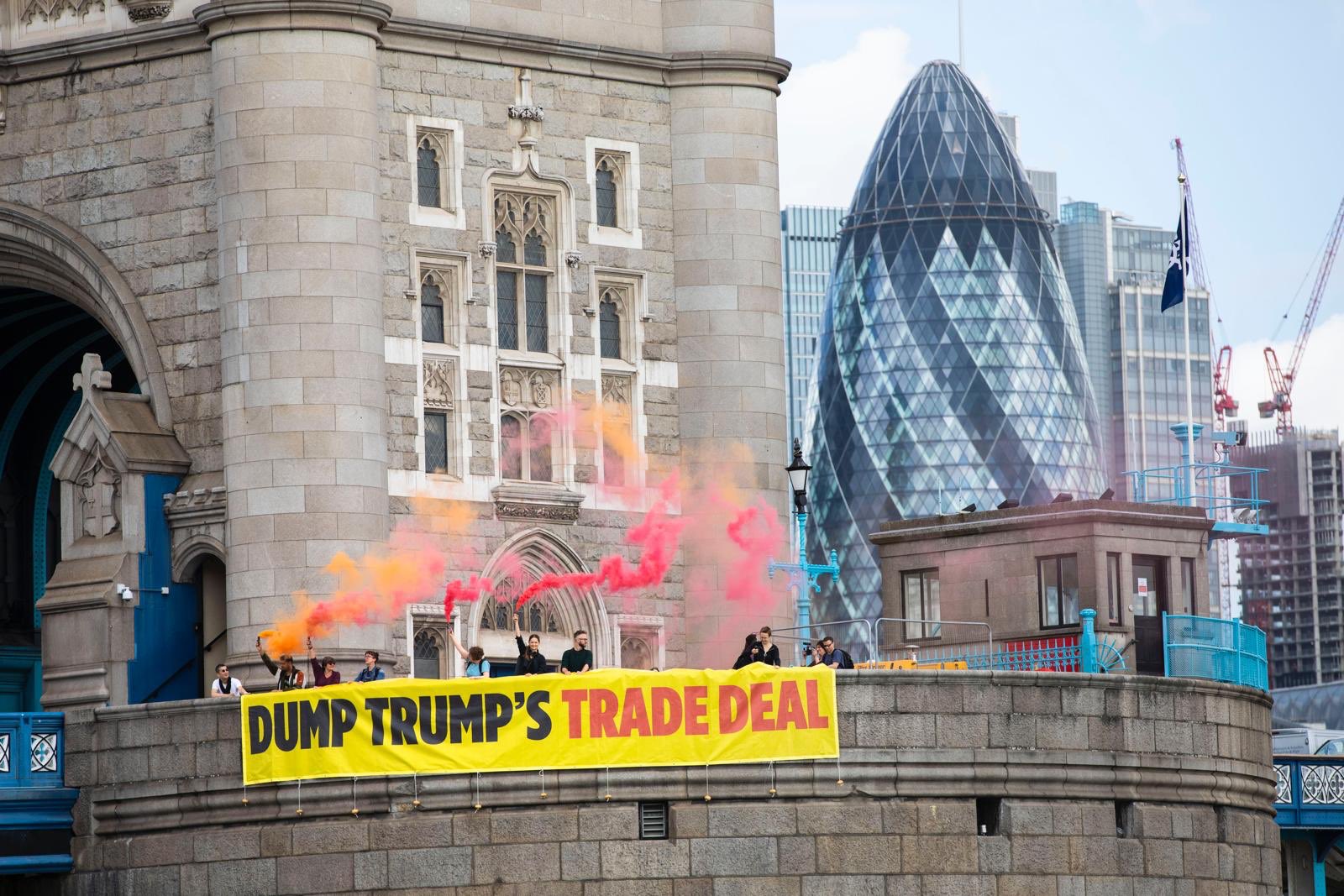 Protest Against Trump's Vision of a Brexit Britain.
Viewers of Channel Four last night know that apart from the free entry of US  business chancers into the NHS Trump is also demanding that this should be in the supermarkets.
Chlorine washing may prevent the detection of contaminants through ordinary testing, because it partially masks the problem. Quilton had no trouble finding a Texas restaurant owner who will swear there is nothing wrong with American chicken – "Not a thing. Superior quality and flavour". But the numbers speak for themselves: US rates of campylobacter infection are 10 times higher than in the UK. The US records hundreds of salmonella deaths a year; the UK has in recent years recorded none.

Central to the programme was footage shot inside a giant processing plant by an undercover employee. Looking at it, a former EU meat inspector was able to identify several flagrant violations of good hygiene practice and even the plant's own policies, but there was more sickening stuff on display: a supervisor is overheard talking about "a trend of adulterated product", by which she means glass in the chicken, and also making reference to a recent "amputation". To me, the word amputation brings to mind an operation performed by a professional for the good of a patient, and not, as in this instance, some poultry worker losing three fingers in a machine.

One study found 95 such "amputations" over a single year in American poultry processing, making it one of the most dangerous occupations in the US. Debbie Berkowitz, a former chief of staff at the Occupational Safety and Health Administration (OSHA), who now campaigns for employment rights, maintains that the industry is also exploitative: employees, her office found, were routinely denied basic rights, including toilet breaks. "Workers did not want to have to soil themselves," she said. "So they wore diapers (nappies)  on the line.
Who we are: Stop Trump Coalition.
We will make it clear to the British government that it's not OK to normalise Trump's agenda and the hate and fear it has sparked.
Trumpism directly threatens steps towards tackling:
Inequality
Peace and disarmament
Climate change
Fighting discrimination, particularly against already marginalised groups like migrants and Muslims
Corporate greed
Antisemitism
And – this is not mentioned – Brexit!
It was not mentioned, at least I did not hear it, in the interviews with the Stop Trump demo on the telly this morning.
Yet this is the core of Trump's agenda, as his support for Farage and Boris Johnson and present touting of "trade deals"  makes clear.
One can only imagine the squirming that's going on amongst the Brexit  left who cannot bring themselves to admit that there is a link, a tight bond, between the carnival of reaction that is the Brexit Party and the Tory No Deal Right and Trump's agenda.
Will they see that the demand for a Sovereign nation battling it out with Trade Deals with Trump, and  – who knows since he's iffy about it, the WTO, would be a burden for a  left government.
Will they continue to indulge that section of the left, as yet only a section,  that by its talk of the "real" people who back Brexit, and loathing of "rootless cosmopolitans"  has become the the fellow travellers of National Populism?
Like this chap, who's something of hero o the red-brown front?
Another Europe certainly does not think so.
Even the Liberals are getting in on the act.
Trump's response so far.