Posts Tagged 'Democracy'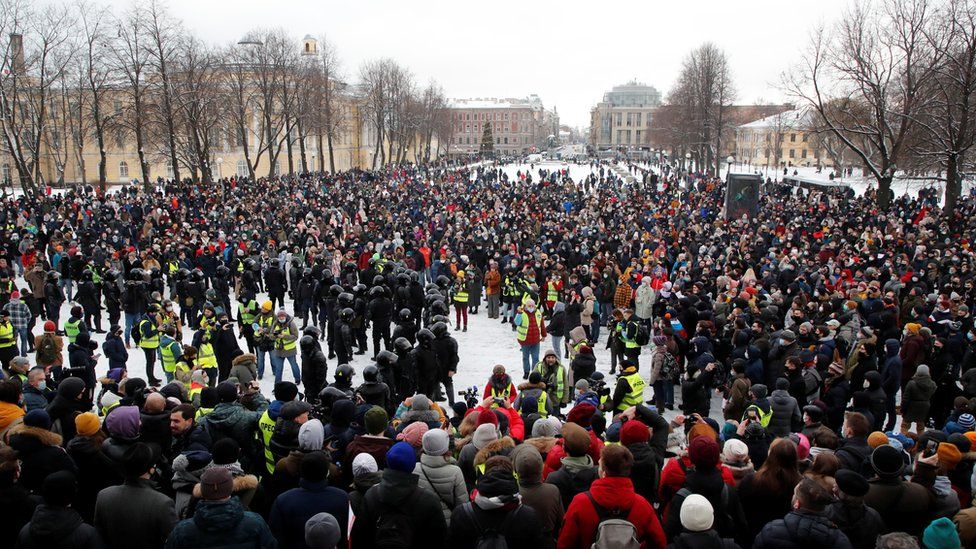 St Petersburg: Crowd Shouts 'Down the Tsar!. 
Alexei Navalny protests: Moscow in lockdown as police detain thousands
Riot police and national guard troops close central metro stations and block off streets
Moscow police have paralysed the centre of the Russian capital as protests in support of the jailed opposition leader Alexei Navalny continue for a second consecutive weekend.

At least 3,000 people including Navalny's wife, Yulia Navalnaya, were detained at rallies across the country as supporters of the Kremlin critic took to the streets to protest against his jailing, despite biting cold and the threat of arrest.
Already the 'anti-imperialist' friends of  Vladimir Putin are responding:
George Galloway Retweeted:
The Notorious site The Grayzone of Max Blumenthal.
"Despite facing repression, Alexei Navalny is no hero. Russian writer Katya Kazbek reveals the Western-backed opposition figure's real history."
Eva Bartlett, a Canadian activist and blogger who is known for promoting conspiracy theories about Syria She writes opinion editorials  for the television network RT, aka Putin Telly.
"Western mass media and hypocritically-indignant Western representatives are again busily claiming Russian peaceful protesters have been brutalized by police in demonstrations across Russia on January 23.
The sloganeers demand the release of the unpopular petty criminal and Western flunkey, Alexei Navalny, arrested upon returning to Russia for having broken Russian law."
A contrasting left wing analysis of the background:
Ilya Budraitskis
Russia: Mass protests calling for Navalny's release on 23 January, set to continue
On 23 January, large-scale protests were held in Russia, the main unifying demand of which was the release of opposition leader Alexei Navalny, who had been arrested a week earlier just after his return from Berlin (where he was being rehabilitated after being poisoned).

On the eve of the rally, after his arrest, Navalny's campaign team presented a video about Vladimir Putin's secret palace, which cost about 100 billion roubles (about $13 million) and was astonishingly opulent and senseless. Against a backdrop of economic stagnation, rising inflation, and unemployment, the story of this palace resonated enormously (over 90 million views on Youtube at the moment) not only as an example of corruption, but also as a demonstration of colossal social inequality in modern Russia.

Unlike the previous Navalny investigations in which high-ranking bureaucrats and oligarchs close to power have been the heroes, this time it is the authoritarian leader himself whose sustained popularity has until recently provided the legitimacy of the regime. Not surprisingly, the publication of the film and the call to go out into the streets provoked a panicked reaction from the authorities: "preventive" talks were held at every school and university, informing students that their participation in the protests would lead to "problems", and all TV channels explained that the palace did not really belong to Putin, who preferred an ascetic way of life.
Read more view link (Europe Solidaire Sans Frontières)
h
"The task of Marxist politics is to defend these freedoms" – Ralph Miliband.
JK Rowling joins 150 public figures warning over free speech
BBC,
Some 150 writers, academics and activists – including authors JK Rowling, Salman Rushdie and Margaret Atwood – have signed an open letter denouncing the "restriction of debate".

They say they applaud a recent "needed reckoning" on racial justice, but argue it has fuelled stifling of open debate.

The letter denounces "a vogue for public shaming and ostracism" and "a blinding moral certainty".

Several signatories have been attacked for comments that caused offence.

"The free exchange of information and ideas, the lifeblood of a liberal society, is daily becoming more constricted," says the letter.

US intellectual Noam Chomsky, eminent feminist Gloria Steinem, Russian chess grandmaster Garry Kasparov and author Malcolm Gladwell also put their names to the letter, which was published on Tuesday in Harper's Magazine.

The appearance of Harry Potter author Rowling's name among signatories comes after she recently found herself under attack online for comments that offended transgender people.
A comrade writes (B),
 I don't have an issue with the principles outlined in the letter, but I really think the idea of 'cancel culture' is perpetuated primarily by people who are performatively 'woke' and 'anti-woke'. Like that person yesterday who was decrying mathematics as western imperialism on one side, and the likes of Andrew Doyle and Julie Burchill on the other. They feed off each other.
This looks like the best way to look at this.
When we come down to it, one of things the socialist left should do is to stand with liberal principles on issues of freedom of expression and non-conformity. Surely the bedrock of the diversity is multiple standpoints.
Marxists like Ralph Miliband took this view.
..the civic freedoms which, however inadequately and preariously, form part of bourgeois democracy are the product of centuries of unremitting popular struggles. The task of Marxist politics is to defend these freedoms; and to make possible their extension and enlargement by the removal of their class boundaries."

Page 189 – 190. Marxism and Politics. Ralph Miliband. Oxford 1977.
To our shame this powerful tradition on the left has been overshadowed by the legacy of left regimes which turned their backs on civic freedoms.
You could say that the present dispute is much more minor, that it's the hobbyist left versus the media version of the national populists. "Stifling debate", moral panics, hysteria, controversies, like the TERF wars and the Western (if not US dominated) rows over racism (which ignore present-day Africa to begin with), the nationalist baiting, and the Brexit Party supporting Spiked, are more concerned with "speech and thought" than anything else.
Yet it's hard to deny that restriction on debate, people being howled down, getting into serious difficulties for their opinions, not their acts,  has become a problem.
Are these only culture wars?
People mention that in the US you can get sacked at the drop of the hat – one fall out from these attacks – without any real employment protection.
It is also the case that this is not an issue confined to the lands directly cited by the authors of the letter, or just a matter of cultural "conformity".
It only takes a minute to look at countries, from the, Russian Federation politics, China and Hong Kong, to Erdoğan's Turkey, to see limits on freedom of expression leading to court sentences and prison.
Human rights, and expression is one of them, are the bedrock of the left.
I do have a serious problem with Chomsky though….and not just because he's a supporter of Labour Against the WItch-hunt:
And this,
Not to mention those who shunned Charlie Hebdo…
American linguist and philosopher Noam Chomsky views the popularisation of the Je suis Charlie slogan by politicians and media in the West as hypocritical, comparing the situation to the NATO bombing of the Radio Television of Serbia headquarters in 1999, when 16 employees were killed. "There were no demonstrations or cries of outrage, no chants of 'We are RTV' […]", he noted. Chomsky also mentioned other incidents where US military forces have caused higher civilian death tolls, without leading to intensive reactions such as those that followed the 2015 Paris attacks.
Here's the letter.
A Letter on Justice and Open Debate
Harper's Magazine.
Our cultural institutions are facing a moment of trial. Powerful protests for racial and social justice are leading to overdue demands for police reform, along with wider calls for greater equality and inclusion across our society, not least in higher education, journalism, philanthropy, and the arts. But this needed reckoning has also intensified a new set of moral attitudes and political commitments that tend to weaken our norms of open debate and toleration of differences in favor of ideological conformity. As we applaud the first development, we also raise our voices against the second. The forces of illiberalism are gaining strength throughout the world and have a powerful ally in Donald Trump, who represents a real threat to democracy. But resistance must not be allowed to harden into its own brand of dogma or coercion—which right-wing demagogues are already exploiting. The democratic inclusion we want can be achieved only if we speak out against the intolerant climate that has set in on all sides.

The free exchange of information and ideas, the lifeblood of a liberal society, is daily becoming more constricted. While we have come to expect this on the radical right, censoriousness is also spreading more widely in our culture: an intolerance of opposing views, a vogue for public shaming and ostracism, and the tendency to dissolve complex policy issues in a blinding moral certainty. We uphold the value of robust and even caustic counter-speech from all quarters. But it is now all too common to hear calls for swift and severe retribution in response to perceived transgressions of speech and thought. More troubling still, institutional leaders, in a spirit of panicked damage control, are delivering hasty and disproportionate punishments instead of considered reforms. Editors are fired for running controversial pieces; books are withdrawn for alleged inauthenticity; journalists are barred from writing on certain topics; professors are investigated for quoting works of literature in class; a researcher is fired for circulating a peer-reviewed academic study; and the heads of organizations are ousted for what are sometimes just clumsy mistakes. Whatever the arguments around each particular incident, the result has been to steadily narrow the boundaries of what can be said without the threat of reprisal. We are already paying the price in greater risk aversion among writers, artists, and journalists who fear for their livelihoods if they depart from the consensus, or even lack sufficient zeal in agreement.

This stifling atmosphere will ultimately harm the most vital causes of our time. The restriction of debate, whether by a repressive government or an intolerant society, invariably hurts those who lack power and makes everyone less capable of democratic participation. The way to defeat bad ideas is by exposure, argument, and persuasion, not by trying to silence or wish them away. We refuse any false choice between justice and freedom, which cannot exist without each other. As writers we need a culture that leaves us room for experimentation, risk taking, and even mistakes. We need to preserve the possibility of good-faith disagreement without dire professional consequences. If we won't defend the very thing on which our work depends, we shouldn't expect the public or the state to defend it for us.