Posts Tagged 'David Icke'
Coffeezilla "Predicted" that Expat Bellend Would "Grift" His Way to this. 
In happier, more innocent, days the Natural Law Party brought joy to British elections.
Alas, they left British politics at the start of the new millenium.
The Natural Law Party promised world peace through transcendental meditation and an end to poverty by applying the Constitution of the Universe. It even sent a squadron of 7,000 yogic flyers to end the conflict in Kosovo. But now, after years of campaigning and tens of thousands of pounds of lost deposits, the party has decided to disband. The Yogi has finally landed.

..

The Natural Law Party was fully active last year, fighting local and Greater London elections, as well as holding an annual conference, but its leaders have agreed to put it into deep storage. "We discussed before Christmas whether we should fight another election and we have now decided to disband the party. It is being retained on one level, but as far as elections are concerned, the Party is on ice," a spokeswoman said.
Unkind people suggested that the Natural Law Party was a  stunt to sell the  Maharishi Foundation's version of Transcendental Meditation.
After the party's collapse there were plans to establish a University of Natural Law, at Rendlesham, conveniently next to next to sightings of Flying Saucers. The reasons it never took off were never made clear. Yet a settlement was established, still no doubt waiting for instructions from the aether. (Ipswich Star, "Yogi's legacy lives on" 2008).
The digital landscape has, it is said, transformed the way political campaigning works.
Now voters in London will have a chance to back a new blue-skies voyager in cyberspace, a candidate for London May, Brian Rose, who appeals to growing  constituency, the bellends.
I was feeling pretty sick myself, mentally anyway,  but my day ended well when I got an email from Brian Rose saying he was going to run for Mayor of London. It was the best news I have heard all day!

Why, you ask? After all I don't live in London. No, I don't, but I have been listening to Brian Rose on London Real for months now. He doesn't buy the bag of lies we have been sold about Covid and he wants to put London back to work. Good for him, I salute him! Here in North Dakota it was fear of losing the election, due in just under a month, that backed the Governor down over his new regulations and that gave me hope! This is the hope; that if enough of us push back against the madness, maybe, just maybe, we can back these politicians down and we can save ourselves from a future that promises to be far worse than communism! 
Brian has a proven track record.
The American expat, a former Wall Street and City of London Banker, created London Real, a" new generation media business with half a billion views and two million subscribers. Brian has conducted over 800 in-depth interviews as an antidote to the numbing effects of mainstream media."
Brian founded London Real Academy offering live personal mentorship with courses designed to help you Transform Yourself.
We believe that spending time watching or listening to inspiring people opens your mind and stimulates new ideas. We also believe in the power of personal mentorship to transform the individual.
Brian created a community of the best people around, his events are unique, completely avoiding the world of "gurus" and sticking to a the world of professionals. In being true to his intentions, Brian is building a brand customers love, not like.

There's experts in business, physical training, pitching, space travel, physics, poker, racing etc etc etc…  and then the very same guests hanging out in the academy. London Real creates a genuinely great business where the community and content come first, and the money comes second.

The 10 Success Habits Brian Rose Uses to Bring the London Real Podcast to 40 Million Listeners.
London real appealed to Brians everywhere:
The breadth of interview and topics covered continues to expand, with popular guests including: Mantak Chia, (Taoist Master) Robert Kiyosaki, (endorsed Trump in 2016)  Dorian Yates, (Boybuilder, Yates has advocated alternative treatments for cancer. He has also made statements in interviews concerning the negative health effects of sodium fluoride additives in tap water and claimed that there are cancer viruses and sterilants in some vaccines),   Dan Peña, (the"50 billion dollar man", Trump supporter) Bruce Lipton,  (claims that beliefs control human biology rather than DNA and inheritance), Dan Bilzerian ('professional poker player', tried to run as US president but ended up backing Trump in 2016), Priyanka Chopra, David Icke, Dr Joe Dispenza (Workplace Solutions & Train the Trainer–Encephalon, TTT Academy, Chiropractor )and Ido Portal (keep fit practice).
With that tasty team in mind one the priorities Rose highlights is this:
 Transform London 2021 plan of attack
We will create the strongest, most resilient citizens in the world who are physically and mentally robust, always prepared for times of crisis. We will do this by proactively implementing early education and practice of a proper diet, daily exercise routine, and the avoidance of smoking and excessive drinking. This topic is close to my heart as I've spent the past 9 years educating the world on how to take control of one's own physical and mental health.
Rose's programme is an anti-lockdown .
Cynics and sceptics may suggest that Rose's bid to be Mayor is a publicity stunt to get cash for his New Ageish/managerial poppycock business, London Real.
Brian Rose thinks he's going to be the next mayor of London. I break down why Mr. London Real -betchadidn't donate Rose is just grifting yet again, this time on a new topic. Politics.
..
Ex-International Marxist Group activist now stands with Holocaust denier David Icke and the far-right.
The Guardian carries an article, on the demonstration, Coronavirus sceptics, conspiracy theorists and anti-vaxxers protest in London.
But, this, written in a respectful tone, is how it talks about three of the best-known participants..
Among those due to speak were Piers Corbyn, the weather forecaster and older brother of the former Labour leader Jeremy Corbyn, the former newspaper columnist and health journalist Dr Vernon Coleman, and the conspiracist celebrity David Icke.

Although the demonstration focused on coronavirus restrictions, those taking part espoused anti-authoritarian grievances ranging from the lockdown to the imprisonment of Julian Assange to claims of elite child sexual abuse.

On the eve of the protest, Corbyn told the Guardian that a number of groups had come together to join in with the demonstration.

"In terms of whether you believe that the virus is a hoax or not, whatever is happening now is less than or equal to a normal flu, so the lockdowns and all that goes with them is unjustifiable in any terms," he said.

"We are calling for MPs to refuse renewal of the Covid Act [Coronavirus Act], and if they do not, we will campaign to have them removed from office."
One of the aspects of Piers Corbyn which is not given a wide airing is the revulsion that his former comrades in the International Marxist Group (IMG) and others on the radical left feel about his present politics.
In the 1970s Piers was better known on the left than his brother.
From Imperial College to the Squatters' movement, he was a well-known figure on the left. He was active in the IMG, standing in 1977 in Lambeth Central for a GLC election under the group's name. Not everybody appreciated his efforts to create a Squatters' union. Like the rest of the British section of the Fourth International he joined the Labour Party and was a party councillor in Southwark between 1986 and 1990. He remained in the Borough, and people speak of him in the 1990s selling left publications in his local pub.
Corbyn appears in the 2006 BBC Documentary 'Lefties', in the first episode, Property is Theft, about squatting in the 1970s.
PIers made a career forecasting the weather, forming WeatherAction, in 1995. The meteorologist was still sending out EMails about his prognostic power to leftists (using a wider list) when the Internet began to take off in the new millennium. He fell out with the same left when he began promoting climate change denial in the same decade, and was pushed out of left-wing politics. His thinking was wildly at odds with his former Fourth International comades, who took an Eco-Socialist turn at the same time and joined the fight for "Global Climate Justice".
Interviewed in 2016 (Guardian) he was without regrets: "Like his brother, physicist and meteorologist Piers Corbyn is a man of revolutionary zeal. His own battle, however, is against all this 'climate-change nonsense'…
He has certainly changed, and not just because of his climate change denialism.
This is one of the leaflets he has been distributing this year.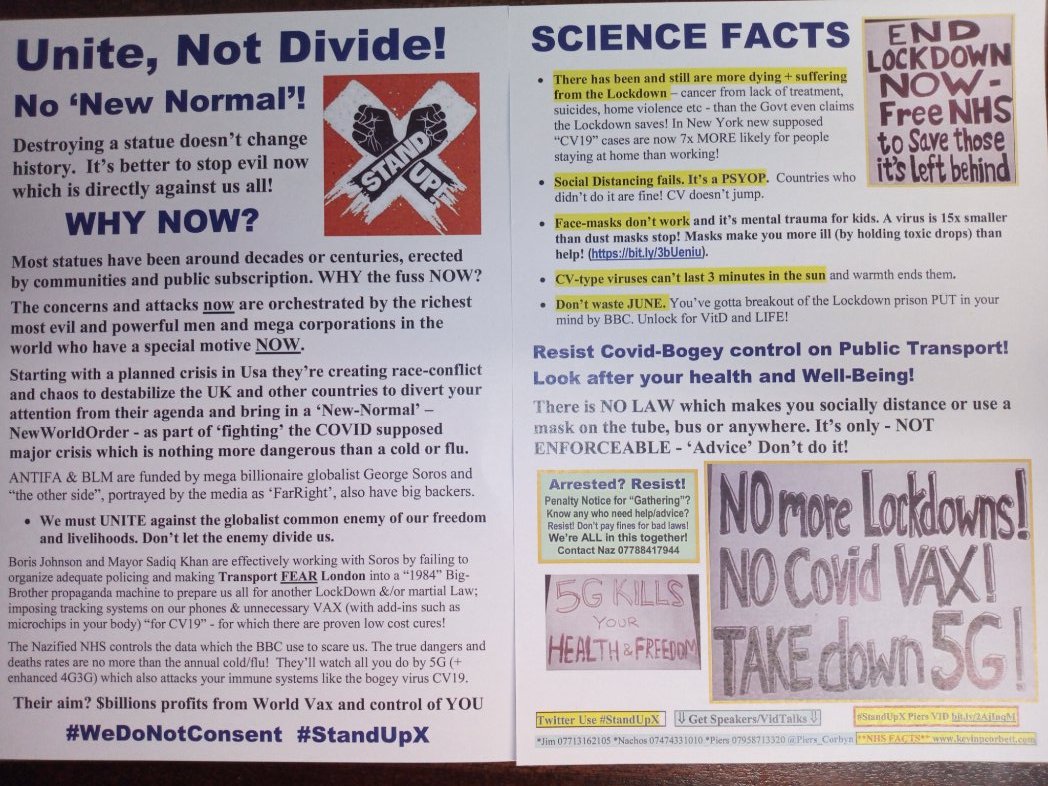 We must "unite against the globalist common enemy", the "Nazified NHS", "AntiFa and BLM are funded by mega billionaire Soros. The (BLM) concerns and attacks on statues are "orchestrated by the richest most evil men and mega corporations" to "divert your attention and bring in a 'New Normal' – New World Order" "Covid ..is nothing more dangerous than a cold or flu."
Most people would say that somebody who produces this material is not entitled to any respect whatsoever.
This is the far-right charlatan yesterday in London.
These are some more of this friends.
And these:
There is a view that the a core group protesters who assembled against the Lockdown in Trafalgar Square come from a long-established fan-base of David Icke. Others, from  Save Our Rights UK organisation, Q Anon, 'Wellness' anti-Vaxx campaigners, and anti 5-G obsessives, are of a more recent ilk. They are political confusionism, a mixture of right and left united against an enemy that they define in their imagination.
This is an international phenomenon as this report on a demonstration in Ireland last week indicates,
A Garda investigation has begun into an anti-face mask rally held in Dublin at the weekend on suspicion it breached coronavirus regulations prohibiting the organising of events.

Separately, a number of disturbances at the rally were also under criminal investigation, including one incident during which men who were armed with sticks or batons clashed with others present. *

They wore black caps and scarves covering their faces, as well as PPE-type latex gloves, and clashed with a number of other men present in what appeared to be a pre-planned attack. One man suffered significant injuries before gardaí restored order. *

The event was organised by the Health Freedom Ireland, which says it is a non-political organisation, with support from Yellow Vest Ireland.

….

Other speakers included members of the Irish Freedom Party which wants to "regain control" of Ireland's border to more closely control immigration.
There is a sharp political edge, one underlined by Piers Corbyn: the anti Bill Gates and above all, George Soros, theme.
Soros is a hate figure for the far-right and some on the 'anti-imperialist' left (see above picture about Syria).
George Soros Conspiracy Theories Surge as Protests Sweep US.
USNews and World Report.
George Soros, the billionaire investor and philanthropist who has long been a target of conspiracy theories, is now being falsely accused of orchestrating and funding the protests over police killings of Black people that have roiled the United States. Amplified by a growing number of people on the far right, including some Republican leaders, online posts about Soros have skyrocketed in recent weeks.

They have been accompanied by online ads bought by conservative groups that call on authorities to "investigate George Soros for funding domestic terrorism and his decades-long corruption."
We can add Piers Corbyn to that list of conspiracy theorists.
The leftist rhetoric about the New World Order, first used in the 1990s after the First Gulf War, has been moulded after a well established pattern into a rant about mysterious figures controlling the planet.
It is said that there is a special place in Hades for renegades from the IMG who turn to the far-right.
Worse than this (story not verified):
Note Piers Corbyn (with megaphone) as a Speaker.
There is a planned anti-lockdown, anti-mask, anti-contact-tracing – essentially anti all the "emergency" measures the government has taken – on 29th of August, in Trafalgar Square.

Many doctors and other experts will be speaking, some via video link some in person, including Dr Scott Jensen (Republican Party of Minnesota)  and Dr Dolores Cahill (Note: Hard-right  anti-EU Irish Freedom Party)

Next month the Coronavirus Bill is up for its first "6 month review", Parliament can vote to end the bill, let it run for it's full two years or even extend it. If you want to make your voice heard, join the march this weekend.
David Icke will be speaking at the end of the march.
Piers Corbyn:
This is serious Piers.
If you are reading this. I, who also in the International Marxist Group and used to admire your work in the Squatting movement,  feel sick to the stomach that you have gone this far,  whatever your personal issues may be.
I know that this is not just one person's view.
Icke, were it possible, has also got a lot, a lot, worse during the pandemic.
Item:
Item.
Icke's conspiratorial ramblings are firmly located on the extreme-right.
Supporters:
Here is how far Piers Corbyn has fallen: