Posts Tagged 'CPGB(M-L)'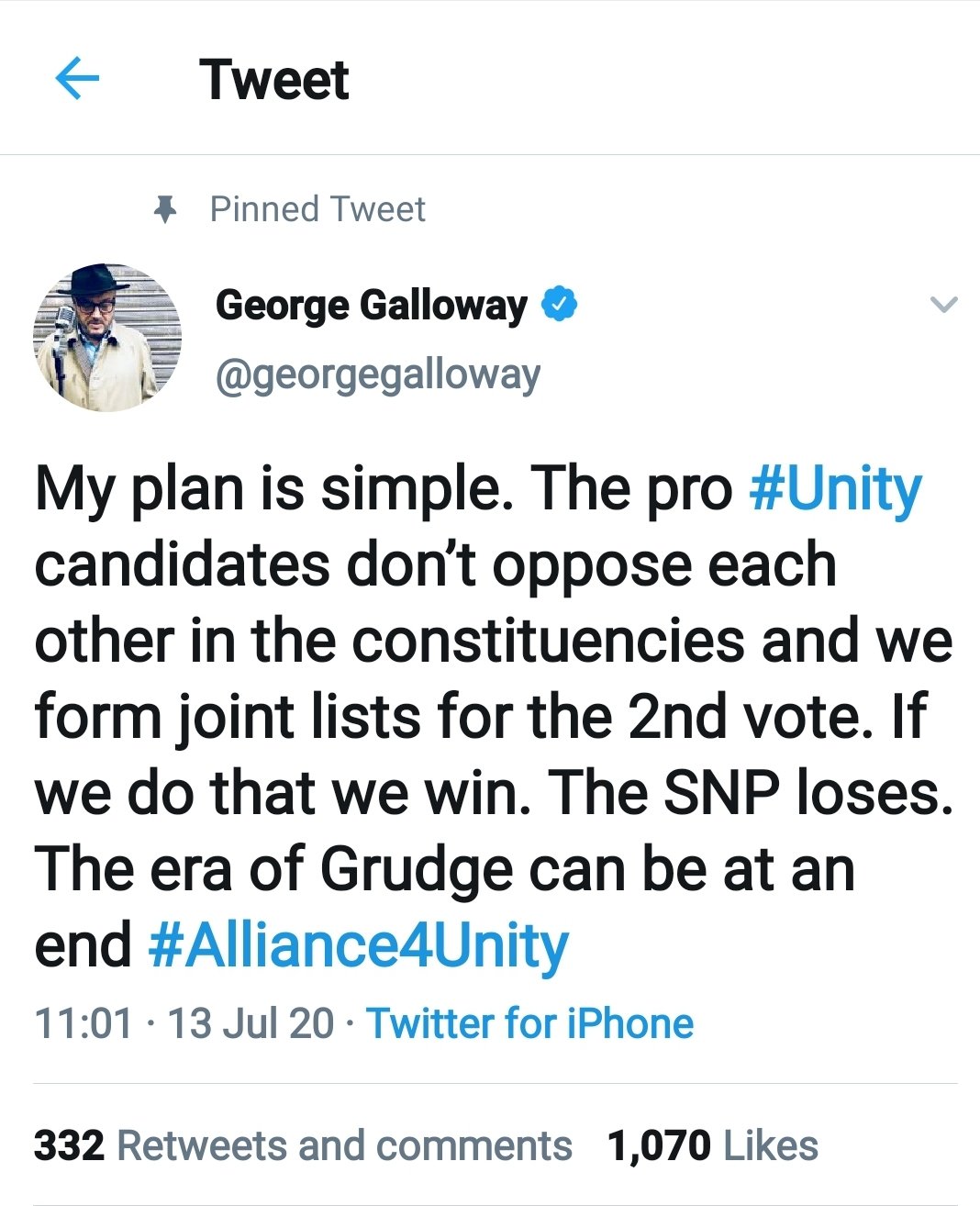 Galloway to Unite all Scottish Unionists.
Even experienced Galloway Watchers find it hard to keep up with the latest initiatives from the dapper gent.
We expected this:
George Galloway: UK ban on Huawei is national self-harm. China's riposte could devastate the ailing British economy
But this……
GEORGE Galloway has suggested that a Unionist alliance will defeat the SNP in the 2021 Holyrood elections.
The pro-Independence National reports,
The former Labour MP announced his plans to return to Scottish politics last week.
He tweeted: "My plan is simple. The pro #Unity candidates don't oppose each other in the constituencies and we form joint lists for the 2nd vote. If we do that we win. The SNP loses. The era of Grudge can be at an end #Alliance4Unity"
Support is growing for the wizard plan.
There is one problem there, a small one no doubt for the socialist stalwart.
The Tory Party in Scotland is often known under its full name of the  Conservative and Unionist Party, as a two second Web search confirms.
If there is one thing my Scottish Labour Party (activists and supporters) family hated more than the Scottish Nationalists (SNP), it's the Tory Unionists.
Not exactly an unusual take on the left.
But then neither is loathing Nigel Farage, who is also one of Galloway's best mates,* along with the curious gang who cadre his Workers Party of Britain, notably the Communist Party of Great Britain (Marxist-Leninist).
*George Galloway backs Nigel Farage's new Brexit party