Posts Tagged 'Claude Lefort'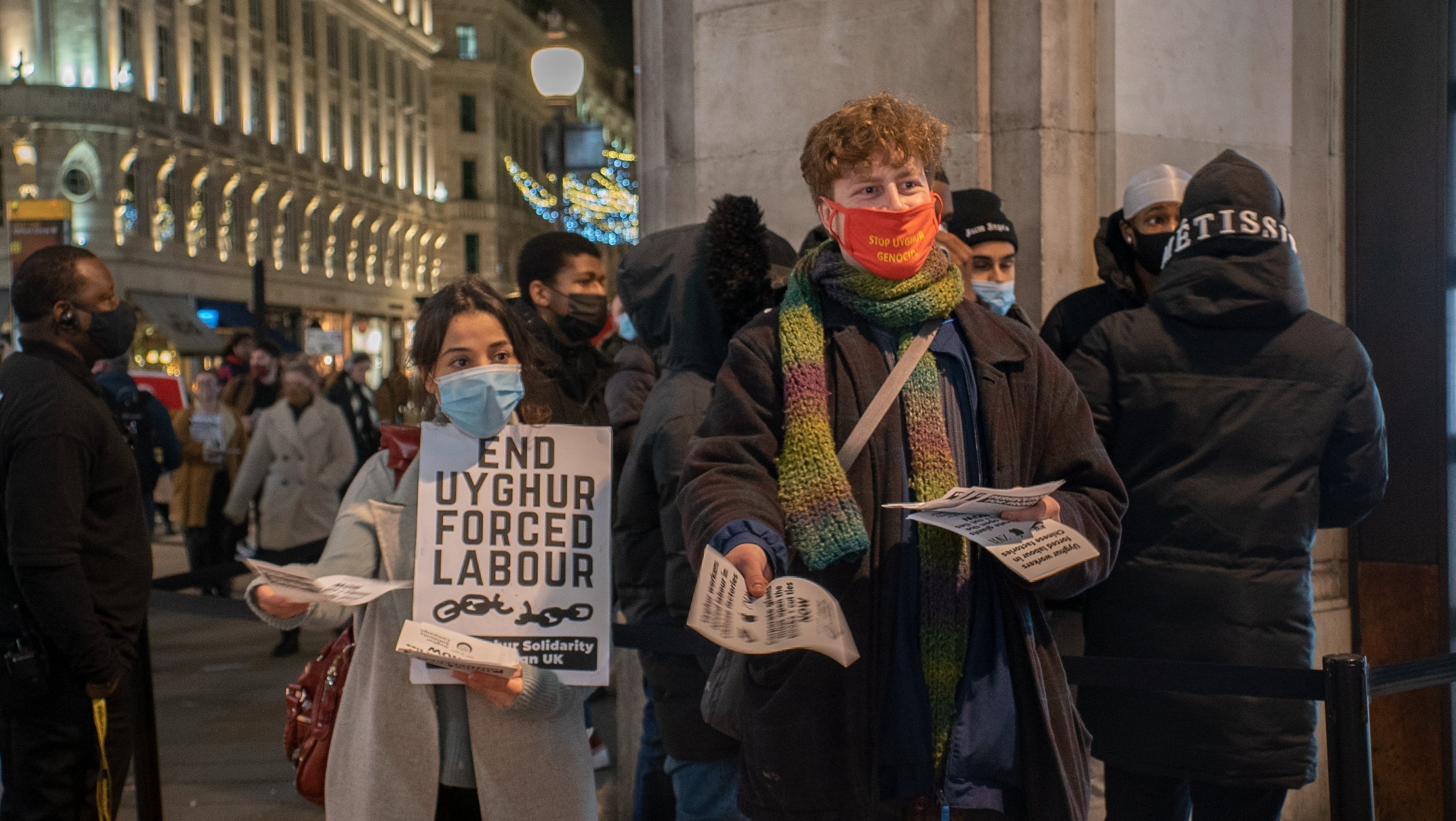 The Internationalist Left supports Human Rights everywhere. 
Human rights have been at the centre of left politics since 1789. Some people think that because Marx criticised civic rights under capitalism, and, in "On the Jewish Question" (1843)  considered them a product of bourgeois political culture. That they are themselves bourgeois
"The rights of egoistic man, of man separated from other men and from the community."  Robert Fine, Marx's basic criticism was that within political society people were seen as co-operative, while in their economic roles they were competitive, individualistic and egoistic. In short, the theory of rights expressed the division and alienation of human beings. Robert Fine defended socialist approaches which tackled these limitations.
As Paul O'Connell points out, for Marx, in his early writings,
the limited form of political emancipation provided by the attainment of the rights of man 'certainly represents a great progress. It is not, indeed, the final form of human emancipation, but it is the final form of human emancipation within the framework of the prevailing social order.
He adds,
throughout their lives both Marx and Engels, while entertaining no illusions on the matter, wrote repeatedly in defence of the rights to free expression, protest and the right to vote.
And,
the Provisional Rules of the First International, which Marx also wrote, begins with the affirmation that 'the struggle for the emancipation of the working classes means not a struggle for class privileges and monopolies, but for equal rights and duties, and the abolition of all class rule'.43 The Rules further 'hold it the duty of a man to claim the rights of a man and a citizen, not only for himself, but for every man who does his duty'.

ON THE HUMAN RIGHTS QUESTION
Paul O'Connell.
The First International brought forces together, many of them from a labour movement which had been formed in the mould of (in Britain and Ireland) of the ideas of Tom Paine's the Rights of Man (1791). French socialist parties of like the  Parti Ouvrier Français, POF) founded in 1880, also adopted this language.
More recent debates on human rights which began in France the 1970s have raised the issue of how human rights are defined by people themselves. Writers have considered how the demand for rights affects political society and creates new movements and institutions which shape the 'community'. For some abstract human rights are not a political strategy only serve to cover up what would today be called liberal military interventions and wordy domestic statements. But for the philosopher  Jacques Rancière, human rights have been embodied in  movements   have come from the oppressed, the, the demos, the people who have had no rights, those outside existing insitutions.
…the Rights of Man become the rights of those who have no rights, the rights of bare human beings subjected to inhuman repression and inhuman conditions of existence. They become humanitarian rights, the rights of those who cannot enact them, the victims of the absolute denial of right. For all this, they are not void. Political names and political places never become merely void. The void is filled by somebody or something else. The Rights of Man do not become void by becoming the rights of those who cannot actualise them. If they are not truly ''their'' rights, they can become the rights of others.
The most celebrated original instance of those who had no rights demanding rights is Olympe de Gouges. She wrote the  Déclaration des droits de la Femme et de la Citoyenne in 1789 in response of the French Declaration of the Rights of Man which denied female suffrage, and kept patriarchal laws in place.
A woman has the right to mount the scaffold. She must possess equally the right to mount the speaker's platform
For her opposition to the Terror Olympe de Gouges was guillotined.
"Yesterday, at seven o'clock in the evening, a most extraordinary person called Olympe de Gouges who held the imposing title of woman of letters, was taken to the scaffold, while all of Paris, while admiring her beauty, knew that she didn't even know her alphabet…. She approached the scaffold with a calm and serene expression on her face, and forced the guillotine's furies, which had driven her to this place of torture, to admit that such courage and beauty had never been seen before…. That woman… had thrown herself in the Revolution, body and soul. But having quickly perceived how atrocious the system adopted by the Jacobins was, she chose to retrace her steps. She attempted to unmask the villains through the literary productions which she had printed and put up. They never forgave her, and she paid for her carelessness with her head.
The democratic revolutions of the last centuries, described by writers such as Claude Lefort and Pierre Rosanvallon, have seen many of the right-less making new demands. The Trade Union movement, based on class struggle,  can be seen as one of the greatest human rights movements in history.The women's movement, the gay movement, and green movements, have expanded the range of what we think of as rights.
We should not just fight for our rights, but as internationalists defend the rights of those deprived of rights.
This is a cause we should back.
And this: Uyghur Solidarity Campaign UK
For everyone's safety and due to the Tier 4 coronavirus restrictions in London, we unfortunately can't hold our usual monthly protest at the Chinese embassy on 5 January. But that doesn't mean the campaign stops – read on for events and activities coming up!
"Terror Capitalism: The Enclosure of Uyghurs in NW China/Xinjiang"
Online talk & discussion with Darren Byler
3pm (UK time) Saturday 9 Jan
More info & free registration
Researcher Darren Byler will be speaking to open a discussion about the factors of profit and power behind the regime of repression, surveillance and forced labour to which the Uyghur people are subjected. This is part of a series "China & the Left: Critical Analysis & Grassroots Activism" hosted by Gongchao. Attendance is free but please register!
Write to free tortured, imprisoned journalist Zhang Zhan
Citizen journalist Zhang Zhan has been imprisoned and tortured in China. Her crime? She was charged and convicted of "picking quarrels and provoking quarrels" after travelling to Wuhan last spring and reporting critically on the government's response to COVID-19.
This is not only an assault on freedom of speech and of the press – in the middle of a pandemic, the ability to scrutinise public health measures is a matter of life and death. Please support Amnesty International's letter-writing campaign to demand her release.
Write to MPs: end Uyghur forced labour, end all forced labour!
If you haven't already done so, you can still email your MP and the UK Parliament's Business Committee to demand new laws clamping down on the global corporate giants exploiting forced labour – not only in China but around the world. Please see our letter-writing guide.
Follow and share our social media
Please help spread the word about our campaign by supporting us on social media! Follow us and share our posts on facebook, twitter and instagram.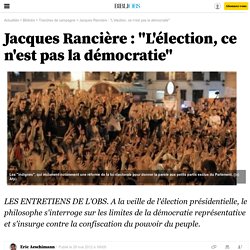 'Rancière: 'Post Democracy', Populism, and Anti-Anti-Populism.
Part One.
Maint fleur épanche à regret,
Son parfum doux comme un secret,
Dans les solitudes profoundes."
Many a flower regretfully
Exhales perfume soft as secrets
In a profound solitude.
Le Guignon. Les Fleurs du mal. Charles Baudelaire. (1)
Introduction.
Jacques Rancière has become a reference point in radical aesthetic theory. Over the last two decades his writings have a committed audience, a larger group of spectators, and have helped inspire some optimism about allying artistic experimentation with emancipatory politics. (le Monde 6.7.18)  The irruption of "dissensus", upturning existing communities of the creation and reception of arts, (the "partage du sensible" in a "sensus communis"), offers glimpses of "festivals of the future". (2)
Across the left Rancière is best known as a champion of the politics of the "principle of equality", "the equality of anyone at all with anyone else". This, the only universal in politics, is the perpetual up-setter of apple carts. Perhaps his most ambitious target is a vehicle that might be better called a juggernaut. This is "post-democracy". Pierre Rosanvallon has observed that he was one of the first to employ this term. "Post-democracy"("post-démocratie") has replaced the classical active 'subject' and agent of politics, effaced before the technical regulation of society – in the interests of those who hold economic power. (La contre-démocratie. 2006). As Rancière has stated, "Post-democracy is the government practice and conceptual legitimisation of a democracy after the demos, a democracy that has eliminated the appearance, miscount, and dispute of the people and is thereby reducible to the sole interplay of state mechanisms and combinations of social energies and interests." (3)
Can the egalitarian figure of the People overturn the rule of the experts steeped in managerial science, neo-liberal economics, and the crafts of PR, presiding over post-democracy?  Is neoliberal post-democracy, as Rosanvallon has recently stated, so dominant, diffuse and elusive that the one is restricted to making its workings known?  (Le Monde. 31. 8. 18) Rancière places his hopes in a revived Demo. As he said in 2017, "the point today is trying to think a form of political organisation as really creating a new form of people. Because person is not the reality that parties represent, it is the reality that they create. The problem is whether we can create a new kind of people, a people of equals who have the possibility to put the capacity of anybody at work." (4)
Rancière, then, is a critic of "Ètats oligarchiques", based on the rule of – liberal – law that excludes Popular Sovereignty, and a voice on the side of the People. The late Ernesto Laclau's On Populist Reason (2005) welcomed his "rediscovery of the People", while flagging up his differences, with the French writers references to the "irreducible heterogeneity" (as Rancière calls it, "a multiplicity of experiences of equality, freedom or emancipation") of popular struggle. Including those whose fight for equality flowers in "profound solitude."(5)
Disagreements are more clearly signalled in public discussion with Laclau in 2015. Rancière asserted, "at least in European countries the representative principle of the state is completely integrated into the oligarchic mechanisms that it reproduces. It certainly does not function as a means for building a popular will." This puts him at odds with the intramundane translation of Laclau's ideas, put into strategic form by his partner Chantal Mouffe as 'left populism'. Based on "federating the people", bringing together their diverse interests and backgrounds into a unity that displaces the post-democratic consensus managed by the ruling political class, this has had some influence on European politics.  Spain's Podemos and Jean-Luc Mélenchon's La France insoumise (LFI) have paid attention to this perspective. Key advisers have borrowed from Laclau's theoretical tool-box. It would be rash nevertheless to make the bolder claim that these politicians are the earthly incarnation of the abstractions of On Populist Reason and, other, far less accessible works. Mouffe's most recent book, For a Left Populism (2018) restricts herself to quoting Rancière's description of "post-democracy". The debate has halted there for the moment. (6)
Populism.
Rancière is also known for his article, L'introuvable populisme (2011), which criticised, pell-mell, "elite" contempt for the rough masses, secular French republicanism, and the racialism of the French state. Éric Fassin, Pierre Dardot and Christian Laval, include these aspects of Rancière in discussion of both Populism and post-democracy. (7)
In this year's Socialist Register James Foley and Pete Ramand find comfort for their opinions on the potential of Referendums for outsiders (including the left) to express themselves in the earlier La Haine de la démocratie (2005).  Pouring scorn on the denial of the French vote on the 19th of May 2005 against the EU Constitution, Rancière wrote on the theme he was to take up in L'introuvable populism, "Populism is the convenient name under which is dissimulated the exacerbated contradiction between popular legitimacy and expert legitimacy".  Railing against "les oligarches, leurs savants et leurs idéologues" who despise the masses, in this instance those opposed to backing the EU plan, as ignorant "populists". This theeme is repated many time in his writing, "'populist' is very much part of this arsenal used by the intellectual world, the world of the dominant." This is, in some eyes, a way of avoiding talking about what exactly this particularly "heterogeneous" people. Indeed he is obdurate enough to claim that "it was clearly a democratic question and that was in the forefront." In reality during that contest the 'non' to the Constitution included the whole of the French extreme right and many on the left marked by 'elitist' republicanism' and nationalism. (8)
And yet… Rancière is best described as an 'anti-anti-populist'. The 'elite' horror of mass direct intervention in political life, turning upside down the consensus of established politics, is the principal contradiction. "Cold racism", he asserts on the universal basis of French experience, is generated by the 'secular' state. Laws entrenching secularism (that is, laïcité), endorsed by the Republican left, which affect 'Moslems', terms no doubt requiring no further explanation – highlight a wider form of contempt. But is, the "new racism coming from the top of the State" the end of the problem? The successes of right-wing 'populism', up to the extreme right, in the electorates of many countries, can hardly be obscured as they parade in the light of day. Is it only a 'secondary contradiction' amongst the people, a fabrication by 'elites', another shadow game in post-democracy, or, as most would imagine, a profound and rooted political problem?  Any answers are, at best, obscured by Rancière's polemical gambit. That is, the principle  – frequent if never explicitly put – that one often needs to "reverse", turn upside down, two poles to get a hold on how the elusive post-democratic society is operating. The election in Sweden this September suggests that one should turn this round again. We have to look at the 'popular' basis for mass backing for racist parties.
Radical Democracy.
That said, does Rancière contribute to grasping the world described as "post-democratic" and offer any useful ideas about creating democratic equality? Alex Dimorivić offers a hook into his work: the thinker is a champion of "Radical democracy ll, a stand that flavours democratic aspirations through "dissensus, argument, conflict and antagonism." To approach Rancière's politics through the lenses of left-wing radical democracy is to place him within, as he might put it, to join a sensus communis that is potentially intelligible to a broad left audience.  Rancière certainly does not follow those who are attempting to construct and channel the 'People' into a political organisation under the guidance of left populist theory and charismatic Leader. In the 2017 French Presidential election he called for a "non candidate", and encouraged of independent forms of popular democracy beyond the "false choice" in the ballot box.   It would appear that the last thing the principle of equality would endorse is, transposing the words of The Philosopher and His Poor, a Party-Movement dedicated to training actors "in the art of becoming historical agents."  (9)
Can Rancière offer light, as Étienne Balibar has stated, on the roots of his own principle of "égaliberté", equality-liberty? That is that by pushing the drive for recognition by those without a stake in society into broader political thinking (including the worlds of Theory and Philosophy….)? He may of thinking through the concepts of freedom in the mould of radical egalitarianism, and add some spice about the pitfalls of integration into the ways things have been set up till now. Balibar's pwn democratic experimentation, has explored the blind spots ("angles morts") of Marxism. Rancière's independent take (and criticisms) of pictures of the "democratic revolution", and "political emancipation" associated with Claude Lefort.
Ideas of  "equality-liberty" may open up further avenues that bring the "principle of equality" into a wider range of issues, from human rights to the shape of the welfare state and education.  The critic of the Western military imposition of "infinite justice" is far from an opponent of all concepts of human right. Indeed he is a keen supporter of the struggles stemming from those who have no part in society ("la part des sans-part"), and their fight for rights that emerge beyond the framework of nation, peoples and classes. Those influenced by Claude Lefort tend to be over-wary of the threat of totalitarianism; Rancière has a profound tendency to ignore the issue altogether.  A certain balance, or, dare I say it, 'anglo-saxon' (as French writers misleadingly call us) pragmatism would suggest that that each writer may illuminate the other. (10)
But – this is a repeated warning  – often the language is very abstract. This is not only a matter of the terms employed. Slavoj Žižek point out that Rancière's account (the 'non-foundation') of The Political (le politique) and Politics (la politique) structurally avoids the importance of the critique of political economy. One can extend this insight. Anybody educated in the history of the labour movement and the left will find the bald assertion of the importance of a "non-sociological" concept of the working class,  "a kind of symbolical invention of the collective", offered without substantial documented detail, grating.  It is not only these difficulties that should concern us. Whether his take can contribute to any definite political project is equally far from clear. As Frédéric Lordon has remarked – he is far from the first to do so – the golden moments of democratic energy, real politics, are for Rancière brief and rare. The "police", the administration of post-democracy, soon brings the masses to order. (11)
**********
Part 2, from the  La leçon d'Althusser (1975) La Nuit des prolétaires. Archives du rêve ouvrier, (1981), Le Philosophe et ses pauvres, (1983) to the overview offered by Pratiquer l'égalité  Anders Fjeld (2018) passing through, amongst others Dissensus: On Politics and Aesthetics (2010), Chronicles of Consensual Times (2010)…….
References :
Translation by William Aggeler, The Flowers of Evil (Fresno, CA: Academy Library Guild, 1954). The lines, criticsm assures us, echo, "Full many a flower is born to blush unseen, And waste its sweetness on the desert air." Thomas Gray. Elegy Written in a Country Churchyard. The following may extend the relevance to Rancière's project, "Some Village Hampden that with dauntless breast, The little tyrant of his fields withstood, Some mute inglorious Milton here may rest, Some Cromwell guiltless of his country's blood".
On the new links between aesthetics, politics and "other ways of living", "Entre esthétique et politique les frontières deviennent poreuses." Le Monde. 6.7.18). One of the best texts with which to begin reading his views on art is Chapter 3. Aesthetic Separation, Aesthetic Community. The Emancipated Spectator, Jacques Rancière. Translated Gregory Elliott. Verso. 2009. See the invaluable Translator's Introduction to, Jacques Rancière's Politics of Perception Gabriel Rockhill to The Politics of Aesthetics. The Distribution  of the Sensible. Jacques Rancière. Continuum. 2005. In French there is this useful short overview:  Stéphane Roy-des-rosiers. Introduction approfondie à l'esthétique de Jacques Rancière.  On the wider importance of his views on aesthetic judgement, see the Introduction to Rancière's Sentiments. David Panagia Duke University Press. 2018.
Page 15. Rancière, Disagreement. Originally published as La Mesentente: Politique et philosophie, copyright 1995 Editions Galilee. Translated Julie Rose. University of Minnesota Press. 1999. On Post-democracy: Page 267. La contre-démocratie. Pierre Rosanvallon. Seuil 2006. Rosanvallon states that Rancière was probably the first to use the expression "post-démocratie" in La Mésentente. The line cited is from the English translation, Page 102. Disagreement. Op cit. The term is also known through the work of  Colin Crouch. See Colin Crouch. Coping with Post-Demcoraccy.(Fabian Society. No Date) Is there a liberalism beyond social democracy? By Colin Crouch. Policy Network , 5 May 2011
.Pages 19-20 A coffee with Jacques Rancière beneath the Acropolis Babylonia. January 2018.
"Concluding Remarks" On Populist Reason. Ernesto Laclau. Verso 2005. Don't they represent us? A discussion between Jacques Rancière and Ernesto Laclau. 2015. Translated by David Broder, from El Diario. Page 13. For a Left Populism. Chantal Mouffe. Verso 2018.
L'introuvable populisme in Qu'est-ce qu'un people? Alain Badiou, Pierre Bourdieu, Judith Butler, Georges Didi-Huberman, Sadri Khiari, Jacques Rancière. La Fabrique
Pages 17 – 18. Populisme: le grand ressentiment. Èric Fassin. Èditions Textuel. 2017. In the Conclusion: Ce Cauchemar qui n'en finit pas. Comment le néolibéralisme défait la démocratie. Pierre Dardot, Christian Laval. .La Découverte. 2016.
In fear of Populism: Referendums and neoliberal democracy. James Foley Pete Ramand. Pages 87 –88 Rethinking Democracy  Socialist Register 2018. Merlin. La Haine de la démocratie. Jacques Rancière La Fabrique. 2005 Page 120. Europe: The Return of the People, or of Populism? 2016 (Verso site's translation). In fact faced with the Brexit vote all he could do was mumble about  a reaction to the (EU) "denial of democracy, a denial which the European bureaucracy itself embodies. Then there is the aspect that is about relating to the other, relations with foreigners. "
Radical Democracy and Socialism. Alex Dimorivić. Socialist Register 2018. Merlin 2018. On more details on this 'non-candidacy", such as they are, see Jacques Rancière, La Grande Table: Revaloriser la démocratie avec Jacques Rancière. France Culture. (3.5.17) ""Les logiques représentatives génèrent un système d'alternance de partis qui se ressemblent de plus en plus.":"La seule campagne significative à mon sens est précisément une campagne pour la non-présidence." "Il reste possible d'envisager des formes d'institutions réellement démocratiques et non axées sur la question de la lutte du pouvoir." "La vraie question est celle du choix lui-même : nous assistons à une élection de la dépossession." "Un peuple n'existe pas par lui-même : c'est le résultat d'un certain nombre d'éléments, d'un processus politique." "Il y a un combat à mener contre les idéologies ouvertement réactionnaires et élitistes, et un autre contre les fausses évidences." The Philosopher and His Poor, ed. Andrew Parker, co-trans. John Drury, Corinne Oster, and Andrew Parker (2004) original edition. Le Philosophe et ses pauvres, Fayard, 1983 a crucial transtional point which will be taken up further).
The translation "counting the uncounted" (counting , décompte) is used in From Universality to Equality Badiou's critique of Rancière. Jeff Love and Todd May (Clemson University) Symposium: Canadian Journal of Continental Philosophy. (Web) Most of the article is taken up with demolishing one of the most arrogant claims a world class egotist has ever made, Alain Badiou has asserted that in this approach to equality Rancière simply borrowed his own concept of "nomination" – in a grand ontology which few can fathom – to signal out the moment of resistance that marks the 'non-part' rebellion. Rancière's own, respectful, account of Badiou's concept of 'fidelity" is discussed at a level of enormous abstraction in, "Jacques Rancière A propos de L'Etre et l'Evénement d'Alain Badiou. le cahier du Collège international de philosophie.n° 8 octobre 1989 (éd. Osiris) A courageous effort to render into English the decent obscurity of the learned language in this essay on Badiou is offered by David Broder, Time is nothing other than intervention"—Jacques Rancière on Alain Badiou's Being and Event. Verso Site.
The link is underlined by Balibar right at the beginning of this work, "il faut que s'affirme une légitimité de la lutte, ce que Jacques Rancière appelle la part des sans-part, qui confère une signification universelle à la revendication du « décompte » de ceux qui ont été maintenus en dehors du « bien commun » ou de la « volonté générale" Ouverture: l'antimonie de la citoyenneté. In Étienne Balibar. La Proposition de l'égaliberté. Essais politiques. 1980 – 2009/ Actuel Marx. PUF 2010. Étienne Balibar, L'Illimitation démocratique. Martin Deleixhe. Michalon Éditeur. 2014. Page 293. Of Lefort's writings on these issues see particularly. Essais sur le politique. Claude Lefort. Seuil. 1986. L'invention démocratique. Fayard, 1981/1994.  Page 75. Amongst many references to this take on human rights see: What is the Subject of the Rights of Man? In Dissensus: On Politics and Aesthetics (2010) The Lesson of Rancière. Slavoj Žižek. In: The Politics of Aesthetics. The Distribution of the Sensible. Op Cit. Structures et affects des corps politiques. Frédéric Lordon. La Fabrique. 2012.