Posts Tagged 'Chris Williamson'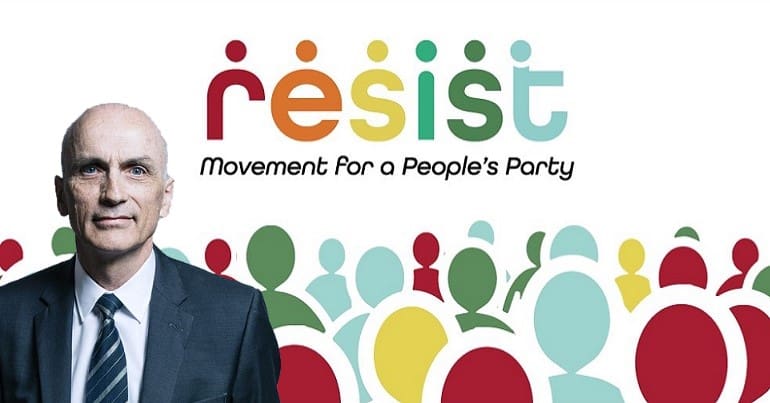 Assad Apologist, teetotal and vegan and since the 1970s, and is a member of the League Against Cruel Sports.
Waiting for a couple of days for news about the Saturday Labour In Exile Network conference.
Radio, net, and newspaper silence on this important event.
Theories:
It was so small they are embarrassed to report it.
They decided nothing.
The Monster Raving Greenstein Party had a bust up with the Brent Soviet and it all ended in virtual fisticuffs.
Labour Party Marxists won all the leading positions.
They know nobody cares.
In the gap new forces are emerging.
'Lord Voldemort' Chris Williamson is on a high.
Tip Top News Hounds in the Canary report,
A movement has grown in the wake of the Labour Party's ousting of an MP. Now, it's on the verge of something big. Because it's launched a grassroots-led group to make change happen from the bottom up. But it's also already branched out into media, too. And it has its sights set on becoming a political party very soon.

…

The group has been 'overwhelmed' by the public response. Bloor told The Canary:

We are planning to reorganise The Festival of Resistance. We'll hold it in October, where we were going to launch the movement. But we've had such a big response, we've had to just get on with it. The response from the public has been overwhelming at times. We've already got organisers in every region in the UK. And we even have an international group. Those organisers are now busy holding meetings; creating branches; organising local campaigns and uniting with other left activists and groups in their areas. Our aim is to connect with community groups; promote their work and to showcase what they are doing through social media and ResistanceTV. We hope these models can be used in other areas throughout the country.
And,
Williamson Stands with David Miller.
This is the background.
The Bristol Mayor and Bristol West MP have spoken out on Prof David Miller's comments.
A University of Bristol professor has come under fire for "unacceptable" statements about Israel and Jewish students.

Prof David Miller called for the "end of Zionism" and said Israel is "trying to exert its will all over the world" in a Zoom video call last Saturday.

The sociology lecturer later said Jewish students were being used as "political pawns by a violent, racist foreign regime" and accused his university's Jewish Society (Bristol JSoc) of a "campaign of censorship" making some students "unsafe".

Bristol West's Labour MP Thangam Debbonaire described the conduct as "completely unacceptable", adding: "I'm following this appalling behaviour by a Bristol Uni lecturer up with the university."

And Bristol Mayor Marvin Rees told the Jewish Chronicle: "I met students from Bristol Jewish Society [on Wednesday] and am awaiting more details about the incident. But I will be supporting them and meeting the university to discuss this matter."

Prof Miller was suspended from Labour last year and later quit after claiming Sir Keir Starmer had taken "Zionist" money.

During an online Campaign for Free Speech event last Saturday, he said: "'This is an all-out onslaught by the Israeli government on the left globally.
This was the Zoom meeting. Contributors included Norman Finkelstein, former Labour MP Chris Williamson (founder Resistance Movement), Jackie Walker (Labour Against the Witchhunt), a speaker from Jewish Voice for Labour, anti-apartheid veteran Ronnie Kasrils, Sami Ramadani (Stop the War Coalition), Jamie Stern-Weiner (expert on IHRA) and David Miller (University of Bristol).
I'm tired of waiting for my uni to act against conspiratorial hatred

Sabrina Miller.

Two years ago Bristol JSoc launched a complaint against Miller after a Jewish student came forward and described their experiences in his classroom (on the condition of anonymity).

"I was one of the only Jewish students in David Miller's class. Honestly it was scary because he is a teacher so people believed the anti-Semitism he was spreading. I was scared because I am one voice and felt I couldn't stand up to him or tell him what he was saying was wrong."

In Miller's Harms of the Powerful module he claimed the "Zionist movement (parts of)" were pillars of islamophobia. He also attempted to link various British Jewish organisations to the state of Israel. As a Jewish student, this conspiratorial spider's web of arrows and organisations was grimly reminiscent of antsemitic tropes where Jews are accused of having unique power and influence over political affairs.
This was another response:
This is David Miller.
Syria 'truther' heads fundraising campaign to sue British Labour Party
Bristol University professor David Miller – a member of the "propaganda professors" group which defends the Assad regime against accusations of chemical weapons use in Syria and disputes Russia's use of a nerve agent against the Skripals in Britain – is behind a new campaign to sue the British Labour Party.

Miller is director and sole shareholder in a company called Campaign for Chris Williamson Ltd, which was registered on 17 July.

Williamson, MP for Derby North, has been suspended from the Labour Party over allegations of antisemitism and Miller has launched a crowd-funded campaign through his company to take legal action against the party. The aim is to raise £75,000 to cover the costs.

Miller is a prominent member of the quasi-academic Working Group on Syria, Propaganda and Media which claims that chemical attacks in Syria have been "staged" by rebels in oder to falsely accuse the Assad regime (see previous blog posts). Miller is a co-author of the group's latest article which claims the OPCW's investigation into alleged chlorine attacks in Douma was "nobbled". The group also disputes that Russia was responsible for poisoning Sergei and Yulia Skripal in Salisbury last year.
The route that Chris Williamson has taken.
Labour Against The Witchhunt Retweeted
It will be interesting to see how friends of Williamson, from TUSC (Trade Union and Socialist Coalition) to the people in the 'Free Speech' campaign react in the coming days.
Universities are free to sack staff if they breach their employment conditions.
There seems a strong case against Miller, in the first place because he has launched an attack on students at his own institution.
Once outside his academic post he will be free to pursue his particular hobbies and political bugbears.
Novara media's Commissioning Editor & Reporter
The above has just been retweeted by Chris Williamson.
Novara Media have yet to respond.
In further news there are demands for a Labour Recall Conference.
A group of left-wing MPs and unions have called on Labour leader Sir Keir Starmer to hold an emergency conference as they warned of widespread "anger and disillusionment" in the party.

The row follows the suspension of former leader Jeremy Corbyn and suspicion among some over the direction in which Sir Keir wants to lead Labour.

The call for a special conference has been backed by the Socialist Campaign Group of MPs, which includes Sir Keir's former shadow cabinet colleagues John McDonnell and Richard Burgon, as well as the Unite union, the Bakers' Union and Momentum.
The Morning Star, (independent of the Communist Party of Britain and owned by the co-op) Socialist Appeal and the anti-Labour site Skwawkbox back the demand;;
Yet this development will surely be overshadowed by this event.
Against no platforming of fellow socialists! What does Free Speech actually mean?
Following the debacle over the no-platforming of suspended Labour activist Esther Giles at the Momentum-led "Labour Lockout" rally, we are pleased to welcome the comrade as a speaker at our February 13 conference on 'Building the Campaign for Free Speech'. It is a great shame that the mainstream left has adopted the strategies of the right – bowing to baseless accusations of "transphobia" reminds us very much of the sidelining, smearing and vilifying of critics of Israel as "antisemites".
Wherever one might stand on the debate over trans rights – and the issue is far from as black and white as some make it out to be – we very much "oppose demands for 'zero tolerance' and 'safe spaces', including on controversial issues like trans rights. They are the opposite of a culture of open debate. The best way to fight prejudice, misperceptions and misunderstandings is through education and debate", which is how our draft Charter for Free Speech (which will be discussed at conference) puts it.
Labour Against the Witchhunt, the Labour Left Alliance and the Labour in Exile Network have issued an excellent joint statement on Esther's no-platforming, which you can read below.
To demonstrate his credentials against anti-Semitism one of the speakers at the event tweet this, from the Monster Raving Greenstein Party:
h