Posts Tagged 'Cats'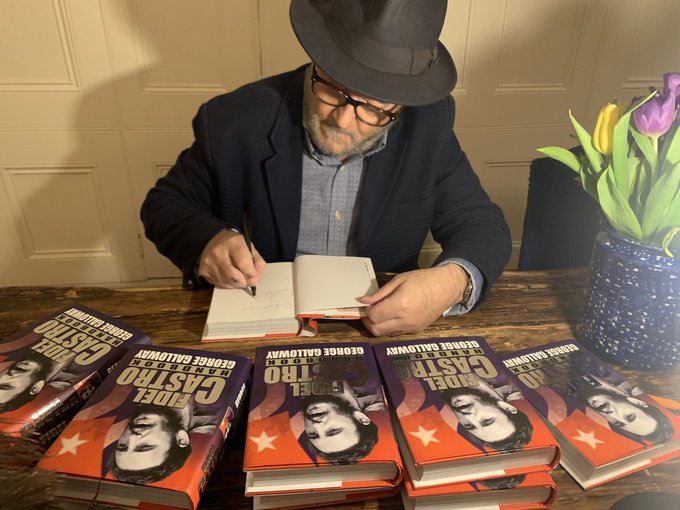 Galloway Fund Raises for Potential Legal Case: "Signed copies of my #FidelCastro Handbook are now back in stock!"
Alliance For Unity's use of RAF logo being looked at by Ministry of Defence
reports the right-leaning Scottish nationalist, The National.
THE branding of George Galloway's Alliance for Unity party is being investigated by the Ministry of Defence's copyright lawyers, The National can reveal.

A4U are a grouping of people with varying political allegiances that hope to stop pro-independence parties gaining a majority in May's Holyrood election.
This is the response from George Galloway's current minions.
This follows a contretemps a few weeks ago,
The former MP had applied for his party to be called "All for Unity".
Former MP George Galloway has suffered another setback in his bid to get elected to Holyrood.

An application for the party he founded to be called "All for Unity" was rejected by an elections body due to incomplete paperwork.

Galloway was a long standing Labour MP in Glasgow who attracted headlines in 2006 after he pretended to be a cat on Celebrity Big Brother.
Galloway's old friends in Counterfire,  such as John Rees, and Lindsey German (also of the Stop the War Coalition), or his bagman, Kevin Ovenden,  have yet to spill the beans on what happened during their years and years of support for the dapper Caledonian gent.
"Galloway's support for Hezbollah and Hamas, his refusal to debate with Israeli Jews, and his declaration of Bradford as being an "Israeli-free zone" are among the issues which have led to the attitudes of the politician being thought suspect"
Or indeed on what they think about his more recent adventures.
One day, one can only hope, we will be told.