Posts Tagged 'Catalan Referendum'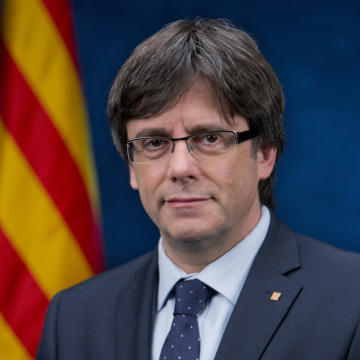 Puigdemont: Betraying United Catalan National Cause, Say British Leftists.
El presidente de la Generalitat, Carles Puigdemont, declaró este martes la independencia de Cataluña pero abogó por suspender durante varias semanas los efectos de esta declaración para lograr una mediación.
"La suspensión" of the full implementation of the declaration of independence was in all the media this morning.

You can watch the right-wing leader's speech here.
It must have been easy for the SWP to write this, immediately.
Carles Puigdemont betrays hopes of Catalan independence – but the fight is not over 
Today's Socialist Worker.
Catalan president Carles Puigdemont has betrayed the hopes of the movement for independence from Spain by saying that "dialogue" must come first.

He told a session of the Catalan parliament on Tuesday night that he would "suspend the effect of the independence declaration" in "a gesture of responsibility in favour of dialogue."

Before the referendum—held on 1 October in defiance of repression by Spanish cops—Puigdemont had vowed to declare independence within 48 hours of a yes vote.

Some 90 percent voted for independence. But Puigdemont did nothing until Tuesday, 48 hours and one week later.

By then he only said, "The voting said yes to independence and this is the way I'm going to follow"—eventually. First, "We have to start a dialogue because otherwise it wouldn't be possible to reach our goal."

But the Spanish government of Mariano Rajoy has shown no interest in dialogue, responding only with repression and blackmail.

Puigdemont urged politicians and the media to "calm" and "de-escalate" the bitter row rather than ratcheting it up. He called on businesses moving their legal headquarters from Catalonia to return.

His climbdown only hands the initiative back to Rajoy.

Outside the park that contains the parliament building, where thousands of demonstrators were watching the speech on big screens, many responded with anger and disbelief.

Members of the pro-independence anti-capitalist party CUP shouted, "Shame on you". They warned Puigdemont's party—whose government CUP props up, that "It's the end of our patience".

Others were more positive, telling reporters they hadn't expect Puigdemont to risk a unilateral declaration of independence yet. One man told the Euronews channel it felt like "The first day without the king of Spain."

The fight for independence clearly isn't over, but Puigdemont's speech is a major setback.

Senior European Union (EU) politicians may have helped broker the backsliding.
Socialist Worker ends this article by supporting the movement for "democracy and independence."
Today the Candidatura d'Unitat Popular, CUP, demands that Puigdemont fixes a limit, a date, for negotiations to end.
Their twitter feed is full of demands that Catalan sovereignty be recognised, but little that is recognisably socialist.
The most recent declarations of the other main left nationalist group, Esquerra Republican, (Republican Left) also lacks any socialist dimension, referring vaguely to a "social" dimension to the Catalan republican ideal. 
No doubt Catalan national unity, and  demanding that  Carles Puigdemont, a right-wing career politician, leads the struggle for Independence come what may, against the Spanish Government, and the European Union, is more important in the fight for the Nation than class struggle, or any form of socialism or social democracy.
Meanwhile, for entertainment, we note this: (Socialist Party).
For a socialist republic of Catalonia!
The workers can finish what Puigdemont won't!
This groupuscle managed to see a working class moblisation at the centre of the Independence Campaign.. NO doubt the workers were hard at inside the main cultural force for independence, the wealthy, business and Catalan government funded Òmnium Cultural, not to mention…see below.
Meanwhile in the Catalan Parliament, Junts pel Sí (the bloc behind right-wing  Puigdemont, which includes the so-called Republican left, has 62 seats, the CUP has 10.
Despite having only 10 of the Catalan parliament's 135 MPs, this anti-capitalist force has become one of the central kingmakers in the process of self-determination conducted by the Catalan government. Its deputies are crucial for ensuring a separatist majority in the chamber, and so, while voting to put a pro-independence government into power, its radical anti-capitalist view has frequently clashed with the Catalan establishment and the liberal parties in charge of the Catalan government.

New Internationalist. Marc Almodóvar
That has not stopped the CUP setting aside such differences in the interest of the Catalan Nation and People and reaching an agreement to keep the right in power.
Government (62)
Confidence and supply (10)
Opposition (63)
This another example of 'left-wing' drivel being circulated at the moment.
Update: SWP calls for international support for coalition of right and left fighting for an independent Catalonia.
Please organise yourselves. Set up united solidarity campaigns with Catalonia. Mobilise in support of democratic rights in Catalonia and against repression. If they smash us, they can smash you tomorrow. Everybody has a stake in this."
Meanwhile about the only people speaking sense are Podemos.
Francesc Xavier Doménech, deputy for Unidos Podemos, tells the Spanish government: "You are denying reality. This is a state crisis. This crisis cannot be resolved by applying the same measures taken to date, which are basically repressive measures."
Parlem, hablemos!
Some light is beginning to appear on the Catalan issue,
Podemos' Alternative for Catalonia. TXEMA GUIJARRO.
Amidst an increasingly-polarized climate, international press coverage has tended to overlook the position of En Comú Podem, the political alliance which has won the last two general elections in Catalonia. This grouping comprising Ada Colau's Catalonia En Comú and Unidos Podemos has tried to carve out a middle road in the current confrontation.

It recognizes last Sunday's vote as a legitimate political mobilization but doesn't view it as a valid referendum. It also defends Catalonia's right to decide but favors a plurinational, federal Spain. In this respect Colau, who is Barcelona's mayor, voted in solidarity with those facing police repression but left her ballot blank.
We, as somebody who wishes the peoples of Spain well, can only endorse the conclusion of this interview,
At times I feel we are at the edge of an abyss. But we have to see the crisis as an opportunity to demonstrate to the Spanish people that there are alternatives. We are not condemned to this collision between Madrid and Catalonia. A key reference for me is Barcelona mayor Ada Colau whose handling of the crisis has been exemplary. She represents the only real point of intersection in the region between those in favor of independence and those opposed—bringing them together around a discourse defending civil rights and democratic freedoms. So yes, there is a positive way out of this conflict but it really depends on us being able to govern, to start changing things in this country from the executive.
But the forces of division and hatred continue to operate.
After the Catalan referendum El Pais published this report,
Fake images from the Catalan referendum shared on social media.

Some photos and videos that were widely circulated via social networks and appeared in the media were not taken on October 1.
Today there are many more accusations of fake images, after the far-right British Daily Mail and Julian Assange circulated claims of widespread Falangist participation in anti-Independence marches.
Le Monde has just published a break down of some of these these falsehoods:
Drapeau franquiste, salut nazi : les images trompeuses de la manifestation contre l'indépendance en Catalogne.
Des images anciennes et des tweets manipulés ont circulé sur les réseaux sociaux pour discréditer les rassemblements de dimanche, selon les médias espagnols.
According to the Spanish media old images and manipulated tweets have circulated on social media in order to discredit Sunday's marches.
The examples start with the use of photos taken in 2015, one taken in September this year, far from Sunday's march, the use of a – real – image of people giving a Fascist/Franco salute, in a small group of around 30, to suggest a mass far-right presence, and the image spread by the far-right Mail, taken of a tiny band of extreme-right hooligans coming out of bar as if they were representative of the massive march. .
'Fexists' is Catalan  for Fascists. This is particularly obvious fakery since the demonstrations took place during the day while this is taken during the night, and it turns out to come from a pro-Franco march, not authorised by the police, which occurred in Madrid during September 2015.
A Spanish Tweet account tries to distinguish the real from the 'bulo' false (fake, hoax).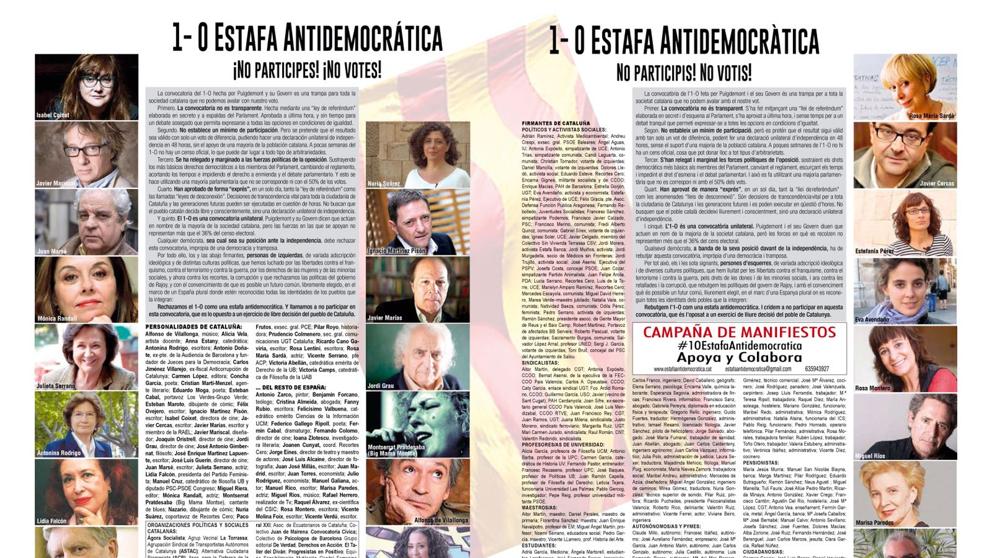 Left-Wingers in Spain who Call for a Boycott of the Catalan Referendum.
Spain's Guardia Civil police have detained 14 Catalan officials and raided regional government ministries involved in organising a banned independence vote.

Tensions were already high before Josep Maria Jové, number two in the Catalan vice-presidency, and others were held.

Thousands of Catalans took to the streets in protest and the regional leader complained of a power grab.

Spanish Prime Minister Mariano Rajoy said the state had been forced to act.

Catalonia's separatist government is defying a Constitutional Court order to halt the planned 1 October vote, which has been condemned by the Madrid government as illegal.
Some on the Spanish left wholeheartedly support Catalan Independence, others, the right the hold the referendum.
In reaction to this clamp down it is unlikely that we will hear in the left media much about those who, while disagreeing with the Spanish government's tactics, refuse to participate in the vote or those who are simply opposed to the break away of one of the most prosperous parts of the Iberian peninsula.
Here is a link to the former group, which includes  figures on the left: '1-O Estafa antidemocrática. ¡No participes! ¡No votes!'.
El Periódico notes two names of interest, the anti-corruption investigator activist and  (see below) Carlos Jiménez Villarejo  and the former coordinator of the Izquierda Unida (United Left) Paco Frutos.
The around 1,000 people behind this statement describe themselves are left wing figures, or a variety of ideological, cultural and political backgrounds, who have fought for freedom against Francism, against terrorism and against war, for the rights of women and social minorities, and today against cuts and austerity, the corruption and who oppose the policies of the Rajoy governments. The signatories seek a common future, freely chosen, in a pluralist Spain in which all the different people's identities are recognised.
.. personas de izquierdas, de variada adscripción ideológica y de distintas culturas políticas, que hemos luchado por las libertades contra el franquismo, contra el terrorismo y contra la guerra, por los derechos de las mujeres y de las minorías sociales, y ahora contra los recortes, la corrupción y que rechazamos las políticas del gobierno de Rajoy, y con el convencimiento de que es posible un futuro común, libremente elegido, en el marco de un España plural donde estén reconocidas todas las identidades de los pueblos que la integran:
They charge the Referendum process with a lack of democratic transparency, with no proper rules, such as a minimum level of participation, and with having been launched "unilaterally" without the agreement of the opposition forces in Catalonia – all of which are indeed true.
It is also more widely the case that forming a breakaway state, that is to oppose the Catalan 'people' against the diverse People of Spain, rather cuts against the Podemos Laclau-Mouffe inflected self-declared aim of 'federating the people'. It could be said to be a case of what Chantal Mouffe calls the "constitutive Other", making the rest of Spain, lined up behind the 'State', the Enemy in the constitution of this new sovereign 'People'.
This is a different view: Solidaridad con Cataluña! Viento Sur.
Solidaritat amb Catalunya! Kataluniarekin bat! Solidariedade con Catalunya! ¡Solidaridá con Catalunya! ¡Solidaridad con Catalunya!

La suspensión del autogobierno de Catalunya y la escalada represiva que están emprendiendo el gobierno y el poder judicial suponen la instauración de un estado de excepción permanente frente a la voluntad mayoritaria del pueblo catalán de decidir su futuro a través del referéndum el 1 de octubre.
In English from the Fourth International.
It is of interest to those Trotskyists in the UK now supporting the alliance between the right of centre Catalan leader, Carles Puigdemont, the representative of  regional capitalist interests, and various left nationalists, including apparently some on the 'far left'  in their fight for a breakaway from Spain to read Trotsky himself on the past of the issue. 

In the 1930s Trotsky did not back the creation of another bourgeois state in Catalonia.
Leon Trotsky The National Question in Catalonia
(July 1931)
Maurín, the "leader" of the Workers and Peasants Bloc, shares the point of view of separatism. After certain hesitation, he has resolved himself with the left wing of petty bourgeois nationalism. I have already written that Catalan petty bourgeois nationalism at the present stage is progressive. But on one condition: that it develops its activity outside the ranks of Communism and that it is always under the blows of communist criticism. To permit petty-bourgeois nationalism to manifest itself under the Communist mask means at the same time to deliver a perfidious blow to the proletarian vanguard and to kill the progressive significance of petty bourgeois nationalism.
What does the program of separatism mean? The economic and political dismemberment of Spain, or in other words, the transformation of the Iberian Peninsula into a sort of Balkanic Peninsula, with independent states, divided by, customs barriers, and with independent armies conducting independent Hispanic wars. Of course, the sage Maurin will say that he does not want this. But programs have their own logic, something Maurin hasn't got.
Are the workers and peasants of the various parties of Spain interested in the economic dismemberment of Spain? In no case. That is why, to identify the decisive struggle for the right to self-determination with propaganda for separatism, means to accomplish a fatal work. Our program is for Hispanic Federation with the indispensable maintenance of economic unity. We have no intention of imposing this program upon the oppressed nationalities of the peninsula with the aid of the arms of the bourgeoisie. In this sense, we are sincerely for the right to self-determination. If Catalonia separates, the Communist minority of Catalonia, as well as of Spain, will have to conduct a struggle for Federation.
Background,
During the first part of the 20th century, the main nationalist party was the conservative Lliga Regionalista, headed by Francesc Cambó. For the nationalists, the main achievement in this period was the Commonwealth of Catalonia a grouping of the four Catalan provinces, with limited administrative power. The Commonwealth developed an important infraestructure (like roads and phones) and promoted the culture (professional education, libraries, regulation of Catalan language, study of sciences) in order to modernize Catalonia. The failure in being granted an Estatute of autonomy in 1919 within the Restoration regime, led to radicalisation of the moderate nationalist parties in Catalonia, leading in turn to the creation of Acció Catalana (Catalan Action) and also Estat Català (Catalan State),[12] drifting apart from the Lliga. Among the leaders of Acció Catalana founded in 1922 and chiefly supportive of liberal-democratic catalanism and a catalanisation process were Jaume Bofill, Antoni Rovira i Virgili and Lluís Nicolau d'Olwer.[13] It also featured an internal elitist faction, moved by the thinking of Charles Maurras and Action française of which Josep Vicenç Foix and Josep Carbonell were representatives,[14] while Jaume Bofill was ambivalent to the extreme right French thinker.[15] Estat Català, somewhat more attached to the idea of downright independence, was founded right after the creation of Acció Catalana by Francesc Macià.
…
Currently, the main political parties which define themselves as being Catalan nationalists are Convergència Democràtica de Catalunya, Unió Democràtica de Catalunya. The Esquerra Republicana de Catalunya, although deriving from nationalism, refuses the term "nationalism" and prefers to describe itself as pro-independence; so does Soldaritat Catalana
The most prominent figure in the Catalan politics in  the post-Franco years was Jordi Pujol President of the Generalitat de Catalunya from 1980 to 2003.
Pujol, and Catalan nationalism, have been associated with the massive corruption scandals he was involved with.
In July 2014, Jordi Pujol released a note explaining that for 34 years, including 23 as the President of Catalonia, he had maintained secret foreign bank accounts inherited from his father. The note apologized for his actions and explained that the millions had been declared and taxes paid. The scandal erupted in the Spanish media as it involves allegations against many family members, including trafficking of influence, bribery, money laundering and public corruption. At this time, his sons Jordi and Oleguer Pujol Ferrusola are being investigated by tax authorities. Another son Oriol Pujol resigned from his leadership position in CiU earlier in the month to face charges of public corruption as well. As a direct result of Pujol's admission on 29 July, Judge Pablo Ruz issued an indictment against Jordi Pujol Ferrusola and his wife for money laundering and tax evasion. [10][11][12][13][14]

On 29 July Catalan president Mas, after a meeting with Pujol i Soley, announced that Pujol renounced both his salary and the office that he had been assigned as ex-president, as well as the honorary title of founding chairman of CDC and CiU.[15] The opposition parties from both left and right, nationalist and non-nationalist, have demanded he testify before the parliament. The main government allies in the Catalan parliament, Esquerra Republicana, have declared that they support stripping Pujol of all his honors.[16] The Catalan government has declared this a "private matter" that will have no impact on the movement for Catalan independence and the referendum scheduled for 9 November 2014.[17] In announcing his resignation from all party offices, President Mas initially stated that Pujol would keep the right to be called "The Right Honorable" as a former president of Catalonia.[18] Hours later the party spokesperson Francesc Homs stated that Pujol must "forfeit everything," including the Medalla de Oro of Catalunya and all honorifics previously awarded to him.[19] Indicative of the conflicted reaction of many Catalan nationalists, his personal friend Xavier Trias, the Mayor of Barcelona, lamented on Catalonia Radio "He must disappear…He failed us. It is a disaster that has taken place and the shadowy times of Pujol are finished while a new era begins."[20] Perhaps no one is more deeply conflicted than current President Mas who has acknowledged that Pujol is his "political father" and has stated that "he does not know the details and he is not interested in them either." [21] The impact of the Pujol family scandals on the Catalan independence movement, the CIU party and Mas' political future remain to be seen.[22]

Pujol and his family have been suspected for many years of cashing in on the political power he amassed as a 23-year president of Catalonia. In 1984 his family's bank went bankrupt and was taken over by the Spanish government. His children have amassed a fortune in private businesses that frequently did business and received contracts from the Catalan government. Pujol's wife and children have investments in the tens of millions of dollars in Mexico, Panama and Argentina. Financial records show the movement of money between foreign banks in Andorra, Switzerland, Jersey, Cayman Islands and other tax havens in excess of €100 million. Critics, including Jordi Pujol Ferrusola's former girlfriend, charge that this family wealth could not be accumulated from a family inheritance or successful business practices.[23][24] Ever since the 1984 bankruptcy of Banca Catalana, as well as in subsequent years, whenever corruption allegations were made against Pujol, his supporters claimed that the charges were politically motivated against Catalonia.[25][26]
While parts of the left in Spain support Catalan Independence, others charge them with wishing to free the wealthiest part of the country from the 'burden' of the poor South and compare them to the Italian  Lega Nord.
The Socialist Party, the PSOE, itself not stranger to corruption and other scandals, sides with the government against the Referendum.
Ahead of planned Catalan poll, main opposition Socialist Party sides with government. El País

SOE leader Pedro Sánchez shows support for PP's attempts to deal with secessionist challenge.
In these conditions to reject the heavy-handed approach of Rajoy, and to call for a return to democratic norms, should not be confused with backing for the middle class separatist aspirations of Catalan nationalism.