Posts Tagged 'Brain Rose'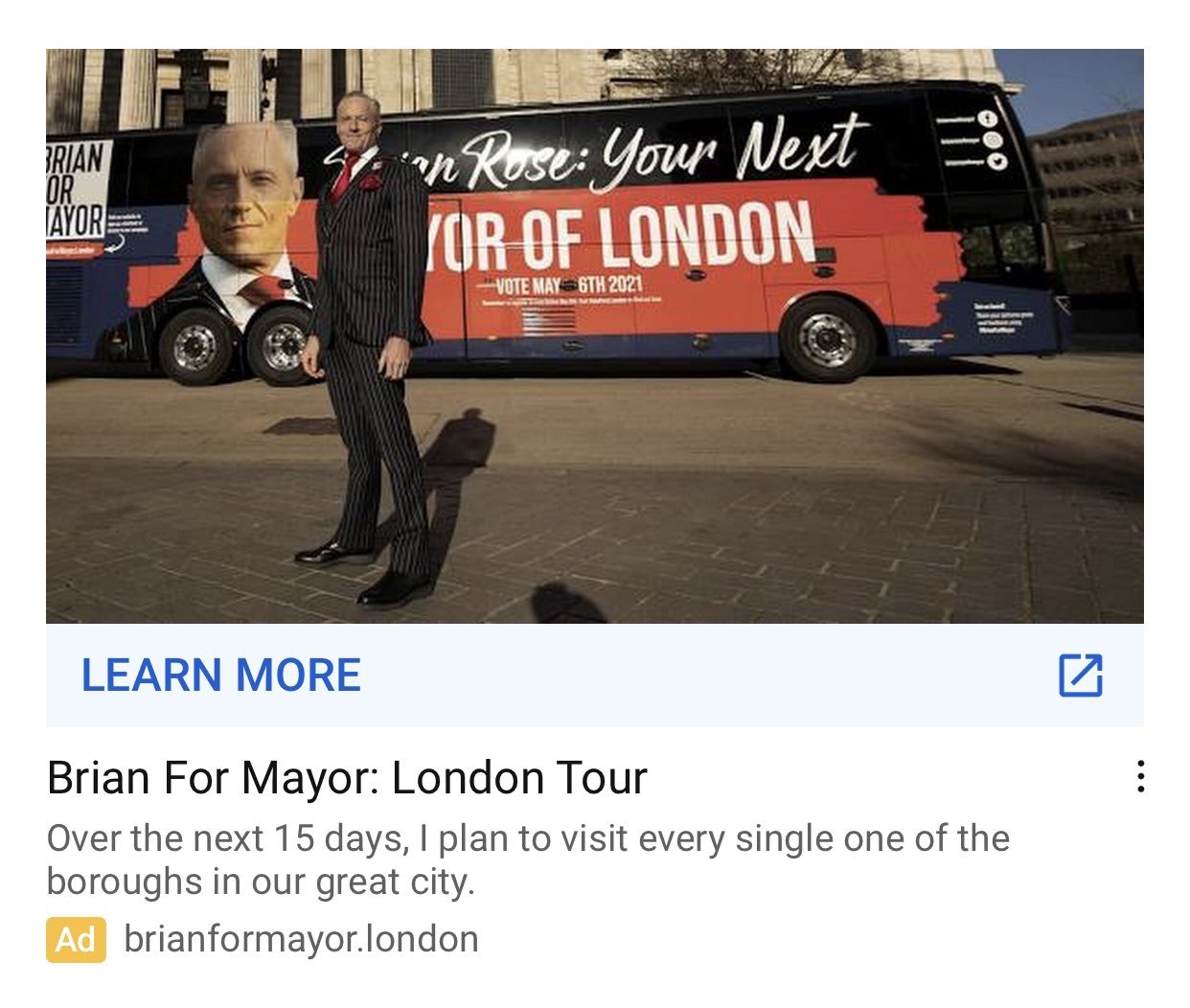 Bellend Battle Bus. 
Here's Bellend Central:
I am a candidate for Mayor of London in the forthcoming Mayoral and Greater London Assembly elections. Those elections are currently scheduled to take place on Thursday, 6th May, having been delayed for one year under the provisions of the Coronavirus Act 2020. I am writing to you as the Commissioners and Chief Constable of the three police forces with responsibilities and duties within Greater London.
This letter is written, on legal advice, for two purposes.
First, to emphasise my concern at the interpretation of guidance from Government (rather than the application of the law) by officers of the City of London Police Force who issued me, some of my campaign team and paid contractors of that team with fixed penalty notices ('FPNs') for undertaking lawful political campaigning on Sunday, 24th January 2021.
Secondly, to seek your assurance that officers under your command will not arrest, issue FPNs or direction notices to, interfere with or in any way prevent any person from lawful political campaigning, while London remains under 'Tier 4' or at all; and that they will not do the same to persons contracted by such teams to perform paid or unpaid services necessary to such campaign teams.
…….
I request that you, the commanders of the three forces policing London, undertake to take no steps to prevent political campaigning; and, in particular, filming of candidates around the city and the use of a battle bus to transport those candidates and their teams to venues where they will be filming together with the production teams necessary to films. We ask that you agree that you will not issue FPNs or direction notices to, interfere with,  arrest or in any way prevent any person from lawful political campaigning. We ask this for the benefit of all political campaigns, to whom we ask you give like assurances.
Regrettably, it appears to have fallen to my campaign to make this request as we have been the only one whose campaigning has been interrupted. Given the continuing uncertainty over my ability to engage in political campaigning, we ask that you give these assurances as a matter of urgency; and in any event not later than by 4 pm on Friday, 29th January 2021.
Failure to do so may result in an urgent claim for judicial reviewand declaratory relief.
The reason for this exercise in Bellendery?
Life of Brian.
Former Wall Street banker Brian Rose was filming promotional material for his campaign in Southwark on Sunday when police intervened.

Mr Rose said he and six of his staff were each fined £200 and were told "campaigning was not a necessary reason" for being out.

He described confusion over campaign rules as "an affront to democracy".

The City of London Police force said restrictions "have no exemption for canvassing".

A spokesman for the force added: "Anyone canvassing can expect the police to enforce the legislation, which could include issuing fines."

Mr Rose presents a media platform called London Real, where he hosts guests
Brian Benedict Rose (born May 1971)  is an American-born podcaster and former banker, who has actively promoted misinformation related to the COVID-19 pandemic. He is based in London and is a candidate in the 2021 London mayoral election. After banking he founded London Real, a podcast and YouTube channel with two million subscribers.
The podcast is titled "David Icke – The coronavirus conspiracy: How Covid-19 will seize your rights & destroy our economy."

London Real host Brian Rose starts the episode by explaining how his last interview with Icke went viral, receiving more than 7 million listens and more comments than any other London Real episode. "That tells me one thing, people want to hear your opinion," he said.
Your Next Mayor of London: Brian for Mayor.
Bellend Business: