Posts Tagged 'Bob Lambert'
Tell Lush They Are Right and Have Support!
We are ex-wives of undercover police officers who had relationships with other women without our knowledge, while we were married with families, and write with regard to the Lush campaign and reaction to it (Report, 5 June). We trusted our husbands (and their managers) and now feel betrayed. Although we have been recognised as core participants in the undercover policing inquiry, our voices have yet to be heard in public or within the public inquiry.

When she was home secretary, Theresa May set up a public inquiry to investigate undercover policing and the related concerns of significant malpractice. It was due to report back within three years. Three years on, the inquiry has yet to hear any evidence, including our own. Although the events in question took place many years ago, they continue to have a profound effect, and we are still waiting for the officers concerned (as well as their chain of command) to give an account in public. These officers, together with the Metropolitan police, have spent a significant part of the last three years seeking both anonymity and continuing secrecy as to their conduct within the inquiry. While this process continues and the evidence stage is further delayed, our view is that the amount of public money spent to date for such little progress is of far greater concern than the Lush campaign.

In bringing this issue to the attention of the general public, Lush has achieved far more in a weekend than the inquiry has in three years. Its campaign has not only drawn attention to the plight of some of the victims, but has also brought into focus legitimate concerns about how the inquiry is proceeding, which we also share. We would like supporters of the police who are criticising Lush to be aware that we, as affected police ex-wives, endorse the points that Lush are now publicising.

Although we are not involved in the Lush campaign, we recognise that it draws attention to legitimate concerns about how the inquiry is proceeding. Lush's campaign is not an attack on hard-working police officers and we ask critics of the campaign to hold an open mind, look into the facts of this issue (which relate to a specific unit of undercover officers only – see uk.lush.com/article/spycops-statement) and to note that the families of undercover officers are also victims of this scandal. Together with other core participants, we still await answers.
"S" and "HAB"
Core participants in the undercover policing inquiry
This Blog covered the case of Bob Lambert from when it first broke.
Sack Bob Lambert! – Police spy, agent provocateur, exploiter of women.  2014.
Bob Lambert, Police Spy, Sex Infiltrator, State Adviser on Islamism: The Met Pays Out.
Bob Lambert, Police Spy, Resurfaces to Offer to Advise Government on Islamists.
Today his name figures in this excellent article in the 'I':
Lush 'Spycops scandal' has real PTSD truths for every day life too

Deborah Orr

The cosmetics group, Lush, has been condemned for using what has become known as the "Spycops scandal" in an advertising campaign. Critics say that it was a cynical and exploitative stunt, and all just to flog bath bombs. Victims are considerably more enthusiastic about the attention it has drawn to the horrific psychological crimes they were subjected to, or suspect that they may have been subjected to. No one knows how many people were targeted in a protracted undercover operation run by Scotland Yard, which involved police posing for years as the lovers of women involved in political, environmental and animal rights campaigns that the government didn't like, even going as far as marriage and children in the service of their false identities. They were called the Special Demonstrations Squad (SDS).

One name now in the public domain is Jim Boyling, who married and had two children with one of the women he spied on. Another is Bob Lambert, who had a son with a woman in her early 20s and left without trace when the child was two years old. He had a "real family" with someone else, and continued to have relationships with other women while secretly investigating their lives in their various protest groups.

The promiscuity of Lambert's investigations allowed various women to put two and two together. The mother of his son didn't realise what had happened until Lambert was outed by others. The woman had suffered psychological distress significant enough to call for psychiatric treatment. She took legal action and was awarded a compensation payout by the Metropolitan Police. Still, they refused to confirm or deny that Lambert had been a detective working for the SDS until a high court ruling forced them to. There has not been a great deal of progress since all this happened four years ago. The Lush campaign sought to highlight the need for a full public inquiry into the operation, particularly so that victims can ascertain whether they were deceived in this deeply intimate way. Many people involved in these groups, who met and had relationships with men they later lost touch with, have no idea at all whether they were duped.
Go to Lush and Back their Campaign for our Comrades!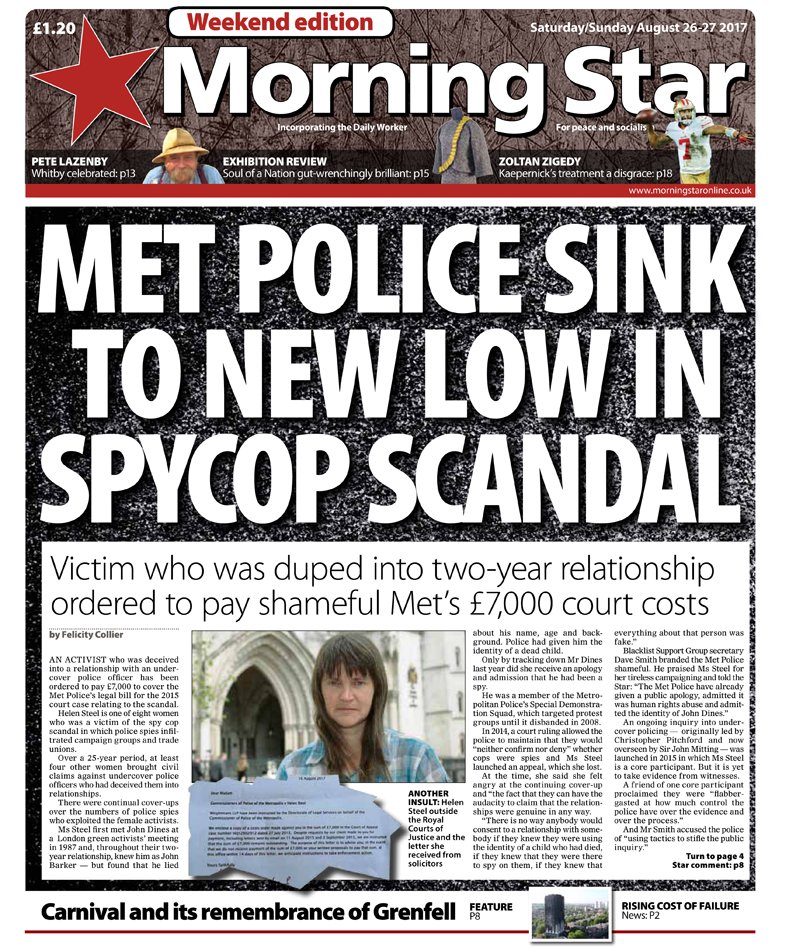 Helen Steel: Respected and Loved in the Labour Movement and on the Left. 
Comrade Helen was targeted by the Police in the  McLibel case.
My Union Branch donated money to support the defendants.
We met Helen at a Blair Peach memorial demonstration in West London.
I have a memory of how she managed to be both serious and approachable despite the burden of the case.
Since that trial, which the McLibel couple, Helen with David Morris, won, this has emerged that "In the course of the UK undercover policing relationships scandal it was revealed that one of the authors of the "McLibel leaflet" was Bob Lambert, an undercover police officer who infiltrated London Greenpeace and Helen Steel's partner for two years was also an undercover officer."
Bob Lambert, "Lambert infiltrated activist groups (environmentalists, animal rights activists and anti-racists) using the alias Mark "Bob" Robinson. To gain credibility as an activist, he formed friendships with other movement members; he also embarked in long-term relationships with women as a means of establishing a cover story.He fathered a child with one of the activists he was spying on[1] although he already had a wife and children in the suburbs.[8] After that relationship ended he embarked on another with a woman who was politically conscious, but was not herself an activist. His colleagues at Special Branch raided her home in order to bolster his image as a hardcore militant."
Since then Lambert has been an advocate of "partnerships" with Muslims ("Countering Al Qaeda in London: Police and Muslims in Partnerships (2011): Police and Muslims in Partnerships) and as such won the praise of the Islamophobia Watch site by Ken Livingstone employee Bob Pitt, "Can those who smear Bob Lambert claim such anti-terrorist success?" He is now some kind of 'academic'.
The Helen Steel case stands on its own:
Here is her statement in December 2016.
The Undercover Policing Inquiry (1) has named John Dines as an undercover police officer (2), the third officer confirmed in recent weeks (3). John Dines was the long term partner of Helen Steel (4), who until recently was suing (5) the police, with seven other women who had been deceived into relationships with undercover officers.

It was Helen's search for John Barker, after he had disappeared from her life, which revealed he was John Dines, an undercover officer. This is only being confirmed by the Inquiry now. Despite settling her legal action with a comprehensive apology (6), the police have until now refused to admit that John Dines was an undercover officer, relying on their 'policy' of 'neither confirm nor deny' (7).

Helen Steels Statement:

"While I welcome the official admission that my former partner John Dines was an undercover policeman in the Special Demonstration Squad, it is a travesty that the police have been allowed to take this long to confirm what I and others exposed years ago.  Even after they issued a public apology for serious human rights abuses to myself and six other women who had been deceived into relationships with undercover policemen, the police still argued they could not confirm the identity of my abuser.  To date, despite that apology, they have also refused to confirm the identity of Mark Jenner who deceived 'Alison' into a five year relationship.  We and other women similarly deceived have had no disclosure at all about how these abusive relationships were allowed to happen, instead we have been subjected to intrusive demands for evidence of the effects of the abuse.  None of those responsible for this abuse have been held to account – even those still employed by the police have kept their jobs.

It is an insult to the many victims of political undercover policing that the police who are responsible for serious human rights abuses have been allowed to cover up the truth and withhold information from those they abused.  The public inquiry should release as a matter of urgency the cover names of all these political police and also the files they compiled on campaigners, so that those spied on are able to understand what happened and give relevant evidence to the inquiry.

We know that over a thousand campaign groups have been spied upon by these political undercover policing units.  This represents a significant interference with the right to political freedom of thought and the right to protest.  Ultimately it is a means for those who hold power to preserve the status quo and prevent social change.  For this reason it is in the public interest for the cover names of all the political undercover police to be released, along with the files they compiled so that those who have abused their power can be held to account, the public learns the true extent of this political spying in this country and further human rights abuses by such units can be prevented."

—statement ends—
More on these abuses:  Police Spies Out of Lives  Support group for legal action against undercover policing
Today we learnt this:
AN ACTIVIST who was deceived into a relationship with an undercover police officer has been ordered to pay £7,000 to cover the Met Police's legal bill for the 2015 court case relating to the scandal.

Helen Steel is one of eight women who was a victim of the spy cop scandal in which police spies infiltrated campaign groups and trade unions.

Over a 25-year period, at least four other women brought civil claims against undercover police officers who had deceived them into relationships.

There were continual cover-ups over the numbers of police spies who exploited the female activists.

Ms Steel first met John Dines at a London green activists' meeting in 1987 and, throughout their two-year relationship, knew him as John Barker — but found that he lied about his name, age and background. Police had given him the identity of a dead child.

Only by tracking down Mr Dines last year did she receive an apology and admission that he had been a spy.

He was a member of the Metropolitan Police's Special Demonstration Squad, which targeted protest groups until it disbanded in 2008.

In 2014, a court ruling allowed the police to maintain that they would "neither confirm nor deny" whether cops were spies and Ms Steel launched an appeal, which she lost.

At the time, she said she felt angry at the continuing cover-up and "the fact that they can have the audacity to claim that the relationships were genuine in any way.

"There is no way anybody would consent to a relationship with somebody if they knew they were using the identity of a child who had died, if they knew that they were there to spy on them, if they knew that everything about that person was fake."

Blacklist Support Group secretary Dave Smith branded the Met Police shameful.

He praised Ms Steel for her tireless campaigning and told the Star: "The Met Police have already given a public apology, admitted it was human rights abuse and admitted the identity of John Dines."

An ongoing inquiry into undercover policing — originally led by Christopher Pitchford and now overseen by Sir John Mitting — was launched in 2015 in which Ms Steel is a core participant. But it is yet to take evidence from witnesses.

A friend of one core participant proclaimed they were "flabbergasted at how much control the police have over the evidence and over the process."

And Mr Smith accused the police of "using tactics to stifle the public inquiry."

At the time, the Met police, the National Police Chiefs' Council and the National Crime Agency were all represented by their own barristers and solicitors at preliminary hearings.

But the inquiry only paid for one legal team for the victims, though there were 178 organisations and individuals involved.

The letter, from Weightmans LLP, demands that Ms Steel pay the five-figure sum by Wednesday and informs her that she was sent reminders in August and September 2015.

Ms Steel took to Twitter to express her dismay, saying: "Morally bankrupt Met Police sent spycop John Dines to invade my life and privacy. Now demand I pay them £7,000 for seeking to expose that!"
Police spy, agent provocateur, exploiter of women. 
Picket London Metropolitan University

This Friday 28th November

12.00 – 2.00pm

Outside London Metropolitan University Tower, 166-220 Holloway Road, 
London N7 8DB

Islington Against Police Spies demands that London Metropolitan University sack lecturer Bob Lambert – Police spy, agent provocateur, exploiter of women.

These days Robert Lambert works part-time lecturing on Criminology and Policing at London Metropolitan University. But this expert on Islamic fundamentalism and terrorism has a dark past. He spent the 1980s and 1990s in Special Branch's now discredited Special Demonstrations Squad, spying on community and activist groups campaigning against violence and oppression inflicted by governments and corporations around the world. While pretending to be an activist involved in peace and animal rights campaigns, he acted as an agent provocateur, encouraging people to carry out illegal actions which would lead to their arrest. He has been named in Parliament as having planted an incendiary device in a Debenhams store in 1987, one of three simultaneous arson attacks for which two animal rights activists went to prison for four years.

He also had sexual relationships with several women campaigners, lying to them about his identity and then disappearing from their lives – in the most abusive breach of trust imaginable. This abuse has had a severe and lasting emotional impact on those affected; one woman had a child fathered by Lambert. Only decades later did any of them discover he was a police spy.

After acting as an infiltrator himself, Lambert went on to run the Special Demonstrations Squad, supervising spies in many other political campaigns. Following his own example, almost all of the thirteen other undercover police so far unmasked have also used their position to sexually exploit women who were unaware of their real role. His protégés include police who spied on numerous families and campaigns opposing police racism and/or violence and murders, as well as London Greenpeace, Reclaim the Streets, anti fascist groups and campaigners against genetically modified crops. He is directly implicated in police attempts to spy on, smear and discredit Stephen Lawrence's family campaign against the police failures to investigate Stephen's racist murder in 1993, and also in the 'mysterious' passing on of Special branch files to a private company paid by large construction companies to compile a blacklist of trade unionists active in the building trade, many of whom were fired and victimised.

Top cops now claim that officers were told not to form sexual relationships while undercover; in reality Special Branch turned a blind eye to what one of Lambert's victims herself said felt 'like being raped by the state'. Eight women used in this way by police spies are currently suing the Metropolitan Police as the institution ultimately responsible.

These undercover police were not involved in 'anti terrorist' operations, they were spying to disrupt and weaken the growing opposition to the domination of our society by the interests of multinational corporations, and attacking community campaigns dealing with police corruption, racism and state violence. Several official inquiries and investigations have been launched into undercover policing because of the huge public outcry the exposures have created. However the establishment and the police won't make significant changes unless we force them to by taking action.

Some Islington residents think London Metropolitan University should sack Bob Lambert. He is a known liar, spy and exploiter of women  – not in any way a fit person to be trusted teaching students at this University.

We aim to keep up pressure on London Met until they fire him. Join us in our picket of the University building where he works this Friday between 12-2pm as we hand out leaflets and raise awareness.

By Islington Against Police Spies 

Contact:

Islington Against Police Spies, email: islingtonagainstpolicespies@gmail.com

For more information on Bob Lambert and other undercover police activities, contact:
I add that our union branch (at the time, part of the  T & G) voted money to the campaign to defend London Greenpeace.
We have actually met the beloved Helen.