Posts Tagged 'Barnet'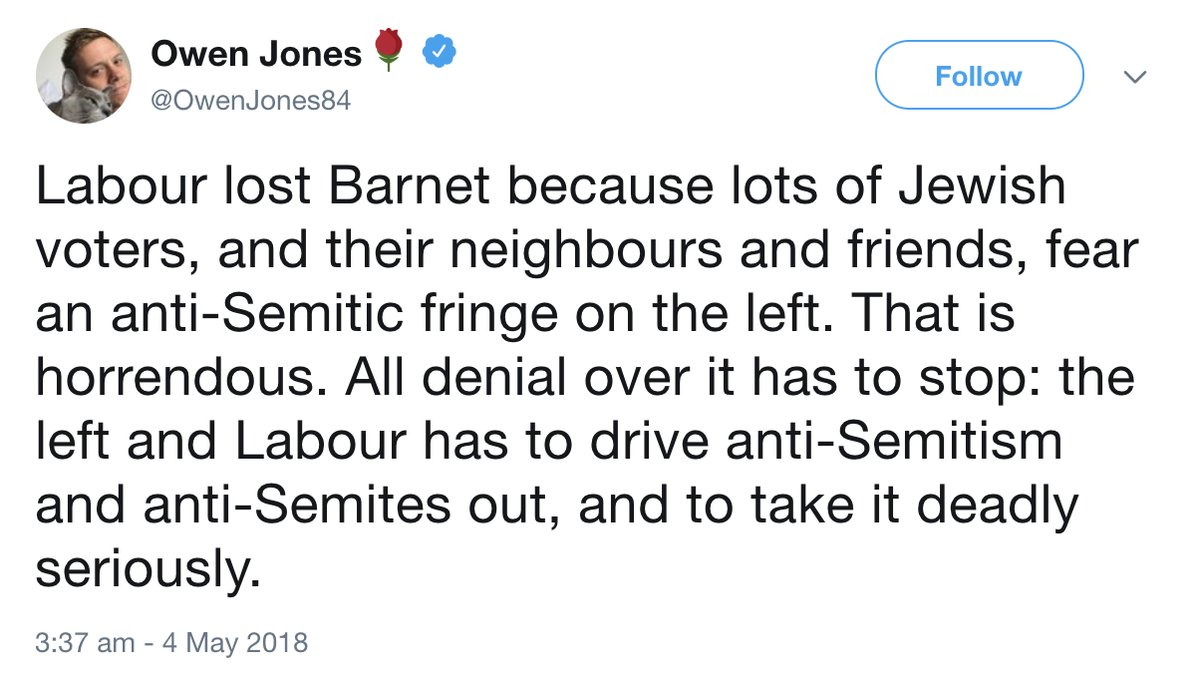 Owen Jones Talks Sense.
Hat-tip Jim D.
Letter in today's Morning Star:
Before the idea takes root among Star readers that the Barnet Labour group of councillors is a nest of "hard-core of the Labour right" determined to "attack the left and their own party" (M Star May 5-6), I can assure anyone that is willing to listen that that is far from being the case.

On the electoral impact of perceptions of anti-Semitism, as on other issues, denouncing the messenger does not change the truth of the message. Group leader Cllr Barry Rawlings and ex-councillor Adam Langleben just told it as it is – the great majority of of Labour-inclined Jewish voters in Barnet are horrified at the national party's response to incidents of anti-Semitism in the party and far too many have withdrawn their support, while Jewish Tories are far more certain to turn out against us.

And not voting for Jeremy Corbyn as leader does not put any of us in the "hardcore of the Labour right" or make us some sort of traitors to the party. Apparently the Star's contributor Kevin Ovendon has belonged to more than one party opposed to Labour, unlike Jeremy Corbyn who, like me, has fought the party's cause under a variety of national leaders.

Belatedly, Jeremy has acknowledged that we have to do better on anti-Semitism and, yes, it has been weaponised against him.

Weaponising issues is mainstream activity in politics. It is time that all the left recognised, as Momentum has done on this issue, that your opponents raising an issue does not imply in itself that the issue is fabricated or exaggerated.
GEOF COOKE
Chief Whip, Barnet Labour group and Morning Star reader.
Cooke is restrained.
Kevin Ovendon is the former bag-man for Gorge Galloway's Respect party. He stood by when there were calls to make the organisation, "Zionist free" – to cite one of the many anti-Semitic incidents that marked the organisation's career (Respect Party:Wikipedia)
This is what Ovendon wrote in the Morning Star.
The furore about "Labour anti-semitism" doubtless had an impact. How could it not? It is not only that it has been weaponised by the Tories. It has been adopted for two years by a hardcore of the Labour right to attack the left and their own party.

And that includes by Labour councillors in Barnet — all but two of whom backed rivals to Corbyn in the leadership elections. Far from helping to deal with the issue, they've taken up the claims emanating from the Tories.

So the leader of the Labour group Barry Rawlings says it all should have been dealt with two years ago, but it was the Labour general secretary supported by the right over those two years who failed to do so or to implement the comprehensive recommendations of the Chakrabarti report dealing with the matter.

Unsurprisingly, that has not stopped anti-Corbyn elements of the Labour Party, in collaboration with the Tories, trying to use the result not to seek the implementation of that report but to reheat the political assault.
Ovendon appears to think that concern on the issue of anti-Semitism is "weaponised" – he later talks of  "sabotage".
What words does he have for the Morning Star's opposition to Labour policy on Europe, its backing for Brexit, and its support for the Arron Banks funded Trade Unionists Against the EU?
More fall out has appeared in the shape of Skwawkbox.
Labour Has Betrayed Jewish Voters – Corbyn Must Take Action Now
Tonight I will ask that Corbyn comes to Barnet and apologises to the Jewish community.
Former Labour councillor for West Hendon
'Chalutzim' means 'pioneers' in Hebrew. Many of the early founders of the Labour Movement were Chalutzim from the mainstream Jewish community. That is why what happened last Thursday in the local elections is so distressing. It was the first complete electoral collapse of Jewish voters for Labour.

……

But some wish to paint a different picture. The alt-left blog Skwawkbox, which has a record of spreading fake news, claims that because Labour increased its share of the vote in Barnet and in Gateshead, there is no problem.

In response, and to his credit, John McDonnell, the Shadow Chancellor, messaged me and asked for a meeting to discuss this issue and the wider issue of Labour antisemitism and its impact on Barnet. I am seeing him tonight and what I will be telling him is that fake news, conspiracy theory websites such as Skwawkbox provide a dark place for antisemitism to fester and be nurtured. Antisemitism's dark past started with conspiracy, ending in gas chambers. History has taught us this. He and others should come out and say clearly that such websites are not part of our Labour movement's discourse and that they are detrimental to our success and to our anti-racist, evidence-based Enlightenment values.

I look forward to talking to John. I am going to tell him hard truths: that there was rarely a canvass session over the past month in Barnet where we did not lose votes over antisemitism. And I am going to ask that he, Jeremy and the Shadow Cabinet come to Barnet as soon as possible to apologise to our activists and the Jewish community. The issues raised by the Board of Deputies and the Jewish Leadership Council remain outstanding. The Party can no longer hide behind process.
Huff Post.
Previously  Langleben had said in the Huff Post.
As I am filming this, an alternative left-wing news website called Skwawkbox is going through all of the tweets attacking me, as a Jewish Labour Party member, now former councillor, that accuses me of being a Mossad agent, that accuses me of trying to undermine the leadership, accuses me of all sort of things and it is propagating this bollocks, propagating anti-Semitism."

He added: "The Labour leadership can do something very simple and easy and say that these alternative fake news websites do not speak for them.
I was a Jewish Labour councillor in Barnet – and I warned Jeremy Corbyn what was coming.
 ADAM LANGLEBEN.
On the doorstep I heard lifelong Labour voters say anti-Semitism was driving them from the party. When I told Labour HQ, I was ignored.
We were asked about Jackie Walker's views on Jews and the slave trade. We were asked about Ken Loach's Jew-splaining. We were asked about Ken Livingstone's Holocaust revisionism.

….

Ken Livingstone's repeated outrageous ramblings on Zionism, Hitler, the Holocaust and Jews – and the party's lack of action – compounds the situation. The more I think of his words, the more I hear implication of what he says – which is that Jews were complicit in their own genocide. Nothing is more offensive than that. Surely that cannot be compatible with membership of the Labour Party?

…

Since we lost in Barnet, our Labour candidates have had lots of support from MPs, Momentum supporters, members and others who are desperate to fight anti-Semitism. However, there is a small but very vocal hard-left group within the party – certainly not the majority even within Momentum – within which this sickness festers, and it is to these people that Jeremy Corbyn needs to clearly state: this is not in my name.
Here.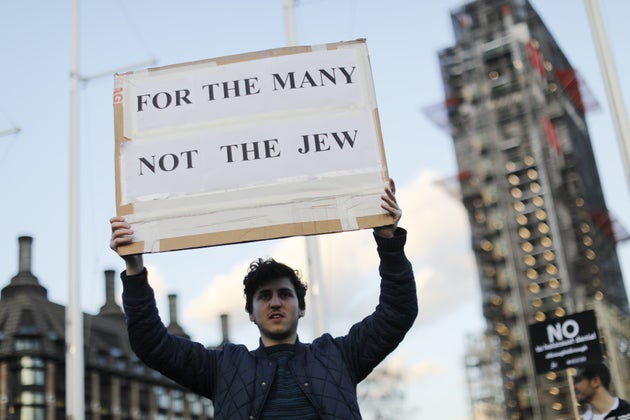 The failure of the Labour Party to take Barnet council is already overshadowing, for at least some people, the solid local election results won by the work of activists and councillors. Labour did well. There remain problems about attracting those who supported Brexit. The Shadow Cabinet's line on the EU remains chalks and cheeses, defence of EU legislative gains, pro-Customs Union, with a curtsy towards Sovereignty. There are difficulties about Labour's policy, or lack of it, in key areas such as welfare and Universal Credit.
These are hard, real issues. It is easier to talk about Barnet. Haringey, where the party lost a few seats to the perennially opportunist and locally persistent Liberal Democrats, does get a mention. But above all it's Barnet, High, New, Friern (Colney Hatch?), Hendon, Finchley and Golders Green. Names, as the last indicates, with which to give vent to opinions about Anti-Semitism, Labour and the 'Jewish vote'.
As a principle this Blog has sympathy with sceptics and scoffers. Even so, to read the bile poured over party supporters who spent time and energy trying to convince people to vote for them is to ingest a great dollop of dislike. It appears that Owen Jones is a laughing-stock for his efforts – not a virtue of many national newspaper columnists – to help on the ground. Momentum is, it seemed, doubly at fault, in one aspect a Jeremy Corbyn glee club, in another, a vehicle for unpalatable 'anti-Semitic' ideas. The idea that the pressure group may be largely made up of well-meaning and valuable people will have set some noses wrinkling already.
We can add that Jewish Labour members got elected in Barnet and that overall the party's performance was not dented.
Yet, there is, as with the population at large, some belief in "conspi" ideas, often involving a "'international Jewish banking conspiracy'. There is religiously based anti-Semitism which takes a political turn amongst those influenced by forms of Islamism. There is, above all, amongst a vocal minority, a hysterical identification with the Palestinian cause and extreme 'anti Zionism'. Some hold views, not far off the recent declarations of President Abbas, about Jewish responsibility for prejudice against them. Some 'anti-imperialists' defend Abbas, and the more evidently anti-Semitic Hamas. Amongst them there are those who call for the 'destruction of Israel'.
Together this is a noxious brew. But it is so far from a majority one that it's hard to begin to take it apart.
One way is to out the Labour Party Marxists (the main force in Labour Against the Witch-hunt)  article issued yesterday.
'Carla Roberts'

This whole campaign is, of course, only about Corbyn insofar as he cannot be trusted to run Britain in line with US foreign policy, not least in the Middle East. Despite his shameful complicity in the witch-hunting of his own supporters, for the establishment he remains a loose cannon. And, crucially, at least historically, he has been firmly on the side of the Palestinians. No amount of bending over backwards to the pro-Zionist lobby will make them forget that. Corbyn remains unreliable, despite everything.
She cites Moshé Machover.
Anti-Semitism hysteria … has much to do with the hyenas positioning themselves for the next major Middle East war … The likely pretext for western military action this time will not be simply 'humanitarian intervention', but coming to the aid of Israel in order to 'prevent another holocaust'. Those who demur will be branded as 'anti-Semites'.
She adds,
No wonder that Zionists are so keen to try and outlaw comparisons between Nazis and the Israeli government. They are too close to the truth.
The article continues,
The anti-Semitism campaign in the Labour Party only makes sense if seen in this international context. When it turned out that Jeremy Corbyn could not simply be humiliated into giving up his post as party leader, the next stage of the campaign was launched: Operation Tame Corbyn. And this is going rather better than the chicken coup, unfortunately.

Britain is expected to take part in this latest campaign for war in the Middle East. If not by dropping bombs, then at least by providing political cover for this necessary war to "prevent another holocaust". A Labour leader and potential prime minister who has been an outspoken supporter of the Palestinians is, in this context, untenable. Labour cannot be allowed to become an anti-war party
Foreign policy is an area of  powers competing for influence, it is a banality to recognise. There is little doubt that a state such as Israel will do what it can to get international support.
But this is equally to bury the issues brought about by conspi politics by insisting that the importance given to anti-Semitism issue is …a conspiracy.
Comparing the state of Israel to Nazis is hardly likely to bring clarity to the row.
What words have they left for  the tortured, the dead in Syria and those inflicted their fate on millions of refugees?
But that is to misunderstand.
The Weekly Worker's front-organisation uses the comparison of Israel to Nazis as a political tactic. 
Radical nationalist and the violent leftist fringe in the 1970s often operated with a three-pronged strategy: ferocious demonstration-repression-recruitment.
The CPGB (Provisional CC/ Weekly Worker) trilogy is: provocation- Labour disciplinary action- recruitment.
It is nothing more: a way to get attention, to polarise and to gain influence.
On television last night the Editor of the Jewish Chronicle stated that concern about the issue of anti-Semitism was not limited to the Jewish community. We can dispute that there is anything like "a" Jewish community. But he went on to say, accurately, that there are many people have close ties, friendship, with Jewish people – indeed he could have added that in Europe inter-marriage is widespread. It would be preferable if our moral imagination was firmly universal, but the sense in which a political and ethical "we" exists does operate through these bonds.
I need hardly add that I spent part of my adolescence hanging round Golders Green and going to the parties of – predominantly secular – Jewish friends. There are many of us. Many of us are also part of the left, and…the Labour Party. Perhaps it's because of this that the LAW statement stating that 'Zionism', not anti-Semitism, is the "real problem" and comparing Israel and the Nazis repels me as much as it does.
We might speculate that with the crumbling of traditional class identifications that the "masses" – open to fluid opinion forming on-line – are open to anti-semitism. It would be equally accurate to say that with these deep moral ties we have been, are, and will be, resolutely opposed to anti-Semitism and prepared to fight those who further their sectarian recruitment aims by fishing in these waters.