Posts Tagged 'Anti-Zionism'
Canary Chief  Kerry-Anne Mendoza.
Report: Corbynite sites feature far-right tropes
Lee Harpin Jewish Chronicle
EXCLUSIVE: Study for the government analyses The Canary and Skwawkbox next to other extremist outlets
The Canary and Skwawkbox, two of the websites most closely linked to Jeremy Corbyn's Labour, have been found to promote "heavily negative coverage of Jewish issues" to audiences that are "associated with antisemitism", a damning new government report has found.

An analysis of content published online by the websites revealed alarming parallels between editorial lines taken by the two sites and that of the extreme far-right online outlet Radio Albion, when it came to the reporting of stories involving Jews.
The above article is not going to be friendly to the Canary nor to Skwawkbox.
The author of the study, carried out by King's College London for the Government's Independent Adviser on Antisemitism is Lord John Mann, He is, amongst other things, a man who ditched Labour for the hard right and a fanatical supporter of Brexit. He is not somebody we hold in any esteem whatsoever.* Many in the labour movement consider him a turncoat.
Nevertheless there are some worrying indications from the JC article. They show serious reasons to be concerned about these two alt-left alt-news sites and their  content.
The present Blog post here is just, as Wikipedia would put it, a stub for future analysis.
The 77-page document, Antisemitism and the alternative media, which will be sent to government ministers next week, set out to explore four online websites – two that have been associated with the Labour left and two with far-right associations — in unprecedented depth in order to better understand the ideologies they promote and the audiences they were reaching.
This stands out,
The report gives further detail on the way it believes Skwawkbox, which is edited by hard-left activist Steven Walker, has promoted the viewpoint that British Jews who support the state of Israel — along with members of organisations such the Jewish Labour Movement (JLM)  and Labour Friends of Israel  (LFI) — are a corrupting influence on politics in this country.
We await an Exclusive from Skwawky in asp on the issues.
No doubt with this template (yesterday)
Exclusive: BoD and JLM given veto to exclude expert nominees from Labour's 'independent' antisemitism 'advisory board'
#
"Mann was one of only three Labour MPs, along with Ian Austin and Kevin Barron, to defy a three-line whip and to vote for Theresa May's Brexit deal in the 15 January 2019 Meaningful vote. On 29 January 2019, Mann was one of seven Labour MPs to vote with the Conservative Government supporting Graham Brady's amendment mandating Theresa May to renegotiate the Irish backstop in the Withdrawal Agreement. The other six MPs were Austin, Barron, Jim Fitzpatrick, Roger Godsiff, Kate Hoey and Graham Stringer.[47] On 3 April 2019, Mann was one of twelve Labour and ex-Labour MPs to vote alongside the Conservatives against the Cooper Bill, which had been supported by the Labour Party. Nonetheless, the bill passed the House of Commons with a difference of one vote. On 3 September 2019, Mann and Hoey were the only Labour MPs to vote with the Government in an attempt to prevent MPs from taking control of the house to block a potential no-deal Brexit, saying "I didn't vote with the government. I voted against an amendment that is deliberately calculated to block Brexit"
 Confronting Anti-Semitism.
Last night there was a Zoom meeting, "What is left anti-semitism and how can it be confronted", Steve Lapsley (speaking in a personal capacity) and Daniel Randall (Alliance for Workers' Liberty).
The event began with Daniel Randall explaining the roots of left anti-semitism in the 19th century. He outlined the hostility to Jews amongst early socialists and radicals such as Proudhon, and Wilhelm Marr, a hatred that combined very old prejudice against the Jewish 'race' with attacks on 'Jewish' finance (I was reminded of Les juifs, rois de l'époque: histoire de la féodalité financière, Alphonse Toussenel. 1847. The utopian socialist author was a disciple of Charles Fourier). The picture of secretive state-making Jewish power and money  was an influential theme across the European left for the rest of the century. Randall noted, it was the original "socialism of fools" denounced by  August Bebel. It has no "emancipatory" message, just a mustering of hatred. 
The speaker showed this quote: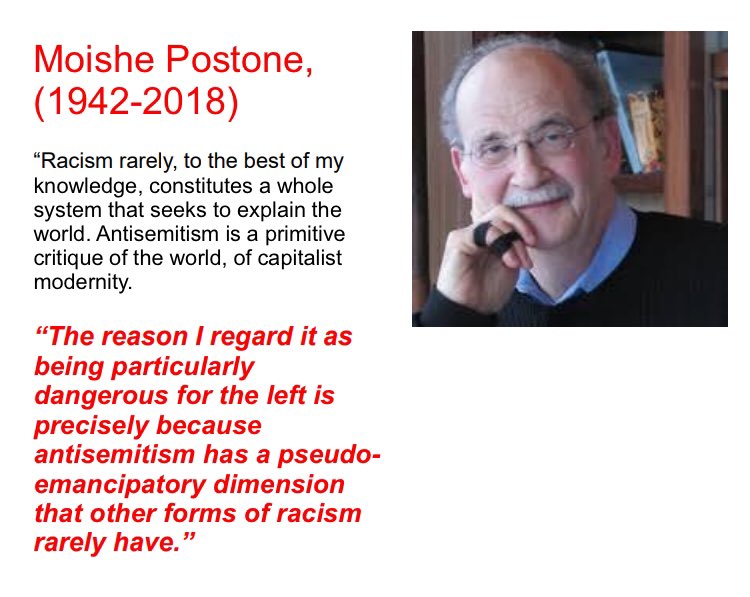 Randall then traced the history of Stalinist anti-semitism. This reached a peak in the last years of Stalin's rule as an Egocrat. After initially backing the creation of the State of Israel the Soviet Leader fomented purges of Jewish Communist leaders in the Eastern glasis. His openly anti-Jewish 'Doctors' Plot left an imprint on Communist Parties. This could be extended to the fall-out from the  6 Day War in 1967.  and the embrace of the Palestinian cause by leftists in the 1970s. The decade saw the rise of a parallel form of leftism amongst a minority of Palestinians – a process that has ground to a halt in the new millennium with the rise of Hamas and Hezbollah.
One enduring trait is that  many see Israel as a uniquely reactionary state (out to influence world events)  and Jewish nationalism, 'Zionism'  as a uniquely reactionary nationalism. As he pointed out, people do not talk about Turkey as the 'Kemalist' state or harp on and on about the nationalism of other countries rather than political parties or leaders in power. Randall did not discuss the political traditions on the Jewish left, such as the Bund, which were hostile to creating a Jewish national homeland. One can only observe that the Bund has, tragically, not been a mass force since the Shoah.
It was perfectly right to campaign for Palestinian rights, Randall argued, giving forceful examples or oppressive Israel government actions,  which recognising that for most Jewish people worldwide Israel itself was a "raft" of hope. While the internationalist left is not a promoter of nation states, we would support people's human right to make their own decisions on this.
Those with long-standing acquaintance and friendship with Jewish people do not perhaps need talk of the "community" to know that most are strongly attached to Israel.  Yet you can still be surprised to find those, in the Labour Party, who are not aware of the depth of feeling this stirs up.
Steve Lapsley talked of his own – unhappy – experience of dealing with the former MP 'anti-Zionist' Chris Williamson, and his own Labour Party, within which some activists gave priority to the Palestine and Israel issue over all other international causes, and even British politics. He spoke of how even members of his Liberal Synagogue had become so incensed by what the problems with anti-Semitism in the Labour Party that it has caused him great pain.
In the discussion (TC did not contribute) there was some debate over Randall's belief that administrative means were very far from the best way to deal with any indication of anti-Semitism. But can discussion be the only way to confront left anti-semitism? It was pointed out that some individuals are not deliberately provocative but held views and acted in way  incompatible  with  membership of a democratic socialist party.
The meeting was a model of clarity and genuine  debate.
Why Now?
There is a view that the recent LP problem was brought out not just because of these long-standing issues. When Jeremy Corbyn was elected leader the most 'anti-Zionist' campaigners on Palestine believed they would be able to take the Labour Party along with them and lead a campaign on Israel on their terms. They thought they were at a ANC moment (when anti South African apartheid campaigns became a mainstream priority). Believing Labour open to their movement, they were mortally offended to find that could not do this. Their own ultras reacted at the top of their voice. The valves opened.
Historic  anti-semitism lives on in conspiracy theories, the openly racist far right, and national populism.  It also has echos on the fringes of the 'anti-globalist' left and red-brown movements, like Alain Soral's Shoah denying Égalité et Réconciliation. Stalinist and other 'absolute anti-Zionist' movements bear the imprint.
As if to illustrate the point Tony Greenstein's latest 'anti-Zionist' crowing arrived on Facebook this morning.
And this got posted in the comments here, a link to Ian Donovan's latest rantings,
Labour: A Racist Party led by Pogromists
The election of Keir Starmer as Labour's leader in April was the revenge of Labour's contingent of the neo-liberal bourgeois elite for the 'aberration' of Corbyn's election in 2015."
Truth seeking Donovan asks
the "question of how it is possible, in terms of Marxist sociology and materialist analysis, that a far-right, bourgeois supremacist trend such as Zionism can come to play such an unusual role in the British Labour Party. Why is it that all candidates for the Labour leadership election that were voted on by the membership should swear what amounts to an oath of loyalty to the Board of Deputies of British Jews (BOD).
He finds that,
the role of Zionism in a dissolving bourgeois workers party whose bureaucrats and privileged layers are in transition from being lackeys of finance capital in the old sense, with its more concentrated industry and proletariat, to being lackeys of today's imperialism with its qualitative enhancement of financialised capital.
Donovan's New Course:
The strategic aim of Marxists in working with layers of militants such as those who are currently leaving the Labour Party in droves and beginning to coalesce around initiatives such as that of Chris Williamson, has to be to create a genuine working class party, where the functionaries are materially and politically subordinate to the working class membership, not the other way round.

A key part of the political basis for such a party must be to draw a very hard line against Zionism, which is playing an insidious role as an anti-working class, destructive far-right force, seeking to destroy any trace of working class politics and consciousness in Labour. 
So 'Zionism' is responsible for "dissolving" Labour and making it into a party of "lackys of imperialism"  etc etc etc….
For an explanation of this mindset:
See: The left and anti-semitism. Daniel Randall. 
A video of the meeting will be available.
"A safer pair of hands, a less disruptive force, than even the Tories." – Tribune.
How Keir Starmer Sabotaged Rebecca Long-Bailey
The Editor of Tribune, Ronan Burtenshaw is beside himself, "From her earliest days as shadow education secretary, Keir Starmer set about undermining Rebecca Long-Bailey – because her socialist politics and loyalty to trade unions were incompatible with his leadership."
The socialist politics Rebecca Long-Bailey represents has no place within Starmerism, as the other Left members of the shadow cabinet will realise in due course. His political project is to present Labour to the British establishment as a safer pair of hands, a less disruptive force, than even the Tories.
The chief of the re-vamped and US-owned journal, announced as a monthly in 2018, now reduced to a quarterly appearance,  also asserts,
To many onlookers, Rebecca Long-Bailey's sacking might have seemed strange. After all, she was fired for sharing an interview by someone else in which they made a claim which was only marginally incorrect. (The Israeli police do, in fact, train the US police and encourage the use of "excessive force" against those who "pose little or no threat.").
He concludes,
Starmer's determination to be seen as sensible by the business and media elites is also incompatible, in any longer-term sense, with unity with the Left. It is not possible to present yourself as unthreatening to capital with principled socialists as part of your coalition. And so, they were always going to be sidelined – it was a matter of time.
It would be interesting to see what plans, and with what troops,  Burtenshawn has to threaten capital and to challenge the "powerful", and all those business and media "elites".
The would-be general of the revolt concedes,
Such an approach might win an election.
So what is he wittering on about?
That Starmer might succeed without toppling the statues and moments of capital?
Perhaps he could ask his close allies:
The Morning Star, totally independent of the Communist Party of Britain, which called to boycott Labour and voting for any party in last years' European election,  said of the Long-Bailey's dismissal,
Sacking Rebecca Long Bailey is an attack on the whole left
Attempting to dismiss references to the relationship between the Israeli and US security forces as "an anti-semitic conspiracy theory" is a cynical bid by the Board of Deputies to warn people off attacking the Israeli government at a time when its plans to annex the West Bank are arousing widespread condemnation.

Using it as an excuse to sack Long Bailey looks like a cynical bid by Starmer to drop a shadow minister whose refusal to attack teaching unions and parrot his irresponsible push for schools to fully reopen more quickly showed up the weakness of his opposition to a Conservative government whose mismanagement of the Covid-19 pandemic has cost tens of thousands of lives.
In other words Starmer acted against Long-Bailey because of his own failings, an inability to stand up to a Cabinet which is causing tens of thousands of deaths. Not only is the Labour leader unable to stand up to the mismanagement that is leading to people dying, his "cynical" move is against trade unionists in the teaching profession and in line with a further "cynical bid" bu the Board of Deputies to prevent people attacking Israeli plans for the West Bank.
Some might suggest that this looks a bit like a conspiracy!
Today the paper which likes to speak on behalf of the "whole left" says,
Editorial: Covid-19 is still a crisis – but Labour isn't grappling with it
Where's Labour? Hinting that it is now ready to drop the radical Green New Deal programme developed by the previous leadership.

Keir Starmer's spokesperson says that new climate commitments will be written "in four or five years' time," that is in line with the parliamentary electoral cycle which he assumes is immune from external factors.

That shows no desire at all to try to work with, let alone lead, those fighting to transform this crisis into an opportunity for far-reaching change in the present.
Pause.
The Morning Star believes that Brexit is an "opportunity" for a 'people's' then a 'socialist' Brexit.
Now it seems to think that Covid-19 and the Green New Deal are further opportunities to begin "far-reaching changes".
With such an abundance of fruitful chances, how many more opportunities can we deal with?
Fact Checking.
The furious Tribune boss and his friends in the Morning Star has yet to respond in full to this:
Did Israeli secret service teach Floyd police to kneel on neck?
Channel Four FactCheck.
It seems Ms Peake's original claim is based on an article in the Morning Star from 1 June, which states: "At least 100 Minnesota police officers attended a 2012 conference hosted by the Israeli consulate in Chicago, the second time such an event had been held."

The article has been shared over 40,000 times on Facebook, according to analytics provided by the website Crowdtangle.

This description appears to be supported by a report from Minnesota Public Radio (MPR) at the time of the event. By the MPR account, the conference took place in Minneapolis and was "put on by the Israeli consulate in Chicago, the FBI and Minnetonka police". (Minnetonka is the neighbouring city to Minneapolis).

Which techniques were taught?

The Morning Star piece alleges that those attending the 2012 conference "learned the violent techniques used by Israeli forces as they terrorise the occupied Palestinian territories under the guise of security operations."

The article does not explicitly claim that Israeli forces taught American police to kneel on a person's neck at the conference.

The only link to this tactic in the story is made by an activist, Neta Golan, who told the paper: "When I saw the picture of killer cop Derek Chauvin murdering George Floyd by leaning in on his neck with his knee as he cried for help and other cops watched, I remembered noticing when many Israeli soldiers began using this technique of leaning in on our chest and necks when we were protesting in the West Bank sometime in 2006."

Ms Golan is quoted as saying: "it is clear that they [Israel] share these methods when they train police forces abroad in 'crowd control' in the US and other countries including Sudan and Brazil." The information in square brackets is from the Morning Star's copy.

The article mentions a 2016 report by Amnesty which lists US police forces that have "all traveled to Israel for training" and "thousands of others" that "have received training from Israeli officials here in the U.S."

After yesterday's controversy involving Maxine Peake and Rebecca Long-Bailey, Amnesty International told the New Statesman: "the precise nature of the training offered to US police forces by Israeli officials is not something we've documented".

They added: "Allegations that US police were taught tactics of 'neck kneeling' by Israeli secret services is not something we've ever reported".

Beyond the speculation of one activist, there is no information in the Morning Star article that would support the claim that the specific practice of kneeling on a person's neck was taught to US police by Israeli forces.
Or indeed Jim's latest post which signalled a justified scepticism about anything that appears in the Morning Star, wholly independent of the CPB and owned by the co-op that it is,
Long Bailey, 'antisemitic conspiracy theories' and the dangers of believing what you read in the Morning Star
It is quite possible to feel sorry for RLB – and to doubt that she is personally an antisemite – whilst recognising that she's been an idiot and that Starmer, operating in the real world, had no choice but to sack her (not least because the EHRC's report into antisemitism in the party is on its way, and expected to be highly critical).
Others have noted the flaws in the article Long-Bailey retweeted,
Rebecca Long-Bailey's sacking: such a fine line between stupid and clever
George Chesterton.
The first point – echoing the sentiments of so many charming hard-left voices of the past five years that anyone who didn't like Jeremy could "fuck off and join the Tories" – is all very well for Peake, but for a shadow cabinet minister to put a tick by such a knuckleheaded suggestion, even after the crushing defeat, betrays a lack of nous that would make Chris Grayling blush. According to Peake, Labour voters who didn't vote for Corbyn should "hang their heads in shame". Perhaps the electorate should apologise. But again, couldn't Long-Bailey see what this self-harm had achieved? People literally had fucked off and voted for the Tories.
He concludes,
 ..let's get this straight: Long-Bailey is praising an article in which an actor bad-mouths her new boss.
Quite.
Update, some reverberations: